10 Best Gifts For Labor and Delivery Nurse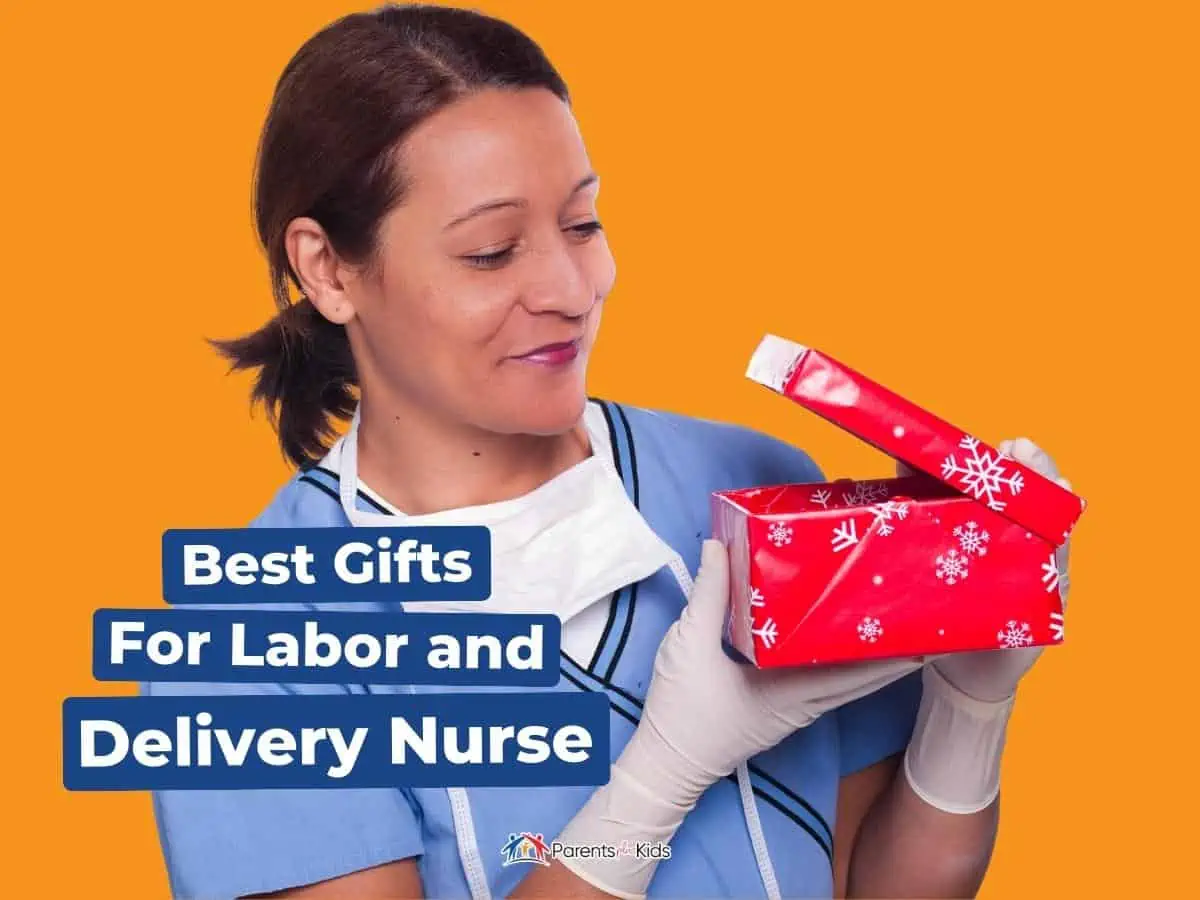 This post may contain affiliate links. If you buy through the link, I may earn a commission. Learn More.
Labor and delivery nurses are the unsung heroes of the maternity ward.
They dedicate themselves to the physical and mental well-being of moms and their newborn babies.
Finding a way to celebrate nurses can be daunting, especially when you have a newborn!
10 Best Gifts for Labor and Delivery Nurses
Your team of labor and delivery nurses work with love and compassion to ensure your baby has an excellent start in life.
The least you can do is show them a token of gratitude. Instead of worrying about the right gift to give them, choose from the following list!
Each item has been carefully chosen to show labor and delivery nurses how special they truly are.
1. High-quality Hand Lotions
Cleanliness is an important part of every nurse's job. They scrub their hands with soap and water throughout the day. In between, they use hand sanitizer to kill germs.
All of that cleanliness is good for patients but terrible to skin. The only way to combat that is with high-quality lotion.
I love L'Occitane hand lotion that comes in a handy squeeze bottle and provides amazing results.
Another excellent choice is O'Keeffe's Working Hands. Inexpensive and practical, O'Keeffe's gets the job done.
If you want to splurge on your neighbor and delivery nurse, go for my all-time favorite, La Mer.
However, you must be warned: Your nurse friend may be upset when you get them hooked on a high-priced lotion.
Likewise, the hospital may have a rule in place that prevents nurses from accepting extravagant gifts.
2. Coffee Mugs
Coffee mugs are popular gifts for a good reason. According to recent research, about 74 percent of adults drink coffee every day.
A coffee mug will be used. All you have to do is decide which mug to gift.
A mug for nurses is a perfect choice. You can even go one step further and buy a nursing mug gift set that includes a lid and long spoon for stirring their favorite sweetener.
If you know your nurse(s) well, you can give mugs that reflect their personality.
For instance, Star Wars fans will love this Yoda Best Nurse mug.
3. Headbands and Hair Ties
A nurse needs to keep their hair out of their face while they are working.
Something as simple as a headband or a hair tie can be elusive when they are needed the most.
Gift your labor and delivery nurses with headband and hairtie sets. This will be a gift they don't often receive but always need.
A low-cost gift set is a great choice if you're buying for all of the labor and delivery nurses who worked with you during your time in the hospital.
You could also go fancier with crystal elastic scrunchies.
Some nurses prefer wearing clips while others prefer bandanas.
Pay attention to what your nurse is wearing, and then choose the option that fits.
4. Canvas Totes
I love canvas totes. I have them for almost every occasion. I've carried them to the library for checking out books.
I use them at the super market for my groceries. I carry snacks in them to football games. Basically, if you can carry it, you need a tote.
Your labor and delivery nurse will undoubtedly be the same.
Choose from one of these fun totes or pick a larger one. You can give the totes as is, or you can fill them with candy, water bottles, or pre-packaged snacks.
5. Soft Blankets
Who doesn't love cozying up with a warm, soft blanket? The greatest thing about giving blankets as gifts is that they are beloved by everyone.
They are also inexpensive if you choose the right one.
Fuzzy blankets and plush blankets are always a big hit. However, I have a secret weapon when it comes to blankets.
This shag blanket is unbelievably soft, surprisingly warm and excellent for cuddles. This is my go-to blanket gift and it never disappoints.
6. Pens
Pens are items that nurses often need but can never find. Load your labor and delivery nurses up on pens they will want to hold onto.
A set of pens made just for nurses is fine choice.
Syringe pens are both funny and useful. Many nurses like wearable pens that they can attach to badges.
If you buy a bulk set, you can gift these pens to all of the nurses in the labor and delivery ward.
7. Sleep-Well Basket
An exhausted nurse needs to get a good night's sleep. You can help by providing your labor and delivery nurse with a sleep basket.
This simple basket of sleep aids will help your nurse settle for the night so they can go back to saving and shaping lives the next day.
A sleep-well basket can vary, but it often includes weighted or unweighted eye masks, lavender room spray and ear plugs.
You can also include herbal tea that is blended to aid with sleep.
8. Sandwich Tray
The nurses in your labor and delivery ward need to eat. You want to do something nice for them.
Why not provide a sandwich tray? Small, portable sandwiches are excellent for grabbing while on the go.
Most area supermarkets offer catering services that allow you to take in a wide variety of sandwiches.
You could also talk with a restaurant or caterer to supply these foods. Don't forget to provide napkins!
9. Candy
Maybe health food isn't your thing. That's okay. Nurses think about their health and everyone else's all the time.
Sometimes, they will want to splurge on something that is just for fun. This is where you come in.
Provide the nurses in the labor and delivery food with what they want: candy.
A sweets tower with candy and cookies is delightful.
You can also opt for unique candies like a freeze dried sampler or delicious saltwater taffy.
10. A Card With a Handwritten Note
The gift you give your labor and delivery nurse doesn't have to cost a lot of money. You can get something as simple as a thank you card.
Write a heart-felt note on the inside and address the card to all of the nurses who helped you. They will love that sentiment as much as any gift you can give.
A Buying Guide for Labor and Delivery Nurse Gifts
No labor and delivery nurse expects a gift of any kind from a patient. They don't work in a hospital setting because they want gifts from you. They do the job because watching a new baby come into the world is its own reward. However, if you want to show your gratitude, you need to do it the right way.
Do not give money.
There are federal laws that prohibit nurses from taking money from patients. Any employee who works for an entity that accepts Medicare as payment cannot accept monetary gifts. This is true even if you did not use Medicare to pay for your services.
Make it a group effort.
You might not be able to give your thank you gift right away. If you have some extra time, get others involved. Talk with other moms who have birthed at the same hospital as you to see if they would like to chip in on gifts for the nursing staff. Talk with a local elementary school to see if they would be willing to write thank you letters to nurses. If you have older children, ask them to be involved in gift giving. Have them draw pictures or write notes of gratitude.
Consider timing of the gift.
You don't need to give the gift immediately after having given birth. You can wait a few days, weeks or even months if you need to. However, you do need to pay attention to when you arrive with a gift in hand. As strange as it seems, maternity wards do have rush hours. Most births take place during daylight hours and on weekends. If you arrive after dark on a weekday, you will far less disruptive with your gift than if you show up at 9AM on Saturday.
Keep labor and delivery nurses in your thoughts.
These nurses continue working long hours even after you have gone home. Consider following up with them over the holidays or on your child's birthday. My son was born after many years of fertility treatments, which were followed by a high-risk pregnancy. Each year, on his birthday, I remember the doctors and nurses who worked with us and send them a note of gratitude. For many nurses, what they want most of all is to know that their patients live wonderful lives. It's not a bad idea to also send a small token of appreciation. Nurse appreciation bracelets or themed notebooks are good examples of small gifts you can continue giving year after.
Giving a gift to your labor and delivery nurse is a nice gesture. Make sure it is a useful gift that they can accept, and then provide that gift during a slow time in the maternity ward. Your labor and delivery nurses are virtually guaranteed to be ecstatic with your presents!