10 Best Jobs for Moms (No College Degree Needed)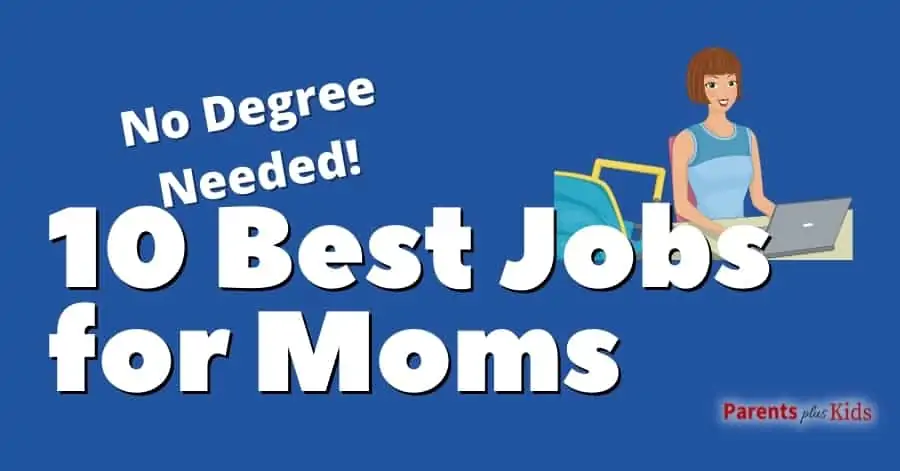 This post may contain affiliate links. If you buy through the link, I may earn a commission. Learn More.
I am a working mom. I know how difficult it is to flourish in a career while also having children at home.
I also know that not having a college degree puts a lot of jobs out of reach. Luckily, there are great career options for moms without degrees.
*FYI, some of the links in this article about best jobs for moms with no degree may be affiliate links. If you click and make a purchase, we may get a commission (at no extra cost to you). For more info, please see our disclaimer.
Best Jobs for Moms Who Don't Have College Degrees
So you don't have a college degree. That doesn't mean you can't have an amazing, fulfilling career. The following jobs offer challenging and rewarding employment that still allows you to carry out your most important job: being a mom.
1. Freelance Writer
A freelance writer is someone who writes for clients without being a permanent employee.
Freelance writers may write blog posts, articles, web content, product descriptions, video scripts, copy for marketing materials, or book-length manuscripts. Many freelancers function as ghostwriters (a ghostwriter writes content that gets credited to someone else).
I chose to put freelance writing in the number one spot because it's my job. Writing is my passion, and I am so fortunate to make a living with it.
I can take the jobs I want and leave the jobs I don't like or don't have time to do. I can work around my kids' busy schedules. For people like me who love to write, it is truly an ideal gig.
On the downside, there are some definite issues with being a freelance writer. As with any freelance job, there are no tangible benefits. All of my retirement savings are on me.
I pay out-of-pocket for health insurance. There are no salary guarantees. More specific to freelance writing, there's a lot of competition. I have been very fortunate to have built a solid client base over the years, but that wasn't the case when I started.
My first jobs were non-paying simply to give me some pieces for my portfolio. In fact, it took a few years for me to have a solid, stable income.
Don't let any of the drawbacks dissuade you from becoming a freelancer. The positives far outweigh the negatives. If you're a good writer, you should be able to find work. You might have to pad your income with some other gigs before you can go full-time, but it will be worth the effort.
Requirements
Good writing skills
Salary
Varies, but the average salary for a freelance writer is $23.43 per hour.
➔ Find freelance writer jobs on our job board.
Do you want help with being a freelance writer?
Check out this community of freelance writers who help new freelance writers get into the business.
2. Fitness Instructor
A fitness instructor teaches classes or provides one-on-one personal fitness sessions. Fitness instructors may be freelancers, but they are more often employed by gyms or fitness centers. The type of instruction varies from aerobics to weight lifting to yoga.
Being a fitness instructor has a lot of benefits. You not only earn a steady income, but you remain healthy while doing so. Not just that, but you're also encouraging others to live healthy lives. As your children grow, they will be influenced by your health and exercise. It's an excellent career for anyone with the ability and stamina.
This is a job that requires a high level of physical fitness. Not everyone has the ability to lead multiple classes per day. Those moms with limited physical abilities may not be able to consider this career.
The good news about being a fitness instructor is that it's a career that is in high demand. The Bureau of Labor Statistics projects that the field will grow by 15 percent over the coming years, which is higher than average.
Likewise, moms benefit from the flexible nature of fitness instruction. Many gyms allow their instructors to make their own schedules. Most gyms also have daycare facilities so moms can take their children with them to work.
Being a personal trainer allows moms to choose when they work and how many clients they have. Flexibility plus a solid income equals a great opportunity.
Requirements
A solid level of physical fitness. You may need to get a certification depending on how you want to specialize.
Salary
Average salary is $19.48 per hour or $40,510 per year.
➔ Find fitness instructor jobs on the job board.
Receive Job Alerts to Your Inbox
Are you tired of constantly checking job boards looking for positions that aren't posted? Sign up for job alerts for the criteria you set. When that job is posted, we let you know about it. It's FREE, and you can unsubscribe at any time.
3. Photographer
A photographer takes professional photographs of people, places, and things. Photographers may work in journalism, as freelancers, or as studio owners.
Most photographers are experts in photo editing software. Many photographers specialize in specific areas, like portraiture or wedding photography.
Do you have a good eye and a steady hand? If so, you may have what it takes to be a photographer. This career allows you to capture memories while also earning a living. It gives you the ability to be creative while providing a service that nearly everyone desires.
Photography is not as easy to break into as it once was. As cell phone cameras continue to evolve, many people consider themselves amateur photographers. However, these people cannot replicate the expertise that goes into studying photography, learning composition and using expert equipment.
The biggest downside to photography is the initial investment. While there are other careers that require very little upfront cost, a good photographer needs to have a high-end camera, an excellent lighting set-up, and numerous other materials.
If you decide to go down this career path, you may wish to invest in backdrops or even a studio space if you're self-employed.
On the plus side, a freelance photographer no longer has to have a studio to take portraits. It has become trendy to use outdoor locations for photoshoots of all kinds. A mom who focuses on a photography career has flexibility and built-in subjects to practice on.
Requirements
A good eye, photography knowledge, and professional equipment (check out this professional starter photography bundle).
Salary
The median salary for full-time photographers is about $30,000 to $40,000 per year.
Learn the skills you need to become an excellent photographer. Check out some of these courses.
4. Artist | Selling Crafts
An artist makes money selling items of their own creation. This includes paintings, sculptures, jewelry, or any number of items created with your own two hands.
Let me tell you a story about my sister, Talia. When we were growing up, people always told her that she should try to sell her creations. Whether she was making wreaths, wedding bouquets, or murals, she always had an eye that others admired. She never believed she could make a career from it, but she always enjoyed her hobbies.
Talia began working full-time in an office while selling her paintings at craft shows and art fairs in her spare time. People began asking her if she would teach them how to paint, do woodworking and make ceramics as she did.
Before long, she had so many students that she had to rent space to keep up. Not only that, but she was making more money in her "side gig" than she did in her full-time job.
After a couple of years, she quit her day job to focus full-time on her art studio. She even has a space for children where her own kids can craft and play.
Not every artist is going to have the extreme good fortune of Talia. Still, with hard work and real talent, an artist can make a solid living. The online marketplace expands the customer base, though it admittedly also makes the market much more competitive.
Requirements
Natural talent and hard work.
Salary
Salaries vary from $20,000 per year at the low end to about $90,000 at the high end. I have also heard of those who make well over 6 figures do this.
Learn to sell on Etsy. There's an art to selling your products on Etsy. Check out this course to learn the steps you need to take.
5. School Support Staff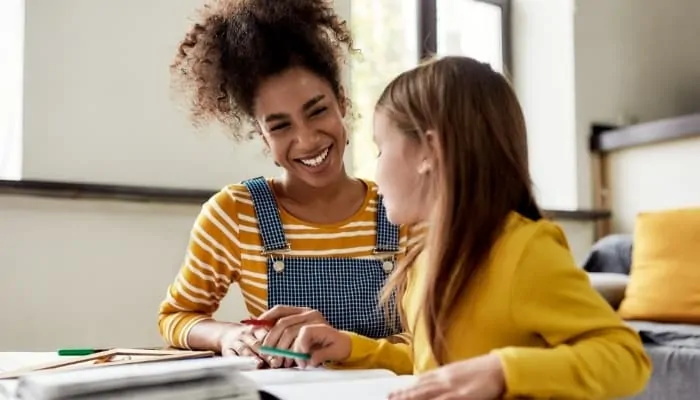 School support staff may include office secretaries, playground monitors, crossing guards, cafeteria staff and school bus drivers. Responsibilities generally include, at minimum, being able to work with children. Bus drivers must have a commercial driver's license and a clean driving record.
Moms of school-aged children know how difficult it is to find childcare when school is out of session. A good way to avoid the need for childcare is to work in the school system.
Whether taking a job as an administrative assistant or as a cook in the school cafeteria, you will always have the same schedule as your children. You will even be able to stay home with them on snow days.
The downside to these jobs is the pay. Some jobs, like crossing guard or playground supervisor, are low pay, part-time positions. Others, like a school bus driver, pay a decent salary for a job that is less than 40 hours per week and is not year-round. But still, it's rarely a living wage.
Those moms who have partners who contribute to the household income could find working at a school to be extremely rewarding. I have known a number of moms who have chosen to work at their kids' schools so they can share the same schedule while also having some money come in.
Requirements
A love of working with children and a CDL (in the case of school bus drivers)
Salary
Depending on the position you can expect to make between $13 and $25 per hour.
➔ Find school support staff jobs on my job board.
6. Salesperson
A salesperson is someone who sells goods or services to others. Some salespeople have a salary, some work on commission and some have a combination of both. Sales positions require excellent customer service skills.
Sales is one of those careers that you either love or hate. Those who love it can make an excellent living while those who hate sales may find they have no income and, eventually, no job.
The good news is that there are so many different types of sales careers that you may find passion in selling a particular item. An insurance sales agent averages more than $50,000 per year in a position that can often be done from home.
Real estate agents who work full-time may make almost $70,000. Medical Sales Reps can earn six figures every year. All you have to do to be successful in sales is find an area you love and get to work.
That said, sales is hard work. You may find yourself working many more hours than you intended so that you can reach your commission goals.
A friend of mine who is a medical sales rep supports her family with her job while her husband stays home with their kids. They have a very comfortable life and a beautiful house, but she doesn't get to spend a lot of time at home.
The upside to this job is that you do not need to have a lot of experience or a college degree to get started. You can learn on-the-job and start seeing an income right away.
Requirements
Some sales positions may require that you complete a certification course.
Salary
The median salary for a sales representative is just under $60,000 per year.
➔ Find sales rep jobs on my job board.
7. Chef
A chef is a person who cooks meals for others. A pastry chef is a person who focuses on baked goods and desserts. A sous chef is the second-in-command in the kitchen. A head chef is the chef who's in charge of the entire kitchen staff.
Head chefs often, though not always, make the menus for restaurants and guide the sous chefs and line cooks in the creation of the meals. Chefs may work for restaurants, may own food trucks, or may be self-employed.
If you love to cook, you may find that being a chef is your calling. You might try to get a job in a restaurant or cafeteria to gain experience and a full-time salary.
Some chefs, especially pastry chefs, make a living by building their own creations and selling them to others. This is commonly the case with cakes, cupcakes, and cookies.
I have several friends who have chosen this career path. In one case, the mom thought it would be fun to sell her beautifully decorated cakes as a side job. She quickly became so popular that she could no longer keep up with orders.
Rather than say no to some customers while saying yes to others, she decided to close her part-time business and go back to making cakes for fun.
You might not have the same response as my friend, but you might find that your love of cooking and creating is just what you needed to make extra money.
Requirements
The ability to cook. If you don't know how to cook or you're not a good cook but would like to learn you can go here to learn how to cook by using one of the most comprehensive online cooking schools out there. It's affordable and comes with a FREE TRIAL.
Salary
The salary range for chefs in the United States is $11 to $36 per hour.
➔ Find chef jobs on my job board.
8. Shopper
A shopper is a person who buys items for others. The most common shopper is now a grocery shopper, though other personal shoppers may pick up odds and ends for specific clients.
Do you love to shop but hate spending money? There are many services available that allow you to do someone else's shopping for them. One of the most popular of these services is Instacart. You use an app to connect with the business you're working with, choose from a selection of clients, and then go shopping.
The biggest downside to being a shopper is that you have no control over the amount of work you will do on a given day. It depends entirely on if there are orders available and if you can get to them before another shopper does.
While you will receive payment for the work you do and additional tips from the buyers, the amount you bring in is sketchy at best.
On the other hand, being a shopper is an excellent way to earn extra money while you're running your errands. You'll probably struggle to support yourself on just the money you earn while shopping, but you will be able to pad your income while doing something you already enjoy.
On a personal note, I do not like shopping. I don't like shopping for myself and I don't like shopping for others. I use these shopping services and am very grateful to the moms out there who let me happily avoid the supermarket. If you choose to try this job, I will be cheering you on from the sidelines.
Requirements
A car and a love of shopping.
Salary
A shopper makes about $13 per hour. I also know someone who's making closer to $18 dollars an hour after subtracting the cost of gas.
➔ Find shopper jobs on my job board.
Receive Job Alerts to Your Inbox
Are you tired of constantly checking job boards looking for positions that aren't posted? Sign up for job alerts for the criteria you set. When that job is posted, we let you know about it. It's FREE, and you can unsubscribe at any time.
9. Hair Stylist or Nail Technician
A stylist is a person who cuts, styles, shampoos, and dyes hair. A stylist may be able to add extensions or provide chemical treatments to hair. Some stylists also apply makeup. A nail technician offers manicures and pedicures to clients.
A good stylist is hard to find. If you have the ability and the desire to work with hair, you can build a very loyal customer base. Being a stylist, sometimes referred to as a beautician, requires you to know how to work with different hair types and that you have a good eye for what looks good on your clients.
Along with a solid fashion sense, a stylist needs to have excellent people skills. As a stylist, you become your client's best friend, therapist, or life coach while you're updating their look. For that one or two hours, you will be one of the most important people in your clients' lives, which can be a lot of pressure but also a lot of fun.
Stylists who want to make a full-time income must be salespeople. They must encourage client retention while constantly being on the lookout for new customers. A stylist who doesn't see a steady influx of customers will not make enough money to justify the cost. This is one of the reasons the turnover rate for hair stylists remains high.
Requirements
Many places require hair stylists and nail technicians have cosmetic licenses before being employed.
Salary
For this category expect to make around $15.74 per hour.
➔ Find hair stylists, nail techs, and beautician jobs on the job board.
10. Administrative Assistant
An administrative assistant provides support to an office environment. Duties include answering phones, taking notes, customer service, basic computer work, and many other office tasks as assigned.
Offices always need receptionists, administrative assistants, office managers, and general office clerks. They're often both the front-facing and the backbone of the office. This important job is found in a wide range of office environments. Jobs might be full- or part-time, depending on the office's needs.
There are negatives to working as an administrative assistant as a mom. You probably won't have a flexible schedule. Most of these jobs have strict working hours with specific times for lunches and breaks. You might get lucky and find a job that will give you some flexibility, but these are few and far between.
Despite the negatives, the perks are big. Most administrative assistant positions are in comfortable environments that require little to no manual labor. You're paid a salary that is often negotiable and usually well above minimum wage. You may also have access to benefits like retirement contributions, insurance, and profit-sharing.
One of the biggest benefits of seeking a job as an administrative assistant is that these jobs are fairly easy to find. Though not as prolific as retail or food service, the jobs are readily available. You also have a good chance of being offered the job even if you don't have office experience as long as you're good with people and eager to learn.
Requirements
Some computer experience and customer service skills are necessary, but no formal education is required.
Salary
Salaries for an admin assistant start at about $16 per hour.
➔ Find administrative assistant jobs on the job board. As a side note, when searching for this job, try searching for it with the area you want to work in. For example, instead of "office manager," try "doctors office manager."
11. Virtual Assistant
A virtual assistant or VA is similar to an administrative assistant. As a VA, you'll provide support to a company. The support you provide could range from answering phone calls and emails, taking notes, customer service, data collection, and many other remote tasks.
Notice how I said remote task? That's because one of the major differences between a virtual assistant and an admin assistant is that a VA will be a remote worker. In a lot of instances, you'll apply, meet your employer through Zoom, and then get hired on without ever actually meeting your employer in person.
The negatives of this job will vary greatly based on the employer. Some employers might have you on a strict schedule. Others might not care what schedule you're on as long as the work gets done.
There's also the added benefit of working from home and never having to leave your house. That's a benefit a lot of moms will like.
Requirements
Proficiency with using computers. Fast internet speeds and a nice work-from-home setup.
Salary
I know and have hired a lot of virtual assistants. You can get paid as low as $12 an hour to well over $20 or $30 an hour, depending on the job and the skill sets you bring to the table.
➔ Find virtual assistant jobs on the job board.
12. Social Media Manager
As social media has become more and more important to our lives, so too has it become important to the success of a business.
Companies understand that what can make or break businesses in the social age is their interactions with their customers. Because of that, companies are constantly wanting to be actively engaged in whatever social media platform their customer base is at.
The problem is that because there are so many different social media platforms to adequately engage their customers, companies need to hire someone to manage all their social media accounts on a part-time or full-time basis.
If you like the idea of managing someone's social media, then this could be the job for you. It will involve creating and scheduling posts for companies. While this might seem like an easy job, keep in mind that companies, especially big companies, will have strict standards that need to be met.
While some companies will hire someone in-house, those hires could be remote workers or virtual assistants. So if you want to work from this is another position to consider.
Requirements
You need to be an organized and detail-oriented person for this position. Remote positions will require fast internet speeds and a work-from-home setup.
Salary
The median pay for a social media manager is about $16.28 an hour.
➔ Find a social media manager job on our job board.
13. Proofreading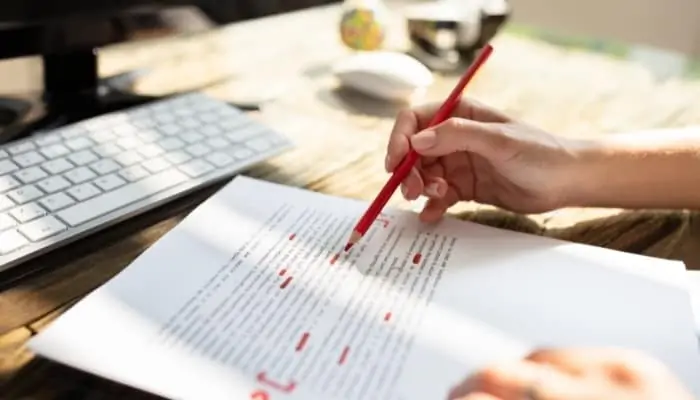 If you don't know what proofreader does, you might confuse them with an editor. While their jobs are similar and do overlap, they both accomplish different things.
For starters, an editor usually edits an article in the first stage of the revision process. The editor looks at the structure and style of the work. The revisions an editor makes can sometimes be very substantial and require rewrites of paragraphs, pages, chapters, or in extreme situations, the entire work.
This is different from the proofreader, who comes in at the final stage of the revision process and doesn't typically make substantial changes to sections.
The proofreader looks at things like spelling and grammar, but one of the most important things a proofreader looks at are things like typos that can have either embarrassing or expensive consequences.
For example, maybe on your sales page, you wrote you're selling a product for $99 when it should have been $199. Or better yet, I'm sure you've seen those typos from a billboard or advertisement that leads to embarrassing memes all over the internet.
Part of your job as a proofreader would be to prevent situations like that from happening by proofreading written content.
Requirements
Attention to detail and a strong grasp of the English language is a must.
Salary
The median pay for a proofreader is somewhere between $15.22 to $26.02 depending on experience and the project you're working on.
➔ Find proofreading jobs on our job board.
Learn how to be a proofreader. Check out the premiere course on proofreading.
You Don't Need that College Degree
Don't get me wrong, having a degree does open more doors. But do you need that associate's degree or that bachelor's degree to be able to make a good living and take care of your family?
Nope.
There are other ways to be successful without it. This list is by no means exhaustive, but it does give you a good starting point for jobs you can attain as a mom without a college degree.
What would your ideal job be? Tell us about it in the comments!
Related
Frequently Asked Questions