Montessori vs Daycare: Differences and Similarities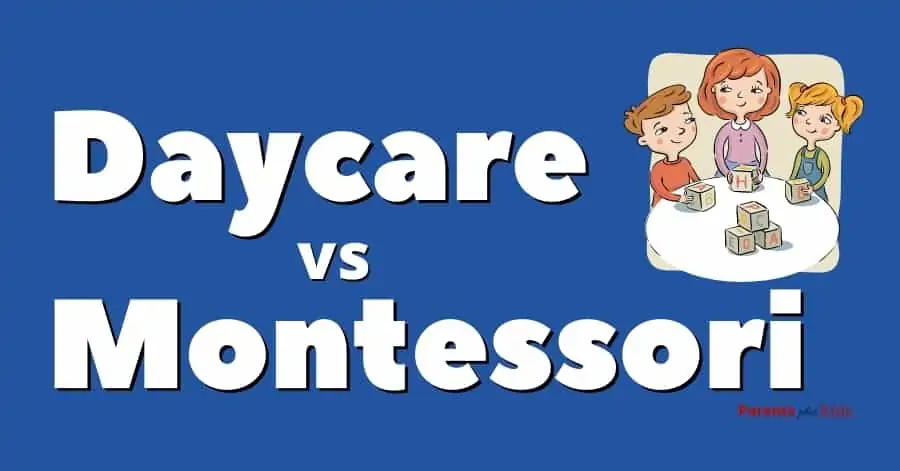 This post may contain affiliate links. If you buy through the link, I may earn a commission. Learn More.
As your child grows, one of the primary concerns you'll have is childcare. A little after that, you'll have to decide if you want your child to go to a preschool or a daycare center.
When deciding between daycare and preschool, one option that's often not considered is a Montessori school.
Keep reading to learn more about what Montessori is and the differences between a Montessori program and a traditional daycare.
What is the difference between a Montessori and a daycare?
Montessori and Daycare are very different options. Montessori offers learning programs that are less structured than a typical preschool. Montessori preschools teach kids to guide themselves as they learn and play. Daycares provide safety and care but don't necessarily focus on learning.
*FYI, some of the links in this article about Montessori vs daycare may be affiliate links. If you click and make a purchase, we may get a commission (at no extra cost to you). For more info, please see our disclaimer.
Montessori or Daycare? Which Do I Choose?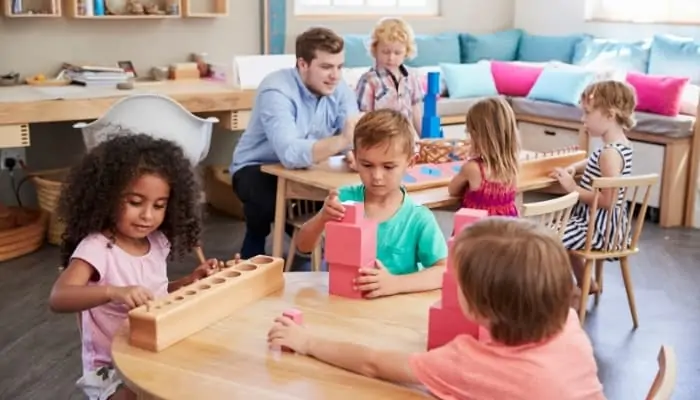 You're going to be bombarded with different types of preschools and daycares as you strive to find what is best for your child.
When you look into Montessori, it might seem like a typical preschool with a fancy name.
However, there are some stark differences that might make you feel excited or send you running in the opposite direction.
What is Montessori?
The Montessori philosophy is a method of education that's student-led. Children are given access to learning opportunities that are usually set up as stations. The stations are age-appropriate and often hands-on, so young minds will be interested and entertained.
Children are not forced into any specific type of learning. Instead, they're given the freedom to choose what appeals to them.
A Montessori pre-school may cater to specific ages. Usually, a Montessori for children under the age of three is called a "nest" as it is more about nurturing than teaching.
Once a child reaches age three, they may be in a Montessori classroom with children their age or much older. Because Montessori is student-led, there aren't specific grade levels that are based on age.
A major factor when considering Montessori is that the program doesn't have to stop when a child reaches age five or six. Montessori programs may go through primary and secondary schools.
Indeed, a child might spend their entire school-age years at the same location.
Pros
The upside to Montessori is that children are taught to be self-sufficient. They're given tools to learn in a way that is most interesting to them.
Classrooms are led by teachers who are trained in the Montessori method. The rooms are kept small in size for more individual interaction. They tend to be very nurturing places.
Cons
The downside to Montessori depends on you. Not everyone likes programs where children aren't given specific guidance.
Another big downside is the cost. Though it varies by location, the cost of a full day of Montessori pre-school is generally a few thousand more per year than daycare.
In addition, the hours of the Montessori are rarely flexible. Parents may need additional childcare at the end of the school day, which is an additional expense.
My Thoughts on Montessori
My personal feelings about Montessori are that it's a good option for families who have a lot of time to devote to their children's education.
Studies have shown that they are particularly helpful for preschool learning though maybe not as helpful as children get older.
I primarily opted against Montessori because I like a lot of structure. However, I do understand that children can thrive in more open environments.
What is a Daycare?
Daycare is a program that provides care for children while their parents are away. A daycare center is usually offered for children from infancy through school-age. A daycare may have a learning component, but in most cases, children are given access to toys and activities, snacks, naptime, and outdoor play.
A daycare is not a preschool of any type. Children might learn on their own at daycare, but that is not the purpose of the program. That's not to say children don't benefit from daycare.
There are some studies that show that there are some benefits of daycare. Some of these include socialization, early language skills, and an easy transition to kindergarten.
What's interesting about daycare is that there are so many different options. You can probably find daycare programs that cater to your exact needs regardless of where you live.
Do you want a small, private daycare in someone's home? You probably have your pick.
Do you prefer a daycare with a religious background? Just call your religious institution, and they will point you in the right direction.
If you choose daycare instead of Montessori, you still have a lot of work to do to find the right one.
Pros
The biggest benefit to daycare is knowing your kid is in a safe space while you're at work.
You also give your child access to peers who might come from a variety of backgrounds. Meeting different people at a young age can only help a child as they navigate through their future.
Cons
The drawbacks of daycare should not be ignored.
Daycares aren't as rigidly overseen as parents might hope. This is especially true of in-home daycares that don't have extra staff to help with kids.
Your child might not receive individualized care during the day. They may also be exposed to germs and behavior that you would rather avoid. While daycare isn't as expensive as Montessori, it is still pricey.
Related: In-Home Daycare vs Daycare Center
My Thoughts on Daycare
You might find the perfect daycare that suits all of your needs, and that's great. Many families are very satisfied with their childcare solutions.
You might also have to settle for an adequate daycare that fits within your budget. Sometimes, a parent has to do what a parent has to do in order to get by.
There is no judgment here if you choose a daycare that isn't ideal because every other solution is financially out of reach.
Related: How to Find a Good Daycare: Complete Guide
Is a Montessori School Better Than Daycare? Here are My Thoughts
| (the questions) | Montessori | Daycare |
| --- | --- | --- |
| What is the cost? | It tends to be more expensive | It tends to be cheaper |
| Is there a learning component? | Focused on child learning | Focused on just watching kids and keeping them safe |
| How is the learning component structured? | Education is child-led; the child directs the education | If there is an education component, it tends to be more structured |
Some key differences between a daycare and a Montessori.
My opinion is that daycare is a fine substitution for Montessori. Most kids I know have grown up with few problems regardless of their parent's choices of daycare, Montessori, preschool, or having a stay-at-home parent.
What matters most is that you, as a parent, are concerned enough to worry over these choices.
The simple fact that you're studying the differences between daycare and Montessori shows that you are an involved, caring parent and that your child will be fine with whatever choice you make.
What is Really Important
Montessori and daycare have their differences, but the most important is being a caring, concerned parent.
What are your thoughts on daycare? Have you considered Montessori? Share with us in the comments. We want to hear your thoughts and opinions.
Have You Read Any of These Yet?
Frequently Asked Questions
Here's some frequently asked questions related Montessori versus daycare.