13 Most Forgotten Baby Registry Items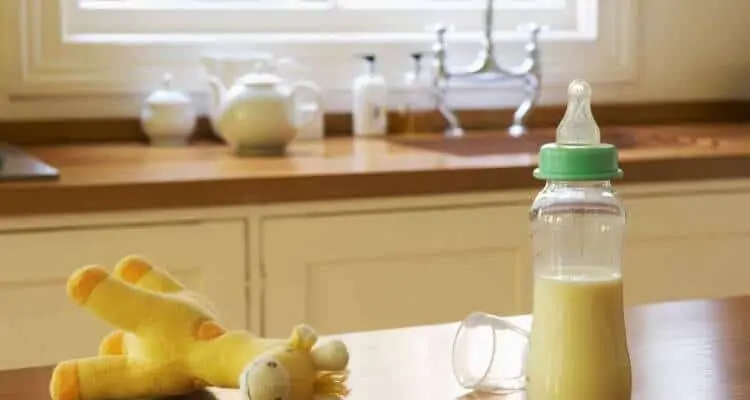 This post may contain affiliate links. If you buy through the link, I may earn a commission. Learn More.
This article is going to go over the most forgotten baby registry items.
When we were about to have our first child, we quickly realized something.
We realized how frustrating and difficult filling out a baby registry could be.
As new parents, we weren't 100% sure what we needed. We knew the very obvious, diapers and baby wipes. But what about the hidden gems.
You know those items only experienced moms and dads would know they needed.
Months removed.
As we're stumbling through parenthood, we've realized there was a lot of things we should have put in the baby registry, but didn't.
We either didn't know or forgot. On top of that, there was a lot of items on our baby registry we didn't need.
As they say, hindsight is 20/20 and experience is the best teacher of them all.
This article will hopefully keep you from making the same mistakes we did.
We're going to give you the most forgotten baby registry items. Some of those items we're still looking back today and thinking…
"We really should have put that on the baby registry."
*Disclosure: This site contain affiliate links. If you click and make a purchase, I may receive a commission. For more info, please see my disclaimer.
Most Forgotten Baby Registry Items
1. A "White Noise" Machine
It's very fitting that the first item on this list has to do with your baby sleeping. You'll notice a pattern.
Several items we have on this list revolves around your baby being able to sleep well.
For a good reason. If your baby is able to sleep well…you'll be able to sleep well also.
A white noise machine like the Big Red Rooster is an excellent way to help your baby sleep better. You might be wondering…
What is white noise? It's a continuous sound you hear that's played at the same sound level over and over again (source).
An example of this would be the sound of a fan.
Typically it's the same light sound continuously, without a change to the frequency of the sound.
If you're going to use this be mindful that the sound isn't too loud. Get the Big Red Rooster white noise machine.
Get the Big Red Rooster white noise machine on Amazon.
2. A Nosefrida SnotSucker
You're probably familiar with the bulb syringe. You know like this one…
If you're not familiar with a bulb syringe, don't worry.
We're sure you'll get one as a baby shower gift. Those gifts will be well-meaning, but bulb syringes are like VHS.
Archaic, inefficient and for whatever reason still lingering around. Bulb syringes can be difficult to clean.
If you don't clean them well, they have the potential to harbor unsafe germs.
By the nature of their design, they can be more of an irritant to the child's nostrils.
You also don't have as much control over the suction power of the bulb syringe.
Which leads me to why a nose Frida snotsucker is a better choice.
They're easier to clean. They don't need to go up as far in the baby's nose. You can control the level suction of the nose frida.
While it might look disgusting, there's a replaceable filter in between.
So you're not sucking up the mucus. The one downside is that it can be more expensive than the bulb syringe. The added cost of the filters doesn't help either.
In the grand scheme of things, a Nosefrida can be a little more expensive, but it's worth it.
If it keeps your baby's nasal passages clear. They're calm, and you're calm. Get your NoseFrida Snotsucker.
Related Article: Nose Frida vs Bulb Syringe
3. A humidifier
Since we're already talking about stuffy and congested noses.
Let's talk about a good preventative and another commonly forgotten baby registry items.
A humidifier. A stuffy nose can keep your little one from getting a good nights sleep.
I said this before, and I'll probably continue saying it. If they're not sleeping well, you won't be.
Go ahead and get the Crane cool mist humidifier to help your little one sleep better.
You could also get this Vicks humidifier
Its cheaper than the crane. But not as cool looking.
4. Kiinde Breast Milk Storage Twist Gift Set
If you're breastfeeding and you haven't bought any bottles or a breast pumping kit yet you should consider Kiinde.
The premise of their system is ease of use. You pump into their pouch.
You'll store the breast milk in that pouch.
When you're ready to feed the baby, you're going to warm up the breast milk that's in the pouch.
You're also going to feed the baby from that pouch. All without pouring the breast milk into another container.
You reduce the risk of spilling the "liquid gold."
This short narration doesn't do the system justice, but it does work. We tried their starter package, and we were impressed with it.
If we had tried it earlier before we invested in the bottles we had, we probably would have gone with their system.
This brings me to the potential downside.
What makes their system so great and easy to use is their ecosystem.
What makes it bad, is the ecosystem.
Once you start using their bottles, you have to continue using their system.
They have an adapter you can use for the major breast pump systems.
But I'm talking about the actual bottles themselves.
Definitely worth checking out the Kiinde Breast Milk Storage Twist Gift Set.
5. Swaddle-Up
You might be fortunate to have a baby that sleeps without a problem.
If you're like us and most of the parents we know, your baby will struggle sleeping.
Most of the issue with swaddling has to do with their startle reflex.
A swaddle helps with managing the startle reflex.
I won't bore you with the whole detail of how a swaddle helps a baby sleep.
As for now take my word on it. It can help.
The traditional way of doing a swaddle is with a blanket and doing this…
You might not be "swaddling challenged." But I am.
Not to mention our baby was not a fan of the traditional swaddle.
So we had to find another option.
We found the swaddle up sleep sack.
We found the swaddle up sleep sack.
This is not the only sleep sack on the market.
There are plenty of others.
Plenty of cheaper ones actually.
But this is the one we've found that's worked the best for us.
It's made with quality material.
We have several different sizes, and they've withstood countless rounds in the washer and dryer.
With it, our baby sleeps…well like a baby.
Without it…
Well you know.
Get your Swaddle-Up Sleepsack.
6. Breast Pump
A breast pump is another one of the most forgotten baby registry items.
If you're going to be breastfeeding, you're going to need a breast pump.
If you're exclusively breastfeeding,…you're definitely going to need a breast pump.
You might know this already.
But you probably won't think about putting this on your baby registry.
Even if your health insurance company will pay for it, or cover for some of it go ahead and put it on your registry.
We think this might be one of the most forgotten baby registry items.
The other thing many parents don't think about is don't get the cheap ones.
Using a breast pump is not the most comfortable or pleasant thing in the world.
What's going to make it worse is a breast pump that's not very good.
Low build quality.
Low suction strength.
Not being easily portable.
Those are just some of the things you need to watch out for when you're getting a breast pump.
Check out the Spectra Breast Pump.
Check out the Spectra Breast Pump.
7. Dishwasher Baskets for Baby Bottles and Nipple
Washing baby bottles is a pain.
If you go through as many bottles as we do you'll dread it night in and night out.
A dishwasher basket for baby bottles is a must have baby registry item that's not remembered.
With a baby bottle dishwasher basket, you'll put all the small baby bottle parts in there to keep it from getting lost in the dishwasher.
Run the hot cycle to sanitize and call it good.
A baby bottle dishwasher basket has been a lifesaver.
Get yours today.
8. A Comfortable Front Baby Carrier
Your baby is going to want to be held a lot.
If your hands are full with your little one that leaves you with no hands to do everything else you need.
A front baby carrier like the Ergobaby…
Or if you're looking for something a little bit more stylish.
You can't go wrong with getting a ring sling baby carrier.
Is a good way to be able to hold on to your baby.
While keeping your hands free to do everything else you need to do.
They're also a good way to go on a relaxing walk with your baby.
Or shopping at the mall.
9. A Car Seat Cover
A car seat cover serves three purposes.
It'll cover the car seat and protect your baby from the elements in the car.
It'll cover the car seat and protect your baby from the elements when he or she's in the stroller outside.
It's a cover for when you have to breastfeed in a more public place.
It's a nifty all-purpose item and one you'll find yourself using over and over again.
We never thought about this until we got it as a gift.
It quickly climbed to the top of my list of things I wish I registered for our baby.
Get your Copper Pearl Baby Car Seat Cover.
10. Mom Washer Peri Bottle Care for Postpartum Care
Who says a baby shower registry is just for the baby.
Not all peri bottles are created equally.
Likely you will be given a peri bottle at the hospital.
It will probably look like this…
And it will frustrate you.
Not only it is hard to aim, but you will only be able to utilize about half water in the bottle.
The mom washer peri bottle by Fridababy must have been created by someone who has experienced the postpartum pain.
Also keep in mind, it's important to use after every bathroom encounter.
It would be ideal to keep a peri bottle in every bathroom in your house for the first few weeks.
The MomWasher Peri Bottle for Postpartum Care is a great way to make post delivery vaginal care easier and a lot cleaner.
11. Baby Silicone Bath for Cradle Cap
Cradle cap is a yellowish scaly rash that can appear in infants.
Generally very common and goes away on its own (source).
While not usually an issue for the infant it's something you might want to address.
If not addressed the scales can lead to bleeding.
It's much better to get into the habit of light exfoliation with mild shampoo or baby oil at bath time to prevent progression.
This baby brush by Fridababy can help remove those scales.
12. Diaper Wipes Dispenser
If you're going to be a new mom or a new dad than you might not know about the struggle.
The struggle I'm talking about is getting three or four diaper wipes when you only really want one.
It's wasteful.
Not to mention annoying when you're trying to wipe off a poopy bottom and your diaper wipes aren't cooperating.
With the diaper wipes dispenser by OXO Tot you don't have to worry about it.
The dispenser has a weighted top that helps to make sure when you're pulling out a diaper wipe you're only pulling out one.
Diaper wipe dispenser by OXO Tot is a perfect addition to your baby nursery.
If you're wanting a diaper wipes dispenser for on-the-go you can check this one out also.
13. Baby Formula
There's without a doubt a lot of benefits to breastfeeding. The American Academy of Pediatrics supports breastfeeding.
The health and mental benefits are widely researched (source).
I know you said you're going to be exclusively breastfeeding.
In an ideal world that would be so. Unfortunately, we don't live in an ideal world, and having kids will put you in not so ideal situations.
While you may never need it. It doesn't hurt to keep some baby formula around, just in case.
Conclusion
That's our list of the most forgotten baby registry items.
Did we miss anything?
Also please take a moment to share this article of the most forgotten baby registry items
We want to help other moms and dads.