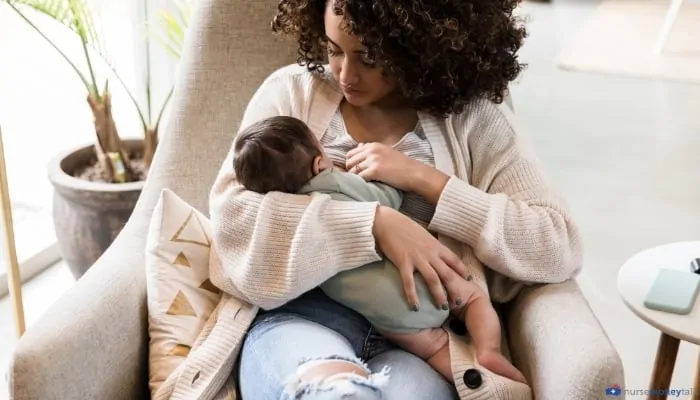 This post may contain affiliate links. If you buy through the link, I may earn a commission. Learn More.
A new baby truly is a bundle of joy. A new mom is often a bundle of nerves. Suddenly finding yourself with a little human in your life isn't easy.
Luckily, you can turn to advice from pros who know a thing or two about surviving life with a newborn.
*FYI some of the links in this article about new mom life hacks may be affiliate links. If you click and make a purchase we may get a commission (at no extra cost to you). For more info please see our disclaimer. No medical or professional advice is being given.
10 New Mom Life Hacks
These life hacks will help to make your life easier in the days and weeks after your baby is born. Each has been tested and tried with great success!
1. Cabbage Leaves and Granny Panties
Moms don't like to talk about the changes their bodies face immediately after childbirth. Some of it is the fact that it is overshadowed by the wonder of the new baby. The other part is that we frankly would prefer to forget.
For a few days after your baby is born, you will experience postpartum bleeding. All of the blood that has been supporting the child for the last nine months has to go somewhere, and usually that somewhere is everywhere.
Be prepared by using XL pads and granny panties for at least a week after birth. Adult diapers are perfectly acceptable too. Another big change you will face is the sudden presence of milk in your breasts.
Cold cabbage leaves are the perfect shape to wrap around each breast when they are sore and aching. It might sound strange, but it truly works!
2. Socks Aren't Just for Feet
Newborns have delicate skin, quickly growing fingernails, and hands that flail at the speed of windshield wipers during a downpour.
Onesies and pajamas with built-in mittens are lifesavers, but what happens when the baby has soiled all of those clothes? Don't leave the baby unprotected.
Reach for socks instead. Sure, you could buy the mittens that are specifically made for that purpose but socks work just as well and are much less expensive.
3. Double Duty for Pillow Cases
Babies poop and pee far more than you realize. Whatever amount you think it is, double it, and then double that. You will go through roughly 93 billion changing pad covers every day. For the first year.
After that, you will never need them again. Instead of wasting money and resources on changing pad covers, use pillowcases (like these Allergen Proof ones from Amazon). They slip off and on easily, are a fraction of the cost, and are still useful when the baby has been potty trained.
4. Bring the Stroller Inside
My daughter only slept in the stroller. No amount of rocking, feeding or letting her cry it out led to so much as a minute of sleep.
On one rainy day, I made the decision to leave the stroller inside. I walked in circles in her bedroom, pushing a stroller in front of me, and she was asleep before I knew it.
Moving her to the crib was a snap because we were already only steps away. It was quick, it was easy and the only downside was that I didn't think of it earlier.
Note: Do not let babies sleep in the stroller. It is an excellent place for falling asleep, but the baby needs to be moved to a crib or bassinet as quickly as possible.
5. Stock Up on Hydrogen Peroxide
Poop stains are going to happen.
No matter how quickly you act or how observant you think you are, there are going to be times when poop leaks over the top of the diaper and ruin whatever cute outfit the baby is wearing at the time.
Luckily, there is a somewhat easy fix.
Make a stain-removing solution with one part liquid hand soap and two parts hydrogen peroxide. Use a toothbrush to scrub the solution into the stain, and then rinse away. hydrogen peroxide is also useful for cleaning mattresses and diaper pads.
6. Start Bottles Early
Are you breastfeeding your baby?
Great!
That is a wonderful, healthy choice.
Just make sure you are still giving your baby a bottle about once a day. Let your partner feed the baby so they have the chance to bond. Here's a nice baby bottle set from Tommee Tippee.
Also, starting with a bottle early means it won't be as much of a struggle if you go back to work, want to go out to eat, or simply need a break.
7. Always Carry a Change of Clothes
You need a well-stocked diaper bag for traveling anywhere with baby. An often forgotten item in that diaper bag is a change of clothing – for you.
Your baby will inevitably spit-up on or otherwise soil whatever it is you're wearing. A second shirt will keep you from having to walk around in a wet top.
8. Multi-Purpose Pool Noodles
Buy a foam pillow at the dollar store (or from Amazon) before they sell out to all of the other moms. They can be cut down to size to be used in a variety of places.
Cut a pool noodle to slip over the baby carrier handle, which makes it easier to carry in the crook of your arm.
Keep a piece of the pool noodle in your diaper bag to fit over germ-laden shopping cart handles.
At home, you can use a pool noodle to keep electrical cords organized and out of the way. They also make excellent furniture bumpers when the baby starts to crawl.
9. Mess-Free Public Diapering
You might think nothing is more disgusting than using a public restroom, but you will learn it is far worse to have to change a diaper in one.
The baby changing stations in public restrooms are seldom clean and always inconvenient.
Always carry disposable changing pads that you can lay atop the changing table, and then throw away. You can get them here pretty inexpensively.
I used them under my washable changing pad for an extra layer of protection.
Note: Some new moms advocate using puppy training pads instead of disposable changing pads.

Do NOT do this!

Puppy training pads contain a chemical agent that attracts puppies and encourages them to use the pad for their business. They are not meant for a baby's delicate skin.
10. Keep Sample Formula
You might feel the need to avoid the sample containers of formula if you are planning to breastfeed. For the love of all that is good and might, don't say no to free formula.
Baby formula is incredibly expensive and you may find yourself needing it after all. Just look at the price of this one.
My son was three weeks old when I developed a yeast infection in my breasts. Nursing was incredibly painful and neither my son nor I improved with treatment.
Our doctor recommended we halt breastfeeding until the infection cleared up for both of us.
During that time, we were grateful we held onto the sample formula can, which served as an excellent supplement along with the milk that I pumped. Formula can also be used to mix with rice cereal when baby is old enough to eat solid food.
Final Thoughts
Any time you find yourself frustrated or worried that you're getting this whole mom business wrong, remember you're not alone.
Every mom has been there.
What are your biggest worries about being a new mom? What are some hacks you have uncovered? Tell us in the comments!
Related