Pack N Play vs Crib: Which is the Best?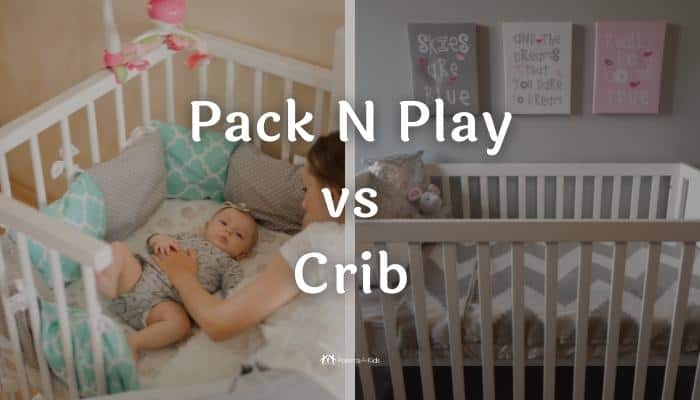 I used both a Pack 'n Play and a crib for my children. Not everyone wants to use the space or spend the money on both options.
Read on as we walk through each item's features so you can decide which item is best for your family.
*FYI, some of the links in this article about pack n play vs crib may be affiliate links. If you click and make a purchase, we may get a commission (at no extra cost to you). For more info, please see our disclaimer.
Pack 'n Play vs Crib: Which is the Best?
Before you decide if you prefer a Pack 'n Play or a crib, you need to learn a little bit more about each of these items.
If You're In a Hurry Here's What You Should Get
I understand you're probably a busy mom or dad, and you want to know which one you should get. Here's the quick summary.
| Pack n' Play | Crib |
| --- | --- |
| Portable | Stationary |
| Usually made from plastic and cloth | Usually made from wood or metal |
| Light and easy to move | Bulky and heavy |
| Doesn't look as good in a nursery | It will usually look better in a nursery |
| Useful through age three | Convertible cribs are used throughout childhood |
| It probably won't last past one child | You'll probably be able to use it for multiple kids |
| Usually cheaper | Usually more expensive |
| Check Price on Pack n' Play | Check Price on a Crib |
A table summary of a pack n' play versus a crib.
What is a Pack 'n Play?
A Pack n' Play is advertised as a portable play yard/playpen for babies. It looks like a crib but is much lighter and easier to move.
Pack n' Plays are made for portability with a frame that folds with the push of a button. However, it's not so easy to push the button that the baby could get in trouble.
Some use the Pack n' Play as a playpen only. Others use it as a crib because they are perfectly safe for sleeping. You can also use it as a storage bin for the toys that will eventually take over your house and home.
What is a Crib?
A crib is a piece of furniture that is made for sleeping. The crib consists of a heavy frame made from either metal or wood. A mattress, appropriately called a crib mattress, is placed inside. Most cribs are not made to be moved though some have rollers on the legs.
Convertible cribs may transform into daybeds for older children. Some cribs even convert into twin beds or include dresser space.
What are the Differences Between a Pack 'n Play and a Crib?
The primary difference between a Pack n' Play and a crib is the portability.
A Pack n' Play folds up neatly into a transportable piece of furniture. Some even have straps so they can be worn like a backpack.
The Pack n' Play can be taken outside, to relatives' homes, or on vacation, so the baby will always have a safe, familiar place to play and sleep.
A crib is a solid, sturdy piece of furniture that a child will use every night and for many naps. It is a safe choice that is meant to stay at home. It has a much thicker and more comfortable mattress than a Pack n' Play.
A crib also has a much longer lifespan. Because Pack n' Plays are made from fabric and mesh, a rip in the fabric might be the end of the item.
How are They Similar?
Both the Pack n' Play and a crib are excellent choices for bedtime routines. If a baby can sleep in one, they can sleep in both with relative ease.
Some babies will grow to prefer one over the other but that is usually due to the environment rather than the furniture itself.
Both the Pack n' Play and the crib can accommodate mobiles that help the baby fall asleep.
Though a Pack n' Play mattress is much thinner than a crib mattress, families can use the same bedding for both. Just make sure you follow guidelines to ensure the bedding is safe.
Why You Should Pick a Pack 'n Play
A Pack n' Play is great for families who move around a lot. If you plan on traveling, camping, or visiting family, have a Pack n' Play to take with you.
People who live in smaller homes or apartments will benefit from the small size of the Pack n' Play.
A Pack N Play may not be the best option for families that want to purchase furniture that will last through many uses.
They also don't hold value. If you want to try to sell your Pack n' Play when you no longer need it, you won't recoup much of your money.
Why You Should Choose a Crib
A crib is a stable, long-lasting furniture piece that is great for families who don't need the portability of a Pack n' Play. A crib can be used for years without breaking down.
If you have plans to have multiple children, a good crib is a great investment.
You won't be able to move the crib around like you would a Pack n' Play. Therefore, if you're looking for something that is light and easy to move, a crib is not for you.
Who Should Use a Pack 'n Play?
Frankly, everyone needs a Pack n' Play. You never know when your mother-in-law will suddenly decide she's hosting Thanksgiving dinner in Oklahoma. You need that Pack n' Play to keep your little one happy and safe.
Those who particularly need a Pack n' Play are parents who are on the go. The easy portability of the Pack n' Play is a no-brainer. It's also a good temporary solution until you find the crib of your dreams.
Who Should Use a Crib?
Every baby needs a crib. This is their very own space, theoretically in a nursery, for them to learn and grow.
Cribs also last a very long time. You can use the crib for every child that comes next, and then pass it down through generations.
If you have the space and the money, I recommend buying a crib and a Pack n' Play rather than one or the other.
I live in a two-story home. Having a Pack n' Play downstairs and a crib upstairs was a true blessing. If you have multiple levels, an extra place for the baby to sleep is going to be a great help.
Key Takeaway
Whether you choose a Pack n' Play, a crib, or both, you will enjoy having a safe place for your child to call home. Both have their perks, which makes the shopping long and arduous.
Which will you choose? Tell us in the comments!
Have You Read These?
Frequently Asked Questions