10 Things to Consider When Picking a Pediatrician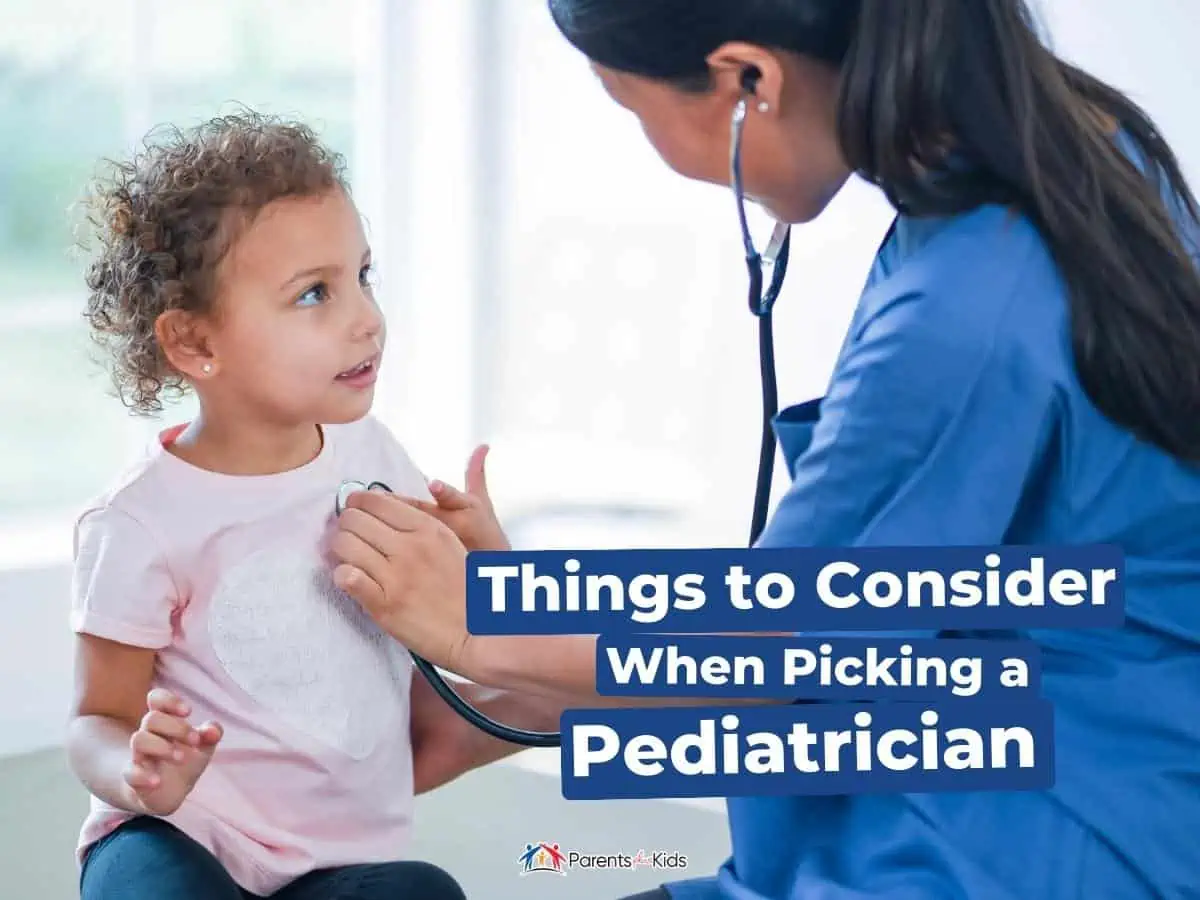 This post may contain affiliate links. If you buy through the link, I may earn a commission. Learn More.
Whether you have a newborn, a toddler or a teenager, one of the most influential people in your child's life is their pediatrician.
This is a physician who specializes in youth medicine.
They provide vital, sometimes life-saving, services. It is essential to know how to pick the right one.
10 Things to Consider When Choosing a Pediatrician
Choosing a pediatrician is not intuitive.
You won't instinctively know that you've picked the right or wrong pediatrician as soon as you meet them.
Instead, you need to consider the following 10 items before you make your ultimate decision.
1. Do they come recommended?
If you are pregnant and looking for a pediatrician for your newborn, you are in luck.
Your obstetrician should be able to provide you with a list of recommended pediatricians for you to consider.
What if you are seeking a pediatrician for other reasons?
One of the best places to find a great physician is by asking friends, neighbors and your own physician. You will receive a number of names that you can then research.
Do not use a recommended pediatrician without considering other factors. Do use the names you have been given to shorten your own list.
2. Where are they located?
If at all possible, seek a pediatrician that is in a location that is convenient for you.
Unless you live in a small town with limited resources, consider a pediatrician that is within a short drive of your home, work or school.
Another consideration is the environment.
Is the doctor's office in an area that has heavy traffic or limited parking? Is it important to you that your pediatrician is located in or near a hospital?
These concerns may be more important if your child needs to have frequent visits to their doctor.
3. Is the office a welcoming place?
Many children fear visits to the doctor. A great way to lower those fears is through an office that is calming and friendly rather than cold and clinical.
For example, my kids' orthodontist has a full-sized arcade in their waiting room.
This may be an extreme, though admittedly awesome choice, but it certainly helps to allay any anxieties.
Check out the pediatrician's waiting room to determine if they are taking the time to relieve a child's worries.
4. What are their office hours?
Believe it or not, this is a big one. The first pediatrician I chose for my son was highly recommended by my physician and every mom-friend I had at the time.
Her office was warm and inviting. Meeting with her, prior to the birth of my child, made my husband and I feel that she was the perfect doctor.
However, her office hours were limited to two days per week.
She scheduled her massive list of patients for those two days, which meant we often had to wait up to two hours for our appointments.
By the time my son reached his first birthday, we had a new pediatrician.
Make sure your pediatrician offers ample office hours that can work with your schedule.
5. Do they use online tools?
Believe it or not, even in the 21st century, not all medical offices offer access to online tools.
Ask your pediatrician if you have the option to schedule appointments, ask questions and pay bills online.
Having online access is a timesaver that cannot be overstated. Another online tool that is increasingly prevalent is telehealth.
These virtual visits generally use Zoom or a similar video communications program.
They are helpful for minor health concerns that are easily diagnosable such as pink eye, certain rashes, and ongoing medical concerns.
My own children used telehealth visits when they were sick in the past.
6. Are they easily accessible?
There may come a time when your child has a medical emergency.
Will you be able to reach the pediatrician or will you need to rely on an on-call physician who doesn't know your child?
It may be more important to have a physician that is available 24 hours if your child has ongoing medical issues or if your child has a particularly heightened sense of stranger danger.
7. Do they practice family health?
You might find that you prefer a whole-family physician over a doctor that focuses only on pediatric health.
Going this route might be helpful if you want to build a lasting relationship with a provider that extends beyond the teen years.
While there is no upper-age limit to seeing a pediatrician, most feel that they have to look for a new doctor once they reach the ages of 18 to 21.
A whole-family physician will be flexible with your child's care as they grow.
My own family has opted to use a family physician who sees all of us. It has helped us build and keep a great relationship.
8. Are they affiliated with a hospital?
Being affiliated with a hospital can be a very good thing or a very bad thing. You will need to decide.
Being affiliated with a hospital means they can easily share records and provide input in case your child has an accident or illness that requires major treatment.
However, it also means that they are bound by that hospital's rules.
For example, my primary care physician (who also functions as my child's pediatrician) is affiliated with a local hospital that doesn't allow doctors to prescribe the specific medication I need for the chronic illness I have.
If you don't want to be limited by a hospital's board, you may need to seek an unaffiliated physician or have a secondary provider, like me.
9. What are their vaccination policies?
Without having a debate about the pros and cons of vaccination, I will simply state that you should have a pediatrician whose policies align with your beliefs.
Ask about vaccination policies before you make that first appointment if that is important to you.
10. Do they take your insurance?
Sadly, this is probably the most important factor when choosing a physician.
Though your insurance will probably cover a well-child check at no cost, if the pediatrician is out of network, you may still receive a bill.
This is especially true if you ask about anything other than the typical screening questions at the visit.
Insurance providers are very strict about what constitutes a preventive visit vs. a well-child visit.
Basically, if you ask about your child's fever, rash, upset stomach or injury, you can expect a bill. It is best to ensure your pediatrician is in-network.
Key Takeaways
Finding a pediatrician is important but it isn't easy. Use this list to help pick the right physician for your family.
Do you have any suggestions to add? Share your tips and experiences with us in the comments!
Have You Read These Yet?