Should I Let My Child Quit Sports?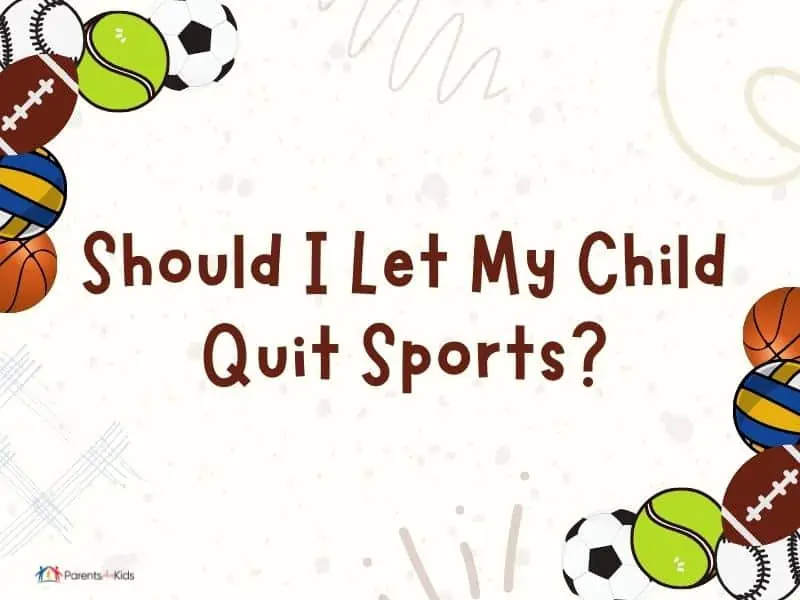 This post may contain affiliate links. If you buy through the link, I may earn a commission. Learn More.
In my family, kids play sports. It's a household rule.
This isn't because I'm a sports fanatic (I'm not), but because activity is vital to a child's physical and mental well-being.
Now that my kids are getting older, they are considering quitting sports. What is a well-meaning mother to do?
*FYI, some of the links in this article about should I let my child quit sports may be affiliate links. If you click and make a purchase, we may get a commission (at no extra cost to you). For more info, please see our disclaimer.
Should You Let Your Child Quit Sports?
The question is not as easy as yes or no. It depends on you, the sport, and the child. At a minimum, if your child does quit playing sports, you need to ensure they have daily physical activity that remains challenging enough to improve their health and interesting enough to encourage them to continue.
Why a Child Might Want to Quit Sports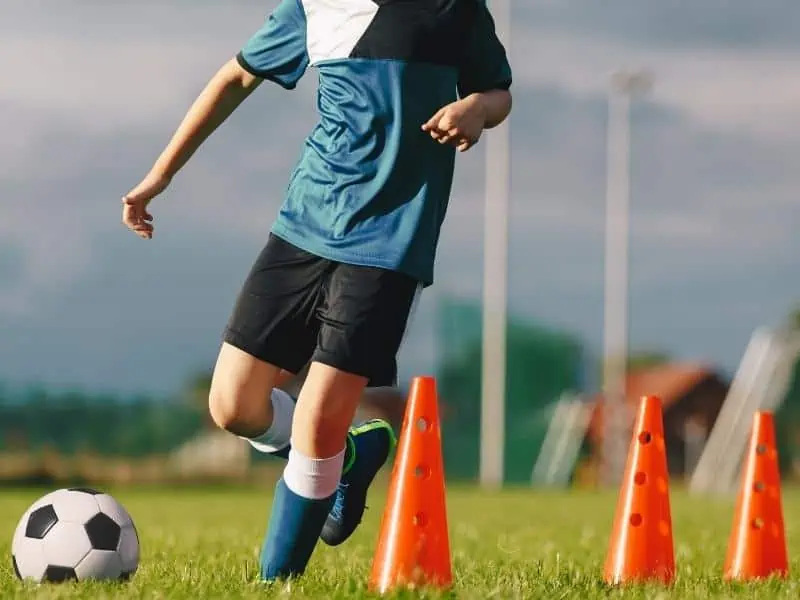 My son wants to quit sports. A few months ago, he announced that he was done with football and therefore done with sports. We couldn't make him continue nor could we, at age 16, force him to participate in another sport.
My husband and I countered with a loud affirmative. We never wanted him to play football in the first place. There is a strong correlation between football and brain injuries that cannot be ignored. Unfortunately, football is the only sport my son is even mildly interested in, so we agreed to let him play.
I was thrilled when he said he wanted to stop playing football but I wasn't thrilled about no sports at all. There is a very real reason for this.
Physical activity is not just healthy for the body, but also the mind. Children, like mine, who have a tendency to experience anxiety have a far lower occurrence of anxiety than those who do not partake in physical activity.
Because I value mental and physical health, I insist that some kind of exertion takes place.
Why would a child want to quit sports? Sometimes the answer is simple. In my son's case, he is frustrated that his team is disorganized and not strongly competitive.
Another child might not like the physical exertion. Yet another might be facing bullying on a sports team or have a coach who is difficult. It could also be that they just don't love the sport they're playing.
It's important for you to learn why your child wants to quit so you can address the underlying issue.
I know my son well and I know that if he doesn't feel the daily tug to be responsible to a team, he won't exercise. Many people need this type of external encouragement. A child who can be self-motivated to exercise might not need a sport. My child is not that child.
I told my son that he could quit football and join any other sport he likes but he had to be involved in something physically active.
I strongly encouraged tennis while my husband pushed him toward cross country. He chose to stick with football for the season but is planning on going a different route for his senior year.
Different Types of Sports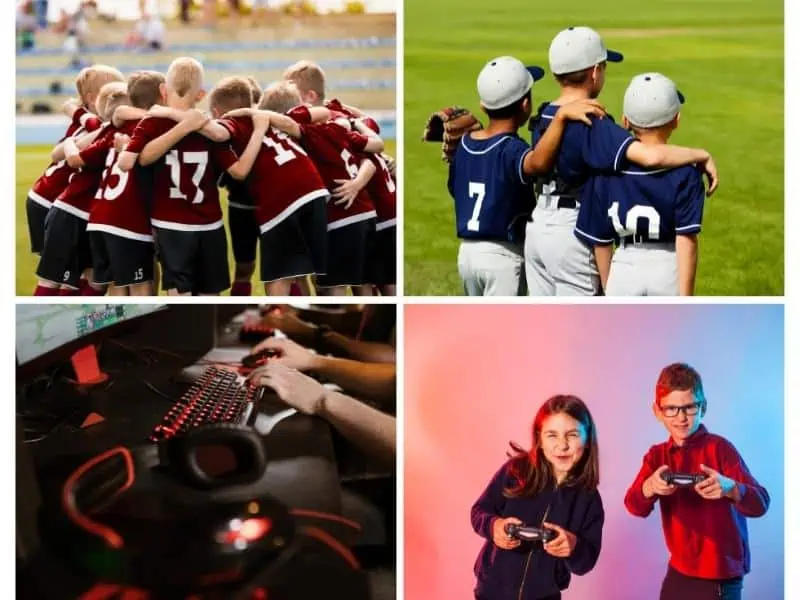 Think of a sport your child might play. Did you think of soccer, baseball, basketball, or football?
That's not surprising. However, there are many sports that are less common but maybe just as fun, interesting, and beneficial as the old standards.
Cross country, track, tennis, wrestling, volleyball, cheer, and swimming are available at most schools. Club sports like rugby, lacrosse, hockey, and gymnastics are common in many communities.
My daughter is a dancer. If you don't think of dance as a competitive sport, think again. At age 12, she practices for a minimum of 15 hours per week but many weeks it's closer to 30.
Summers are reserved for dance camps and workshops. During competition season, which runs from January to June, she practices throughout the week and travels on the weekends.
It's highly competitive, extremely physically demanding, and very fulfilling for her.
There are many more sports that you could consider for a child who isn't interested in the traditional team sports. Look into archery, bowling, ice skating, mountain biking, roller derby, kickball, racquetball, pickle ball or squash.
Your child doesn't need to be limited by what sports are offered at their school. They only need to be limited by what you can reasonably work into your schedule and afford.
A Word About eSports

Yes, eSports is a real thing. Most schools now have eSports leagues. They are even offered at the college level. eSports is an interesting and fun concept.

While it does offer competition, which can be a very healthy thing, eSports does not offer physical activity. If your child wants to join the eSports league, let them.

However, you should make sure they are getting exercise elsewhere.
The Argument for Sports
There is a very strong argument for encouraging children to play sports. As stated earlier, sports are great for a child's mental health. Sports also increase a child's cognitive skills and boosts their self-esteem.
Of course, sports are good for a child's physical health as well. Children who play sports have overall better health than those children who are not part of a sports team.
They have a lower risk of obesity, have stronger bones, develop cardiovascular and muscular fitness and lower their risk of cancer and diabetes.
The Argument Against Sports
There are many arguments to justify joining sports, but are there reasons to avoid sports? Some experts believe that children should have limited access to sports because too much stress can cause a child to become prone to injury.
Some parents do not want children to develop a competitive mentality. Others think that sports distract from what they believe are more important activities like studying and the arts.
Another factor is the cost associated with sports. Joining a sports team, especially at the club level, can be incredibly expensive.
My daughter's dance lessons, competitions, workshops and costumes cost a small fortune. Add in the amount of time it takes to drive or fly to the competitions and I could be funding a micronation.
An issue I see repeatedly are parents living out their own athletic dreams through their children.
This should never be a factor when considering sports. Introduce your kids to as many different sports as you can reasonably try but never force them into one just because you love it.
That is a certain way to keep them from wanting to play sports at all.
Sports for Special Circumstances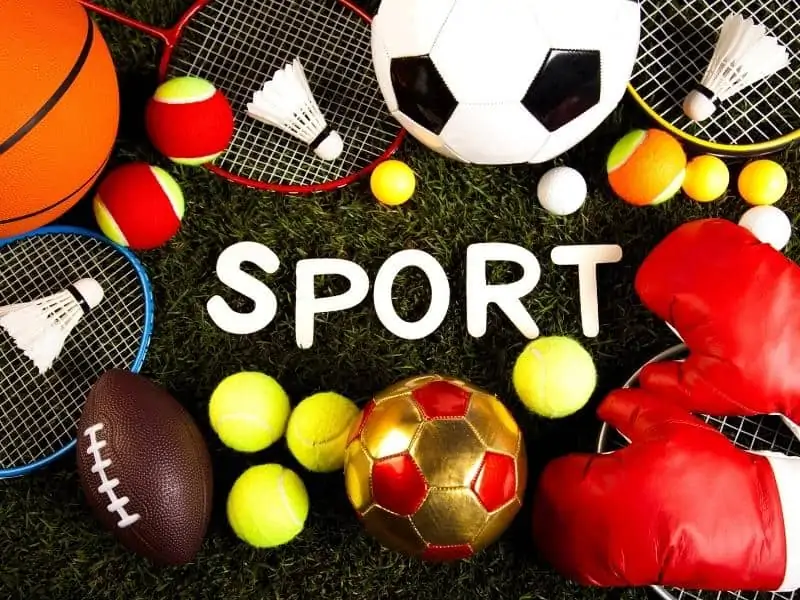 Not all kids are able to participate in all sports. That doesn't mean your child needs to remain inactive.
Special Olympics offers opportunities that cater to a variety of skill levels and interests. Likewise, many local sports will do everything they can to accommodate children with different needs.
Key Takeaways
Whether you choose to allow your child to quit sports or not, you must ensure they continue to be active.
Physical and mental health is very dependent on regular activity. What do you think about allowing a child to quit sports? Tell us in the comments!
Have You Read These Yet?
Frequently Asked Questions