Should I Switch Preschools?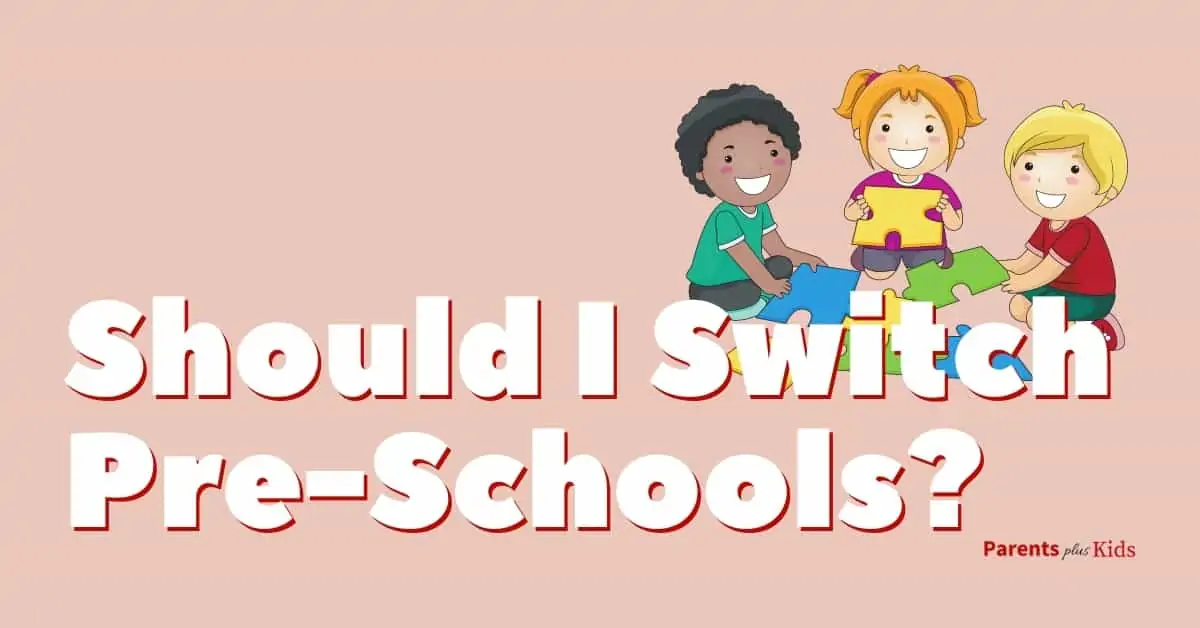 This post may contain affiliate links. If you buy through the link, I may earn a commission. Learn More.
Young children need stability. Something as simple as switching preschools can turn a young life upside down.
Before a parent considers making this big change in a young person's life, they should make sure it's a necessary change with rewards that will eclipse any negative repercussions.
Quick Answer:
You should switch preschools if you find the school your child is currently enrolled in isn't meeting their needs or if their safety and well-being is compromised. There may be other reasons to switch preschools that require sincere thought and consideration.
*FYI some of the links in this article about should i switch preschools may be affiliate links. If you click and make a purchase we may get a commission (at no extra cost to you). For more info please see our disclaimer.
Is it Okay to Switch Preschools?
As upsetting as changing a young life may be, there are times when changing preschool is necessary.
To help you further navigate this hard decision listed below are some reasons your family may consider when deciding if you should move your kid to a new school.
1. The Preschool Is Unsafe
Ideally, a parent would recognize an unsafe environment before placing a child in preschool. Unfortunately, sometimes dangers can remain hidden.
A parent may learn the preschool doesn't closely monitor children while they're at play or that safety protocols aren't followed. If this is the case, parents should not hesitate to immediately switch preschools.
2. There Are Signs of Abuse
We have all heard the horror stories about a preschool teacher abusing a preschool child.
Signs of abuse might include unexplained marks or bruises though sometimes abuse doesn't have any outward physical signs.
If a once happy child suddenly becomes sullen or doesn't want to return to school, that may be because of abuse.
Investigate any suspicion and, if there is even the smallest suggestion that abuse may be happening, change schools and report the preschool to authorities.
Related: Private vs Public Preschools.
3. Your Child is Being Bullied
Abuse doesn't just come at the hands of staff. Bullying is very real in the preschool environment.
A good preschool recognizes bullying and ensures it doesn't continue. A poor preschool ignores the problem or doesn't notice it at all.
My Personal Experience with My Child Being Bullied in Preschool
Unfortunately, I have personal experience with this.

My son was being bullied by another student who was using derogatory terms that my son had, at that point in his life, not yet heard.

Luckily for us, my son didn't know to be offended by these words. However, when my child's teacher overheard the language being used, they immediately acted.

The bully's parents were contacted and the bully was offered a second chance to correct the behavior. We felt very fortunate the preschool acted before the bullying escalated.

A preschool that ignores bullying is not a good option for any child.
4. Changes in Work or Home Life
A job change might necessitate a new preschool. This might be due to work hours changing or the location of the preschool no longer being a convenient option.
Parents should not feel as though they must keep children in a specific preschool if it no longer coincides with their parental schedules.
Sadly, divorce sometimes plays a part in preschool changes. A child who is suffering from parents splitting up may need the stability of their preschool. However, the parents might not be able to afford or otherwise accommodate this activity.
Side Note:
I want to add that as easy as it would be to make yourself feel guilty because you're a working parent or for circumstances that are unavoidable I want to encourage you to try to avoid doing so.

Ultimately as parents, we try to do the best we can with what we have, and unfortunately, sometimes that involves very hard decisions like changing your child's preschool or daycare center.
5. A New Opportunity Arises
I was very excited when a dual language preschool opened near my home.
Living in a multilingual household, it had been a dream of mine for our children to be in an environment that nurtured the languages they were already hearing at home.
A parent may be opening wide, new opportunities for their children by placing them in schools that offer new and exciting experiences.
While the move may be upsetting to young ones, it may also be well worthwhile.
Switching Preschools is Hard
In the end, only you can decide if switching preschools is the right choice. However, if the environment is not safe or if your child is unhappy, the choice should be very easy.
Have you considered switching preschools? Tell us about it in the comments!
Related Articles
Frequently Asked Questions