What Should Parents Wear to a School Graduation?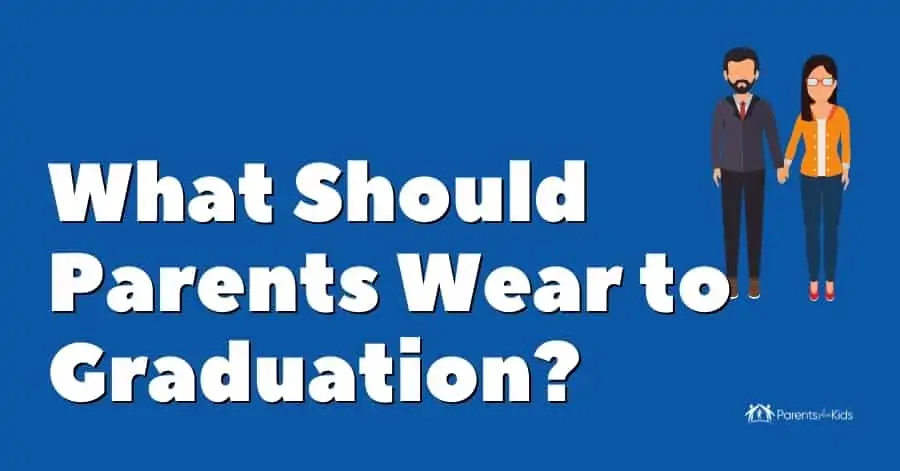 This post may contain affiliate links. If you buy through the link, I may earn a commission. Learn More.
Special events call for special attire. Parents who want to mark a big occasion like a college (yes, even a high school, middle school, or elementary) graduation might want to buy a new outfit.
However, knowing what to wear to an event you might only attend once or twice in your life can be difficult and frustrating.
*FYI, some of the links in this article about what should parents wear to graduation may be affiliate links. If you click and make a purchase, we may get a commission (at no extra cost to you). For more info, please see our disclaimer.
What Should Parents Wear to Graduation?
Parents do not need to get overly dressed up for a college graduation or a high school graduation. Business casual attire is fine for an event like this. You should not wear overly formal clothing, which means no gowns or tuxes. You should also strive to avoid casual clothing like shorts, jeans, and jogging pants.
How to Dress for Graduation
The clothing a parent wears to graduation shouldn't be overly formal or overly flashy. The goal is not to draw attention away from the graduate.
At the same time, parents should show their children that they feel pride in this achievement. This is why dressing up is customary.
1. Consider the Environment
Before you pick out your clothing, think about where and when the graduation will take place. Many larger schools have graduation events outdoors in May or June. Will the weather be chilly or warm in your region? Look at an advanced forecast when shopping, if possible.
Some graduations are very formal events, while others are more casual. If the venue is at a country club or hotel ballroom, you can expect a formal setting. A graduation ceremony in a high school auditorium or on the football field might be more relaxed.
Contact your child's school or administration office to learn what level of dress is most appropriate if you're concerned. For most graduations, you can dress as you would for a business lunch or daytime wedding.
2. Special Occasion Dresses
Those who enjoy wearing dresses can find a wide variety of styles that are suitable for graduations. A swing dress is a nice, understated choice that can be worn to a variety of events. Sheath dresses and wrap dresses are good, all-purpose choices as well.
Sale
My personal favorite are these pleated dresses with long sleeves and short sleeves. I have them in multiple colors because they are comfortable but dressy enough for celebrations. They also have pockets, which is a huge bonus.
3. Pant Suits
Three-piece suits are not necessary for high school graduations. A more casual pant suit is a much better choice. Also known as pant sets, these are outfits that can be worn to work, church, dinners out and a number of other events.
I am not a big fan of pant suits myself because I get hot very easily. I don't like to have extra layers if I can avoid them. Think about this when you're choosing your outfit. Do you have a tendency to get cold? A pant suit might be your ideal choice.
4. Blouses and Polos
If I am in the mood to wear pants instead of a dress, I look for something that's comfortable while still appearing stylish. Likewise, I only purchase neutral pants, which allows me more flexibility with my shirts.
A pair of grey pants or black trousers work with virtually any top. My husband swears by his khakis regardless of the occasion.
Sale
When choosing tops, think of what you would wear to work in a business office most days. I love a batwing top that is loose and airy. One that is made from chiffon adds a touch of elegance without going overboard. Bow tie shirts are always good choices for events such as these.
Dress shirtsare an excellent go-to for graduations. Basic and understated, these shirts are popular with those who want a dressed-up style without a full suit. Depending on the type of ceremony, a polo shirt might be a fine choice. These are good options for daytime graduations held in casual environments.
Sale
5. Sensible Shoes
Shoes are often overlooked while picking out clothing for special occasions. One of the biggest mistakes you can make is assuming you have the right shoes or waiting until the last minute to pick out a good pair.
Some graduations last for hours. In some cases, you might find yourself standing for a large portion of that time. Comfortable shoes that complement your outfit are vital.
When it comes to the importance of comfort, I do speak from experience. I have volunteered at graduation ceremonies for years. There are never enough chairs for everyone.
There are always dozens of people who end up standing for two hours or more. That person could be you. Make sure your shoes are the right size and offer ample support. I love these loafers and ballet flats.
Depending on the atmosphere, I might even wear sandals. are just dressy enough to be worn with virtually any casual dress without looking out of place.
My husband is a professor and is on his feet all day. His choice for comfortable, casual shoes are these loafers.
However, there are many other comfortable options that work great with dress pants and khakis. What is most important is finding shoes that have the right fit.
Pro-Tip
You should look at buying shoes and any other items well before you need them. This way, you'll have ample time to test them out and return them if they don't work.

Don't wait until the last minute! Trust me.

I've been there and done that, and it makes for a very frustrating day before when you can't find just the right shoe or shirt you're looking for.
6. Other Accessories
You may not need too many other accessories for a graduation. I keep a small, dressy, black clutch for special occasions. One investment in a high quality bag can last for years. I usually add a strand of pearls or simplistic necklace to any outfit I wear.
If you're like me and have a large number of piercings, you might worry that they'll look out of place as a parent at a school graduation, especially if it's for high school or one of the lower grades.
Because of that, I suggest using small earrings that are simple and dainty. I own these cartilage earrings because they're small, beautiful and very inexpensive.
MODRSA Stainless Steel Studs
Contains a total of 10 pieces (5pcs 16g stainless steel lip rings studs tragus earrings, 5pcs clear bar push in forward helix cartilage earrings pack)
You Probably Have Everything You Need
You may not need to buy an outfit for a school graduation. You may have the right clothing in your closet already. Just make sure you are dressed up but not over-dressed for a great look.
What are your favorite options for special occasions? Tell us in the comments!
Have You Read These Yet?
Frequently Asked Questions