10 Best Jobs For New Dads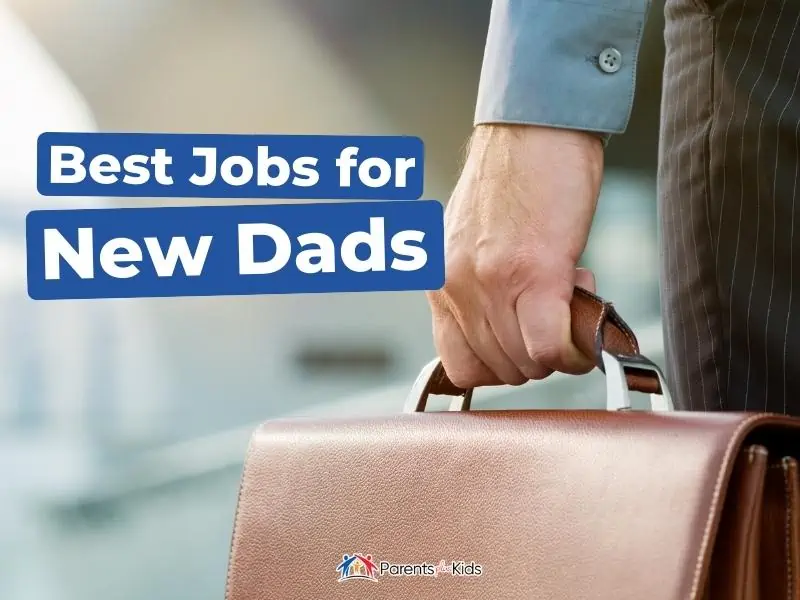 This post may contain affiliate links. If you buy through the link, I may earn a commission. Learn More.
As a dad who works around my growing kids' schedules, I can tell you that the right career is vital.
If you are just starting out in your career or if you need a change, there are some great jobs for parents to pursue.
*FYI, some of the links in this article about best jobs for new dads may be affiliate links. If you click and make a purchase, we may get a commission (at no extra cost to you). For more info, please see our disclaimer.
10 Best Jobs for New Dads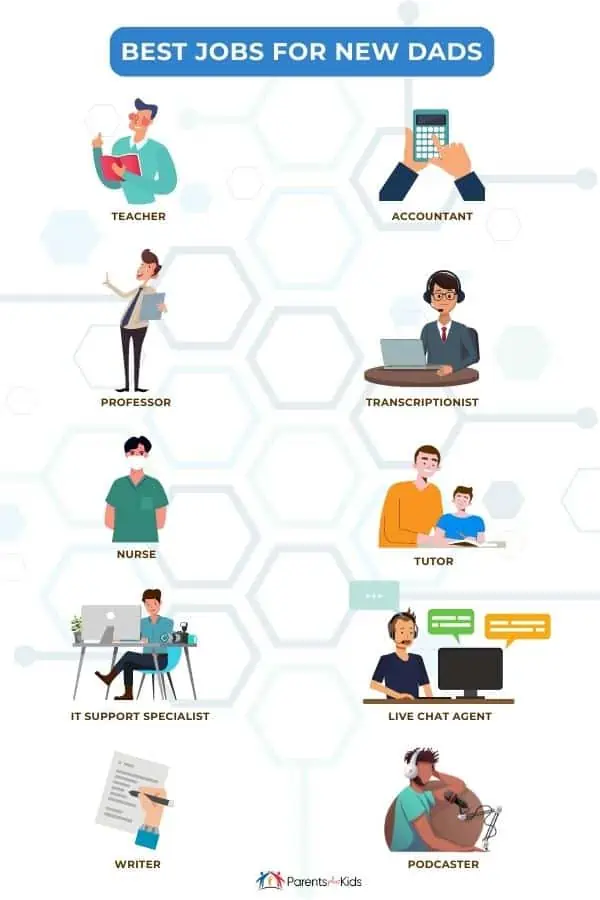 Whether you plan to be a working dad or a stay-at-home dad, you need a job that offers some flexibility and/or benefits that will help as you embrace your new role as a father.
The following 10 jobs offer many different options that new dads can pursue.
Find Parent Friendly Jobs
Whether you're looking for a part-time job, a full-time career, or a side hustle, check out the ParentsPlusKIds job board for the latest job postings.
1. Primary/Secondary School Teacher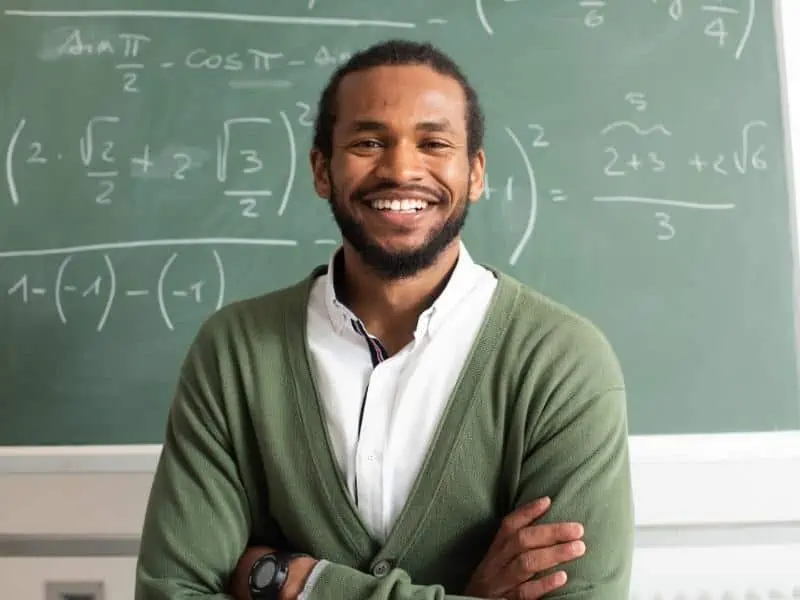 Job Duties
Teaching jobs vary depending on the subject, the grade level and the location. A teacher must have the drive and ability to impart information to students.
As a teacher, you must have patience and understanding. You must be flexible enough to adapt to student needs but strict enough to ensure all students are learning.
Ideally, you will teach in an area that you love, which makes the day both interesting and fun.
Most teachers do have summers and holidays free from work, but you will have to prepare to work evenings and weekends for grading and lesson plans.
Like the jobs themselves, teaching qualifications vary. You will need at least a bachelor's degree and teacher certification.
Some states require a degree in education while others only require that you pass the required certification courses and/or tests.
You will benefit financially from having an advanced degree but this is rarely necessary for teachers at the primary and secondary levels.
Why a New Dad Would Love This Job
A new dad would love being a teacher because the hours at school allow for ample time to spend with children.
Teachers at public schools tend to have good benefits that include retirement plans and health insurance. This kind of work also perfectly lends itself to educating your own children.
Salary
Wages vary, but teachers at public schools can expect to make between $30,000 and $50,000 per year to start.
Annual raises make the average teacher salary between $45,000 and $80,000. Private school teachers may have more flexibility but their income is often far less than those who work in the public sector.
2. Professor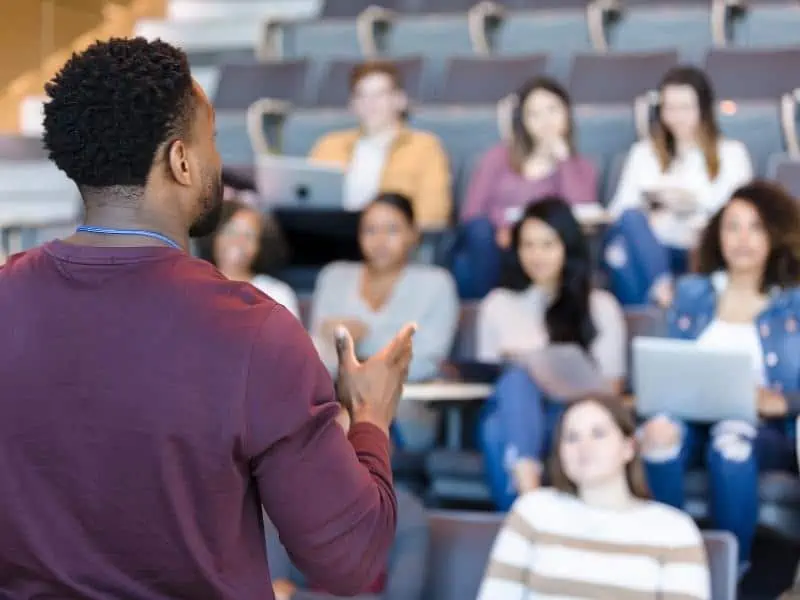 Job Duties
Granted, this position does require significant advance planning, but it is worthwhile. I speak from personal experience as my husband is a professor.
He chose this career path when he was only 21 because he wanted a stable career that allowed him to have ample time to spend with his family.
As a professor, you will need to have an advanced degree in your field of expertise. A terminal degree, like a PhD or JD is typical. However, you can work as an instructor at the college level with just a master's degree in some cases.
Your daily duties will include leading a class, doing research and possibly counseling students.
Professors at smaller colleges may need to do their own grading. Those at larger universities, especially research schools, will probably have a teaching assistant who will carry some of that weight.
The institution that hires you will probably have some kind of requirement regarding publishing and attending academic conferences.
Why a New Dad Would Love This Job
Professors generally have their summers and holidays free. Most professors have very flexible schedules. You are also paid well with benefits that can be shared with your family.
One of the best parts of being a professor is that you can spend your days studying what you love most of all.
Whether you are a history, art or engineering professor, your days will be filled with your favorite subject.
My husband says that he loves his job because he gets paid to talk about his hobby.
Salary
The average professor in the United States makes about $130,000 per year. Of course, you don't become a full professor right away.
You will start as an assistant professor, which has an average salary of around $83,000. Most institutions also offer benefits like retirement contributions and health insurance.
3. Nurse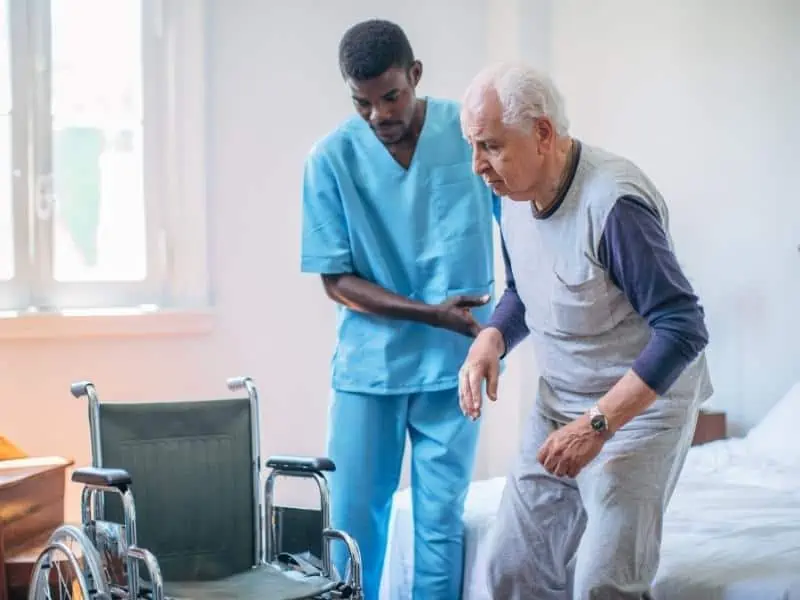 Job Duties
You won't become a nurse overnight, but when you are looking for careers that are good for new dads, nursing is one of your best options. Being a nurse requires that you take care of patients.
You need to have vast knowledge of medical care, an excellent bedside manner and the desire to care for people at their most vulnerable.
Nursing requires long hours on your feet and the physical ability to work with patients who need to be moved, lifted and/or cleaned.
You will need to have a good memory and a kind heart to be a nurse. You will also need a nursing degree and certification.
Why a New Dad Would Love This Job
Nursing prepares you for being a new dad. You will have the skills needed for taking care of children.
You will also have experience with the numerous fluids that babies release from their bodies on an hourly basis. Nursing is also one of the most stable careers you can have. Nurses are always needed.
Salary
The salary for nursing depends on your certification. A registered nurse (RN) will make around $77,000 per year while a nurse anesthetist will make more than twice that amount.
A nursing assistant might make between $20,000 to $30,000 per year, which makes that career a good choice while you're concurrently working on earning your nursing degree.
4. IT Support Specialist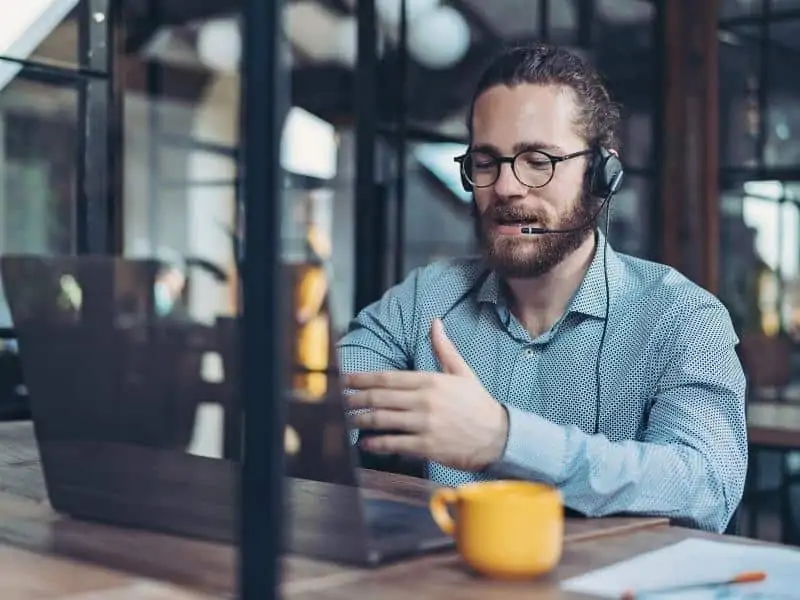 Job Duties
Do you have a flair for technology? If you do, you have what it takes to offer IT support. I spent many years working in IT and I can tell you that it pays very well and is always needed.
Many companies hire IT specialists around the clock so that they are protected if their servers suddenly crash or updates need to be made after hours when most of their staff is not working.
As an IT support specialist you will need to understand computer hardware and software. You will need to be familiar with new technology as it is introduced.
You must have a lot of patience and the ability to be very meticulous with your work. You also have to have some customer service skills.
Sometimes, you will need to walk someone else through how to solve problems and that often requires a gentle touch mixed with a lot of know-how.
Why a New Dad Would Love This Job
You can work for a company that needs an IT professional or you can run your own business. All you need is a place of operation, which could be as simple as a van if you're offering mobile support.
Dad's who love problem-solving will enjoy this type of work. You get bonus points for being able to fix your child's tablet when it breaks (or knowing how to shut down Baby Shark when you just can't take it anymore).
Salary
A typical IT support specialist will make about $57,000 per year.
5. Freelance Writer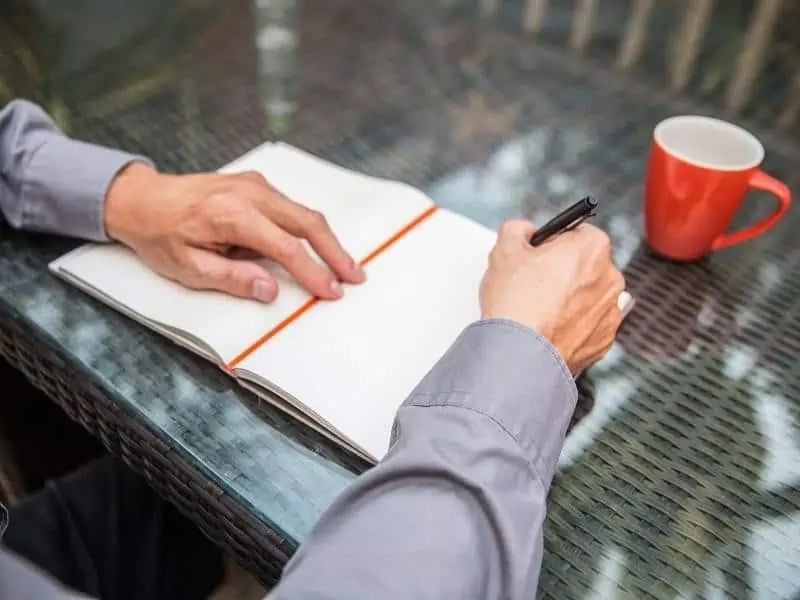 Job Duties
A freelance writer must deliver the content requested by the client.
As a freelancer, your job is to find clients, write well, do your own editing and meet strict deadlines.
Good writers who are fast and responsive will be rewarded with regular clients and a solid income.
Why a New Dad Would Love This Job
I recommend freelance writing to anyone who has a flair for the written word. If you love to write and you have some talent, you can make a living as a freelance writer.
I have been writing for 16 years and it was the best decision I could have ever made. I have the time and flexibility to be with my children and I have a secure client base that allows me to work as much or as little as I choose.
My favorite part of being a writer is that I love to write. I write full-time for my primary income.
I write part-time for additional income. I write for myself for pleasure. I am happy and I am a better parent because of it. You could do the same.
Find Parent Friendly Jobs
Whether you're looking for a part-time job, a full-time career, or a side hustle, check out the ParentsPlusKIds job board for the latest job postings.
Salary
The average salary for a freelance writer in the United States is about $22 per hour. You can make a lot more than this with experience.
The downside to this career is that you will be responsible for your own taxes, health insurance, and retirement savings.
6. Accountant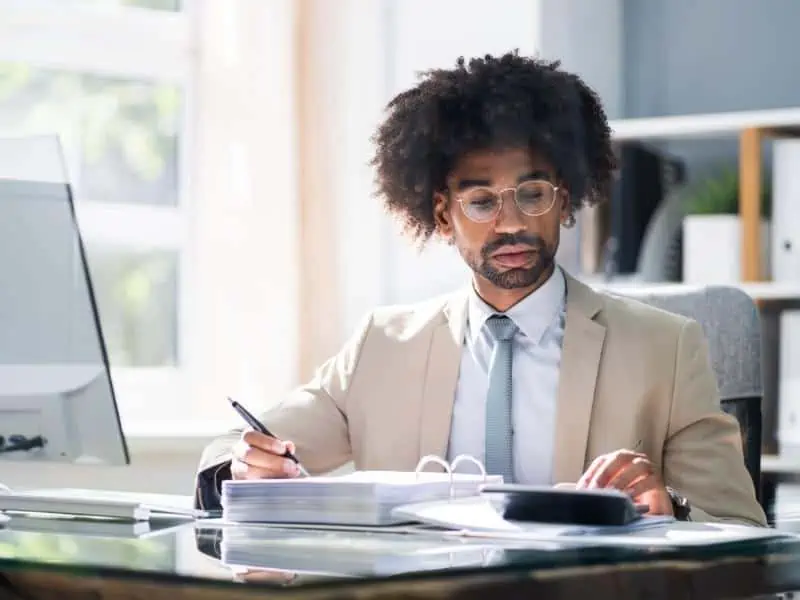 Job Duties
An accountant must be familiar with all of the aspects of financial laws. You must have strong math skills, be good with people and have the ability to manage your projects with microscopic detail.
In order to be successful as an accountant, you need to truly love working with numbers and money. You will find joy in the puzzle of every balance sheet.
An accountant will spend most of his day staring at a computer screen, so you have to be comfortable with a lot of time sitting in an office.
Regular meetings are usually required. In order to be a Certified Public Accountant (CPA), you may need to have a bachelor's degree though it doesn't necessarily have to be in a financial field.
Why a New Dad Would Love This Job
One of the most difficult areas of being a parent is making ends meet. You may think the early years are the most trying financial times, but you would be wrong.
Expenses stay expensive, they just change. You will go from paying for daycare to extracurricular activities to college without a reprieve.
Having a job in finance will help you to better manage those expenses without going into debt.
Salary
The median income for accountants is about $74,000 per year. As your career flourishes, you could see raises and promotions that could easily lead to triple digits.
7. Transcriptionist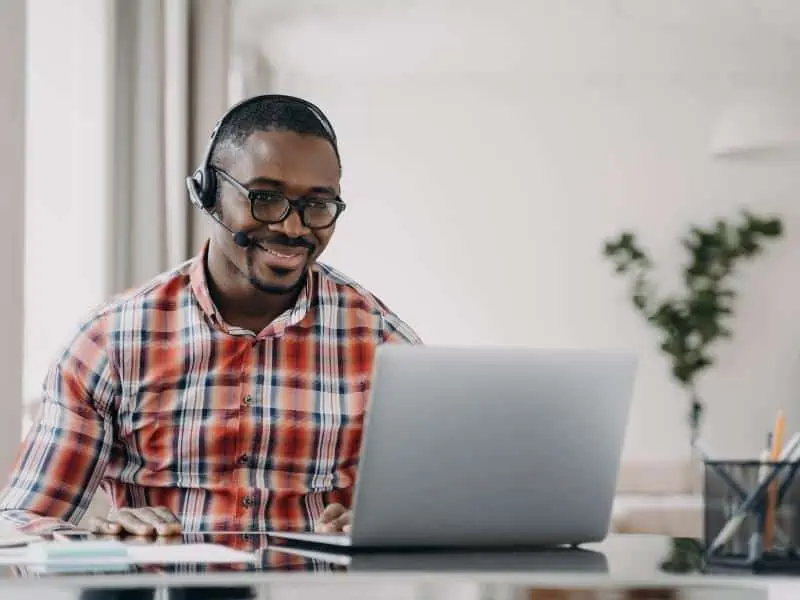 Job Duties
A transcriptionist listens to audio recordings and types them for a written log. You will need to have good hearing and the ability to type very quickly.
Because transcribing is usually paid by the audio hour, and not by the working hour, your speed will largely determine if the job is worthwhile.
Those who type 90+ words per minute can have a very fruitful career.
Why a New Dad Would Love This Job
Transcribing is something you can do from home whenever you have the time. You might want to work overnight, while your baby is sleeping or hire childcare so you can really focus.
A transcriptionist is usually a freelancer, which means you are in control of how much money you make and how often you want to work. Though many will tell you this is not a lucrative career, it is for the right person.
My own brother chose to pursue a career as a transcriptionist about 10 years ago. I scoffed at him and he proved me wrong.
He is now the sole provider for his family, has five employees, and is still able to have a flexible schedule. If you have the skills, you could do that as well.
Salary
You can make about $20 per hour if you type very fast. Slow typists will earn in the $7 to $11 range. The more experience you have, the more money you will make as a transcriptionist.
Some report making upwards of $60 per hour, which translates to a six-figure salary on an annual basis.
8. Tutor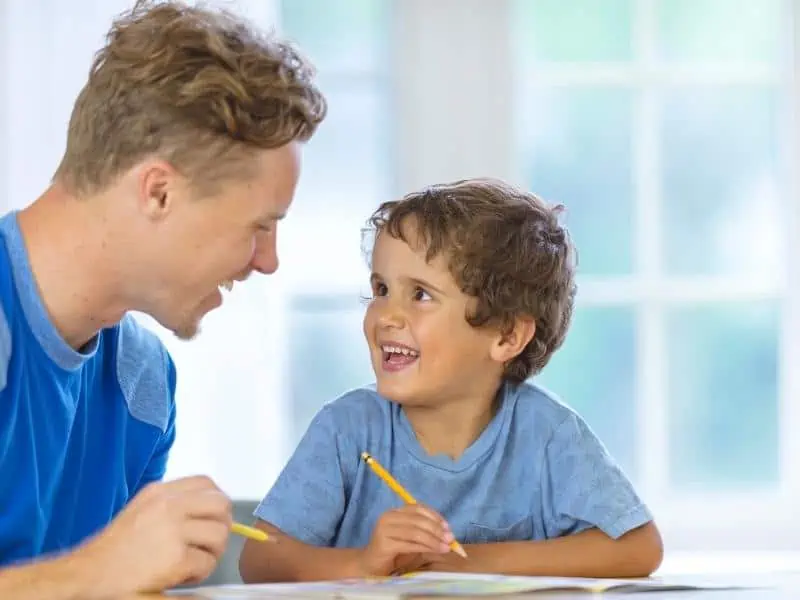 Job Duties
Being a tutor is not the same as being a teacher. A tutor is not the primary educator for the students. Instead, you would be a supplemental educator who focuses on the details to help students increase their abilities.
As a tutor, you will need to learn about your students' individual learning styles and the specific areas where they need help. You will then spend time with them each week as they continue to grow.
You will need to make specialized lesson plans for the student and chart their progress. One of the great things about being a tutor is that you can focus on any area where you have expertise.
You can be a math tutor, which is arguably the most needed, but there are plenty of other areas where students need help.
Reading, foreign language and science are all typical areas that require tutors. Tutoring is not just for students who are struggling.
I have recently been approached by a tutor who thinks she can help my son. She specializes in high-achieving students and said she can help him raise his ACT from a 34 to a perfect 36.
Your tutoring career could be in any of these areas and then some.
Why a New Dad Would Love This Job
Tutoring is a flexible job. It is usually done in the evenings and on weekends when your partner might be available to watch the new baby while you work.
You can host tutoring sessions in your home for even more flexibility. You will also have a built-in client base when your child starts school.
Salary
Tutors make about $25 per hour.
You probably won't work full-time as a tutor but you will make enough to pad your partner's salary if you choose to stay home with your new baby during the day.
9. Live Chat Agent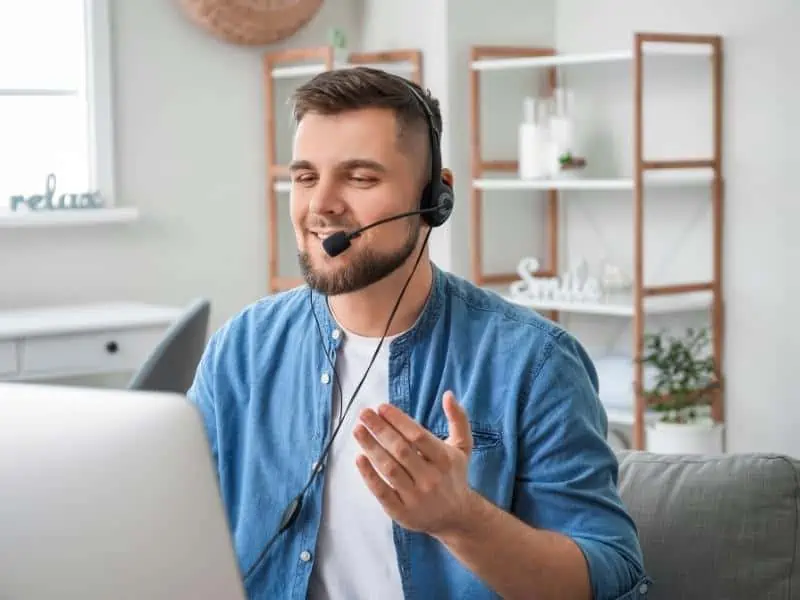 Job Duties
Did you know that when you chat with a customer service agent online there is an actual person on the other side of the screen?
A lot of people think those conversations are done with AI, but most are conducted with actual, living people.
You could also be a chat agent as long as you have a working computer, a headset and the ability to resolve issues. A chat agent usually has to have a landline telephone and a wired modem.
You will also need to set regular hours and be present for them. If you meet these requirements, you will be rewarded with a job that you can easily do from home.
Why a New Dad Would Love This Job
Flexibility is the name of the game when it comes to being a live chat agent. You can be in the same room as your child during the day while chatting with those who need help.
You can be an overnight chat agent if you prefer the third shift. This is a great opportunity for work-from-home dads who want either full- or part-time work.
Salary
A live agent makes about $45,000 per year.
That's not bad when you consider that working from home means you don't need to buy work clothes or pay for gas to get to and from an office.
10. Podcaster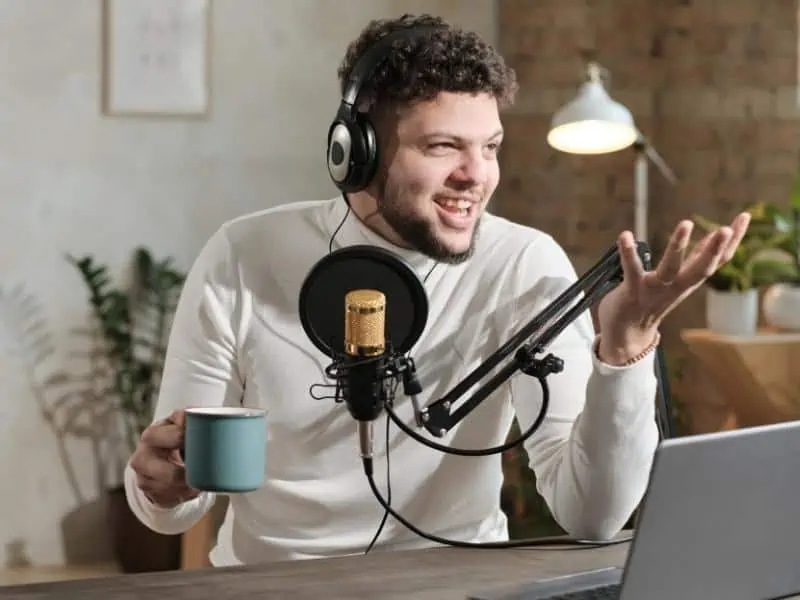 Job Duties
Do you have a great idea for a podcast? Why not start a podcast yourself?
You won't earn an income right away but you will be able to explore your creative side while also being productive. You could find that you have a true flair for podcasting.
You will need to do a lot of research and setup to get the podcast started. You will also need to define your audience and do significant marketing to grow your fanbase. You'll need to create new content on a regular basis.
It must be fresh, engaging and very well produced. You will need good equipment and a quiet space to do your recordings.
Why a New Dad Would Love This Job
You can live out your fantasy of being an on-air personality while also being there for your baby.
Salary
The salary for a podcast is the true downside. You could not just make nothing, but you could lose money as a podcaster.
You might make as much as $900 per episode if you manage to get 10,000 readers and enough affiliates to cover your costs.
On the other hand, if you have a truly inspired idea, talent, and a lot of luck, you could make $10,000 per episode or even more.
Find Parent Friendly Jobs
Whether you're looking for a part-time job, a full-time career, or a side hustle, check out the ParentsPlusKIds job board for the latest job postings.
Key Takeaways
Are you interested in a career change? Do you need to find something that lets you care for your newborn while earning a living?
Try one of these jobs listed above or check out our job board for employment opportunities!
Have You Read These Yet?