Can You Return Baby Formula?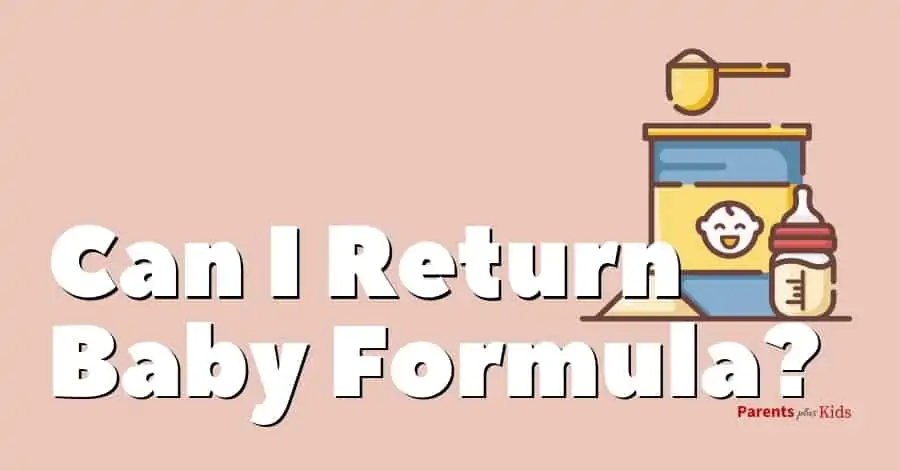 This post may contain affiliate links. If you buy through the link, I may earn a commission. Learn More.
I never thought I would use baby formula. My plan was to breastfeed when I could and pump a bottle as needed. What I didn't know was that formula would become a necessity to me.
I also didn't know that some formula, despite the high price, wouldn't work for my baby.
*FYI, some of the links in this article about returning baby formula may be affiliate links. If you click and make a purchase, we may get a commission (at no extra cost to you). For more info, please see our disclaimer.
Can You Return Baby Formula?
Baby formula can usually be returned with a full refund if it's unopened and if you have the original purchase receipt. If the formula has been opened or you don't have the receipt your return could be declined or store credit may be given instead of a cash refund.
As a mom, you may need to use baby formula even if you plan to nurse. Baby formula is good to have available if you have to be away and don't have time to pump.
It can be useful for moms who produce breast milk that doesn't have an adequate fat content. Formula is ideal for families who adopt or otherwise don't have access to breast milk.
Unfortunately, there are times when formula doesn't work out. Your baby may have a sensitivity to an ingredient in the formula. Your baby, like my youngest, may refuse a bottle completely. What do you do when you have spent a great deal of money on a product you can't use?
Baby Formula Return Policy for Different Stores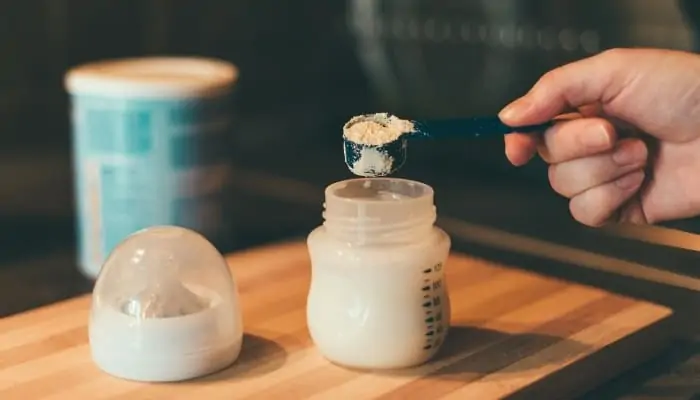 Here's the return policy for some of the more popular stores out there.
Amazon's Baby Formula Return Policy
Amazon offers free 90-day returns on select baby products. These products must be sold and fulfilled by Amazon. If you're unhappy with the product, you must go through Amazon's return process and wait for it to be received by the company before you're refunded.
All formula containers must be in new and unopened condition. This applies to ready-to-drink formula as well as powdered products.
Read Amazon's return policy here.
Walmart/Sam's Club Formula Return Policy
Walmart and Sam's Club allow formula to be returned as long as it's unopened and within the expiration date. In general, the company follows its 90-day return policy for all products.
You'll need a receipt to be given a refund, so hold onto that receipt if you think there's a chance you'll be returning formula. If you do not have a receipt, some stores may accept returns and issue you store credit. That is managed on a store-by-store basis.
Read Walmart's return policy here. The Sam's Club return policy can be found here.
Target Formula Return Policy
There is an unfortunate rumor that is making the rounds that baby formula cannot be returned to Target. While the company does have a long list of items that cannot be returned to the store for a refund, baby formula is not one of them.
As long as the formula is unopened and was purchased within 90 days, Target will issue a refund. You must have a receipt to either return or exchange. This is a good reason to sign up for a Target Red Card, as the company should be able to find a digital copy of your receipt even if you have lost the paper version. Some Target stores allow you to have the receipt emailed to your account. It's a good idea to do this if you think you may need to a refund.
Read the Target return policy here.
Costco Formula Return Policy
Costco has an excellent return policy. As long as the formula has been unopened and is still sealed, you will be able to return it in-store. Some Costco stores will refund formula that has been opened and sampled as long as it is still within the expiration date. This is not a guarantee, so if you go to Costco with a half-used container of formula and they don't give you your money back, don't be surprised.
Read the Costco return policy here.
If you didn't see the specific store you were looking for, check at the very bottom of this article for more stores.
Why You May Need to Return Formula
There are several reasons you may need to return baby formula.
1. You Don't Need it
The most obvious one is that you find you don't need it. My experience with my firstborn was that formula was necessary. My breastmilk production was very low when I pumped, which meant every bottle had to be supplemented.
I stocked up on formula for my second-born only to find out that she completely refused a bottle. With formula being so expensive, it's important for a family on a budget to be able to get their money back.
2. Your Infants Stomach Can't Handle it
Another reason to return formula is that you may find your baby can't tolerate certain ingredients. You might take advantage of a special offer and purchase multiple containers only to find your baby's stomach needs a product that is lactose-free.
3. It's Damaged Goods
Yet another reason you might return formula could be completely out of your hands. If you open a container of formula and find that it may be spoiled or otherwise damaged, contact both the store and the manufacturer.
As long as you can prove you have recently purchased the product and it was bad upon opening, you should receive a replacement or refund.
What to Do With Formula That Cannot Be Returned
Perhaps you have a container of formula you cannot use but cannot return. What do you do?
There are some options that won't replace the money you spent, but will still ensure the formula is put to good use.
Repurpose it
I used my left-over formula in rice cereal and oatmeal. The added nutrients were an excellent addition to the first foods my children ate. I sometimes used formula in baked goods as a substitute for milk or dairy products.
As long as the powder hasn't expired, it can be used in the same way you would use powdered milk. You can even mix it up and drink it yourself if you don't mind the taste.
Donate it
A good option for families with left-over, non-expired infant formula is to donate it. Unopened containers can be donated to local food pantries or shelters. They will be greatly appreciated and put to good use.
If you have opened the formula but find you can't use the rest, post in a local group on social media or ask friends if they can use it. Someone will likely jump at the chance to use the formula you don't need.
It's Returnable
Most of the time formula can be returned as long as it has not been opened, but even opened formula has its uses.
Has this guide helped you? Do you have questions to asks or tips to share? Talk with us in the comments!
Related
Frequently Asked Questions