Daycare vs Nanny: Pros and Cons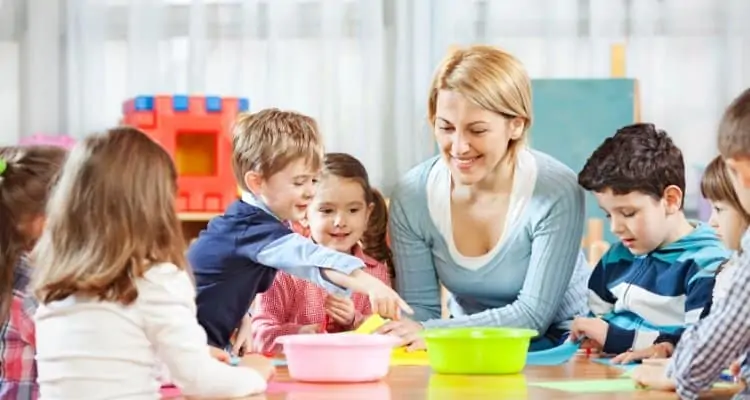 This post may contain affiliate links. If you buy through the link, I may earn a commission. Learn More.
The question of "daycare vs nanny" is a parenting issue that has no easy answer.
Even for parents who can now take advantage of the liberal parental leave benefits at work, there comes a time when you have to find a care solution for your child.
So, how do you navigate the frustrating, expensive and even agonizing decision of Daycare vs. Nanny?
*Disclosure: This post may contain affiliate links. If you click and make a purchase, I may receive a commission. For more info, please see my disclaimer.
What Factors Should You Consider?
Nearly one-quarter of children (23.4%) under the age of 5 are in some form of child care.
So, you're not alone in your quandary about how to take care of your child while you're at work.
It's not an easy decision, but here are some factors you should consider:
What's Your Budget? The Money Matters
Childcare costs in the US continue to soar, with cost averaging $1,230/month (totaling nearly $15,000/year).
The cost can vary slightly depending on the age of your child, as well as the type of child care situation.
You might also be willing to pay more for the convenience of a nanny, particularly early on.
What About Your Schedule? Part-time, Full-time & Flex Options
Your schedule may be changing when you return to work, or you may have options for a more flexible schedule.
This is another factor, which heavily impacts the childcare option that will work best for you and your family.
If you'll only be working for a few hours, a nanny might be more economical.
Pro Tip:
Generally speaking, if you only need a few hours of coverage hiring a nanny is more economical.

If you're needing more like full-time childcare, daycare will be more economical.
What's Your Timeline? Do You Need Care Immediately or 6 Months from Now?
Your timeline will be affected by when your baby is due to arrive, but also the length of your parental leave.
That does not mean that you can put it off.
You'll need to interview candidates and/or tour the facilities.
It takes time to weigh all of your options. This is not a decision you can afford to rush.
Pro Tip:
Keep in mind that a lot of sought after daycares may have a 6 to 12-month waiting list. Some may have even longer waitlists.
What About the Pros and Cons of Daycares vs Nannies?
It's possible that both the daycare and the nanny solutions might work for you, at least as a stop-gap solution.
Depending on your timeline, you might not have a lot of options, particularly given how difficult it can be to find quality childcare.
An Overview of Daycare Options – Pros & Cons
PROS:
Qualified and licensed caregivers.
Socialization with other kids.
Reliable care (you don't have to worry about a caregiver calling-in sick).
CONS:
Can be expensive.
May expose your child to more germs.
May seem overly structured and restrictive for some.
Daycare sick, and holiday policies might be inconvenient for some parents.
Daycare options can range from religious care, preschool care, or a daycare center.
Here are a few of the top pros and cons for daycare options:
Cons of Daycare
Daycare may seem overly structured and restrictive for an infant.
Depending on the daycare, you may have limited access to your child, with structured hours.
A daycare can be challenging for work-and-home balance, but it may also be expensive and expose your child to a lot of germs.
Pros of Daycare
The structure and continuity of a daycare center may offer just what you need as you return to work.
You can rely on qualified licensed caregivers, who are dedicated to your child's development.
The center or facility may focus on early skills-based development, with age-appropriate curriculum.
Deep Dive: 15+ Pros and Cons of Daycare
An Overview of Nanny Options – Pros & Cons
PROS:
It can be more convenient than a daycare.
If you have more than one child it can be more affordable.
Your child will be in an environment they're used to.
Your child will have less exposure to other germs.
CONS:
You will need a back-up plan if your nanny calls in sick or goes on vacation.
It can be significantly more expensive than daycare.
A nanny can make all the difference in the world for a new family.
There are lots of options for nannies with specific skills and knowledge, but there are drawbacks too.
Here's a quick overview of the pros and cons of a nanny.
Cons of a Nanny
A nanny solution can be limiting, depending on what his/her expectations are, and what you need.
You may not have a back-up plan if your nanny is sick. Or if he/she needs to take a break or accommodate other work situations.
A nanny can also be expensive, with costs that range upwards of $700/week (source).
Pros of a Nanny
A nanny typically works in your home, so your child can sleep in.
Your child is in a familiar environment throughout the day, and you can check in on a regular basis.
You can vet the nanny to make sure that he/she meets the needs of your child, and you can assign housekeeping duties.
How to Decide – Day Care vs. Nanny?
Ultimately, childcare will be expensive no matter which option you select.
You may pay as much (or more) for child care as you do for rent or your mortgage.
This gut-wrenching decision is part of what it means to be a parent in modern times.
So, what can you do to make the decision a bit easier?
Here are a few tips:
Sketch it out. Whether it's on a piece of paper or a whiteboard, look at what it would mean for you if you chose a nanny vs a daycare center.
Talk with your family and friends about options. It's possible that you can share responsibility, and/or negotiate pick-up and drop-offs to ease the impact on your lives.
Determine which option is the best solution for right now, but then continue to re-evaluate your options. You can always change your childcare situation in the future if it's not working.
What You Need to Know?
The process of selecting a daycare or nanny solution is never easy, even in the best of circumstances.
It's a decision that's fraught with so many questions and concerns.
You may not where to start. Remember, that this is an ongoing process.
You will learn as you go, but don't be afraid to ask lots of questions.
Here are a few questions you should ask yourself and the caregiver:
What's the cost? How does it break down? (Monthly, weekly, hourly?)  
Is the provider licensed?  
What is the caregiver-to-child ratio?  
How does communication happen? (Do they call right away when your child is sick or inconsolable? Do they communicate when other children are sick?)  
What about the curriculum? Is it "play" based? How structured are their lessons?  
What is the meal plan? (What meals do you need to cover?) 
How experienced are the caregivers?  
What is the discipline policy? (If a child hits, bites, or scratches your child, will the caregiver call you?) 
Is every staff member CPR certified? What about safety plans?  
Is a TV the central focus of the room for children of any age?  
Final Thoughts
Have You Done Your Due Diligence?
This is a decision that will affect your life, so don't just pick the first option that presents itself.
Do your research.
Read the online reviews, but also request a list of referrals from the nanny candidates and the daycare options.
For your top three choices in particular, talk to the references.  Go beneath the surface, and beyond the story that they've told you.
Search online to see what you can find about the center and/or caregivers.
If possible, consider running a background check on the nanny or caregiver. Ask the center if they can share the results of their own background check. 
While the process of checking and gauging the credentials of every candidate can be a hassle, it's better to know everything you can about the person you're trusting with your child's care and safety.
You simply can't afford to assume the best about a childcare provider. You need to take precautions.
There's something else you should know, though.
Your child may come to love the nanny or the daycare center?
The caregiver(s) may become like part of your family. It could just be one of the most enriching experiences of your life.
Just take it one day at a time.
What has your experiences so far with childcare been like?
Related Article on Daycare vs Nannies