Do Babies Have to Wear Shoes to Daycare?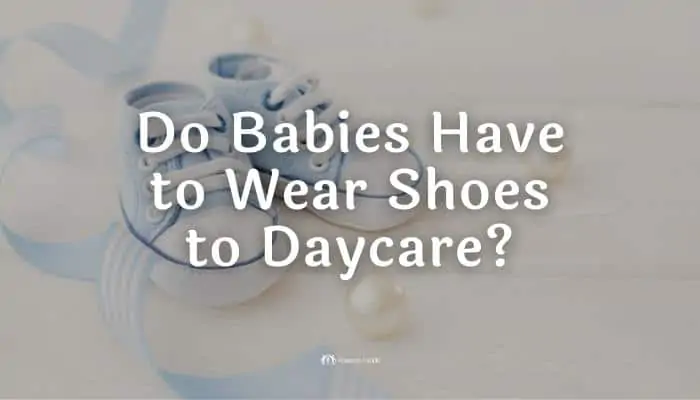 This post may contain affiliate links. If you buy through the link, I may earn a commission. Learn More.
Babies don't always wear shoes.
That doesn't mean mom or dad didn't put shoes on them when they left the house.
Often, the cute little shoes that took hours to pick out are taken off, thrown, and lost well before you reach the daycare's front doors.
*FYI, some of the links in this article about do babies have to wear shoes to daycare may be affiliate links. If you click and make a purchase, we may get a commission (at no extra cost to you). For more info, please see our disclaimer.
Should Babies Wear Shoes to Daycare?
Most daycares will not require your infant or baby to wear shoes to daycare. Once they are old enough to start walking, they will need to wear shoes to go outside and protect their delicate feet.
My best friend had a baby well before I was even thinking about children of my own.
The very first thing I did was to buy her an adorable baby dress with matching shoes. From that moment, I was hooked on cute shoes for babies. It didn't matter to me if the babies needed the shoes. I just wanted to buy them.
Why Babys Should Wear Shoes?
Hard-sole shoes are important for protecting feet from harsh environments. Think about daycares that take children outside to play. Look for anti-slip sneakers that will keep new walkers safe and sound.
Baby feet do need to be protected indoors but it is less important that the soles be hard. My favorites are Robeez.
Robeez Baby Boys and Unisex Soft Soles Slip-Resistant Shoes
SOFT SOLE BENEFITS: The best shoes mimic bare feet, by supporting - not constricting tiny, growing...
SUPPORTS DEVELOPMENT: Approved by the American Podiatric Medical Association. Soft suede sole flexes...
EASY ON-OFF AND NON-SLIP SOLES: Kick-proof, elasticized ankle makes for easy on & off while also...
They are durable, comfortable on baby feet and so cute. My children had multiple styles, including the boots that could be worn during colder months.
Robeez Flying Francesca Mini Shoe
Non-slip rubber split soles are perfect for indoor and outdoor wear
Soft Flexible Leathers
Approved by the American Podiatric Medical Association
Keeping Shoes Safe
A big issue with baby shoes is the lack of safety. A child can easily take off their shoe and hit another child with it by accident. A hard, heavy sole is no one's friend.
Uggsor simple, fleece booties are fine choices that keep the baby's feet warm without giving them a weapon.
UGG Ankle Boots
Machine washable, Target gender: Unisex,
Cozy textile upper
Adjustable hook-and-loop closure for easy on and off
It's not just the soles that can be dangerous. Avoid shoes with buckles as much as you can. These moccasinsare made to stay on without dangerous buckles, snaps or zippers.
Sale
BirdRock Baby Moccasins
BABY SHOES THAT ACTUALLY STAY ON! Is your little one always wriggling and squirming out of their...
When the Shoe Doesn't Fit
Maybe you have a baby who hates wearing shoes of any kind. You would be the first. A daycare is unlikely to force you to bring your child to them in shoes.
Still, a baby's feet get very cold so you do need some form of foot covering. Baby socks are an obvious choice. Just make sure you pack extra pairs.
You could also try footie pajamas. The built-in feet are a good alternative to socks.
Sale
Likewise, your baby should take advantage in being able to stay in jammies all day without judgment. That won't happen again for another 70 or 80 years.
Key Takeaways
A daycare might require shoes but they probably won't. It's mostly up to you and your baby whether or not to put shoes on for daycare.
Does your child wear shoes when they go to daycare? Tell us your story in the comments!
Have You Read These Yet?
Frequently Asked Questions