Do You Need to Baby Proof Phone Jacks?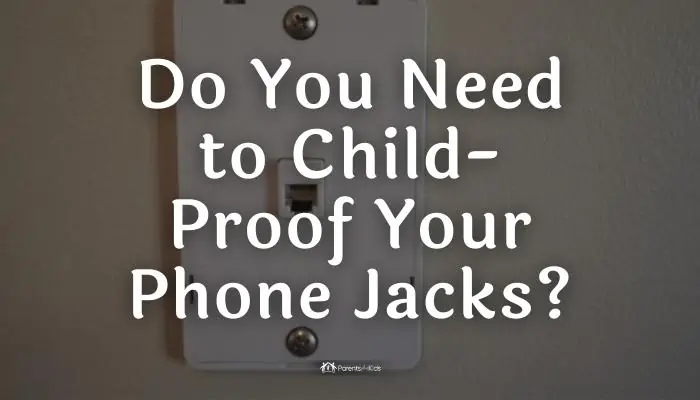 This post may contain affiliate links. If you buy through the link, I may earn a commission. Learn More.
Phone jacks may not be the first items you think of when you consider babyproofing your home.
If your home is like mine, you don't even use those jacks anymore. Out of sight may be out of mind, but that's seldom true for curious toddlers.
*FYI, some of the links in this article about do you need to baby proof phone jacks may be affiliate links. If you click and make a purchase, we may get a commission (at no extra cost to you). For more info, please see our disclaimer.
Should You Babyproof Phone Jacks?
Yes, you should baby proof phone jacks even though they typically don't have enough electricity running through them to cause damage to even the most delicate baby. There's a possibility of shock if your child is exploring the jack while the phone is ringing.
With all of that said, there are easy ways to baby proof phone jacks if you wish.
There's Electricity in a Phone Jack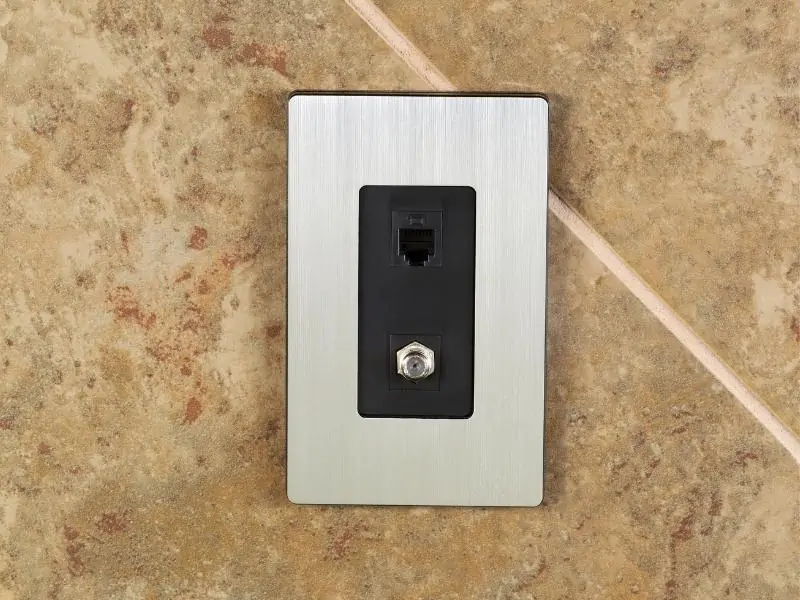 About 50 to 60 volts of electricity runs through every phone jack in your home. If the phone is ringing, that voltage goes up to 90.
Does that sound like a lot to you? Depending on the currents running through the jack at the time, it can be.
A non-operational jack doesn't (usually) have currents running through it, which means there's a low risk of injury.
An operational jack may have up to 20 milliamps which is enough to cause a painful shock.
How do you know if a jack is operational or not?
That can be the tricky part. In my house, I haven't had a landline for years. Theoretically, that means no volts or currents should be coming through my phone jacks.
However, a quick check with a voltmeter tells me otherwise.
Voltmeters are low-cost tools that you should have on hand so you can check out non-functioning outlets or double-check phone jacks without having to call an electrician.
How to Cover the Phone Jack
There is a small chance your child could be injured playing with a phone jack.
There are a few ways to cover it up that are fast and easy. The simplest is The Original Duct Tape. Throw some duct tape over unused phone jacks, and your baby will spend their time playing with the tape instead of the jack itself.
Because it's duct tape, you don't have to worry about your baby being able to pull it free.
If you don't like the look of silver duct tape, go for something decorative. My personal favorite is tie dye duct tape but my husband prefers camo.
Simply Genius Patterned and Colored Duct Tape
Duct Tape Multi Pack that is easy to tear, clean and even, no stringy edge; Simply Genius decorative...
Colored and Patterned duct tape set adds style to home repairs, mending, building, home décor; Tape...
Another option is to replace the phone jack with a blank wall plate cover. You can find these in basically any color or style. You can even purchase a white wall plate cover and paint it to match the walls in your home.
Last but not least, you can always do some creative re-arranging.
A sofa, chair, or bookcase placed strategically in front of the phone jack will keep your child from ever wondering what could be happening inside that little, square hole.
Babyproofing the Phone Wire
Maybe your home is one of the 31 percent of homes that still has a landline.
If you're actively using your telephone jack, it might not be practical to cover that jack up completely. Instead of disabling your jack, cover it with an outlet cover with space for cables.
Sale
Baby Safety Outlet Cover Box
BETTER SAFETY AND SECURITY FOR TOTS- Our double locking system (top and bottom buttons) requires two...
MORE USABLE INTERIOR SPACE THAN ANY OTHER BABYPROOFING BOX COVER- Extra large size and depth for...
Pro-Tip
I can't recommend getting an outlet cover with space for cords. When my son was 3 years of age, I used it, and it worked really well for us.
Your baby might be curious, but they won't be able to get into the outlet or phone jack.
While you are babyproofing the phone jack, you'll need to babyproof the telephone wires as well. Use these cord covers to keep them away from your baby's curious hands and unsteady feet.
Cord Cover Raceway Kit
Passing the UL94 V-0 Rating test, a plastics flammability standard released by Underwriters...
Upgraded Snap Structure for Easier Setup: Delamu cord hider is SUPER EASY to set up. Delamu cable...
Key Takeaways
You don't have to worry too much about a phone jack, but it doesn't hurt to cover it up if you have a little one. This is particularly true if you no longer have a landline.
Do you plan to babyproof your phone jack? Tell us in the comments!
Have You Read These Yet?
Frequently Asked Questions