How Soon Can a Newborn Travel Long Distance by Car?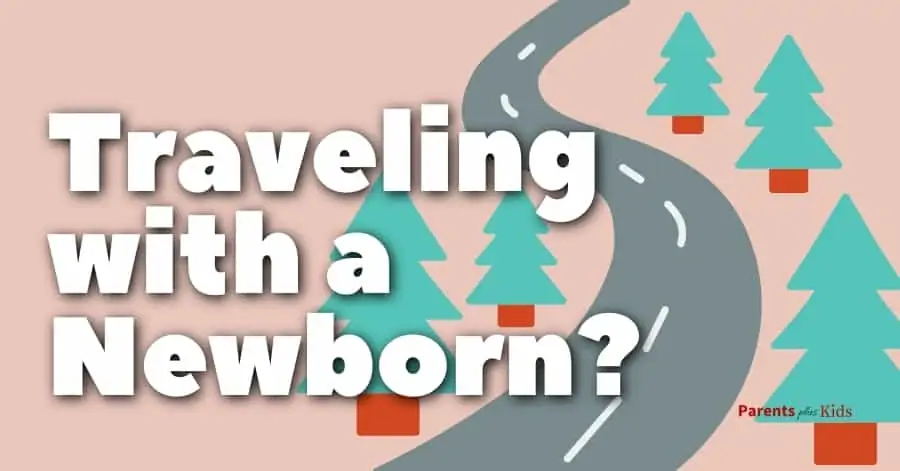 This post may contain affiliate links. If you buy through the link, I may earn a commission. Learn More.
New parents often want to know if they can travel by car with their newborns.
My answer is yes!
Newborns are great traveling companions. It's been my experience that traveling with your kids early gets them used to the open road. The end result is you'll have excellent travelers for life.
Quick Answer:
It's not difficult to travel by car with a newborn baby, as long as you have the proper equipment. You'll need a comfortable infant car seat, plenty of changes of clothing, and a willingness to both nurse and change diapers anywhere. If you're willing to do all of that, fun will be had by all.
*FYI, some of the links in this article about traveling with a newborn by car may be affiliate links. If you click and make a purchase, we may get a commission (at no extra cost to you). For more info, please see our disclaimer.
Roadtripping With Newborns: How Soon is Too Soon?
My husband's family was very excited to welcome their first grandchild. Arrangements were made for all of us to gather at the I'n-lon-schka dance in Pawhuska, Oklahoma.
The dance took place in June, which meant our three-month-old baby would have to travel in a car for six hours each way.
I was nervous about the trip. I worried about the dangers of RSV, overheating, or simple discomfort from being in a car seat for so long.
I was prepared for practically any emergency and filled the car from top to bottom with tools, clothing, and toys that I thought might be necessary.
I learned very quickly that a baby is one of the easiest traveling companions I could have. He slept soundly, traveled quietly, and stayed happy and healthy throughout the weekend.
When my second child was born, I had no qualms road-tripping for 10 hours though she was only eight weeks old. The primary difference is that instead of packing up the entire nursery, I only brought some clothing, diapers, and a Baby Bjorn.
Staying Safe on the Road
Driving is a dangerous activity. There is no question that every time you enter a car, you are facing a possible serious accident. Knowing the statistics, families should take all of the standard precautions.
Don't drive when impaired or fatigued. Pullover to wait out serious storms. Always wear seat belts and make sure young children are securely fastened. Don't text and drive.
Choose a vehicle with an excellent safety rating. Avoid speeding, especially in areas with blind curves and steep hills. Following these guidelines are good at all times, but especially when babies are in the car.
In addition, pay special attention to babies. Make sure they aren't overheated by sun exposure through the car window. Keep blankets and plush toys away from them while they sleep.
If possible, have an adult driver sit in the back with the baby to keep a watchful eye on them. If not, use a backseat mirror that lets you check on your kid even while driving.
Sale
The Best Car Seats for Infant Travel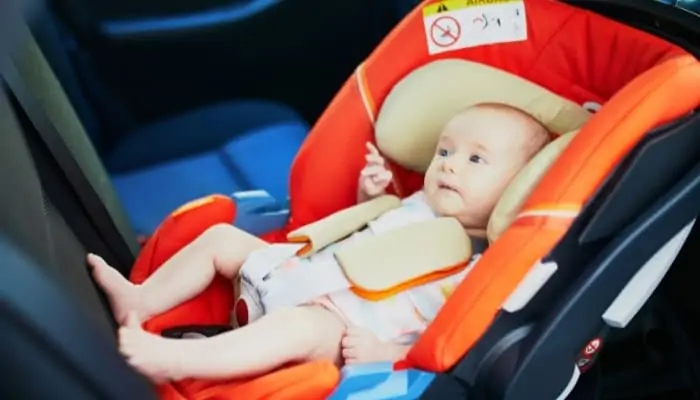 There are so many different choices with car seats that just shopping for one feels like a full-time job. Just remember to look at the safety rating and ensure that it will fit into your car. The easier it installs, the better.
Some good choices include:
For the ultimate safety, have your car seat installation checked out at your local fire station. They offer this service for free for new parents who don't have a lot of experience installing car seats.
Another tip is to purchase a travel system. The carrier fits snugly into the base and then releases so that it can be used in a stroller without having to remove your baby from a comfortable position.
Chicco KeyFit
Easy to install and setup. Detaches and can be easily placed in a caddy frame stroller.
Look for strollers that easily fold into a space that is compact enough to fit in your vehicle. This is important if you will be walking a lot once you reach your destination.
Newborns are too small for umbrella strollers and you may find yourself needing a break from the baby sling.
Baby K'tan Baby Wrap Carrier
Handsfree baby wearing. A way to keep your newborn, preemie, or infant safe and close by while you go about your day.
Breastfeeding and Bottling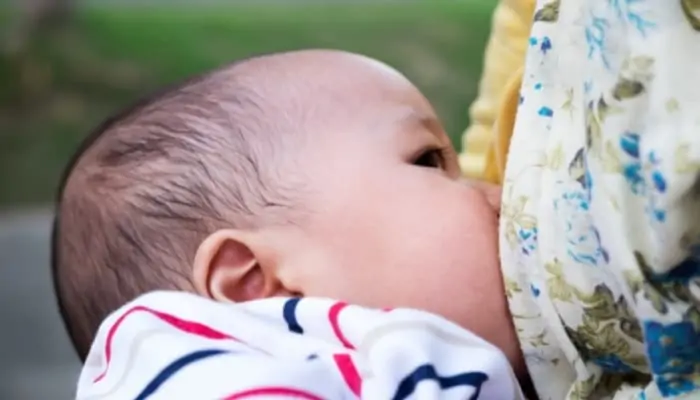 You will need to feed your child during your road trip. This alone should remind you that the road trip will take much longer with your baby than it would without. The amount of time a feeding session takes depends on how efficient your baby eats and how quickly the diaper needs to be changed.
Plan in advance for comfortable breastfeeding stops. What that means is different for different moms. My son could not nurse if he was distracted, so a comfortable spot meant somewhere quiet and away from people. My daughter would nurse anywhere and at any time, so any place that was safe was a good choice for breastfeeding.
Bottling should not be done in a moving car. Babies need to be fed and given time to digest. If you have an already established feeding schedule, this should be easy.
Unfortunately, most newborns are more than willing to throw out your day planner and let you know they're ready to eat whenever they feel like it. During your car trip, be prepared to stop at any moment for a bottling session.
Dr. Brown's Baby Bottle
Dr. Brown's bottle with its anti-colic vent system is a good bottle to use on road trips. The bottle can decrease spit-up, burping, and gas.
Expected Inconveniences
Prepare yourself for inconveniences of all shapes and sizes. Most babies are easily lulled to sleep by a moving car, but there are those who simply can't or won't sleep. The cries of an unhappy baby can be deafening.
That is especially true when you're trapped in a metal box together for hours on end. The good news is this might help you figure out what tricks your baby needs to stop crying.
Diaper blowouts are bound to happen. The smell is almost as bad as the mess. Be prepared for this by bringing more diapers, wipes, cleaning supplies and changes of clothes than you think you might need. Also bring separate plastic bags for soiled clothing and used wipes and diapers.
If you are using cloth diapers, a road trip is a good time to consider using disposable liners. They will help with cleanup and will shorten the amount of time you spend diapering.
Spitting up is a common occurrence with babies. Like diaper blowouts, they happen unexpectedly and at the worst times.
Thoroughly burping a baby so that gas passes before you are back on the road should help to alleviate some of the worst cases of spit-up. you should still expect at least one soiled shirt before the first leg of your trip is over.
Travel Tips
There's a lot of personal choices that go into the cloth diaper vs. disposable diaper debate.

Regardless of where you stand on that, I think for a long road trip…honestly, for any long trip in general, whether your car traveling or flying, I think using a disposable diaper will make your life easier.

You can still use a cloth diaper and make it work, but I think it's added stress.
The Best Ages for Traveling with Children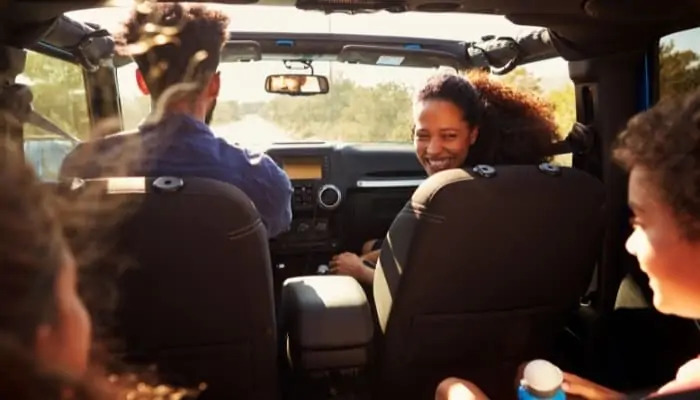 My big confession is that I love traveling with my kids. I traveled with them by car, plane, and boat when they were still infants. They are older now, but I haven't yet encountered an age that isn't perfect for travel.
Traveling with Newborns to Toddlers
0-2 years old: If possible, skip the road trip and fly instead. Children under the age of two don't need a separate plane ticket as long as they sit on your lap. I wouldn't want to fly long distances with a lap child, but my husband and I flew all around the United States before my kids were even old enough for pre-school.
Traveling with a 3-Year-Old to 5 Years of Age
3-5 years old: Road trips are fun with pre-schoolers, but they will need to stop every two seconds to use the restroom. Don't avoid road trips, but do use an app that tells you which bathrooms are clean and which should be shunned at all costs. Take it from me, when driving through rural Mississippi, clean restrooms are few and far between.
Traveling with a 6 Year Old to 10 Years of Age (School-Age Years)
6-10 years old: In my opinion, this is the perfect age for road trips. They're still excited to be on vacation, less likely to complain, and easily distracted by Minecraft and Animal Crossing. Likewise, they are old enough to make memories that will stay with them. While it's fun to travel with the younger ones, they might not remember seeing the world's largest ball of twine.
Traveling with Older Kids (Tweens and Teens)
11 and up: Tweens and teens complain a lot. They take up more room, which makes everyone uncomfortable. They also enjoy antagonizing each other. A road trip with older kids can be more trying than with the younger ones, but there is a big plus side: No diapers.
Road Trips are Fun
Road trips are fine with newborns as long as you know what to expect along the way. Enjoy your time together, stay safe and build some happy memories.
We would love to hear about your latest road trip or your future plans! Tell us all about them in the comments.
Have You Read These Yet?
Frequently Asked Questions