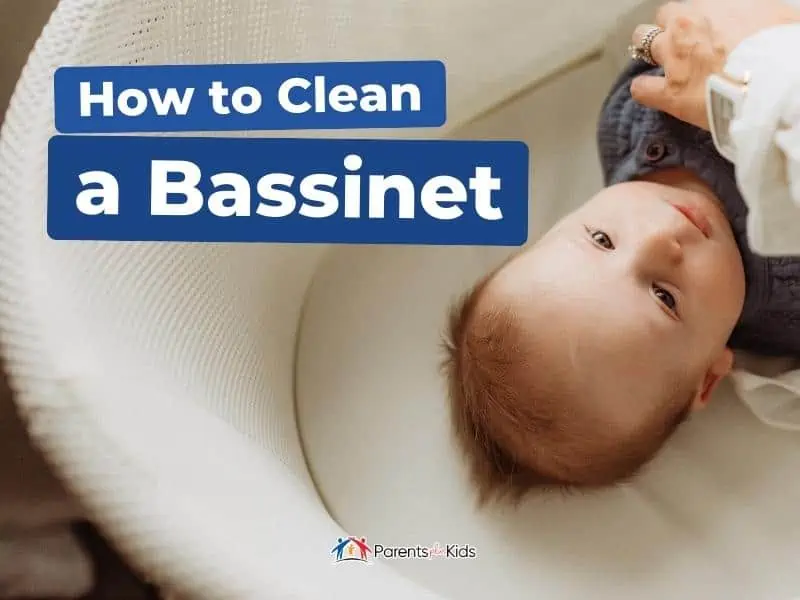 This post may contain affiliate links. If you buy through the link, I may earn a commission. Learn More.
Cleaning the bassinet is not the first thing you dream about when planning your future family.
Still, it's a necessary evil that must be done.
There are right ways and wrong ways to clean the bassinet that will ensure it's a safe environment for your baby.
*FYI, some of the links in this article about how to clean bassinet may be affiliate links. If you click and make a purchase, we may get a commission (at no extra cost to you). For more info, please see our disclaimer.
Cleaning the Bassinet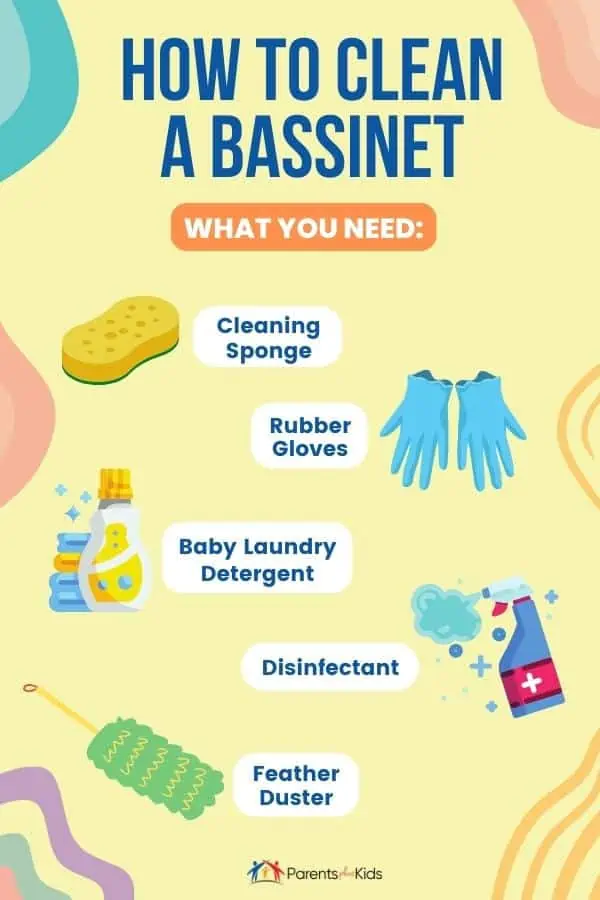 It's usually sufficient to clean the linens of the bassinet and leave the rest alone.
You shouldn't have to clean the frame of your bassinet unless it has become soiled for some reason.
If it does become soiled, take the bassinet apart and clean each piece with baby laundry detergent and warm water.
Materials Needed to Clean a Bassinet
Cleaning Sponge
Rubber Gloves
Baby Laundry Detergent
Disinfectant
Step By Step Guide For Cleaning Bassinets
The good news is, you don't have to disassemble a bassinet once a week to do a deep cleaning.
Your baby probably won't come into contact with the frame at all.
Cleaning the bassinet will usually just involve dusting the outside, cleaning the linens, and wiping down the mattress.
That said, you could be surprised by just how many bodily fluids can leak from a baby small enough to use a bassinet. My son had explosions that defied all known laws of physics and gravity.
I considered burning the house and starting over rather than having to clean these messes, but common sense prevailed.
Reading this guide will prepare you for a situation just like this when it eventually happens.
Step 1: Remove and Clean the Linens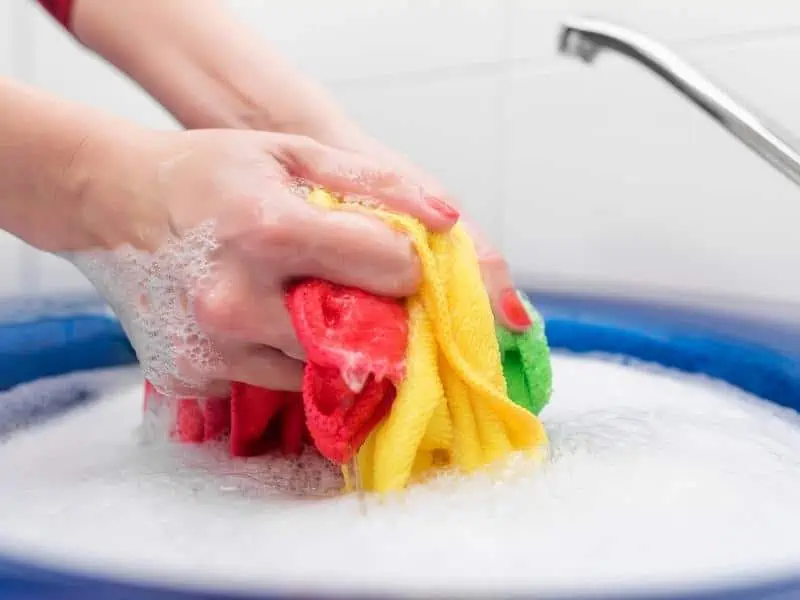 Cleaning bassinet linens is not the same as cleaning the sheets on your own bed.
You will need to use a delicate baby detergent that is free from harsh chemicals. You should also avoid dryer sheets when drying the linens.
Step 2: Remove and Wipe Down the Mattress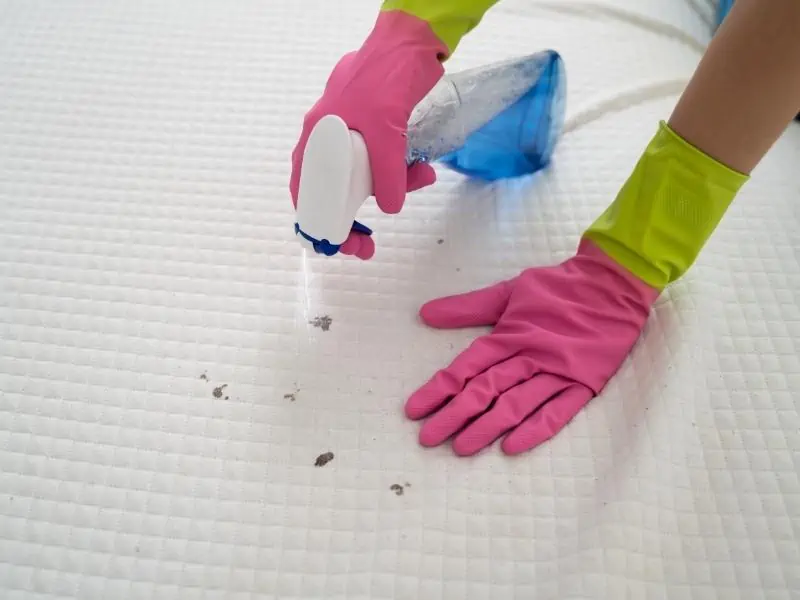 A bassinet mattress is a very thin pad. They are usually waterproof, which makes them very easy to clean.
A bassinet mattress that is not soiled can be cleaned with a damp sponge and a small amount of baby shampoo or detergent.
It can then be rinsed clean. A heavily soiled mattress pad is easily rinsed but may need a bit more detergent and elbow grease.
If you don't have a waterproof bassinet mattress, your cleaning method will be very different. You will need to use a sponge to clean the soiled area and allow it to dry.
Use a vacuum to remove as much dust, dirt, and grime from the mattress as possible.
Use a fresh cloth to wipe the mattress with disinfectant, and then rinse the mattress by wiping it down with a clean, wet cloth.
As with a waterproof mattress, it must be allowed to dry. You can speed up drying by placing the mattress outside.
Step 3: Remove All Bassinet Linings
My son's bassinet had a beautiful, frilled lining in sage green with small white flowers. They were nice to look at but difficult to remove.
Take the time to pull off all the linings and launder them like you launder the sheets. You might consider not putting them back on the bassinet if they add no needed function.
Step 4: Remove Hood
If you have a hood on your bassinet, remove it. Spot clean it with a damp sponge and allow it to dry.
If the hood is not soiled in any way, you can use a simple feather duster to remove any dust that might have accumulated.
Do NOT use a dust rag or furniture polish on the bassinet hood.
Step 5: Wipe the Bassinet Frame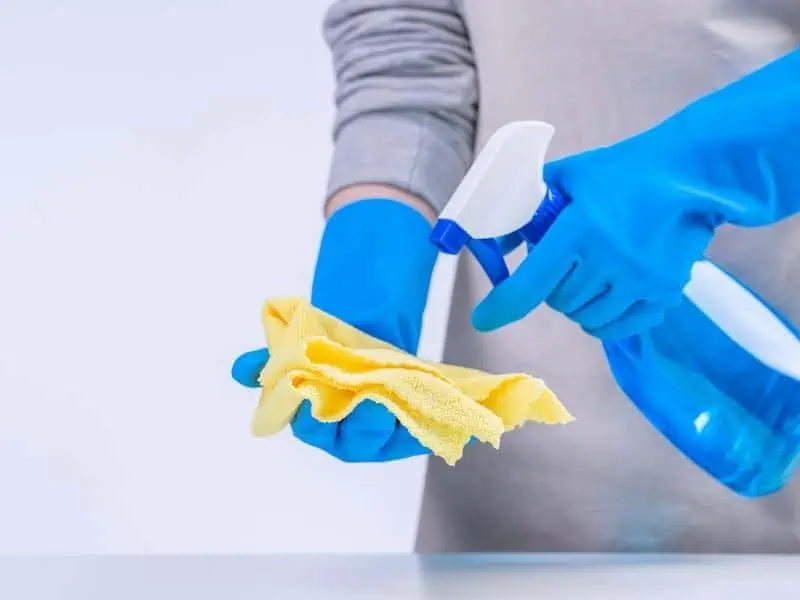 Wipe down the entire frame of the bassinet with a cloth that is very lightly moistened with disinfectant.
Immediately wipe the bassinet with a dry cloth to ensure no disinfectant remains. This will also protect the bassinet's finish.
Step 6: Put the Bassinet Back Together
Replace the hood and any additional linens, if you wish. Return the mattress to the base of the bassinet.
These items must not be replaced until they are fully dry. Placing them back in the bassinet when they are even slightly moist can lead to fungus and mold that's harmful to your baby.
Replace the linens on the mattress and clean up any soiled materials left behind.
Step 7: Set Up a Cleaning Schedule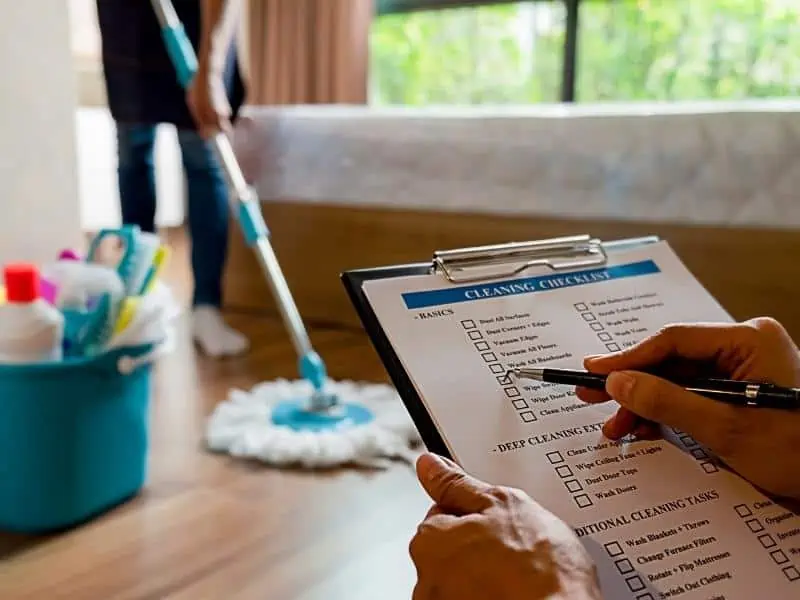 Your full cleaning of the bassinet probably won't be a regular occurrence. That doesn't mean you can avoid ever cleaning it again.
You will need to clean the sheets and mattress every week. Make this a part of your cleaning routine while remembering that the mattress needs time to dry before it is returned.
Please refer to the owner's manual of your bassinet for specific instructions on how to best clean it.
Key Takeaway
A bassinet is a handy piece of furniture perfect for young babies. Keeping it clean helps to keep your baby healthy.
How often do you clean your bassinet? Tell us in the comments!
Have You Read These Yet?
Frequently Asked Questions