How to Deal with Annoying Children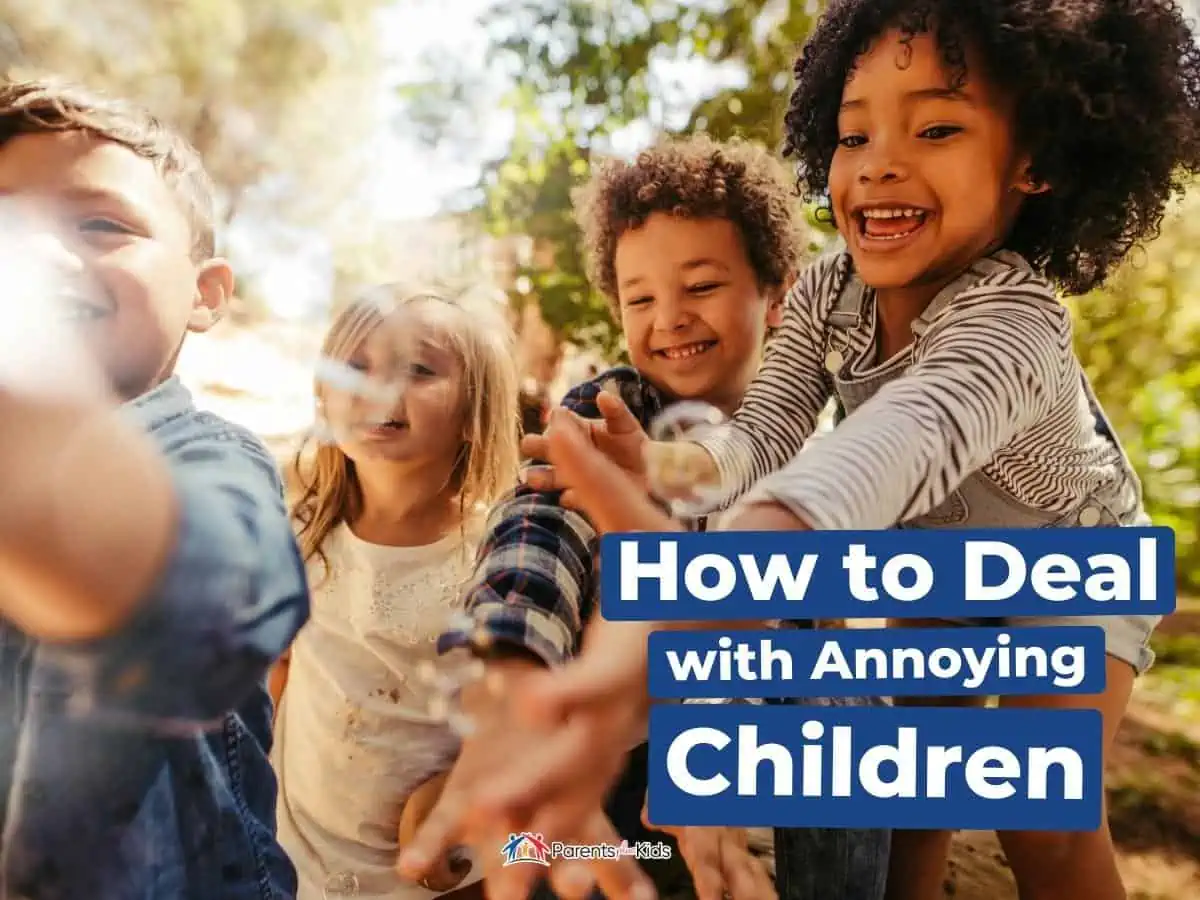 This post may contain affiliate links. If you buy through the link, I may earn a commission. Learn More.
Here's a news flash. Kids can be annoying.
Even your kids, who you love more than anything in the world, can annoy you to the point that you find yourself nostalgic for boredom.
The good news is that there are ways to find peace, even around the most annoying child.
How to Deal With Annoying Children
Try to foster healthy communication between you and your child. Explain why their behavior is inappropriate and consider enacting consequences for repeated annoying behavior. You will also need to be very patient as this is a phase most children experience.
Materials Needed
Step 1: Learn What Behavior Annoys You
Boundary testing and attention-seeking are common annoyances in children. Think about your child's behavior and what it is that specifically annoys you.
Are you annoyed when they repeatedly interrupt you to tell you the same story they have already told you a dozen times?
Are you annoyed by their ability to never stop singing Baby Shark?
Do you find it annoying that they refuse to eat the food you make for dinner while they are willing to put anything they find on the floor directly in their mouth?
For me, my number one annoyance is whining.
When a child whines, my brain melts and my spinal column freezes until it stops. What's your annoyance trigger?
Step 2: Accept the Annoyance
All kids can be annoying at times. Annoying behavior is actually a natural and normal part of a child's development.
The root cause behind the behavior usually stems from a place that is easily pinpointed.
Children, especially toddlers and pre-schoolers, crave a great deal of attention. If they don't receive the attention they desire, they will get it any way they can.
Kids this age may also resort to annoying behavior if they are bored, hungry or tired.
Step 3: Practice Patience
You probably get tired of hearing how important patience is as a parent. Unfortunately, you will need to practice patience with that as well.
The best way to get past annoying behavior is to get through it. Try to understand that your child is still learning how to communicate their feelings.
Their emotions and needs are still new to them and can be confusing.
Step 4: Teach Communication
An annoying child is trying to learn how to communicate with others. Use their annoying habits as a way to foster better communication skills.
Explain to your child how their behavior is not the most effective way to reach the goal they hope to achieve.
Be sure to use age-appropriate language when speaking to them.
For example, when my children began to whine, I would stop them and tell them that the way they were speaking made my ears hurt, and that made me feel sad.
I would then tell them that if they could plainly explain what it is that they need, I would be able to hear them better.
Step 5: Put Consequences in Place
A child won't stop being annoying just because you ask them to. They will continue to annoy for a while, even with correction.
Some children may need to face some consequences in order to understand they are behaving inappropriately.
A balanced approach is to give your child a warning about a time-out if they do not stop the annoying behavior. If it does not stop, they should be in a time-out chair for three to four minutes.
Conversely, you could place their favorite toy in timeout until the behavior stops.
Step 6: Encourage Problem-Solving
Annoying children may need to learn independence. When they have a small problem, ask them to solve it on their own.
You may need to guide them the first few times. Ask questions like, "How can you solve this?" or "What would you do to make this better?"
Eventually, they will practice problem-solving on their own. The sense of self-confidence they feel may help them get past the annoying phase faster.
Step 7: Take a Break
Parenting never stops. You deserve a break. That's especially true when your child is annoying. It doesn't need to be a long break.
Just take a moment away from your child to feel some peace with your thoughts.
Practice meditation for five minutes. You may even get your child to join you.
Step 8: Positive Reinforcement
Positive reinforcement is usually more effective than punishments. Reward your children when they use good communication techniques.
Praise them for their maturity. This kind of reward will encourage them to continue communicating in an appropriate manner.
Key Takeaways
Dealing with annoying children is just one of the many challenges of parenting. Like all other phases, this one will pass.
However, if you are patient and resilient, you can help your child get through it more quickly.
Do you have tips for dealing with annoying children? Let us know!
Have You Read These Yet?