How to Get the Urine Smell Out of Clothes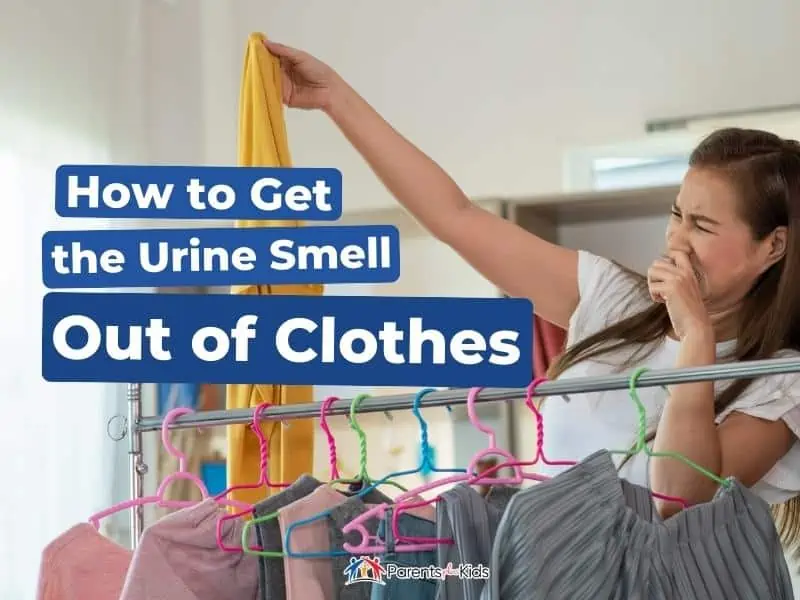 This post may contain affiliate links. If you buy through the link, I may earn a commission. Learn More.
If you have children, you have stinky clothing. It's just part of being a mom.
Your biggest concern is probably getting your children to stop peeing in places they shouldn't. A close second is likely getting the urine smell out of the fabric.
*FYI, some of the links in this article about how to get urine smell out of clothing may be affiliate links. If you click and make a purchase, we may get a commission (at no extra cost to you). For more info, please see our disclaimer.
Getting the Urine Smell Out of Clothing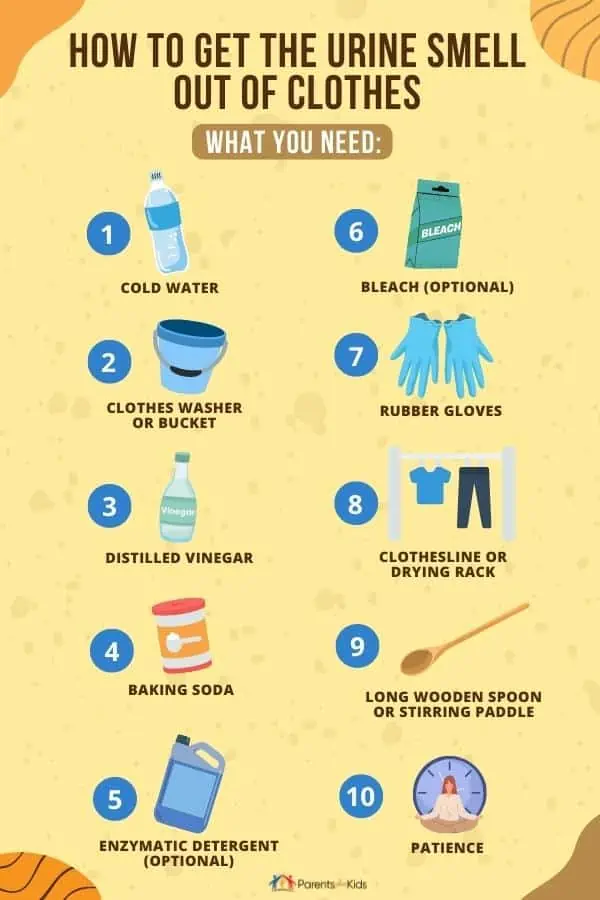 Wash fabrics in cold water. Clean with distilled vinegar and baking soda. Allow the fabric to soak. Rinse and line dry. Repeat if needed. You can also use bleach or enzymatic detergents. Line drying is key. Using a clothes dryer can bake the scent in, making it harder to remove.
Materials Needed
Step By Step Guide To Remove Urine Smell From Clothes
Step 1: Gather Your Supplies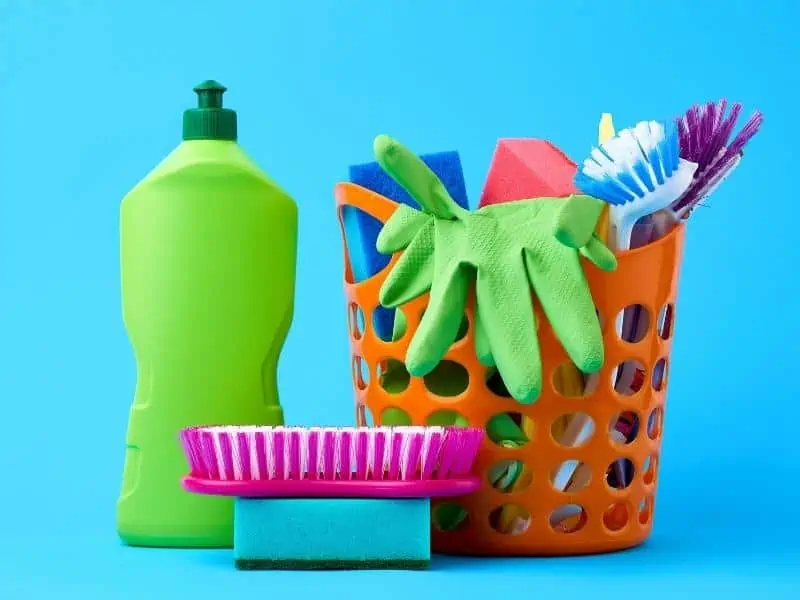 Depending on how deeply soaked the clothing is, you might not need to treat it multiple times.
However, having all the supplies you might need ready is wise. Pull the items out and place them in a safe place where young hands can't reach them.
Step 2: Submerge the Fabric
Fill your clothes washer or large bucket with cold water.
You might be tempted to use hot water to remove the germs from the urine, but hot water might enhance the urine smell. It can also damage your fabrics.
Once your bucket or clothes washer is adequately filled, place the urine-soaked clothing inside.
Step 3: Treat With Vinegar and Baking Soda
Remove the wet clothing and cover it in baking soda. You can use a small amount if you're only removing a small area with a light smell.
Heavily soaked clothing will need enough baking soda to create a coating on the affected area. Either apply one cup of vinegar to the clothing directly or pour it into the washer.
You can also make a solution of one cup vinegar, one cup laundry detergent and three cups water.
Pour the solution into the washing machine and place the soiled laundry back inside.
Step 4: Soak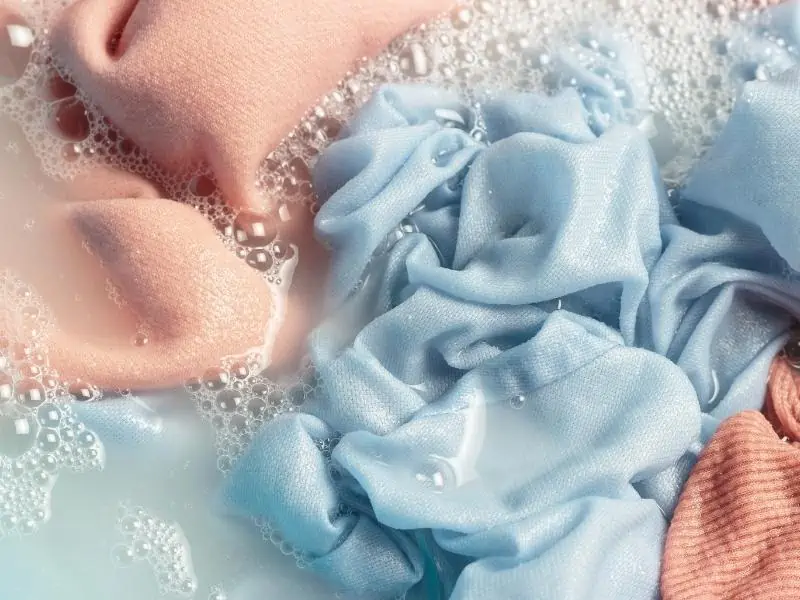 Let the soiled clothing soak for up to three hours depending on how severe the smell is.
Step 5: Wash and Rinse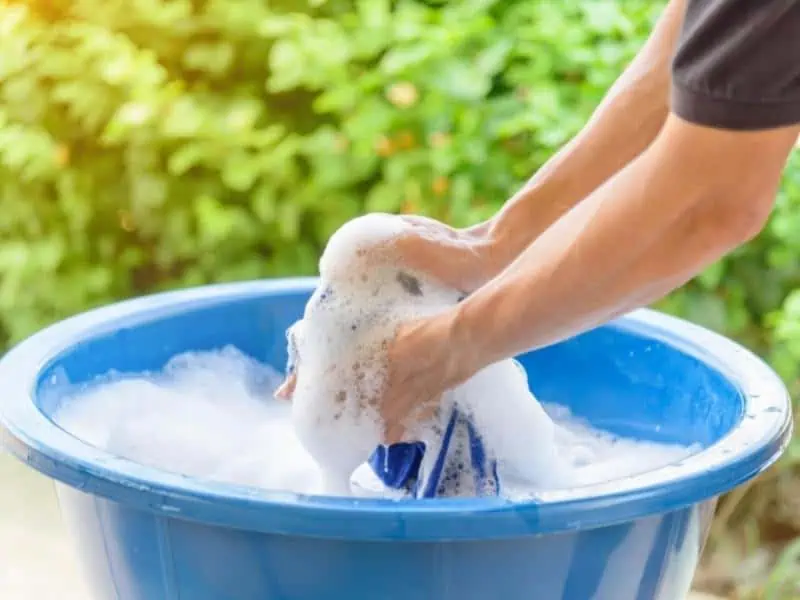 If you're doing this with a bucket, you'll want to use your hands or a large wooden spoon to stir the clothing.
With a washing machine, use a spin cycle to thoroughly clean the clothing.
Rinse with cold water until the clothing is free from baking soda, vinegar and/or any detergent.
Step 6: Line Dry
Use a drying rack or a clothesline to let the clothing dry naturally. Heated drying will enhance the smell of urine.
Laundry Drying Rack
Clothes drying laundry rack for energy savings and gentle air drying so clothes last longer; for…
Durable, lightweight steel with a White finish that protects against rust and mildew
Accordion-style design folds flat for easy carrying and compact storage
Air drying helps the urine smell dissipate naturally. It also infuses fresh air into the pores of the fabric.
Step 7: Give it the Sniff Test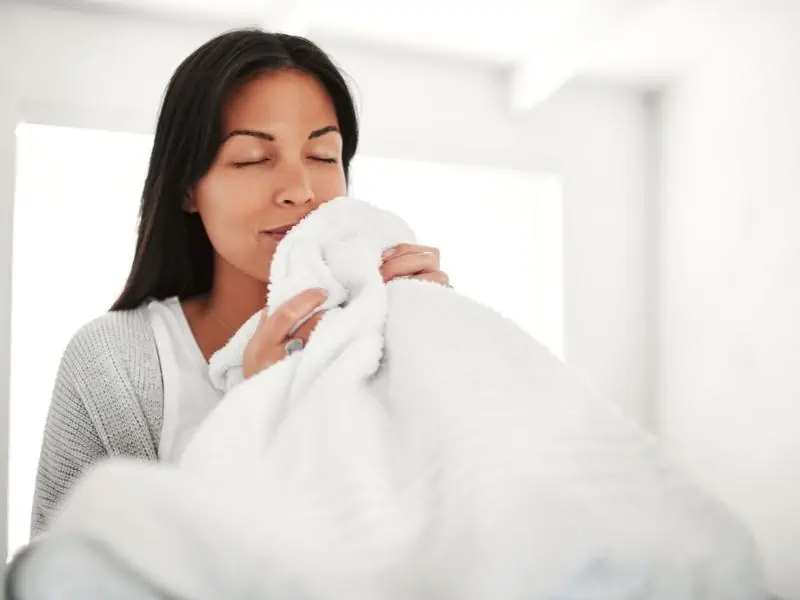 Once your clothing is dry, smell it.
If it still smells like urine, you can either repeat the vinegar and baking soda method or use one of the alternatives below.
You might not be able to smell fully after being around it for a while. It can be a good idea to ask a family member to do the sniff test for you.
Step 8: Treat With Enzymatic Detergent
Repeat all of the steps above, except use enzymatic detergent to break down the urine smell in the clothing.
Enzymatic detergents are heavy-duty cleaners that are often used by hospitals to rid clothing of bodily fluids.
Before you use this in a washing machine, consult your user manual to ensure it won't damage your equipment.
Continue with the steps as listed above. End by air drying.
Step 9: Treat With Bleach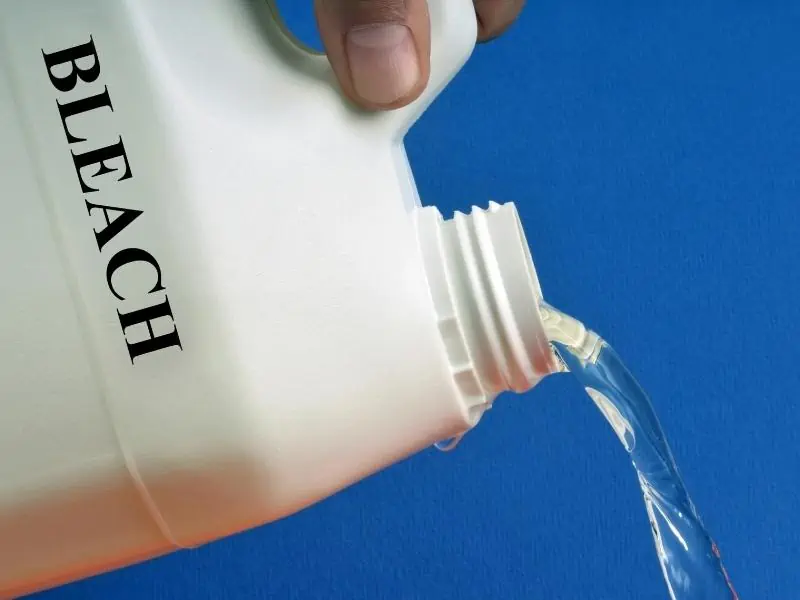 If these don't work, or if your washing machine doesn't accept enzymatic detergent, you can use bleach.
This should be your last resort as bleach can heavily damage fabrics. Repeat all steps as above, using bleach in place of the baking soda and vinegar.
Continue as above.
Bleach is very caustic. Make sure you use heavy rubber gloves if choosing a bucket rather than a clothes washer for your soiled clothing.
End by air drying.
Step 10: Repeat as Needed
Sadly, these steps alone might not fully rid your clothing of the urine smell. You will need to continue repeating them until the smell is no longer present.
The good news is that you will have plenty of practice in case the need ever arises again!
Key Takeaway
Do you have experience removing the smell of urine from fabric? What are some of your tips? Share them with us in the comments!
Have You Read These Yet?
Frequently Asked Questions