How to Potty Train A Boy: Step-by-Step Guide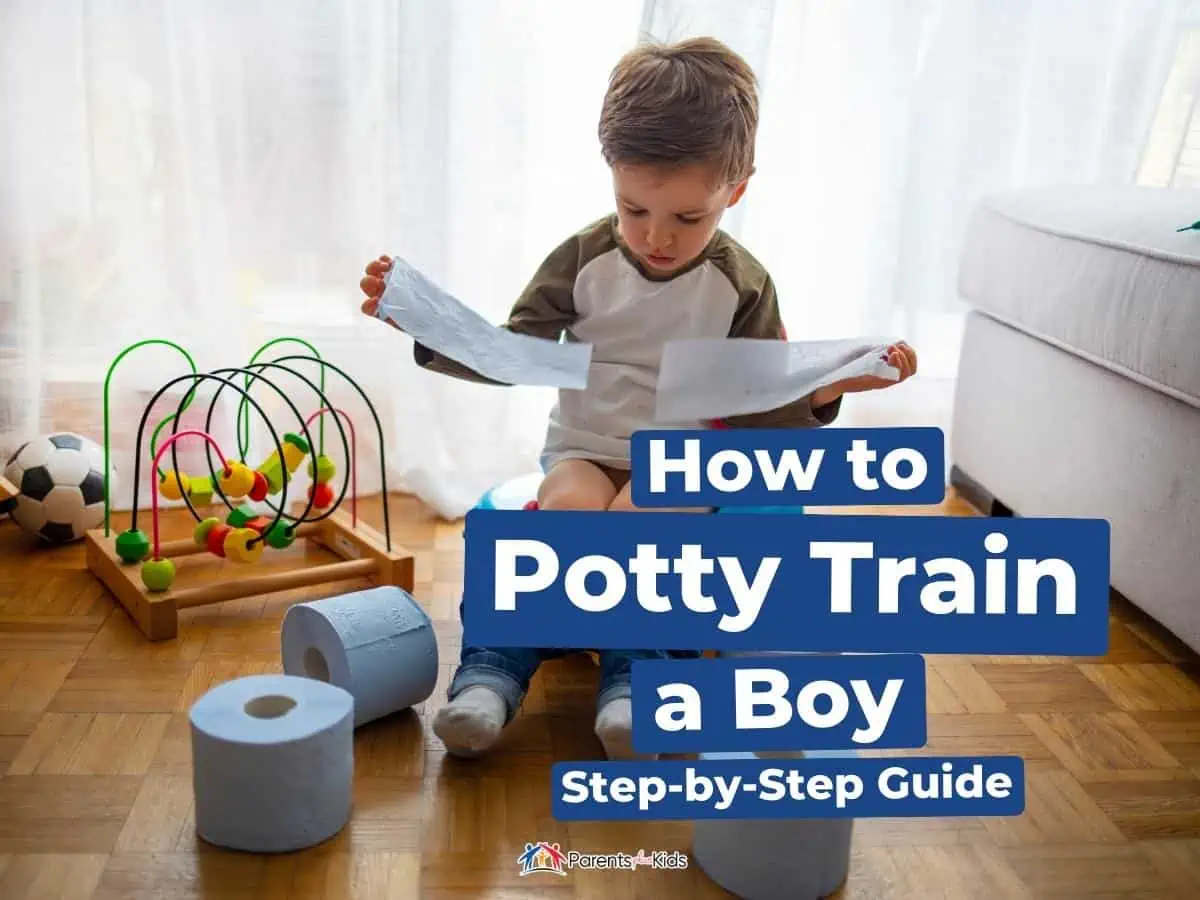 This post may contain affiliate links. If you buy through the link, I may earn a commission. Learn More.
Potty training does not have to be the nightmare you expect it to be. Potty training can be easy. It can even be fun!
Follow this step-by-step guide, which will help you avoid the pitfalls of potty training while easily achieving your goals.
How to Potty Train a Boy
Potty training a boy takes time and patience. Start by ensuring your child is ready to potty train. Make a plan and follow it with consistency every day. Using a common sense approach to potty training should allow your child to be fully trained in as little as six months and no longer than a year.
---
*Please Note: This guide is geared towards potty training a boy. If you have a girl check out my how-to-potty train a girl guide.
Materials Needed
There are a few materials that you need for potty training.
For hygiene purposes, it is best if you purchase new items rather than used or shared materials.
1. Potty Training Toilet
A realistic looking Potty Training Toilet helps children make the transition from little potty to the big potty.
Potty Training Toilet
A realistic looking potty training toilet helps children make the transition from little potty to big potty.
2. Traveling Potty
A No products found. can be used at home and on the go. It is important to remember that you will still be potty training when you travel, so taking a portable potty with you is a great idea.
No products found.
3. Potty Training Urinal
Little boys need to learn how to use a urinal while in public. Having a practice potty at home is necessary so they will be ready to face using urinals in the real world.
Potty Training Urinal
Perfect for Toilet Training for Boys between the Ages 1 and 6 years.
Bright Colored Urinal Froggy Shape is Perfect for Little Boys.
Adjustable Height.RemovableBowl Insert for Easy to Clean and Hygienic.
4. Potty Training Seat
A Potty Training Seat functions differently than a training potty. The seat gives them the feel of being grown up while also keeping them safe and secure.
Potty Training Seat
🧸Heighte Adjustable – The Rabb 1st potty training seat features 6 adjustable positions, and we've…
🧸Soft Cushion – Our potty training seat with step stool comes equipped with a waterproof PVC seat…
🧸2-in-1 Usage – Our multifunctional toilet training seat can be used as a step stool for children…
5. Potty Watch
A Potty Watch reminds busy kids to stop what they are doing and try to use the potty. It can also function as a timer while they are sitting on the potty.
6. Training Pants
Training Pants give children the feel of wearing underwear while still protecting their clothing from accidents.
Training Pants
Potty-train like a hero with PJ Masks Pampers Easy Ups Training Pants
Soft and comfy, underwear-like fit
Easy changing with Easy-Tear Sides
7. Books
Books are great tools for children who are learning to go potty.
My personal favorites are Once Upon a Potty and Everyone Poops.
Once Upon a Potty — Boy
Frankel, Alona (Author)
English (Publication Language)
24 Pages – 02/13/2014 (Publication Date) – Firefly Books (Publisher)
The Steps to Potty Training Your Little Boy
Step 1: Determine Readiness
Look for signs that your son is ready to start potty training. The first sign might be the awareness of the need to use the potty.
He might hide while soiling his diaper or even indicate that he is about to release. Another clear sign is interest in the potty. He might ask about the potty or even attempt to climb on the potty himself.
A very common sign is the need for immediate changes when his diaper is dirty. This will probably happen between the ages of two and three.
If it happens earlier than age two, give him some time. He may be interested in potty training earlier, but his biology might not be ready.
Starting potty training too early can backfire if your son is frustrated at his lack of ability to control their pelvic floor muscles
Step 2: Purchase Supplies
You may have already received potty training supplies at your baby shower. If not, it is time to make those purchases. Determine how many potty chairs you want and where you want to place them.
I live in a two-story house, so I had a potty chair for both upstairs and downstairs restrooms. You should also purchase an over-the-toilet potty seat.
Your child won't be ready for this right away. When they are ready for the potty seat, clean-up will be much easier.
You will also need to amass an array of books, buy training pants and consider a toilet timer or watch.
Step 3: Talk About Potty Training
Show the toilet to your son. Explain how it works. Do not scare him or make him worried that the loud noise or the flushing water will hurt him in any way.
If he seems afraid of the toilet, as many children are, remind him that he can use his special potty for as long as he wants.
You can then start reading books about potty training. Look for informative books as well as fun ones like Poop There it Is.
Sale
Step 4: Demonstrate Using the Potty
You do not need to have your child watch you use the potty. Instead, use one of his favorite toys.
A large, plush bear is an excellent tool for showing how the potty works.
Go through the motion of showing your son how the bear uses the toilets, how it wipes, how it flushes and how it washes his hands.
BenBen Teddy Bear Stuffed Animal
17 inch Seated Height: The cute teddy bear measures 20 inch from head to toe (17 inch in sitting…
Premium Stuffing Material: Each soft cuddle teddy bear is made with filling-polyester and…
Durable & Safe: Lock-washer eyes and stitched nose ensures safe and durable use; the eyes cannot be…
Step 5: Establish a Routine
Set up a routine for regular potty breaks. Start by sitting on the potty shortly after waking up each morning.
Even if your son wakes up with a soiled diaper, he will soon have a routine that involves using the toilet as soon as he wakes up.
You should then plan to visit the potty every hour for the first month or two. After that point, you can increase the time between potty breaks to 90 minutes or even two hours.
This is when a potty training watch comes in handy. Of course, you should also have your son use the potty just before he goes to bed at night as well.
Step 6: Watch for Cues
Potty training is as much about training you as it is your son. You will need to be able to watch his cues.
He might be squirming, crossing his legs or looking generally uncomfortable. When you see these signs, ask your son to use the potty.
He might resist at first. That is normal. Just remind him that he's turning into a big boy and that big boys use the potty when they need to.
Step 7: Encourage Trying
Your son will often say he doesn't want to go to the potty. This is especially true if he is in the midst of playtime.
You need to be firm and insist that he sits on the potty for up to five minutes. Any longer than five minutes is unnecessary.
Step 8: Celebrate Achievements
A potty training chart is a great way to track achievements. Each time he successfully uses the potty, allow him to put a sticker or stamp on his training chart.
You can also set up milestones with special treats.
For instance, if he successfully uses the potty 10 times, he might get to go out for ice cream. If he uses the potty once a day for a month, he may get a new toy. In my family, the big prize was big boy underpants.
My son was allowed to pick out his own big boy underpants after he had managed to stay dry for an entire week.
Step 9: Approach Accidents With Care
Accidents are going to happen. Your son should not feel bad about himself if he soils his training pants.
There are also going to be times when he misses the training toilet. Consider these moments as teaching opportunities. Never punish your child for these kinds of accidents.
Step 10: Transition to Underpants
When your son is staying successfully dry during the day, you can allow him to wear underpants.
He might still have an occasional accident, but they will be rare when he is wearing underpants rather than training pants.
You should keep him in training pants at night until he has been able to keep those pants dry overnight for at least two weeks.
It may take months before these training pants stay dry overnight. This is perfectly normal.
Step 11: Stay Consistent
The most important thing you can do for your son is maintain consistency. Do not vary from the routine.
Once you establish a schedule, keep it in place. Even when emergencies arise, your number one priority is potty training.
If you allow interruptions, you will delay your son's potty training success.
How to Handle Potty Training at Daycare
Whether you use a daycare, a babysitter, or a nanny, you need to talk over your potty training plan with the caregiver who watches your child during the day.
Before you start training, make sure you can remain consistent with one another.
The same goes for relatives who may watch your son while you are away. Let them know that you are training and how.
Most are more than willing to work with you as they know how important and difficult potty training can be.
How to Potty Train on Vacation
I don't recommend traveling during potty training. Unfortunately, sometimes travel is necessary.
You will need to work harder to ensure you remain on the same potty training schedule regardless of your location. A travel potty and a timer will greatly help.
You may need to use public toilets while you are traveling. Some words of warning: Public toilets are often filthy.
You will have to settle for whatever is closest and sometimes that is going to be very unpleasant. I recommend traveling with toilet seat covers, hand sanitizer and wet wipes.
Sale
Toilet Seat Covers Disposable
PROTECT YOUR CHILD FROM MESS: Let your little one sit on the potty without touching the toilet seat…
COMFORTABLE FOR LITTLE BOTTOMS: The covers are soft and absorbent with a plastic liner. No more…
GREAT FOR ON THE GO: Store the resealable package in your stroller, diaper bag, car or purse when…
If you want to try a public urinal with your son, remember that he doesn't have great aim yet. You may have a big mess on your hands (and the floor).
Story Time
This is going to be a "do as I say, not as I do" moment. My family went on vacation to Pismo Beach, California, when my son was potty training.
It was a four-hour flight followed by a three-hour drive. I decided in advance that I was not going to worry about potty training while we were gone.
I put him in diapers and told him that potty training was on hold until we returned home.
Luckily for us, it didn't cause too much of a disruption. Others might not be so lucky. It's best not to roll the dice like I did.
How to Handle Know-it-Alls
I love being a mom. Of all the things I have done in my life, parenting is by far the most rewarding and amazing journey.
The one thing I don't like about parenting is constantly being told by other people what I am doing wrong and how I should be parenting.
Potty training is one of the many areas where know-it-alls rear their annoying heads.
My tips for handling know-it-alls is to smile and nod while they are talking. Thank them for their tips, and then do what you already know is best.
That said, sometimes you can learn even from the most obnoxious voices. Listening to them doesn't hurt.
In rare instances, they may even offer some pearls of wisdom.
What if My Son Refuses to Potty Train?
It happens. A lot of kids are reluctant to potty train. Try not to be frustrated with his refusal. Instead, look at potty training from his point of view.
The entire process is strange. Change is confusing. The toilet is scary and loud. Instead of being angry or worried about his refusal to potty train, meet him where he is.
Create a positive environment that lifts him up. Let him make some of the decisions, such as where the new training toilet goes or which stickers to use for the progress chart.
Read books and watch videos with his favorite characters learning how to use the potty. Give him some space to be ready and he will eventually get there.
There are some children with special needs who may have difficulty learning how to potty train.
If you find that your child cannot potty train despite all of your best efforts, it could be due to an underlying issue.
Talk with your pediatrician about any concerns you may have.
PRO PARENTING TIP
Show a lot of patience when it comes to potty training your boy. People don't like change, and it starts very young.
How many adults do you know (including yourself) kick and scream at any little change, no matter how big or small? Or whether it's positive or negative, just because it's not what they are used to.
It's the same thing with your kid. Over time they will slowly get used to it.
Final Thoughts
Potty training isn't the easiest thing you will do as a parent, but it doesn't have to be the most difficult.
Follow some simple steps and stay consistent.Your son will be potty trained in no time.
Do you have any additional suggestions? Share them in the comments!
Have You Read These Yet?