10 Things I Wish I Knew About Potty Training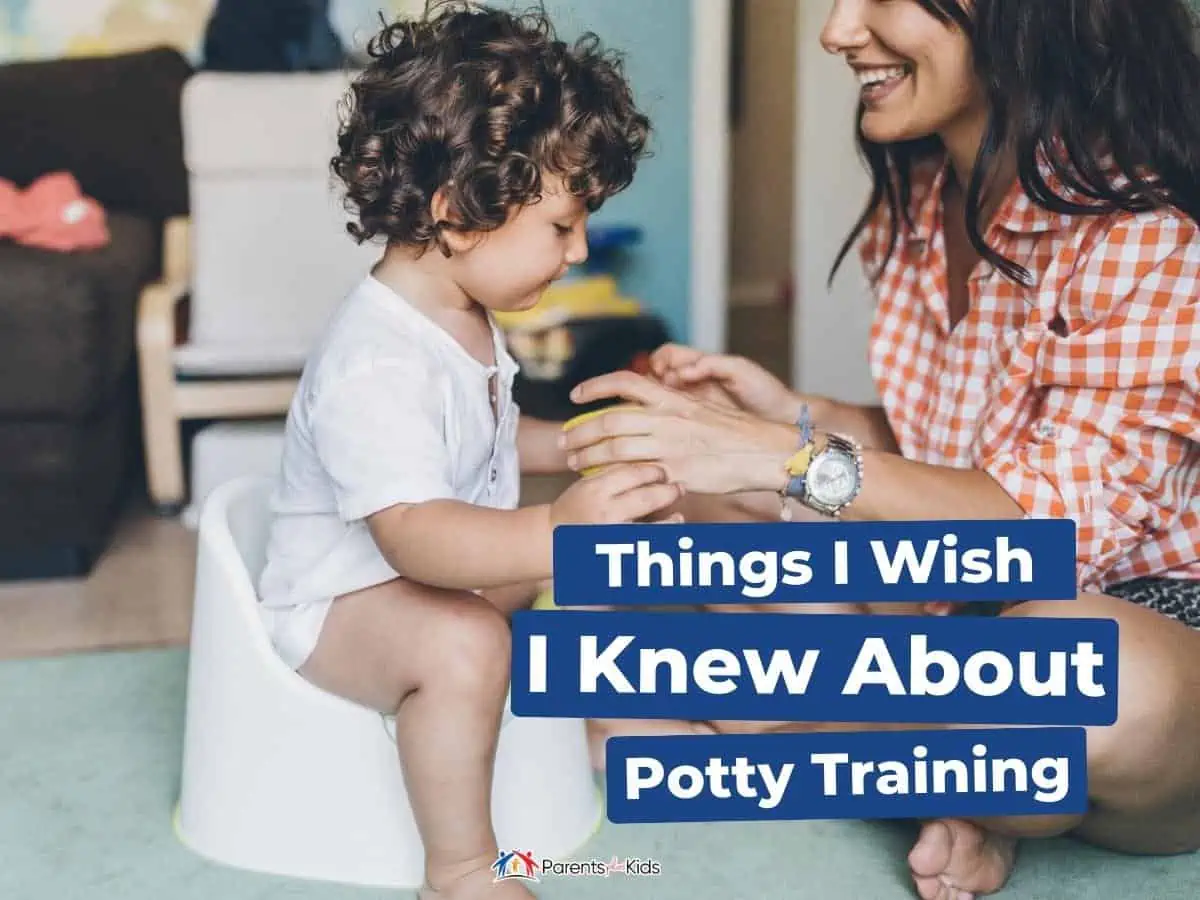 This post may contain affiliate links. If you buy through the link, I may earn a commission. Learn More.
Potty training. It can be a memorable part of your early child-rearing days for all the wrong reasons.
Take it from a mom who has been there, there are right ways and wrong ways to potty train. Here are some of the things you need to know before you start.
Things I Wish I Knew About Potty Training
Potty training is neither easy nor fun. However, it is necessary. You have probably already done plenty of research on how to do it right.
I am here to tell you that a lot of that research can be ignored and replaced with good, old-fashioned common sense and real-world advice.
1. You Can Start Too Young
A child is not ready to start potty training until they are, at the earliest, 18 months old.
However, most children aren't ready until age two or three. Starting earlier might seem like a great idea, but it will probably lead to a lot of frustration for both you and your toddler.
In addition, a child that is successfully potty trained too young can easily backslide as they age.
It is better to wait until your child shows both the ability and the interest in being potty trained before you start down this road.
2. Not All Families Share the Same Values
Some families are fine with boys and girls using the restroom together. Others are very much not okay with this. I learned that the hard way when I allowed my son to use the potty while watching the daughter of a friend.
We were potty training, he needed to go and I couldn't leave her alone in my house. It never occurred to me that this would be a problem. To her mother, it was a huge problem.
We can argue all day long about each side of this but the fact remains that families should be allowed to instill their own values in their kids as long as those values don't hurt anyone.
I stepped on my friend's values and that was a mistake. Keep this in mind when potty training around other kids or while in public.
3. Training Pants Need to Fit Really Well
Training pants are like diapers that you can slide off and on like underwear. They help your child feel big without risking accidents.
Sadly, there is a learning curve with training pants. They will leak if they are either too big or too small.
Make sure you get the right training pants so you will have fewer messes to clean.
4. Some Places Require Children to be Potty Trained
I was in no hurry to potty train my oldest when I learned the nursery school he would be attending required all kids to be potty trained by age three.
When I signed my family up for a swim club membership, I learned that all children had to be potty trained before entering the adult pool. It makes sense, it just hadn't occurred to me.
5. Potty Training on the Go is a No-Go
Do not plan a vacation while you're potty training your child. Just don't do it. They learn that they have to go exactly when they need to and that can happen at any point.
You can be driving, lost down a Mississippi backroad with no toilets in sight. You can be on hour two of standing in line at an amusement park because you're too cheap to pay for a fast pass.
You might be in the middle of a ball game, watching as Albert Pujols is about to hit his 500th homerun.
When that child says, "Mommy, I have to go," you have to go. And yes, before you ask, all of these are real-world experiences.
6. Potty Training Takes About Six Months
Six months doesn't seem like a long time in the abstract, but it can feel like forever when you are in the midst of potty training.
You need to go into the process knowing that the next six months belong to your child's urinary and digestive systems.
You will give up any social life, travels and sense of self during this time. Everything is about the potty. Embrace it and learn to love it because you don't have another choice.
7. Girls are Faster and Earlier Than Boys
This is a fact: Girls tend to be ready sooner than boys. They also tend to learn faster. Most experts agree that this is because girls have more advanced communication skills than boys at that age.
Therefore, if your best friend brags about how her two-year-old daughter was potty trained in three weeks, don't worry about your three-year-old son who is still afraid of the toilet.
8. Kids Can Fear the Potty
Do not, at any point, make jokes about your child being sucked into the toilet when it flushes.
Your child will never forget it and you will be stuck cleaning out potty chairs for the long haul. Another suggestion: Don't tell your child that the potty wants to eat their pee and poo.
It's not a big leap for a young one to turn the toilet into a monster that wants to eat them.
The best option is to explain exactly how a toilet works, how sanitation systems function and the process of waste management. By the time you're done, they will be too bored to be scared.
9. Potties are Disgusting
You will need to buy a potty chair for your potty training toddler.
No matter how cute the stool is, it still needs to be cleaned out every time they go. It's nasty business.
My recommendation is to buy a potty that quickly converts into a ring that they can use on the actual toilet.
I used this potty for both of my children and it was fantastic.
They were already comfortable with the little ring so when it was time to graduate from little potty to big toilet, they weren't as scared.
10. It's Possibly to do Double Duty
Kids will sit on the potty for increasingly long periods of time. Don't look at this as a negative.
You can use this time for teaching. Show them clocks with timers, which will help them with numbers. Read books to them while they are trying to go.
My favorites are Once Upon a Potty and Where's the Poop.
Did you know that penguins have pink poop?
I didn't know this until my son was potty training. As it turns out, even parents can learn from pop-up books about poop.
Key Takeaways
Potty training is a chore but it doesn't need to be a nightmare.
You can get through it with your sanity intact as long as your methods are sound and your expectations are in check.
Do you have some potty training advice of your own? Share them in the comments!
Have You Read These Yet?