Is Nursing a Good Career for Moms & Single Moms?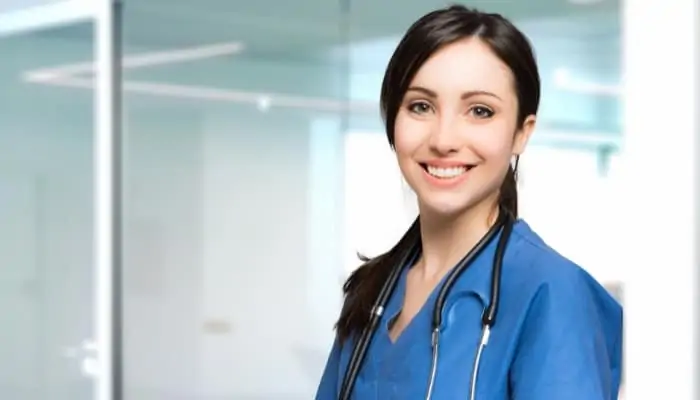 This post may contain affiliate links. If you buy through the link, I may earn a commission. Learn More.
Nursing is a great career for anyone who wants to make a difference in the lives of others.
A nurse gives patients hope, comfort, and health. What could be a more natural career for a mom than to be a nurse?
*FYI, some of the links in this article about is nursing a good career for single moms may be affiliate links. If you click and make a purchase, we may get a commission (at no extra cost to you). For more info, please see our disclaimer.
Is Nursing a Good Career for Moms?
Moms looking for a career change should consider nursing. It's a rewarding career that is always in high demand. Nurses can make very good salaries and usually have excellent benefits packages. You can even choose to be a part-time nurse and still have a secure income with a more flexible schedule.
My Backstory
I have a chronic illness that requires me to spend a lot of time in doctor's offices, hospitals, and clinics. It's no fun, but it has introduced me to some wonderful people.
Nurses are hands-on caregivers who do the bulk of the work in medical environments. I have never felt more cared for than when a good nurse has listened to my concerns, laughed with me while I'm feeling happy, or hugged me through tears. Nurses will always hold a special place in my heart.
Moms who want fulfilling careers should seriously consider taking up nursing. There are many different types of nursing positions, which means there is plenty of room for any mom who is interested in medicine.
RN, LPN and CNA: What's the Difference?
There are several types of nurses that have different requirements, duties, and education levels. The two I'll focus on are RNs and LPNs.
While not technically nurses, I'll also talk about CNAs or certified nursing assistants. They don't enjoy the same wage benefits or broad scope of practice of RNs or LPNs, but many people do become CNAs and use it as a jumping point to a nursing career.
Registered Nurse (RNs)
An RN is a Registered Nurse. These nurses may work in hospitals, clinics, or doctor's offices. They usually work directly with patients as part of a larger healthcare team.
RN salaries start at about $73,300 for full-time work. Depending on your specialty and what state or area you live in, you can see your wage be significantly higher than that.
Those interested in becoming an RN will need a state-granted nursing license and either an associate degree or a Bachelor of Nursing.
Licensed Practical Nurse / Licensed Vocational Nurse (LPN/LVNs)
An LPN is a Licensed Practical Nurse. LPNs do a lot of the day-to-day work with patients. These nurses typically work under the registered nurse in many settings.
LPNs take blood pressure, dress wounds, and provide medications prescribed by the physician. An LPN must complete a one-year training program and become licensed, but she does not need a college degree.
An LPN usually makes about $50,000 per year. Once again, this can vary as there are LPNs who make significantly more than this.
Certified Nurses Assistants (CNAs) / Patient Care Technicians (PCT)
A CNA is a Certified Nursing Assistant. A CNA will bathe and dress patients, provide them with food and help them with daily activities.
CNAs or patient care techs work under RNs and LPNs and have the most limited scope of practice compared to the registered nurse or the licensed practical nurse.
CNAs must complete CNA certification and coursework, which can take anywhere from four weeks to six months. Because this career requires the lowest level of skills, a CNA will make about $28,000 per year.
You Have a Lot of Options to Specialize
Like physicians, nurses can specialize in specific areas. Cardiac nurses work with heart issues. Critical care nurses and ER nurses work in the ICU and the emergency room (respectively). Geriatric nurses work only with the elderly.
Each of these areas, and the countless others that I've left unnamed, have their own requirements.
The Advanced Practice Nurse
If you decide to get your master's or doctorate, you can even become an advanced practice nurse. As an advanced practice nurse, you can make even more money and have more autonomy over your practice.
Some of the options you can become as an advanced practice nurse are nurse practitioners or certified registered nurse anesthetists (CRNA). From there, you can even specialize some more if you want.
For example, I see a Family Nurse Practitioner (FNP) as my primary healthcare provider. An FNP must have a minimum of a master's degree in nursing and hold an RN license. These nurses can diagnose diseases, treat illnesses, conduct exams, and prescribe medication. A typical FNP makes more than $100k per year.
If family practice isn't your thing, then as a CRNA, you can assist during surgeries by administering anesthesia.
Nursing Schedules and the Single Mom
Nursing salaries are great, but what about the hours? Medical professionals tend to have busy schedules, so some moms may feel nursing doesn't work within their already busy lives.
While many nursing schedules are erratic, there is also a lot of flexibility. Many of my nurse friends work clump schedules that allow them to work three exhausting days per week in exchange for four days free.
Nurses can also work weekends only, no weekends, overnights, morning shifts, or basically any time that works with their schedules.
A nurse will not be able to work full-time without needing some daycare (unless you have kids already in school), but they will have ample opportunities to arrange a schedule that works for the entire family.
Believe it or not, there are even nursing jobs that are completely virtual. Nurses can conduct virtual visits with patients. They can answer hotlines or be part of triage call centers. These positions are perfect for single moms who want to work in the nursing industry and need to function as full-time caregivers to their own children.
Related: How Single Moms Afford Daycare
Education – How to Become a Nurse
The primary issue with nursing as a single parent is the necessary training and education. Prospective nurses can take online courses from accredited colleges and universities, but they won't earn a salary while in school for up to four years.
But if you remember the average wage I mentioned above, you'll see all that scraping by could be well worth it once your nursing career takes off after school.
It's without a doubt a career that's not for everyone. But the pay is good, and there's so much flexibility the nursing career can give to all the moms and single moms out there that I consider it one of the best careers for moms.
Find a Nursing Program
Get started today by finding a nursing program and talking to a nurse recruiter. You'll be taken to a page where you can fill out a form of what YOU are looking for in a school (online, classroom, hybrid) and have someone reach out to you. It'll take you less than a minute, and then you can get back to your busy schedule.
Have you considered a career in nursing? What has made you think about this path? Tell us your thoughts in the comments!
Have You Read These Yet?
Frequently Asked Questions