Is Being a Real Estate Agent a Good Career for Moms?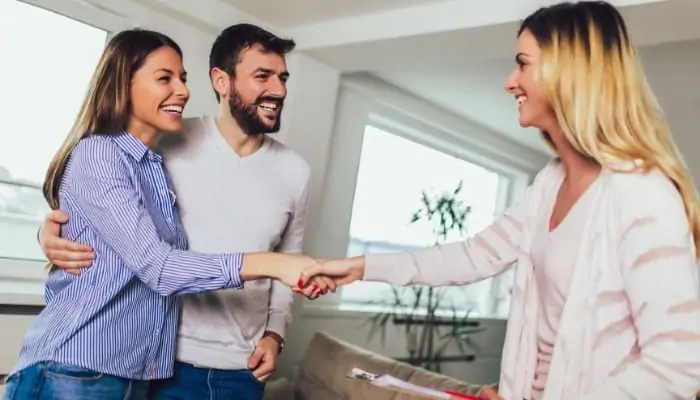 This post may contain affiliate links. If you buy through the link, I may earn a commission. Learn More.
I know a lot of moms who are real estate agents. They all seem to like what they do, but is it really a good career for a mom.
I'm going to talk about it below and give you some pros and cons moms (especially single moms) should keep in mind when considering real estate as a new career or side-hustle.
*FYI, some of the links in this article about is real estate a good career for a mom may be affiliate links. If you click and make a purchase, we may get a commission (at no extra cost to you). For more info, please see our disclaimer.
Is Real Estate a Good Career for Mom?
Being a real estate broker can be a good profession for a busy mom. It's not a difficult career to begin, doesn't require years of expensive college training, and you can start making money fast. Best of all, the schedule for a real estate agent can be as flexible as you want it to be.
A mom might choose a career as a real estate agent if she is good with people and enjoys sales. It's a good career choice for those moms who are willing to work in a field that is non-salaried and fully dependent on commission.
Get Your Real Estate License
Get your real estate license in the comfort of your own home. Start and stop the course as needed. No pressure. No four-year degree or mountain high student loans needed.
The Pros and Cons of Real Estate for Moms
I took a real estate class when I was in college. There was no real reason for me to take the course other than it fit into my schedule, and I needed the hours. I had no interest in real estate, nor did I ever plan to become an agent.
It turned out to be an interesting class. Most interesting to me was the large number of parents taking the class to prepare for their real estate licensing exam. In fact, most of the students around me were not seeking a degree. They were pursuing a new career.
I personally know many moms who are real estate agents. There are numerous reasons to join that field, but there are a few drawbacks as well.
Why Real Estate is a Good Choice
Real estate offers a lot of rewards. It's a career that leads to wonderful things for the right person.
1. You are your own boss.
You will make your schedule, choose how much you work, and determine how much effort you put into the career. A mom can pursue real estate as a full-time job or a part-time gig.
2. Your hours are completely flexible.
You get to decide when you meet with clients, work on open houses, look for new business or take time off.
There is no need to request hours off for your daughter's recital or your son's school play. You don't have to call anyone if you're sick, except maybe some clients.
3. You have the chance of making serious money.
If you enjoy sales and are good at what you do, a top real estate agent can make a six-figure income in their first year. Even if you aren't the top seller, your salary will likely be no lower than $40k per year.
4. Becoming a real estate agent doesn't take a lot of time.
You simply need to study for a real estate certification exam and pass it. Once you have that licensing in your pocket, you are ready to start selling.
Requirements will vary per state, but you can take real estate courses like this one that will prepare you for the licensure exam.
The Lows of the Real Estate Business
Working in real estate is not all fun and games. There are some big highs to being a real estate agent, but there are also some very low lows.
1. Your salary is commission only.
I have worked a sales job before. Having a salary that is completely dependent upon commission is a recipe for a stress-induced ulcer.
Unless you really thrive on competition, you might not be suited to a job like this.
2. You may spend a lot more time working than you intended.
You can have flexible hours as a real estate agent, but you probably won't be earning top dollar. Working in real estate requires a serious time investment.
You have to chase down prospective clients, find people to buy the real estate, and then start all over again every day. Real estate is not one of those areas where you will have repeat clients week after week.
3. Getting started is expensive.
You will need to pay for signage and advertisements just to get your name seen. You will need to be affiliated with a real estate agency/broker, which charges you a significant fee (watch the video above for more information on the agent/broker split).
You could easily spend several thousand dollars just on getting noticed before you even get your first client.
4. You may be looking for a new career soon.
The high stress of real estate means it's a career with high turnover. Only about 20 percent of real estate agents stick with this career after two years.
The bad news is you may have invested a lot of time and energy into something that won't last. On the other hand, if you can stick it out, you might be a senior real estate agent in just a few years.
It's a Good Career so Get Started
Real estate is a career that is useful and needed. You could find that real estate is your passion, which always makes for a wonderful life. As the saying goes, if you do what you love, you'll never work a day in your life.
Get Your Real Estate License
Get your real estate license in the comfort of your own home. Start and stop the course as needed. No pressure. No four-year degree or mountain high student loans needed.
Are you interested in a future in real estate? Talk to us about it in the comments!
Have You Read These Yet?
Frequently Asked Questions