What Do Babies Wear to Daycare? (Summer, Fall, Winter, Spring)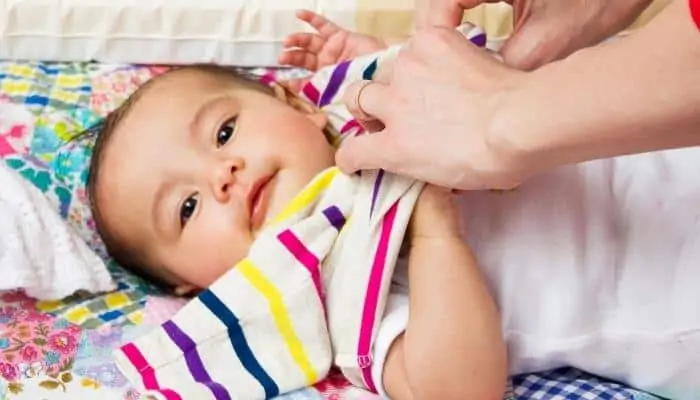 This post may contain affiliate links. If you buy through the link, I may earn a commission. Learn More.
More preparation is needed for taking your baby to daycare than just dropping them off and hoping for the best.
One of the most important considerations to keep in mind is how to dress your baby for daycare.
Don't worry. I have you covered in this article. I'll guide you on what to consider to make sure your baby is dressed appropriately for the season.
*FYI, some of the links in this article about what babies wear to daycare may be affiliate links. If you click and make a purchase, we may get a commission (at no extra cost to you). For more info, please see our disclaimer.
What do Babies Wear to Daycare?
Babies have different needs depending on the weather. In the summer, babies need to wear clothing that will keep them from overheating, while the winter months call for extra layers. Also, pay close attention to how well air-conditioned or heated the daycare is when dressing your baby for the day.
Breakdown of a Baby's Attire By the Season
The clothing a baby wears to daycare should be play clothes.
Don't dress your baby in their finest outfits for trips to a daycare center. Make sure they're comfortable in their clothing by using soft fabrics that don't irritate the baby's skin.
Also, make sure the daycare provider has spare clothes for the inevitable diaper blowout.
The specific type of clothing worn by a baby depends on the season. Think about the weather before you dress your baby for the day.
Pro-Tip
I just wanted to emphasize how important it is to make sure your daycare has extra baby clothes (shirts, pants, onesies, shoes, etc.).

Diaper blowouts will happen. It's not a matter of if, but when and how many times.
What Do Babies Wear to Daycare During the Summer?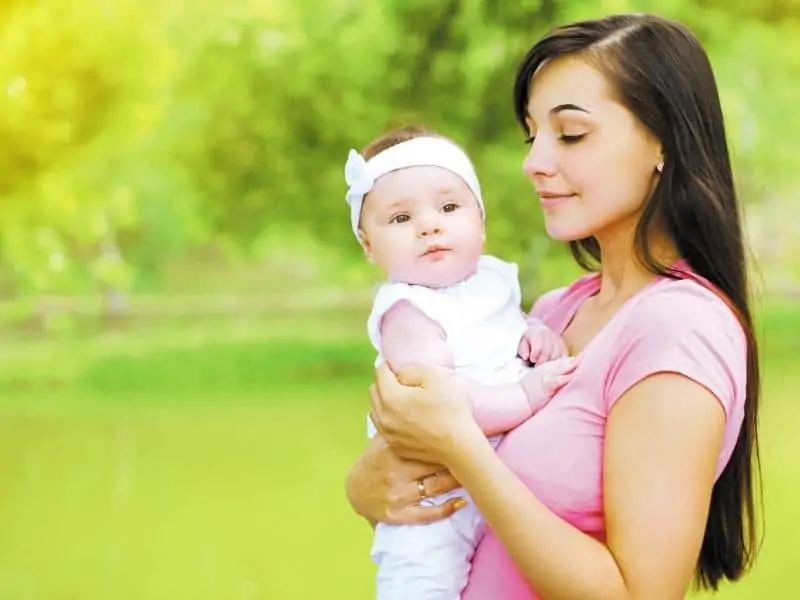 Daycare providers want their young charges to spend as much time outside as possible during the summer months. Because of that, you should dress your child in the smallest amount of clothes possible. It's so hot and humid you don't want them to overheat.
Summer onesies are fine choices when paired with breathable shorts .
Cute summer outfits are fun choices but don't overspend. Your baby will probably outgrow any outfit you purchase within a few weeks.
Baby shoes aren't necessary for children who aren't yet walking. Walkers might want to have sandals for summer days. Others can simply wear socks or remain barefoot.
Xifamniy Summer Outfit (Skirt with Headband For Baby Girl)
【Comfortable Material】The newborn baby girl clothes is made of high-quality material with a high...
【SummerTop Choice】The baby girl newborn essentials are 4 colors to choose...
【Attentive Design】The infant clothes girl is a strap buckle design, two straps pass through the...
What Do Babies Wear to Daycare During the Fall?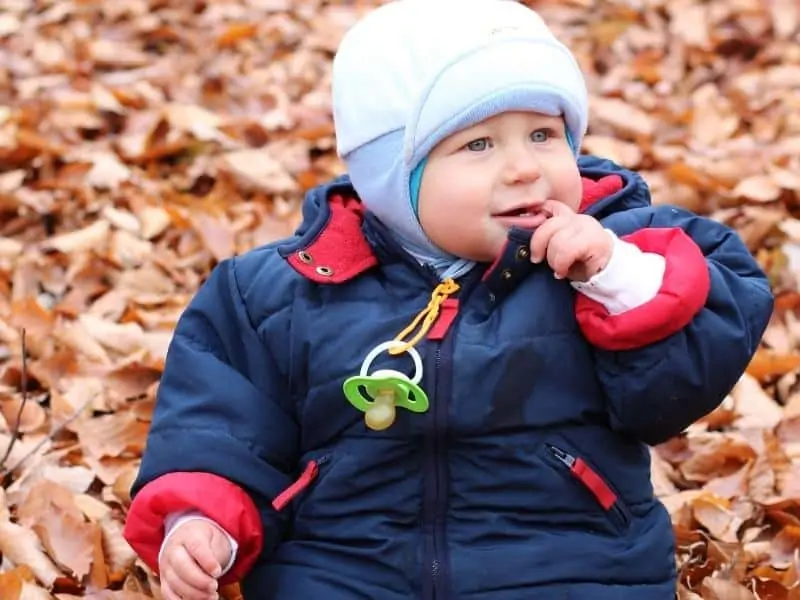 Fall days might be warm, cold, or a combination of both, depending on where you live. Fall is a great time to get used to layering. Long-sleeve onesies matched with pants and socks are great choices. Add a jacketor a cardigan that is easily removed.
Shoes are important in the fall. Pay close attention to wet weather and plan accordingly.
Rain boots might be necessary for toddlers who want to splash in mud puddles. Warm but lightweight shoes are good choices for most babies.
Baby Rain Boots
Made with Soft Materials: The toddler rain boots can protect children from getting injured due to...
Lightweight: The lightweight and un-slip design of the toddler rain boots which can make sure your...
Waterproof & Easy to Clean: These toddler rain boots are 100% waterproof and suitable for raining...
What Do Babies Wear to Daycare During the Winter?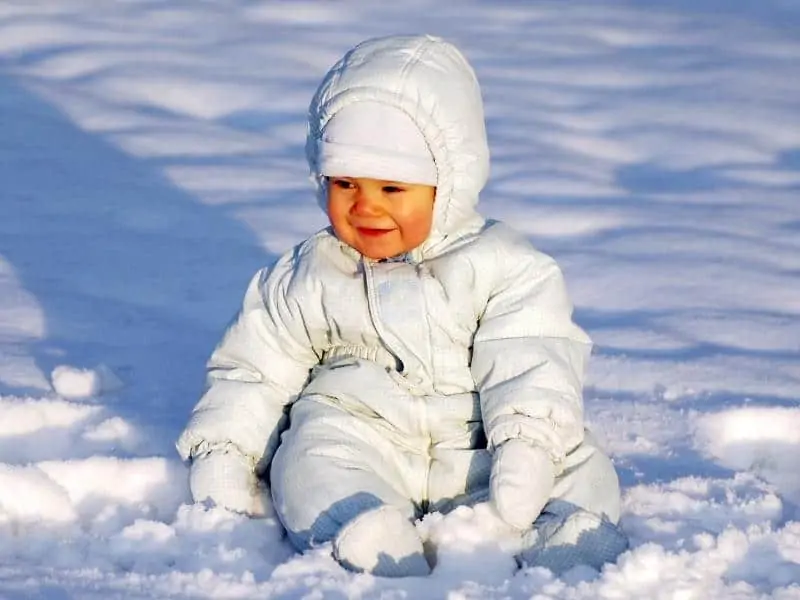 Like the fall, winter months require an extra layer or two. However, you will want to include thicker layers for babies who may face freezing temperatures.
A coordinated outfit that consists of pants and a sweatshirt is a good first layer. Add warm socks and a thick coat as well.
The North Face Baby-Girls Reversible Mossbud Swirl Hoodie (Infant)
REVERSIBLE JACKET. Discover versatile warmth and style in the Infant Reversible Mossbud Swirl...
TRAP THE HEAT. Our 70% post-consumer recycled Heatseeker Eco insulation has a great warmth to weight...
PREMIUM FABRIC. Made from super cozy high pile fleece on one side and recycled polyester with a...
Don't forget cold-weather accessories like mittens and hats. In fact, make sure you buy plenty of extra mittens and hats because these items are usually the first to be lost.
Inquire with your daycare about whether or not they will take children outside when there is snow on the ground. If they do, you might need to invest in a snowsuit.
You will also need this information when planning footwear. Children who will remain indoors can enjoy warm boots that are meant to keep feet nestled, and snug but won't protect against the elements.
Going outside in the snow means snow boots for infants are required.
What Do Babies Wear to Daycare During the Spring?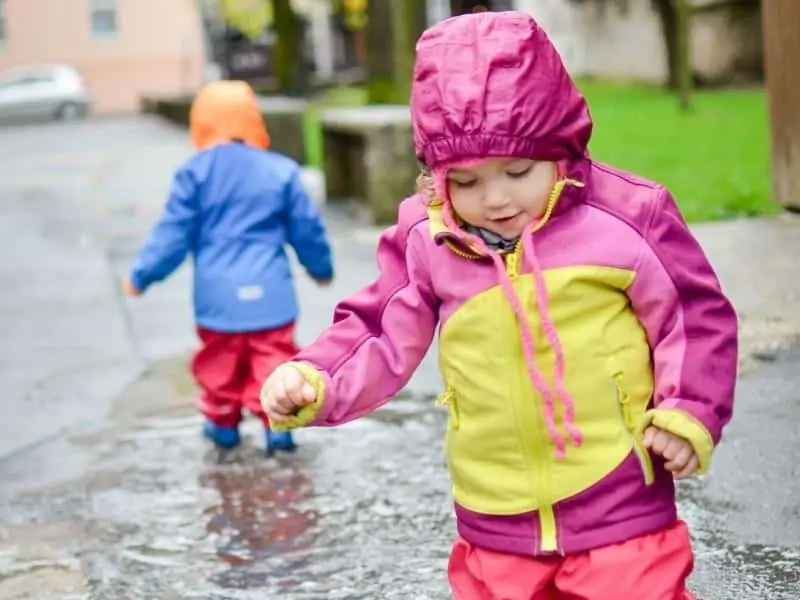 Spring is an exciting time for children. They get to let go of the heavy bundles of clothing that plague them throughout the winter months while they look forward to warm days for outside play.
Unfortunately, spring days may be very windy, rainy and can even include snow, depending on your location.
Dress your baby as you would in the fall. Have layers of onesies and sweatshirts with socks and shoes. For the spring, add extra rainy weather gear.
A ponchowill keep them from being soaked by a sudden spring rainstorm. If your daycare allows it, let slightly older children take an umbrella as well.
Buying Baby Clothes Ahead of the Season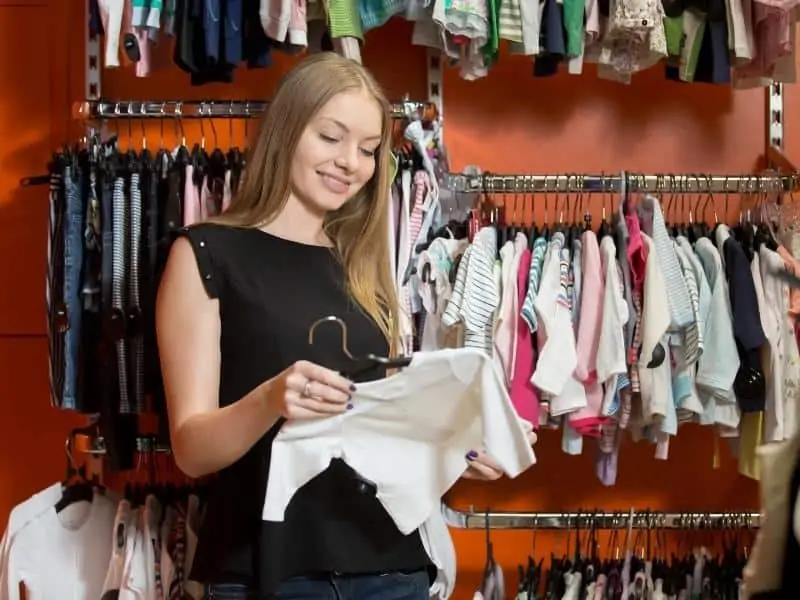 As parents, we love to plan ahead. It's so nice to save money by buying items we know we'll need well in advance.
It's a lovely feeling not to have to scramble at the last minute for clothing and accessories. However, planning too far in advance can backfire.
Like many parents, I chose to buy my children's clothing in the off-season. I bought swimsuits for the following summer in the fall. I purchased heavy winter coats in late spring.
I knew I was being smart by getting great deals on clearance items. What I didn't know was how children don't necessarily grow in the way you might expect.
My son was enormous when he was born. He was a massively long, hefty child who broke the curve on normal development.
It was only a couple of weeks before he had outgrown all of his 0-3 month outfits, which caused us to have to shop for new clothing well before we had intended.
That first year, he outpaced all of the clothing we bought. For the next several years after that, he grew at a much slower rate than expected.
Basically, we learned that buying in advance ended up costing us much more than it saved. By the way, this trend doesn't stop when the children are toddlers.
Once he reached his teenage years, he started growing alarmingly fast again. All of the clothes we bought at the beginning of the school year are in the donation pile just three months later.
That said, there is always a possibility your child will follow the growth chart with perfection. My daughter is an example of this.
She has remained at the 50th percentile since the day she was born, which makes buying clothes ahead of time really easy and economical.
Unfortunately, you won't know if it's a good option until after you have already done your shopping. Take some advice from me and buy what you need when you need it until you feel really confident about your child's growth curve.
Picking the Right Daycare Clothes for the Season
Dressing your baby for daycare is as simple as making sure they have ample clothing to stay warm but not overheated.
What kind of clothes do you make sure to pack when dropping off your child at daycare? Tell us about it in the comments!
Have You Read These Yet?
If you don't like your daycare make sure to check out my article on how to find a good daycare. While you're at it check out some of these other articles.
Frequently Asked Questions