What to Bring to the Hospital for Your C-Section?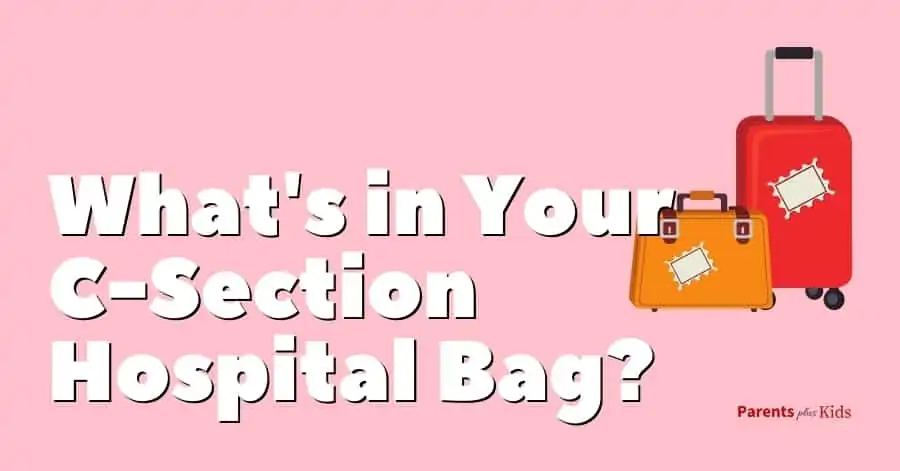 This post may contain affiliate links. If you buy through the link, I may earn a commission. Learn More.
Getting ready to have a c-section and wondering what to pack? Don't feel bad. Even with my fourth baby, I was a nervous wreck, terrified I would forget something important.
Don't fret, though! We've got you covered. Below you'll find a comprehensive guide to make sure you're prepared.
What should I bring to the hospital for your c-section?
The most important thing you need to take is yourself and your important information, like insurance documents and emergency contacts. Other than that, it's mostly about comfortable clothes and shoes, something to keep your mind occupied during downtime, and your personal hygiene items.
*FYI, some of the links in this article about what to bring in your c section hospital bag may be affiliate links. If you click and make a purchase, we may get a commission (at no extra cost to you). For more info, please see our disclaimer.
Things to Pack for Your C-Section
The following list is a bit long, so the earlier you can start packing, the less stressful it will be.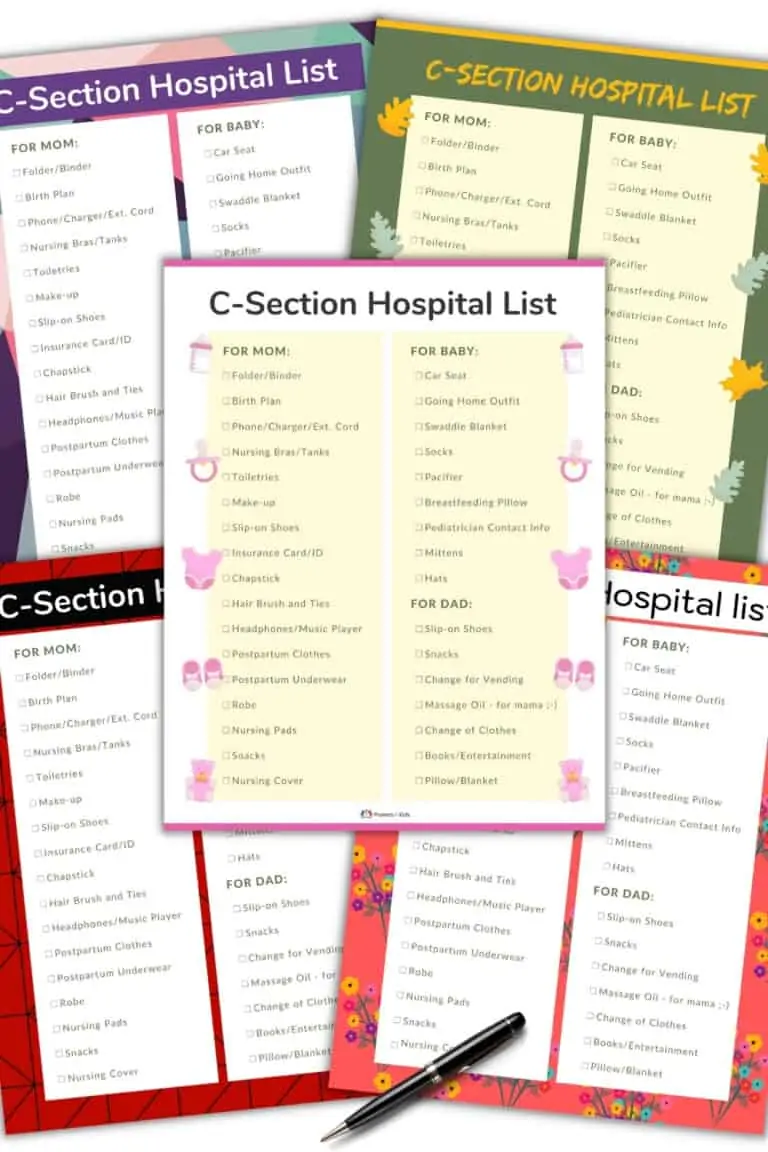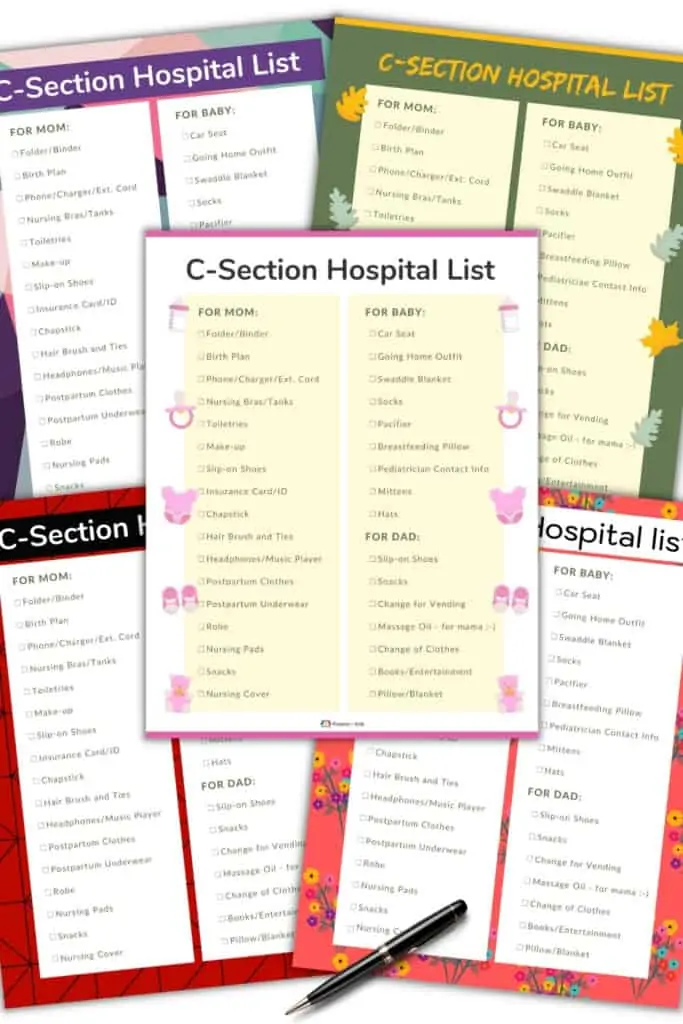 1. Folder or Binder
You'll need to take some information with you to the hospital. This typically includes your ID, insurance information, and contact list. If you created a birth plan, you'd also want to have a copy of that on hand.
Additionally, you'll receive a lot of paperwork when you're getting released. It's best to have some sort of folder, binder, or zippered pouch to keep it all together and organized.
2. Devices
Don't forget to pack your phone, camera, and extra batteries. It's also best to pack extra long chargers as the outlet may not be too close to your bed.
Also, if you plan to listen to music, be sure to pack your headphones. Any cheap headphones will probably do, but you should really consider noise-reducing Bluetooth headphones (like these Bose headphones), so you can tune out the extra sounds going on around you.
Sale
3. Comfort Item
If you have not done so already, pick out an item that can provide you some comfort. For some people, this is the music mentioned above.
For others, it might be a teddy bear, a scented candle, a stress ball, or something totally different. It doesn't matter what the item is, be sure you pack it up.
4. Hair Ties
We all dream of looking great and put together while having our little ones, but let's be realistic: Hair is about the last thing on our minds in the midst of the event – that is, until it's all over our face.
You can go into your C-section completely dressed to perfection if you choose – it is your big day, after all. Just be sure you have some hair ties on hand for when you need them.
Sale
5. Clothing
You want to be as comfortable as possible and mindful of your incision. Avoid zippers and focus on loose, free-moving clothing. The following are the best options:
Slip-on shoes – you do not need to bend over (This is one of my favorite brands for slip-ons)
Underwear that sits high enough to not hit your incision
Gowns and loose-fitting dresses
No skid socks
Shower shoes
Comfy bathrobe and slippers
Nursing bra/nursing tank – if you're breastfeeding
Sports bra – if you're not breastfeeding (This sports bra is awesome as you do not have to pull them off overhead.)
As you pack your clothing, keep in mind how long you'll be there. Those recovering from a c-section usually stay in the hospital for two to four days, so be sure to pack enough clothing.
6. Toiletries
The hospital typically provides some soap and other toiletries, but there's nothing like having your own stuff. Remember to pack the following as well as any other products you regularly use.
Shampoo and conditioner
Hairbrush
Gel, mousse, and hairspray
Toothbrush and toothpaste
Lotion
Body wash
Face cream
Maternity pads
Nursing pads/breast pad
Hairdryer (some hospitals have these, but it's usually best to take one just in case)
Lip balm (hospital rooms can have very dry air)
7. Beauty
I know I said earlier that beauty is about the last thing on your mind when you actually have your baby. However, having some beauty items on hand doesn't hurt.
When I had my third baby, we were living in a new state. I had packed nothing but comfortable clothes and zero makeup because there was no need for it at the hospital my first two were born in.
However, the hospital in our new state sent a photographer around to give you the option of getting pictures with your newborn. I never wanted makeup so bad in my life.
So my advice is to have some makeup on hand. Even if you don't think you'll need it, it will be there just in case. Also, take some makeup remover wipes and a handheld mirror for even more convenience.
8. Munchies
Your body just brought another being into the world. It did some hard work, and it deserves some nourishment.
Of course, you need to pack some healthy snacks, like nuts or trail mix. Anything with fiber can help get your digestive track doing what it needs to do. And bottles of water are essential.
Don't feel bad about sneaking something not so healthy in there, though. You earned it.
9. Postpartum Belly Wrapping
These are actually called several different things, including belly binder, postpartum support bands, and more. Regardless, they all do the same thing.
A belly wrapping helps reduce swelling, support the lower back muscles, and shift organs back into the position they were in before pregnancy. These simple but effective tools help those who have c-sections heal much faster.
Some hospitals have begun to give these to patients, so give them a call to find out if you'll receive one during your stay. If not, you can take a look at one of the best postpartum belly wrappings below.
10. Extras
There are a few more items to throw in your bag to make your c-section experience smoother.
Cash and change for vending machines (a lot of the machines now have card readers, but there's still plenty of them that don't)
Credit card for just in case (or if you decide to order a pizza) – Doordash is your best friend, I've had food delivered at the hospital before and it's very convenient
Journal, books, sketch pad, or games (lying in the hospital bed can make you go a bit stir-crazy)
Favorite pillow, if you have one (use a patterned or dark-colored pillowcase, so it doesn't get picked up by housekeeping)
Nipple cream (if you're nursing)
Breastfeeding pillow (not a must, but you may find it helpful if you're breastfeeding.
11. Go Home Bag
Here are a few things to remember for the day you get to head home.
Car seat (No, you don't need to pack this in your hospital bag, but it is important to have it set up and ready to go in your car.)
Going home outfit for mom and baby
Diaper bag with some basic essentials
It's important to note that most hospitals send you home with some necessities, including diapers, a onesie, a hat, and a blanket.
It should be enough to get you home. Still, it never hurts to have a small diaper bag in your car in case you end up with a flat tire, stuck in traffic, or delayed for some other reason.
Don't Forget Dad's Bag
It can be easy to overlook your birth partner when preparing for your C-section, but he'll need a few things, too. Some of the most important include:
Toiletries
Tylenol or ibuprofen
A couple of sets of comfortable clothes
Slip-on shoes
Snacks
Change for the vending machine
Massage oil (Okay, this is technically for you, but you can pack it in dad's bag as a subtle reminder)
Get a separate bag for Dad and let him know what you're packing. Also, tell him he'll need to add any extras.
Additional Packing Tips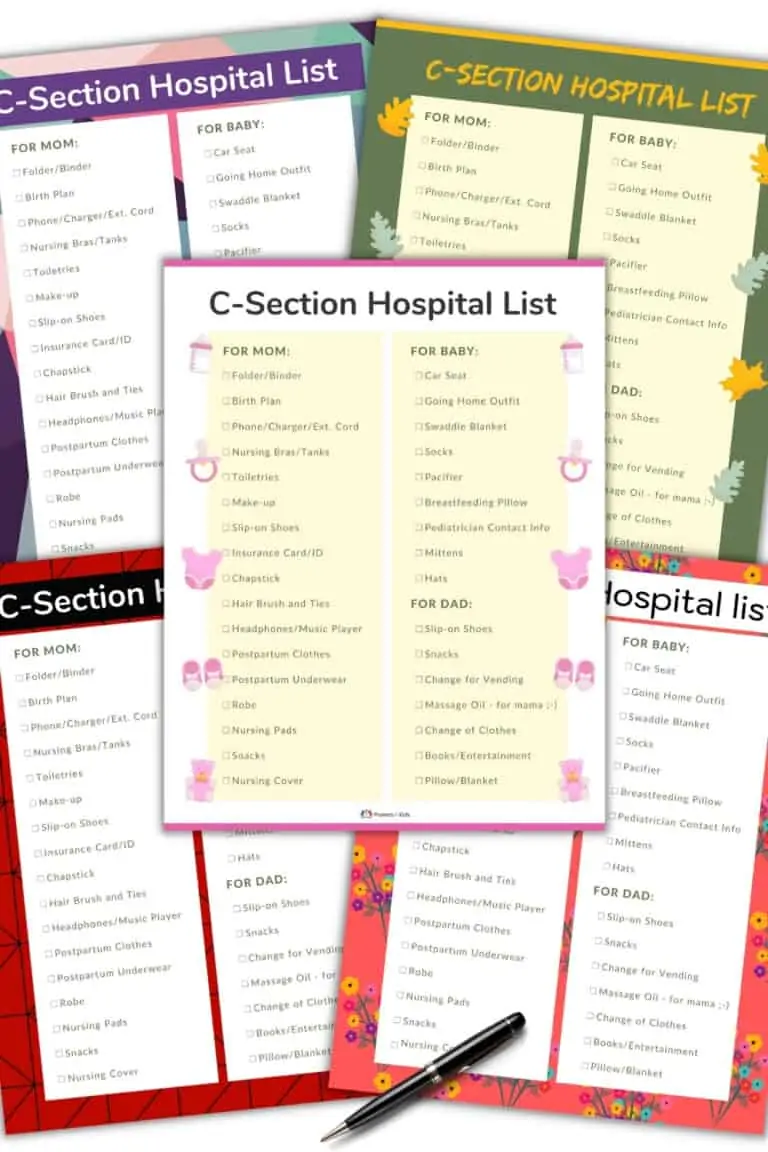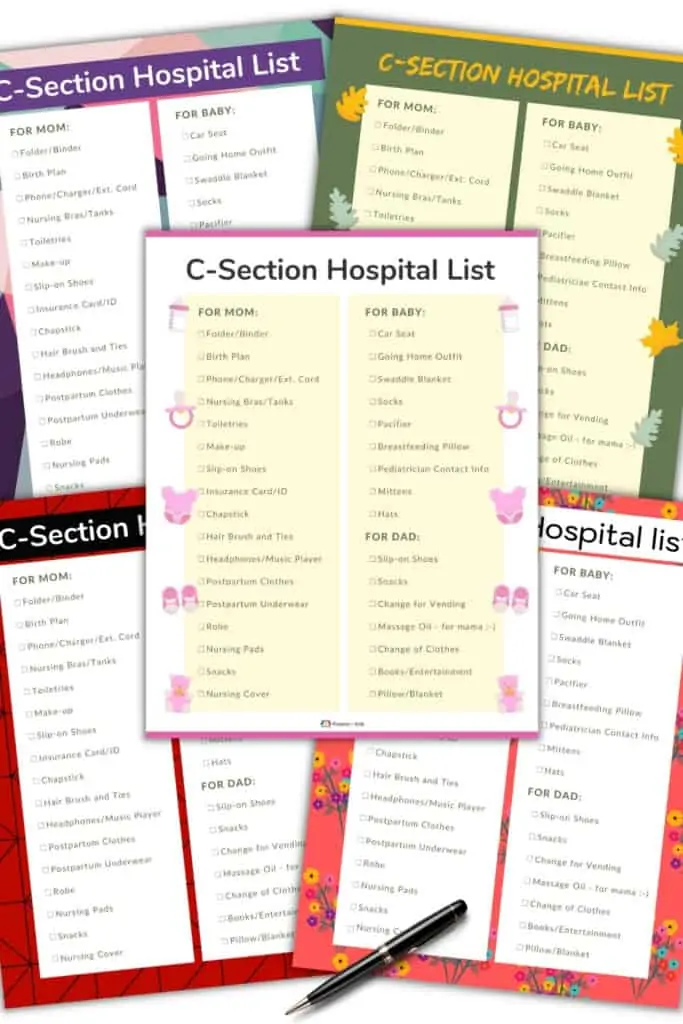 1. Have Separate Bags
It might sound excessive or a bit OCD, but many people benefit from having three separate bags:
One for pre-delivery and the actual c-section
One for recovery
One for going home
The reason this works so well is that instead of taking a huge bag – or several bags – into the hospital when you sign in, you take just one.
After the baby is born, your partner can bring the second bag to the recovery room and take what's no longer needed to the car.
On the last day, your partner can take everything to the car except for the go-home bag. It just simplifies the process for some.
2. Be Ready to Go by the 37th Week
Aim to have your bags packed and ready to go by your 37th week of pregnancy. After this point, there is the possibility of going into natural labor at any time.
It's best to be overprepared than to be caught off guard with early labor and have to rely on someone else to pick out your stuff.
Work Now, Means Less Stress Later
Following this guide should make sure you're prepared – possibly over-prepared – for your hospital trip. It's better to prepare now to help ensure a smoother and less stressful hospital trip later.
Have any other tips on what to pack for a c-section? Any funny stories about forgetting something important? Tell us all about them below!
Have You Ready These Yet?
Frequently Asked Question