When Should I Let My Child Watch PG-13 Movies?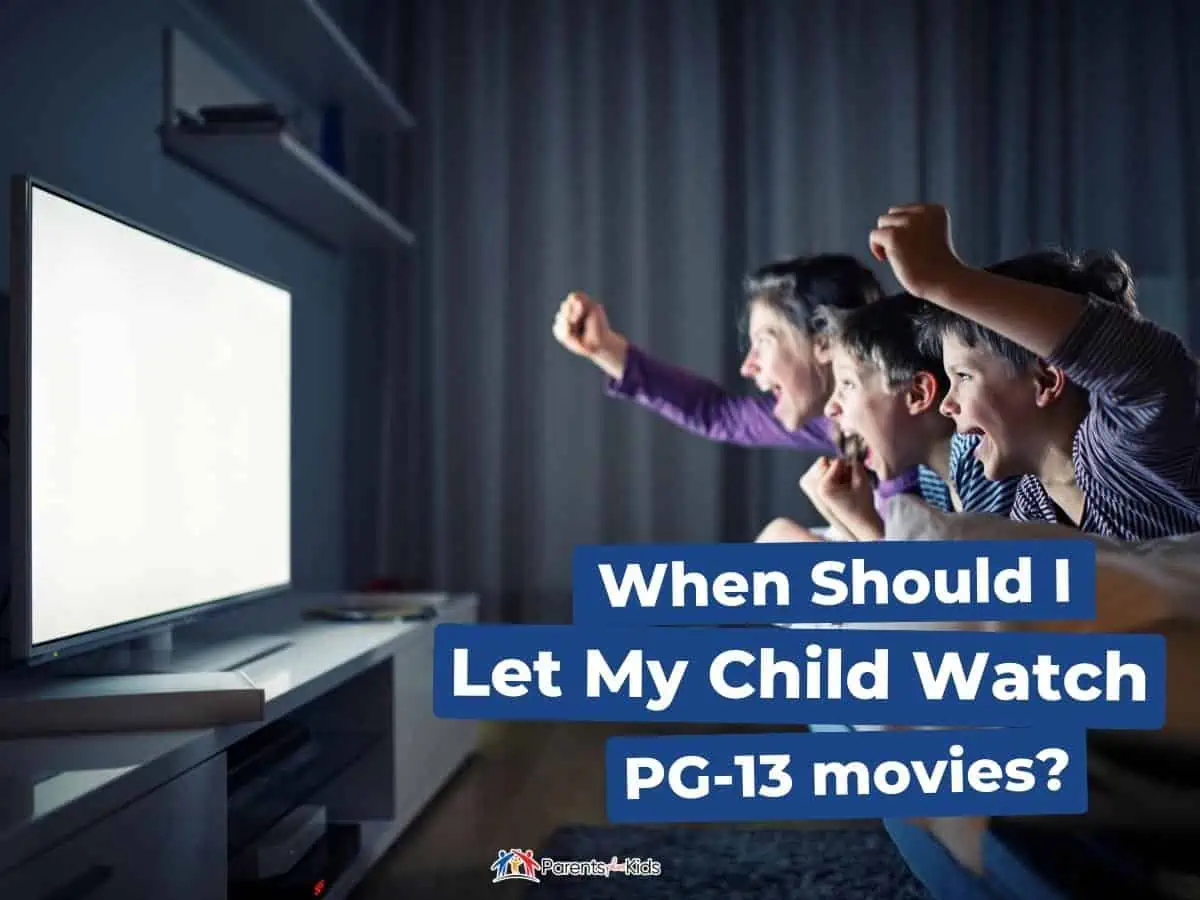 This post may contain affiliate links. If you buy through the link, I may earn a commission. Learn More.
If your family is anything like mine, you love to watch movies together.
Sadly, most of the movies that look interesting to adults are not made to be watched with young children.
When can you let your kids watch movies that are meant for slightly older audiences?
When Should I Let My Child Watch PG-13 Movies?
It depends on the movie and the child. Some PG-13 movies have content that is appropriate enough for kids who are six or seven, while others truly shouldn't be viewed until age 13. As with many areas of parenting, discretion is key.
Understanding Movie Ratings
Movie ratings are determined by the MPAA. The Motion Picture Association uses a set of guidelines to determine if a movie should be rated G, PG, PG-13, R, or NC-17.
General Audiences (G)
A movie that is rated G has no content that is deemed to be offensive to any viewer. There are no scenes containing questionable language, violence, drug use, nudity or sexual situations.
Many cartoons and classic movie musicals are rated G. Some good examples of G-rated films are:
Parental Guidance Suggested(PG)
Movies rated PG have some content that some parents may feel are inappropriate for their children.
Themes are slightly more mature than G-rated films. PG-rated movies might have some light profanity, small amounts of violence and/or brief nudity. PG-rated movies do not have drug use.
Movies rated PG generally consist of family-friendly fare. Some of the most popular PG movies are animated features like:
Some live-action films that are PG rated are:
Parents Strongly Cautioned(PG-13)
PG-13 was introduced in 1984 in response to movies that were more intense than typical PG films while not being mature enough to receive an R rating.
The first-ever film to receive a PG-13 rating was the cold war film Red Dawn.
PG-13 films greatly vary in intensity and content. They may have violence, sexual content with no or limited nudity, some nudity that is not sexual in nature and graphic language.
However, the amount and type of violence and graphic language is greatly restricted.
Many action films receive PG-13 ratings. Most films from the Marvel Cinematic Universe are rated PG-13 and are typically suitable for young children.
Other family-friendly PG-13 films include:
Keep in mind, PG-13 films can push the envelope. The Austin Powers films are PG-13 despite a great deal of sexual humor.
The Liam Neeson vehicle, Taken, is surprisingly PG-13 in spite of extreme violence and the subject matter of human trafficking.
The James Bond film, Casino Royale, has scenes of torture and graphic violence but remains PG-13. Parents should not take a PG-13 related film as a free pass.
R-rated and NC-17 Films
Movies rated R are those movies that are far more intense than PG-13 movies. These movies should not be considered for children under age 13.
A very small number of R-rated movies may be appropriate for teens. Children should not be shown NC-17 films under any circumstances.
How to Distinguish Which PG-13 Films are Appropriate
My family loves watching movies together. While a lot of people have stopped going to the theatre, we still enjoy the occasional blockbuster hit.
We also watch a lot of streaming movies and even a DVD from time-to-time. Sadly, it can be difficult to find a movie that is interesting to parents and kids while also remaining family-friendly.
When judging if a movie is appropriate for our family, the first step I take a visit to Common Sense Media. I am not a fan of spoilers, but sometimes it's necessary.
How else would I have known that Beetlejuice, which is rated PG, has two F-bombs?
Nor would I have remembered that some of my favorite movies from childhood, namely Airplane, National Lampoon's European Vacation and Titanic, had female frontal nudity. All of these movies are rated PG or PG-13.
What if the movie doesn't appear on Common Sense Media? In that instance, my husband and I pre-watch the movie after the kids have gone to bed.
It is time-consuming, but sometimes very worth it. We have rarely found ourselves watching an inappropriate movie, but we have often saved our kids the pain of watching a terrible movie (I'm looking at you, Left Behind).
Knowing Your Child is Ready for More Mature Films
There is no clear age that a child is ready for PG-13. Some PG-13 movies are more mature than others. The same is true for children.
A good example is the movie A Quiet Place. This is a movie with no nudity, foul language or sexual situations.
There is some violence that is minimal and mostly off-screen. Still, it is very intense.
My daughter was nine when she decided she absolutely had to see this movie. I watched it first, and then gave it the thumbs up for her but a big no to her 13-year-old brother.
I explained some of the more intense scenes and both agreed with my assessment.
My daughter watched it and loved it. My son thanked me for shielding him from something that would have given him nightmares.
My favorite movies in my house are those that are part of the Marvel Cinematic Universe.
My son was only six when his father took him to see The Avengers.
Once again, we had pre-watched the film to ensure it was appropriate enough for a child of that age. However, his two-year-old sister stayed home with me.
Though she wouldn't have been traumatized by it, the explosions were too loud and stimulating for a toddler.
Use your best judgment when deciding which PG-13 movies you allow your children to watch.
Think about your own values and how you want them reflected in entertainment. Consider your child(ren) and their particular sensibilities.
If a movie has intense scenes or themes, be prepared to talk about these things before and after the movie.
The best age for a PG-13 movie depends on your child and the film you are considering.
As a parent, your best bet is to use your best judgment. Do you think there should be a clear age for watching PG-13 movies? Talk to us in the comments!
Have You Read These Yet?