20 Best Disney Movies For Toddlers (Plus 5 to Avoid)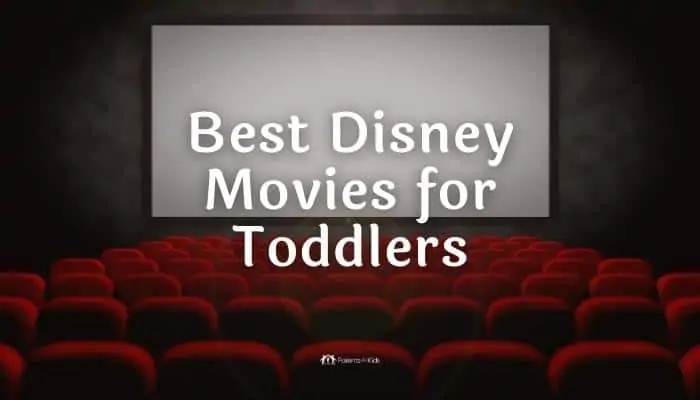 This post may contain affiliate links. If you buy through the link, I may earn a commission. Learn More.
I love Disney. I grew up on Disney movies, as have my kids.
Many of these movies seem like simple, fun entertainment, but they are often so much more. Real-life lessons can be learned from Disney, even for toddlers.
Just make sure you know which movies to skip.
*FYI, some of the links in this article about best Disney movies for toddlers may be affiliate links. If you click and make a purchase, we may get a commission (at no extra cost to you). For more info, please see our disclaimer.
20 Best Disney Movies for Toddlers (Watch as a Family)
Grab some popcorn and your favorite, snuggly blanket. You're about to uncover some of the greatest Disney films for toddlers.
You may be transported back to your own childhood or even find a hidden gem.
These movies were chosen because they have pleasant themes, keep children entertained and add value to their lives.
Many of these movies are just as entertaining to adults as they are to kids!
1. Snow White and the Seven Dwarfs
Snow White is the movie that started it all. It was the first animated feature film released by Disney. It won an honorary Academy Award in 1939 that famously consisted of one large Oscar and seven smaller ones.
Snow White has a gentle pace and pleasant music that is great for winding down. It is the simple story of a girl who must escape from her evil stepmother.
She does so by hiding with seven funny little men. Most of the movie is fairly lighthearted, and even the "scary" scenes are pretty tame by today's standards.
Be prepared for your toddler to hi-ho all over your living room for a while after watching this classic.
2. Alice in Wonderland
There is no shortage of remakes of this Lewis Carroll classic novel. Still, there is something magical about Disney's rendition.
We follow a dreaming Alice as she chases a white rabbit through a wonderfully bizarre world.
It's whimsical, quirky, and fun. The bright colors and the funny characters are sure to please toddlers, while parents will enjoy watching the adventures as well.
At just a little over an hour of runtime, "Alice in Wonderland" is one of the shorter Disney films. It is just about the right length for toddlers who are not known for having long attention spans.
3. Toby Tyler, or Ten Weeks With a Circus
"Toby Tyler, or Ten Weeks With a Circus" is proof that movies don't have to be animated to capture a toddler's attention.
There are plenty of silly animals and daring circus tricks that will entertain young children. Parents who didn't have the joy of watching Toby Tyler when they were young might find it a bit quaint and outdated but still charming.
The story is about a young orphan boy who runs away from his foster home to join the circus. He befriends a chimpanzee named Mr. Stubbs, becomes part of the act, and eventually reunites with his aunt and uncle.
4. One Hundred and One Dalmatians
The only thing better than a movie about a dog is a movie about more than 100 dogs.
Young children love watching the large litter and their hijinks. The excitement comes from the evil Cruella De Vil try to capture the dogs so she can make the perfect fur coat.
Like many Disney films, "One Hundred and One Dalmatians" has been remade into a live-action movie. Give them both a try but skip the considerably less amusing sequel.
5. The Sword in the Stone
The King Arthur story is told from the perspective of young Arthur as he meets Merlin, learns about magic, and goes on adventures.
Your little one will love watching Arthur and Merlin transform into squirrels, fish, and sparrows. They will also enjoy the music and the delightfully magical way Merlin approaches chores.
I have a true soft spot for this film. It's one of the few Disney movies that doesn't get the recognition it deserves. Give it a shot, and you'll find your kids begging to watch it over and over again.
6. Mary Poppins
A magical nanny who sings and plays with cartoon characters? Where do I sign up?
Toddlers have loved this movie since it first hit the silver screen in 1964. It wasn't just kids who loved the movie.
Julie Andrews an Academy Award and a Golden Globe for her portrayal of the titular nanny. "Mary Poppins" also received an Oscar for Best Song ("Chim Chim Chir-ee") and two Grammies.
While you can't argue with the classic, I personally prefer the 2018 sequel, Mary Poppins Returns.
7. The Many Adventures of Winnie the Pooh
The easy-going, beloved bear is a joy to watch. The soft voices and muted colors provide a calming movie for toddlers who need to relax.
Parents enjoy the nostalgia of Winnie-the-Pooh, but there is a more important reason to watch the film.
Winnie-the-Pooh is ultimately a story about friendship. Children learn the importance of friends and the acceptance of each other despite differences.
There are many Winnie-the-Pooh books that are great tie-ins with the movie. My kids' favorites were the Winnie the Pooh's Thinking Spot series.
8. Return to Oz
This one is a true judgment call.
I watched "Return to Oz" when I was very young, and then watched it approximately 84 more times.
There are a few scary scenes, including an evil queen who can remove and replace her head whenever she wishes to change her appearance. Sensitive toddlers might not enjoy it as much as my kids and I have.
The story follows Dorothy after her initial visit to Oz. Unlike the classic "Wizard of Oz," film, this movie stays true to the book. That might be confusing for some young ones who know and love the original.
A magic lamp, three wishes, a monkey as a best friend, and a flying carpet: Who could ask for anything more?
"Aladdin" is the story of a street rat who is tricked into discovering a genie in a lamp. He uses his wishes for riches, love, and, ultimately, friendship.
"Aladdin" is a fun movie for toddlers that teaches a good lesson. It doesn't matter what you have; what matters is who you really are.
10. Homeward Bound: The Incredible Journey
Chance, Shadow, and Sassy are the three pets of the Burnford-Seaver family.
After the pets are left alone by mistake, they decide to travel home. This non-animated feature is thoughtful, caring, and delightfully funny.
There are some moments where toddlers might grow concerned, but you can assure them that it will have a happy ending.
"Homeward Bound: The Incredible Journey" was based on the 1961 novel "The Incredible Journey" by Sheila Burnford.
11. The Lion King
The circle of life is explored in "The Lion King" as we see Simba born, face his father's death, become king, and ultimately have his own child.
The film is a masterpiece that has spawned a live-action remake (with the help of a lot of CGI) and an award-winning stage production.
Talking animals are always a hit with kids. They'll particularly love Timon and Pumba, the meerkat and warthog who teach young Simba how to live without worries.
You might need to prepare yourself for days and days of "Hakuna Matata," but it is definitely worth the sacrifice.
Side Note
I'm very partial to The Lion King. This was one of the first Disney movies I saw as a kid.
12. Toy Story
If your children haven't already seen "Toy Story," this is something you need to rectify immediately.
It is a brilliant movie about self-aware toys with the sole purpose to be present for their owner. The first "Toy Story" introduces Woody, the cowboy, to a new toy, Buzz Lightyear, a space ranger.
"Toy Story" offers three sequels, each with their own merits. I recommend watching them all, but particularly "Toy Story 3," which is arguably the funniest of the bunch. Michael Keaton's portrayal of a fashion-conscious, lovelorn Ken doll is legendary.
13. Mulan
"Mulan" teaches us that girls can be brave, strong, and honorable.
It is an important Disney princess film in that this is the first featured princess who isn't saved by a prince charming.
Instead, Mulan saves her father, the emperor and the entire country.
Along with an important lesson, the music and scenery of Mulan is beautiful. Adults love it as much as kids – sometimes even more.
The live-action version is also excellent but has a couple of issues. The musical numbers are not the same and the dragon, a favorite part of the animated film, does not appear.
14. Finding Nemo
"Finding Nemo" has a heartbreaking intro but a necessary one. It helps us to understand why Nemo's father is so overprotective of his one remaining child.
The rest of the movie is filled with adventure, excitement, and loads of laughs. This is an animated film that kids of all ages and their parents can truly enjoy together.
The follow-up film, Finding Dory is admittedly not quite as clever as its predecessor, but it's still worth a watch.
15. Cars
The first film in the Cars franchise is, by all accounts, the best.
Talking cars having adventures, helping each other out, and overcoming seemingly insurmountable odds is the recipe for a perfect film for a toddler.
The franchise includes two sequels, a number of short films, and three television series.
If your child gets hooked on "Cars," you will find plenty of options to occupy their screen time. One word of advice: avoid the spin-off film "Planes." It's not good.
16. Wall-E
Have you ever watched an animated Disney film and wished that it could have the same charm, quirky humor, and romance but take place in a post-apocalyptic wasteland where the greed and laziness of humanity have caused the destruction of the earth?
If so, "Wall-E" is the perfect film for you.
On the surface, "Wall-E" is a cute movie about a hard-working robot who tries his best and falls in love.
At a much deeper level, it makes the viewer confront where our wastefulness and idleness are leading.
It's a deep movie while being great for kids. It received the Oscar for Best Animated Feature along with numerous other accolades.
17. Frozen
My daughter was only two years old when "Frozen" hit theatres. I will never forget how rapt she was when Elsa sang "Let it Go." It was a beautiful moment and it is a beautiful movie.
The story of Elsa, the queen burdened with a curse, and Anna, the sister who won't give up, is one of Disney's best. From the music to the design to the overall story, "Frozen" is a true piece of Disney magic.
Frozen 2 is also very good, but nothing can replace the brilliance of the first film.
18. Inside Out
This is the kind of movie that you need to watch over and over and over again. It is great for very young kids because it has bright colors and fun characters.
As they grow, they can start to understand some of their emotions better by watching them come to life on screen. Parents also learn how to relate to their children better simply from watching the movie.
My kids are older now, but "Inside Out" is still one of our go-to movies on snow days.
We still laugh together and cry together as we watch the emotions of Joy and Sadness discover how they need each other in order to create a full person.
19. Moana
Disney keeps topping itself. Just when you think they can't do anything better than "Frozen," along comes "Moana."
It is the story of a girl who must defy her father in order to break a curse on their island. She teams up with demigod Maui, but in the end, it is Moana who saves the day.
It's a great story for both boys and girls with music that you won't want to stop hearing. In fact, go ahead and get the soundtrack. You won't be sorry.
20. Coco
The final movie on this list is "Coco," the story of a young boy who wants to be a musician against his family's wishes.
On Dia de los Muertos, he meets his idol and his ancestors who live in the Land of the Dead. It's a wild ride, with bright colors and a unique story.
Like a lot of Disney films, there are sad and almost scary moments, but most of the film is captivating for all audiences.
"Coco" won numerous awards, including Oscars for Best Animated Film and Best Original Song ("Remember Me").
Honorable Mentions
There are some other movies that I didn't give their own section but are definitely worth mentioning:
The Little Mermaid
The Jungle Book
Christopher Robin
Ratatouille
Bambi
Lady and the Tramp
Balto
Some of these, like The Jungle Book, is a Disney Classic. Others are newer movies (like Christopher Robin), which some toddlers will still enjoy even though it's not an animated movie.
5 Disney Movies to Avoid
Some Disney movies aren't appropriate for toddlers.
Movies distributed through Touchstone and Hollywood Pictures like "Pretty Woman" and "An American Werewolf in Paris" are NOT included in this list.
1. Fantasia
Fantasia is one of Disney's first cartoons. It uses musical pieces from Beethoven, Stravinsky, Tchaikovsky, and Bach to intertwine the world of music with stunning visual components.
Fantasia is one of the highest-earning films of all time when adjusted for inflation.
Believe it or not, most experts recommend not allowing toddlers to watch Fantasia.
The dark scenes are thought to be too scary for young children. You certainly should expose your children to the music and wonder of Fantasia, but wait until they are at least six years old.
2. Old Yeller
If you don't know the story of Old Yeller, trust me when I say you don't want to. Just skip this entry and move on to the next one.
For those who simply must know, it's a heart-warming story about a young boy and the dog who serves as his protector and loving companion.
On the surface, it seems like the perfect movie for family night, but it does not have a happy ending.
I saw Old Yeller when I was about eight years old. I was not okay with it. I am still not okay with it. Excuse me while I go cry for a while.
3. Peter Pan
"Peter Pan" was my favorite Disney film as a child.
I loved the idea of being able to fly. Nothing made me happier than sitting back and imagining floating off to Never-Neverland with Peter Pan and Wendy.
Unfortunately, the racist depiction of Native Americans became glaringly obvious to me as I grew older.
I was sad to say goodbye to "Peter Pan," but I don't need my children thinking racism is okay in any way.
4. Something Wicked This Way Comes
Another favorite from my childhood, "Something Wicked This Way Comes" is a terrifying tale of an evil carnival that comes to town. Based on a Ray Bradbury novel, with a screenplay written by Bradbury himself, it is far too scary for young children.
Conversely, it may not be scary enough for older children. I rewatched "Something Wicked This Way Comes" and found the special effects to be neither special nor effective. WIth older children accustomed to today's CGI, the movie simply doesn't hold up.
5. Pocahontas
I love Disney princess movies. However, when they are based on real people, they should at least try to get some of the history correct.
The most glaring offense is the portrayal of Pocahontas as an adult. At the time this film takes place, the real Pocahontas would have been no older than 11.
Historical records show no romance between John Smith and Pocahontas. That's probably because she was barely a tween when he was knocking on 30.
Don't Stop Here
This list is a great starting point, but don't stop here! There are so many wonderful Disney movies for the little ones.
Which is your favorite? Do you know a movie that didn't make our list? Share it in the comments!
Have You Read These Yet?
Frequently Asked Questiosn