10 Fun 2-Year-Old Birthday Party Activities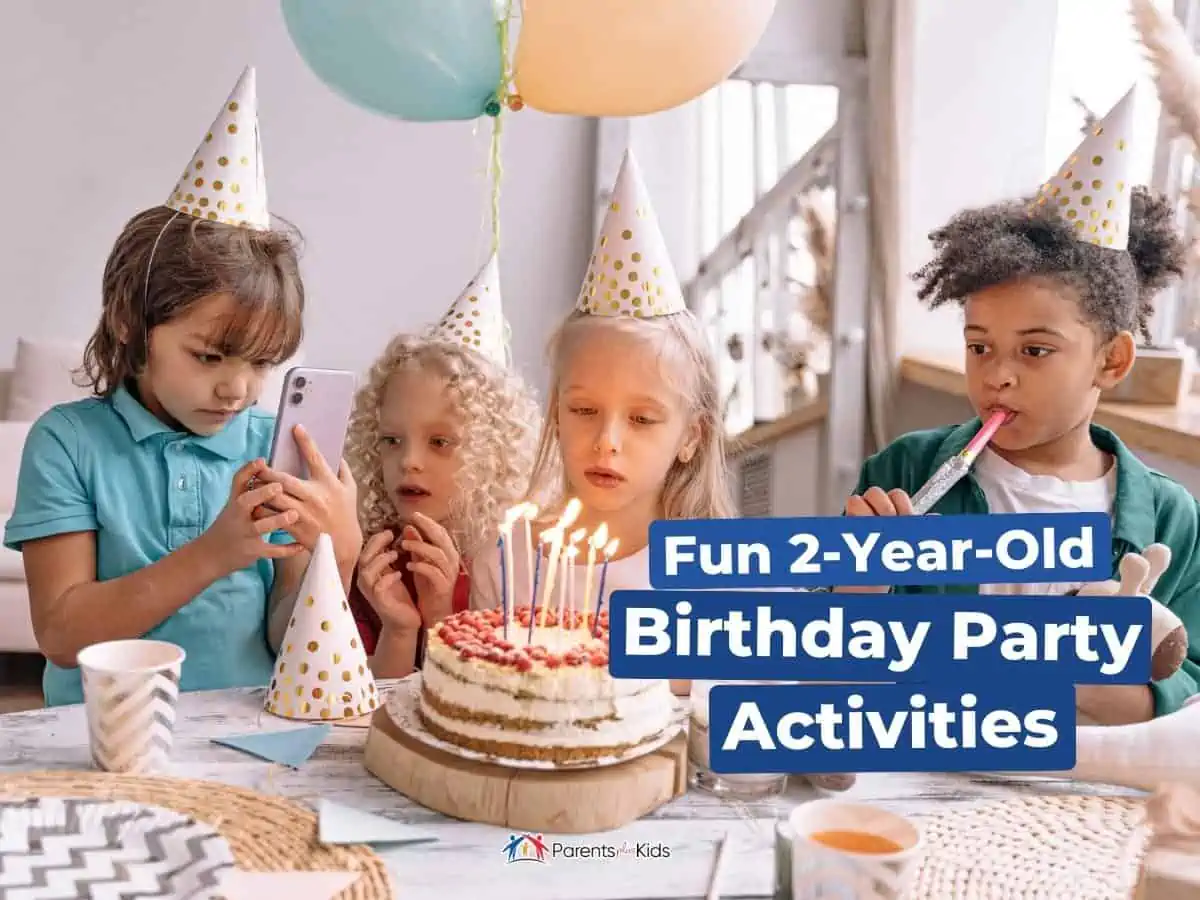 This post may contain affiliate links. If you buy through the link, I may earn a commission. Learn More.
Your child is turning two and it's time to party!
Part of the fun, and the stress, of planning a birthday for a toddler is ensuring that activities are safe while also being fun enough to keep little ones entertained.
With two-year-olds, that task is often easier said than done.
Fun Birthday Party Ideas for Two-Year-Olds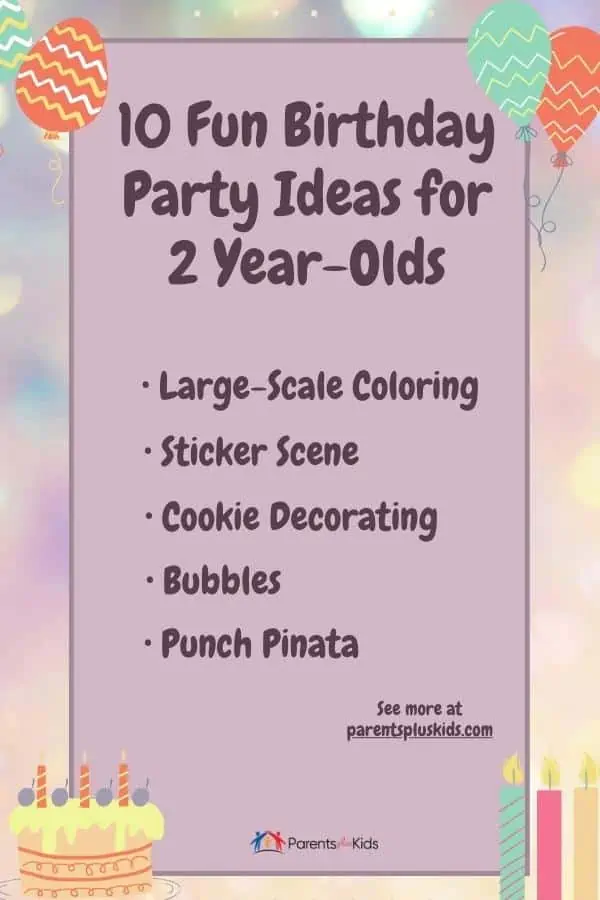 A toddler's birthday is a special event but it is not without stress.
You need to have age-appropriate activities that are manageable with the number of children you invite.
The following list are some of the best ideas you can find for children who are old enough to get easily bored but not old enough to know that they shouldn't eat whatever is in their hands.
Special Note:
When planning your two-year-old's birthday party, limit the number of guests. You need to keep a close eye on children of this age.

It is a great idea to have parents stay at the party with their young ones so they can help monitor safety.
1. Large-Scale Coloring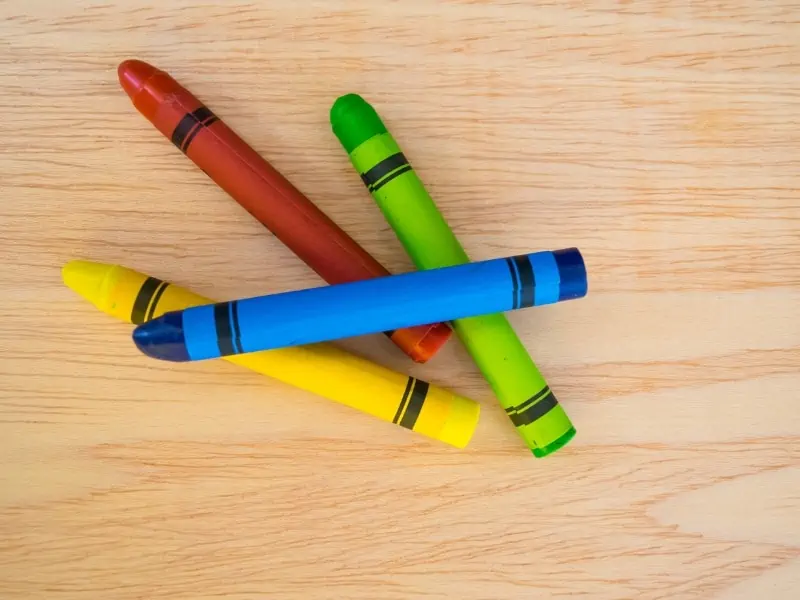 Any kind of coloring is fun for two-year-old children.
Make it more exciting by taking it to the extreme. Tape a large piece of artist's or butcher paper to the wall or floor and hand over some non-toxic, washable crayons.
Give the kids a theme or let them come up with their own to draw. They will love drawing on the wall or floor with no limits.
Another option for coloring takes the children outside. Sidewalk chalk is safe, inexpensive and fun for all ages.
In fact, I tend to keep these containers of chalk on-hand for every day distractions even though it has been a while since my kids were toddlers.
Indoor or Outdoor
Items Needed:
Sidewalk Chalk, Feela 162 Pack 18 Colors Sidewalk…
Feela 162 Pack Sidewalk Chalk Set includes 18 assorted colors includes: Red, yellow, blue, green,…
Feela Sidewalk Chalk Set is perfect for kids or elementary students to Draw. You can use it on…
Breakable Resistant and Long Usage Time. Frustum of a cone shape makes the chalk stable on the…
Cost:
$20 to $35, depending on which activity you choose.
2. Sticker Scenes
I love sticker scenes for parties. Each child gets a sheet of pre-decorated paper and a sheet of stickers.
They can make their own scene, which then becomes a favor they can take home. It takes no prep time, it's very inexpensive and it's safe for two-year-olds.
Indoor
Items Needed:
32 Sheets Scene Stickers for Kids Make Your Own…
Rich Colorful Styles: there are 32 sheets of mix and match stickers for kids in 4 styles including…
Interesting Activities: the fun animal design will add lots of scenic stickers to kids' activities…
Sturdy and Safe Material: these cute animals stickers are made of quality paper, reliable, nontoxic…
Cost:
$8
3. Cookie Decorating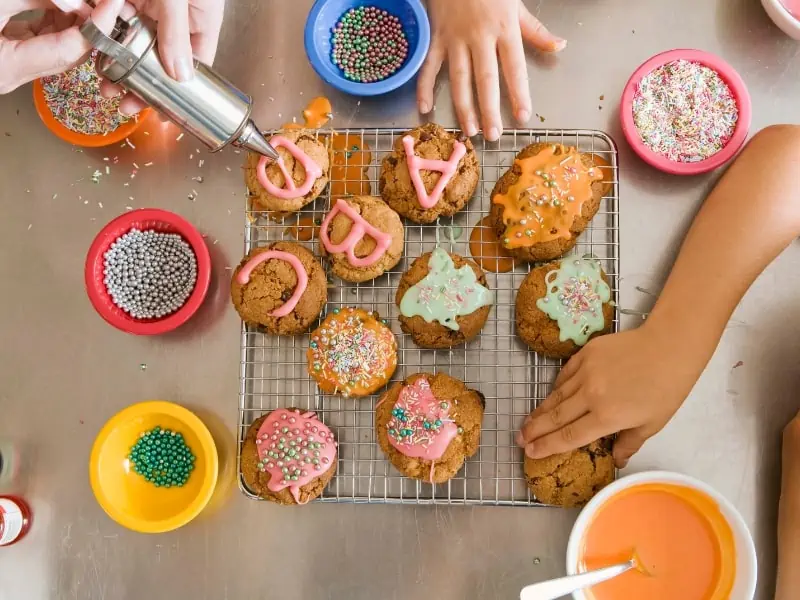 Toddlers love to feel like adults. Give them the task of decorating their own cookies before they are eaten. It saves you time on having to decorate cookies and it gives them something fun and very messy to do.
Let families know in advance that children will be decorating cookies. They will need to arrive at the party in clothing that can get messy. You will also need to learn if children have any special dietary concerns.
Indoor
Items Needed:
Birthday Cookie Decorating Kit with Cookies -…
Perfect for Kids Birthday Party Activity or Party Favor – Great for Classroom Birthday Parties at…
Complete Cookie Kits for Kids to Decorate! Includes Pre-Filled Piping Bag Royal Icing, Glittery…
No Baking Required! – Bakery Bling Designer Cookie Kits Come with Pre-Baked Cookies and all the…
Cost:
$15 to $30
4. Bubbles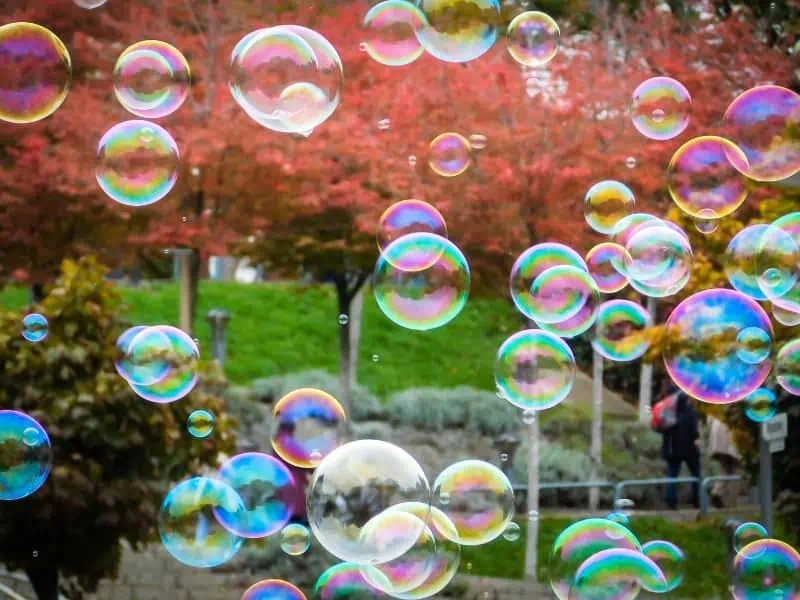 What kid doesn't love bubbles?
As long as the day isn't rainy and the weather is above freezing, you can place two-year-olds outside with bubble wands and let them have fun.
You can add bubble machines and bubble wrap to have an entire bubble theme. Send the kids home with bubbles for their goodie bags.
Once the party is over, celebrate with a little bit of bubbly for yourself!
Outdoor
Items Needed:
CoComelon NO Spill Musical Bubble Machine | Bubble…
COCOMELON BUBBLE MACHINE FOR TODDLERS: Designed with kids in mind the Cocomelon No Spill Bubble…
NO SPILL: The No Spill design allows for all the bubble fun without any of the mess. Finally a…
INCLUDES: The No Spill Cocomelon Bubble Machine, An exerpt from the Cocomelon Wheels on the Bus song…
Cost:
About $30
5. Splashing
Swimming parties are good, clean fun. Unfortunately, they are not appropriate for two-year-olds. The next-best thing is a splashing party.
Have guests arrive in swimming attire and prepare them to get wet. Fill up a small swimming pool with a bit of water and let them splash away.
There are two downsides to this type of party. The first, and most obvious, is safety.
You will have to be vigilant and constantly watch children as they splash. Even a couple of inches of water is enough to drown a toddler. The second is weather.
You cannot always predict when a storm will come, so you will need to make alternate plans in case mother nature decides your party needs to move indoors.
Outdoor
Items Needed:
Dinosaur Inflatable Baby Pool, Small Swimming Pool…
【Padded Bottom】: The round Dino inflatable pool has a Soft Bubble Bottom, soft and full…
【Drain Easily and Foldable】: Have a drain hole on the bottom to easily drain water out. Quick…
【Non-toxic and Excellent Durable Material】: This inflatable baby pool uses safe material which…
Cost:
$20
6. Musical Chairs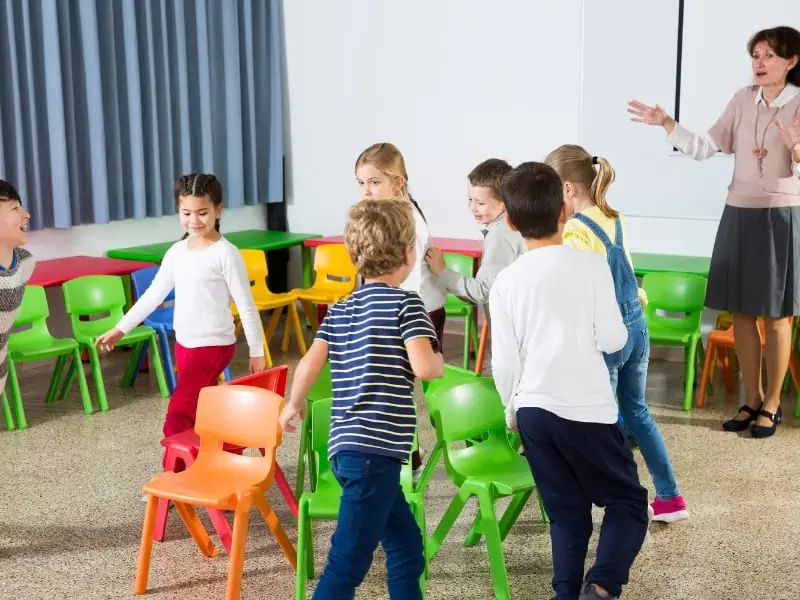 Musical chairs at a party is a time-honored tradition. Set up chairs in a circle and have the children walk around them.
Play music, and then when the music stops, they must sit. Because you set up one fewer chair than there are children, one kid is left out and must stop playing.
Remove a chair and continue until there is one person left. If you don't have enough chairs, you can cut out circles from construction paper and play "musical circles."
The problem with musical chairs is that children feel sad when they don't get to play anymore.
I solved this problem with parties I have hosted by rewarding whoever doesn't find a seat. I set up a table of wrapped gifts and each time a child gets out, they get to choose a present.
Indoor
Items Needed:
Chairs or Construction Paper
Music
Small Gifts or Treats (optional)
Cost:
Zero or up to the cost of small gifts
7. Punch Pinata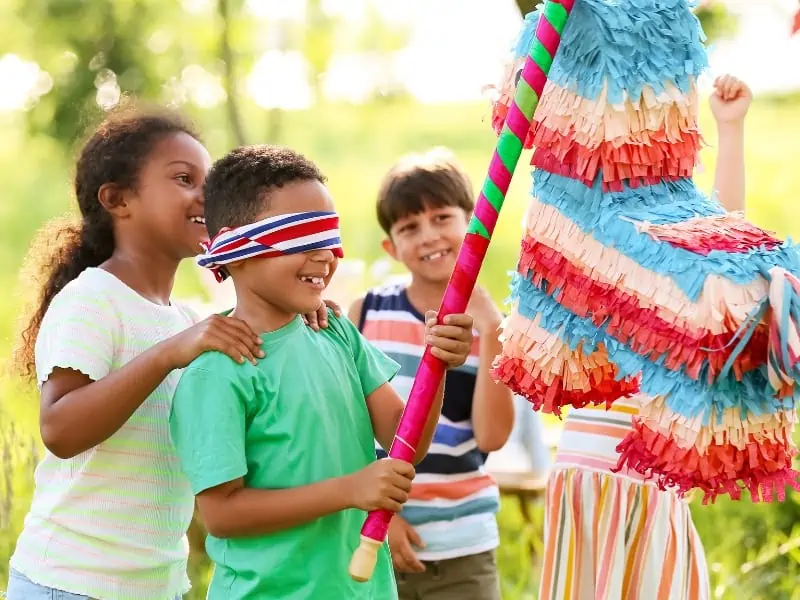 The typical pinata isn't always safe for young kids. A punch pinata can be a lot more fun and it's very easy.
All you need are some toilet paper rolls, small toys or candy and tissue paper. Place the prize in the toilet paper roll, cover the openings with tissue paper and tape around the edges.
Have each child pick their own pinata and punch through to get their prize.
Indoor or Outdoor
Items Needed:
Ring Pop Bulk holiday Candy Lollipop Variety Party…
HOLIDAY CANDY: Unwrap the fun with our iconic wearable hard candy lollipop ring with an eye-catching…
HOLIDAY CANDY FOR STOCKING STUFFERS: Ring Pop lollipops make delicious candy gifts for kids – add to…
BULK LOLLIPOP BAG: 20 individually-wrapped shelf-stable Ring Pop lollipops per bag. The variety pack…
Cost:
Under $20
8. Edible Play Dough Sculptures
Edible playdough is great because kids can make whatever they want, and you don't have to worry about them getting sick if (or when) they take a bite.
Bonus: It tastes terrible, so they're unlikely to take more than one bite.
Making edible play dough is easy and doesn't cost a lot. You can also provide rollers, cookie cutters, or any devices that will make building more fun.
Indoor
Items Needed:
Cost:
The cost of ingredients, though you probably already have them in your pantry!
9. Handprint Paintings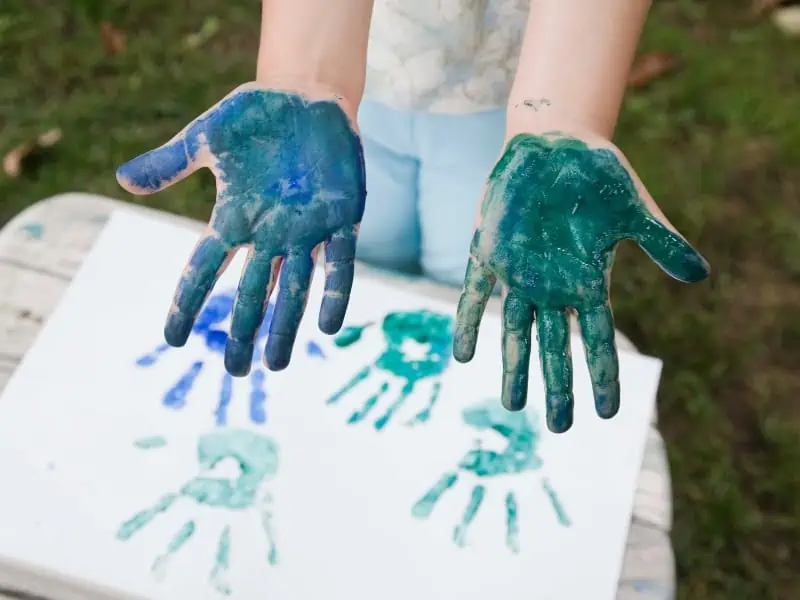 Painting is always a favorite activity for young ones. They love to get messy. It's even better when they can proudly show off the mess they made!
Make sure parents know paint will happen in advance so kids arrive in clothing that can get dirty.
You will need washable, non-toxic paint and a plan. I recommend putting down a drop cloth and painting outside.
I also recommend using wet wipes to clean up small hands, faces, feet and hair (the paint really does get everywhere).
Outdoor
Items Needed:
Cost:
$8 per child
10. Cloud Dough
Like edible play dough, cloud dough can be made at home with non-toxic materials. making cloud dough is simple. You can even make more to send home with your guests.
Indoor or Outdoor
Items Needed:
Home-Made Cloud Dough Ingredients (corn starch and hair conditioner)
Cost:
The cost of ingredients varies, but you probably already have them in your home.
Activities to Avoid
You will find a lot of lists of party ideas for two-year-olds on the internet. Sadly, many of these lists are not properly curated.
They don't always consider the challenges that come with two-year-old children. Some of these ideas that are popularly shared are not age-appropriate.
1. Bounce Houses
Large bounce houses are not recommended for children under age six. Children age three and up may enjoy a smaller bounce house. A two-year old runs a great risk of being injured.
2. Face Painting
Most face-painting artists will not paint on a child under age three. Two-year-olds are not usually patient enough to let the paint dry, which creates a large mess. They also have skin that is more sensitive, which can cause a reaction to paint.
3. Balloons
Balloon animals and balloon popping games are not recommended for toddlers. The small pieces of a popped balloon are choking hazards.
4. Anything Involving Small Parts
Again, choking hazards about with small items. Do not use building bricks or pinatas with prizes that are too small.
Key Takeaways
Don't let stress impede your ability to plan a fun and memorable birthday party for your two-year-old.
Choose from this list of tested, true and safe activities for toddlers. Do you have any activities to add to this list? Share them in the comments!
Have You Read These Yet?