15 Best Gifts for Preschool Teachers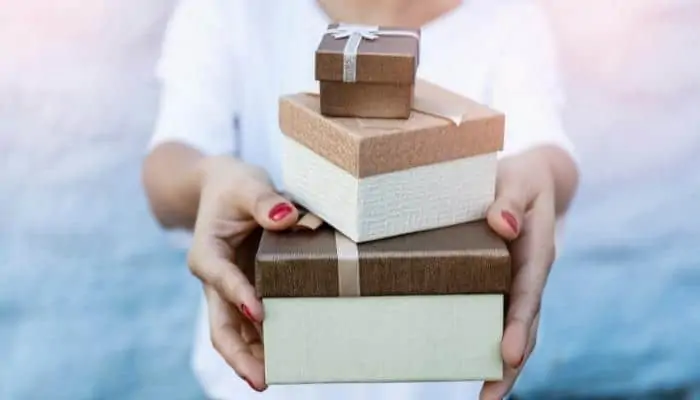 This post may contain affiliate links. If you buy through the link, I may earn a commission. Learn More.
I loved my children's preschool teachers. I always wanted to give holiday gifts that I knew they would love.
It was always a struggle to find a gift that was the perfect balance of thoughtful, useful, and unique. The following are gifts that perfectly hit all of those marks.
*FYI, some of the links in this article about best gifts for preschool teachers may be affiliate links. If you click and make a purchase, we may get a commission (at no extra cost to you). For more info, please see our disclaimer.
15 Best Gifts for Preschool Teachers
1. Cold Brew Coffee Maker
Preschool teachers need their caffeine. What they don't need is accidental spills that can burn small children. That's where cold brew coffee comes in.
An easy-to-use cold brew coffee maker can be kept in the kitchen, breakroom, or desk. The low cost of a one-quart pitcher means it won't break the bank, or you can add some of your favorite coffee as part of the gift.
For those preschool teachers who don't drink coffee, this pitcher can also be used to make cold brew tea.
2. A Gift for Multiple Teachers
If your preschool is like the one my kids went to, there are a lot of teachers. You may not have the time or the budget to buy something special for each of them.
Instead, try these cute, zippered bags that show how much you care. You can give them as is or fill them with your favorite treats.
Something as simple as a few candy canes, some pens, or a fun notepad is a special gift that won't cost you more than you can afford.
3. Personalized Art
Most parents don't think to give their children's preschool teachers items that last forever.
Art is something that every teacher will cherish. This puzzle piece wall hanging is customized by adding your favorite picture.
Plan in advance by taking a photo of your child with their teacher so you can surprise them with this unique find. If you're feeling really ambitious, get a picture of all of the children, so your teacher has even more memories to share.
Side Note:
This is probably a better option for an in-home daycare provider, but I think you can make it work for a preschool teacher.
4. Wine About It
After a long day as a preschool teacher, many love to unwind with a glass of wine. Support your favorite teacher's relaxation with a fun and functional wine rack that doubles as a coffee cup holder.
If you want to skip the rack and go straight to the wine, think about these fun wine bottle stickers that give every bottle a sense of humor.
Another options is full teacher appreciation gift basket. It includes a wine tumbler along with some other teaching essentials that your favorite school teacher is sure to love.
5. Classic Jewelry
A cuff bracelet is always in style. Give your child's teacher a jewelry gift that shows how much they mean to you, and that will go with everything.
A simplistic necklace with a heartfelt message is another great jewelry option that preschool teachers will cherish for years.
If you want to make sure the jewelry is as unique as she is, head to Etsy, where you'll find plenty of handmade goods, like this swimming against the stream bracelet.
6. Encourage Hydration
A thirsty teacher is not a happy teacher. Make sure your preschool teacher stays happy with a new water bottle.
There are so many great choices that it can be hard to narrow them down.
Choose a water bottle that lets you infuse flavors, pick one that offers motivationto keep sipping throughout the day or, you can choose my personal favorite.
These dishwasher-safe insulated water bottles are easy to clean and can take a beating. I have several of these, and they have never let me down.
7. Trendy Plants
Succulents are the trendiest plants because they require almost no care while remaining beautiful year-round.
This sweet planter set shows that your preschool teacher is the best teacher ever. You can give the gift as is, pre-pot the little pots with succulents you choose, or include a gift certificate to your local plant shop or nursery.
Alternatively, if your child's teacher is known for not having the greenest of thumbs, like me, consider these artificial succulents.
They are just as beautiful as the real thing, but the preschool provider never has to worry about overwatering the plant so much that it eventually bursts (not that I have any personal experience with that).
8. Funny Mugs
Granted, coffee mugs aren't the most unique choice when it comes to holiday gift-giving.
However, they are popular choices because they are liked, used, and needed. If you want an easy gift, a novelty mug just might be the right answer.
You could also go in a different direction and choose a beautifully ornate teacup that will make any teacher feel like royalty.
If you're thinking about going all in, choose a full No products found., complete with a traveling coffee cup, hot cocoa, and coffee.
No products found.
9. A Spa Selection
One of my favorite gifts to give and receive is a spa basket. This one includes a lovely sentiment along with bath bombs, a soy candle, a specialty lip bomb, and soap.
If you know her favorite scent, you can focus the gift around cherry blossom, pineapple, or rose, among countless others.
Don't be afraid to hint around and ask your kid's teacher what scent they like most. If you can't find out, go for a set with a variety of scents, fragrances, and items.
10. Books and Bookmarks
You might not know what kind of books your child's teacher likes to read, but that shouldn't stop you from gifting your favorite teacher with an excellent tome.
Choose a classic, pick a poetry book or an important work of non-fiction. If you're not willing to go out on a limb with a book, go for a handcrafted bookmark.
In fact, any bookmark is a fine choice for a teacher's gift if you don't want to spend a lot of money but still want to show how much you care.
11. Tote-ally Awesome
I love canvas totes. I have approximately 1,200 different bags, and I use every one of them.
A teacher tote is a wonderful choice that will be appreciated by every teacher you meet. This tote can be given on its own or given as the "wrapping" for another gift.
I love to give fluffy blankets in totes, and they are always loved. The only problem is I might end up keeping either the blanket or tote (or both) for myself.
12. Gourmet Gift Basket
Food is always a winner. A gourmet gift basket has such a wide assortment of treasures that you're sure to find something your preschool teacher will enjoy.
If you know them well, you can focus your gift basket on specific items like chocolate and cheese. If your child attends a large preschool with many teachers, why not send a gourmet gift basket that everyone can enjoy?
A tower of sweets aims to please.
Pro-Tip
Before buying food gifts, make sure you know about any food allergies or special diets.
13. Yoga and Meditation
Yoga offers exercise, meditation, and relaxation all in one. Encourage this healthy practice by gifting your child's preschool teacher yoga supplies.
This yoga gift set has chakra beads, a lavender sachet, and a room spray that is perfect for setting the tone for meditation.
Add some yoga dice, fun yoga socks, and a beautiful blanket that's perfect for using as a cushion or bolster.
Those new to yoga might benefit from a book that explains the most popular and challenging asanas. As a certified yoga instructor, I recommend The Yoga Bible by Christina Brown.
14. The Gift of Sleep
What does a preschool teacher need most of all? Sleep. What better way to encourage rest than with a portable white noise machine.
Your preschool caregiver can use this wherever they go. It's a bonus gift because it may double as a useful tool during your child's naptime.
Another option is a sleeping mask with built-in, Bluetooth earbuds. The battery lasts 10 hours, which means your preschool teacher can fall asleep to white noise, music, or guided meditation.
They will wake up rejuvenated and ready to take on the day.
15. Gift Card
Some people look at gift cards as a last resort.
I am here to tell you that there is precious little else that a teacher appreciates more than a gift they can use to get exactly what they want or need.
A gift card to a specific place, like Starbucks is a great choice as well. Make it more memorable by including a funny card or alongside a homemade treat.
What isn't made better alongside your grandma's fudge or a dozen chocolate chip cookies?
Buyer's Guide
How do you know which of these gifts is the right choice for your child's preschool teacher? Follow this buyer's guide as a quick resource for gifts that will please every time.
How to Choose the Best Gift for a Preschool Teacher
Keep Costs Low: A preschool teacher probably benefits more from an end-of-the-year tip than from a present. Pay less on the gift so you can afford a larger bonus.
Don't Make Assumptions: Alcohol is a fun gift but not for those who don't drink. A full one-third of adults in the United States avoid alcohol. Never assume your kid's teacher loves wine, coffee or other consumable items.
Avoid Clothing: Those novelty t-shirts might be cute, but getting the right size is a pain. No teacher has time to stand in the returns aisle.
Stay Kid-Friendly: Any coffee mugs, wine glasses or fun plaques should not have questionable phrases or words. G-rated is a must for preschool teachers.
Don't Overthink It: Unless you have gotten to know the teacher very well, a gift card is a great choice.
Create a Teacher's Favorites Questionnaire
A paper or online form is a great way to learn as much about the preschool teacher as possible.
This is especially helpful at a larger school. It can then be distributed to other parents who can consult the form during holidays and birthdays. Questions to ask:
What is your favorite sweet treat?
What is your beverage of choice?
What is your favorite color?
What is your favorite local place to shop?
What are your hobbies?
Do you have any food allergies?
What is a gift that you prefer not to receive?
Is there anything else we should know?
Managing Group Gifts
When my children were in preschool, there was always a mom (yes, often that was me) who organized a group gift.
These were great because individual parents could spend less while contributing to a much larger present. You can still give individual gifts while putting together something extremely special.
Here is how to make it easy:
1. Plan the Gift First:
Figure out what is it that you're going to buy for each preschool teacher so you can determine the overall cost. A favorite among the teachers at my children's school was a gift certificate for a spa day and a lovely dinner out.
2. Determine the Amount You Want to Spend:
Your gift will have a price tag attached to it. You just need to figure out what that is.
Don't go so overboard that other parents won't be able to contribute, but don't go so minimal that you have money left over. Another reason a gift card is a good choice is that you can usually match it to the amount of money given.
3. Invite All Other Parents to Contribute:
Asking for money is never easy. Asking during the holidays is even harder. Use a message like this one that I sent to the parents in my children's nursery schools:
Dear Parents,

It's hard to believe that the holiday season is approaching so quickly! In order to thank our children's preschool teachers and make your holiday shopping a little less hectic, I am taking up a collection to buy gifts for all of our teachers on behalf of the entire class. I would like to give each teacher a gift that's valued at about $200. Since we have four teachers and 32 students, each family would only need to contribute $25 to make this happen. I will include my Paypal and Venmo at the end of this email.

If there's anyone who cannot contribute, please do not feel pressured to do so. This is a costly time of year for all of us, therefore there are no hard feelings! Likewise, if anyone would like to give more, I will make sure every penny is used on our teachers!
4. Invite Others to Help:
Don't try to do it alone! Asking other parents to pitch in on collecting money, picking up gifts, or scheduling deliveries will make things a lot easier for you.
Key Takeaways
Now that you know how to get the best gift for your child's preschool teacher, it's time to start shopping! Enjoy the process, avoid anxiety and gift the greatest gifts by using the tips listed above.
Have You Read These Yet?
Frequently Asked Questions