How to Baby Proof a Floor Lamp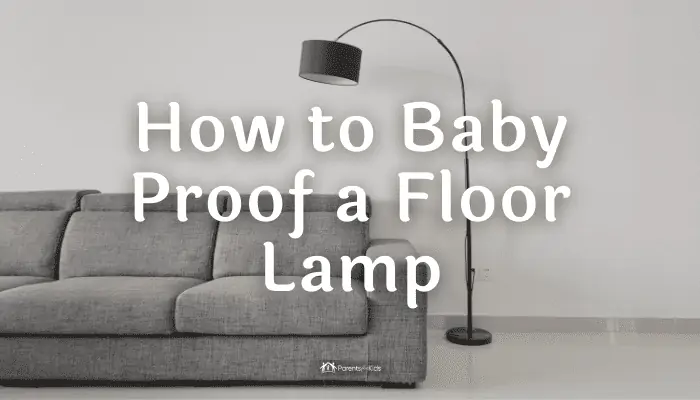 This post may contain affiliate links. If you buy through the link, I may earn a commission. Learn More.
A floor lamp is a simple convenience that doesn't seem to pose a threat until you have a crawling baby that pulls and tugs everything within grasp.
Suddenly, that innocuous floor lamp becomes a serious danger. Lucky for parents everywhere, there are plenty of ways to babyproof floor lamps.
*FYI, some of the links in this article about can you baby proof a floor lamp may be affiliate links. If you click and make a purchase, we may get a commission (at no extra cost to you). For more info, please see our disclaimer.
Can You Babyproof a Floor Lamp?
There are three main options when it comes to babyproofing a floor lamp. Place the floor lamp behind furniture or a tall gate so you can still benefit from light without danger. Secure the floor lamp to the wall using an easily installed wall clamp. Replace the floor lamp with a temporary alternative.
How to Baby Proof a Floor Lamp
Here are the three options you have for childproofing a floor lamp.
1. Hide the Floor Lamp
My home is half underground. The entire living room is buried with the only natural light sneaking in from the dining room windows at the front of the house.
With no overhead lighting either, we rely entirely on floor lamps. It's not a bad solution until babies start crawling, pulling up on anything they can find and pulling down everything that isn't tethered.
The first attempt my husband and I made was to place the lamps in the corners of the room.
We then put a large chair, a storage bench, a desk, and even a play yard around the lamps. This did the job, but it wasn't exactly aesthetically pleasing.
The above image is to give you an idea of what it looks like. You can make it work, but it's not ideal.
2. Replace the Floor Lamp
I eventually ended up replacing all of my floor lamps with other light sources. I installed wall sconces on two walls. I purchased sturdy side tables and bright table lamps that posed little to no risk to my children.
You may need cord covers for the floor or wall, but these are very simple to install.
Another option is to install track lighting. This provides directed light wherever you wish that has no chance of falling on a child who is learning how to walk and crawl.
Here's an example of what track lighting would look like.
3. Clamp/Secure the Lamp
Just as you should anchor furniture to the wall, you can clamp your lamp to the wall.
Depending on the style of your floor lamp, you may be able to use a pipe or hose hanger as long as it is screwed into a wall stud.
Most experts recommend a weighted base floor lamp that is unlikely to crash down.
However, children can be a lot stronger than you might think. Even a heavy lamp has the possibility of crashing to the ground.
Sale
BLACK+DECKER Gooseneck LED Floor Lamp
Versatile, 54" LED gooseneck floor lamp for task and accent lighting
Adjustable neck to easily position light zone
Contemporary design for a modern look in any home or office
Weighted base for increased stability during use
Key Takeaways
Floor lamps pose serious dangers to newly mobile babies. They remain dangerous until those children have reached pre-school age.
As you can see, there are many solutions to babyproofing a floor lamp. Which one will you choose?
Tell us about it in the comments!
Have You Read These Yet?