Does Breast Milk Stain? (How to Remove Breast Milk Stains)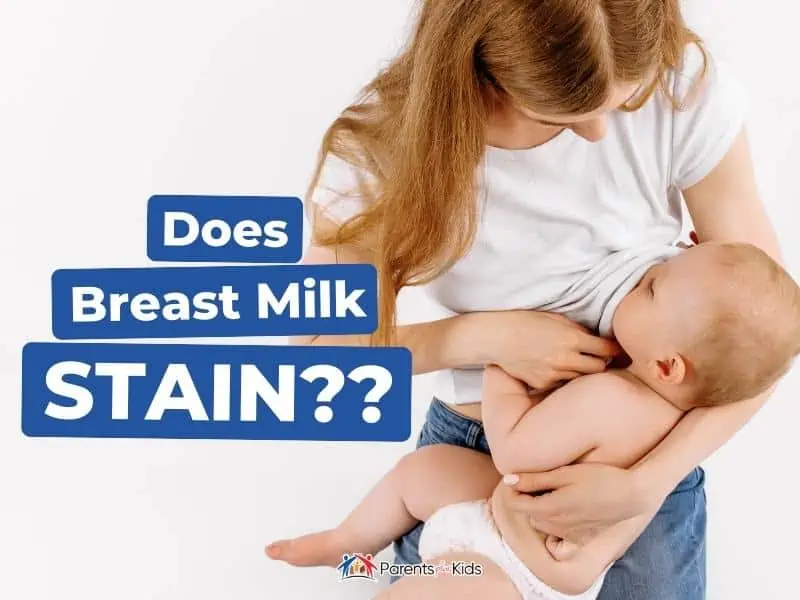 This post may contain affiliate links. If you buy through the link, I may earn a commission. Learn More.
Does breast milk stain? It's probably a question you never thought you would have to ask.
Unfortunately, spilling is almost as unavoidable as leaking.
While breast milk does stain, it's also easy to remove. Keep this tried and tested method of removing breast milk stains in mind.
*FYI, some of the links in this article about does breast milk stain may be affiliate links. If you click and make a purchase, we may get a commission (at no extra cost to you). For more info, please see our disclaimer.
Does Breast Milk Stain?
Yes. Like all other milks, breast milk can stain. Also, like all other milks, there are simple ways to remove these stains, especially if you act fast. Thoroughly rinse the fabric with cold water as soon as it is touched by breast milk. A light stain remover should be enough to battle most stains.
Why Does Breast Milk Stain?
Breast milk is mostly water, which doesn't usually stain. But it also has proteins and fats that cause staining whenever it's spilled on clothing.
You will see these stains on the inside of your bra, your shirts, your baby's clothing, and any towels you use to wipe up messes.
The stains can even be seen on furniture if not quickly cleaned.
How to Remove Breast Milk Stains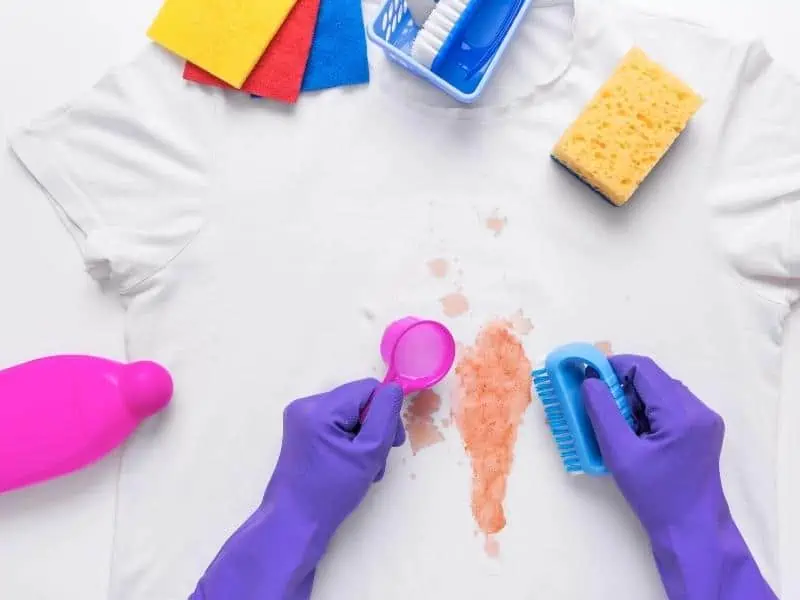 New stains are pretty easy to remove. All you have to do is soak the fabric in cold water before quickly laundering. This will remove most breast milk stains when done very quickly after the spill.
Unfortunately, few moms have the energy or the time to immediately treat a stain before it has a chance to set.
If the stain has already set, use a stain remover to pretreat the stain. I have very sensitive skin, so I use Grandma's Secret Spot Remover for any clothes that will come into contact with my skin.
Grandma's Secret Spot Remover
✅ HARSH ON STAINS NOT THE FABRIC: The toxin-free stain remover formula removes just the stains,…
✅ LAUNDRY STAIN REMOVER: This instant Grandmas stain remover is specifically formulated for the…
✅ EFFECTIVE: Grandma s secret spot remover can be used on blood, food stains, grass stains, pet…
For all others, I use Oxi-Clean Stain Remover, which doesn't mess around.
Oxi-Clean also makes great On-the-Go Stain Remover Pens you can keep in your diaper bag for emergencies away from home.
Sale
OxiClean on the Go Stain Remover Pen
Temporary Packaging: Product May Arrive As 3 Individual Pens, But You Will Still Receive The Same…
On-The-Go: Oxiclean On The Go Stain Remover Portable Pen Is Specially Formulated With The Power Of…
Safe: Oxiclean'S Fast, Safe, And Effective Stain-Lifting Formula Does Not Contain Bleach And Is…
Once you've treated the stain, you can launder the clothing as usual.
I should note that Oxi-Clean does not cause any kind of issue for most users. You may very well be able to stick with just one stain remover for all your fabrics.
My sensitive skin needs to be treated with kid gloves, but that might not be the case for you.
What about those extremely stubborn breast milk stains? For those you might need a stain brush to really scrub the area.
Stain Brush – by The Laundress
Ideal tool for pretreating stains
Safe for most fabrics, yarns, and constructions
Provides just the right amount of agitation
This is a good option for stains on upholstery as well. Rinse or pat with cold water, put some stain remover on the spot, and then scrub with the stain brush.
This should pull the stain away with ease. Do not use a stain brush on delicate fabrics as it can cause a breakdown in the material that will lead to long-term damage.
How to Avoid Stains from Breast Milk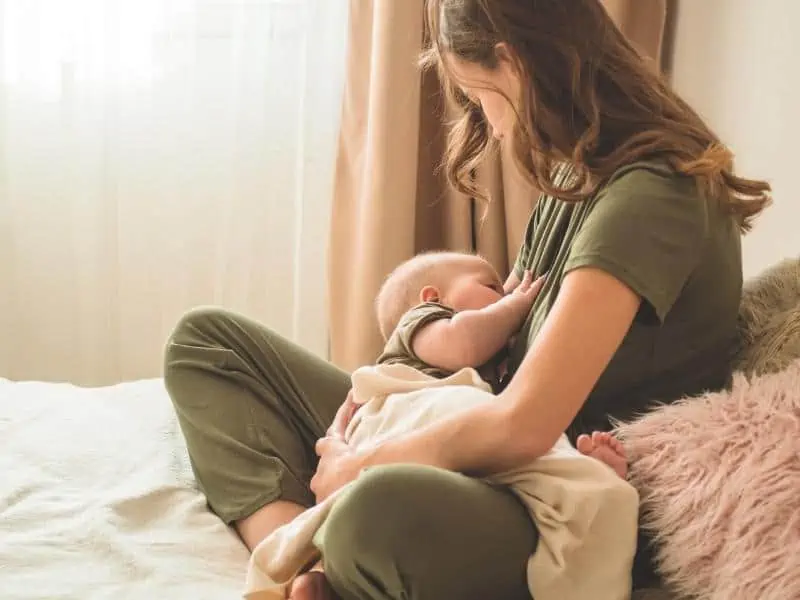 It's not that you can't completely avoid breast milk stains, but more that you shouldn't expect to. There are some no-nonsense methods to attempting to avoid breast milk stains though no option is ever no-fail.
Nursing pads are a lifesaver for many of us. They protect your clothes from leaks during the day, though there may be a bit of a learning curve with them.
I used the Medela nursing pads because they were thin and comfortable. They also have a sticky back that allows you to affix them to the inside of your bra.
Sale
Medela Nursing Pads
Medela is the #1 Physician Recommended Brand of Nursing Pads
ABSORBENT, LEAKPROOF DESIGN FOR LOW TO MODERATE LEAKAGE: With an absorbent polymer core, waterproof back layer, and flexible leak guard, these disposable nursing pads protect from unexpected leakage…
DISCREET BENEATH CLOTHING: With a wide adhesive strip that firmly secures our pads in place, our Safe & Dry Disposable Nursing Pads are optimized to fit the breast through a contoured, ultra-thin oval…
The downside to these pads is they are a little pricey and they are one-use.
Another options many moms favor is a reusable breast pad. These can be washed as often as you like.
Aside from nursing pads, you can protect your clothing and your baby's clothing with burp cloths and absorbent bibs.
Sale
Slip On Towel Bib
Ultra Absorbent – With 500 GSM towel thickness, these towel bibs will catch and absorbs spills
Full Coverage – Covers baby/toddlers shoulders and extends all the way to the lap for full…
Comfortable Cotton – 99% cotton terry towel fabric, provides a very comfortable feel on the skin
Put the long bib on your baby before nursing and keep the burp cloth nearby to wipe up any dribbles.
You can also use the burp cloth to dry your nipple when your baby switches breasts.
Of course, you should always use a burp cloth for burping your baby after a nursing session to keep the breast milk that comes up off of your clothing.
Key Takeaways
Breast milk stains, but it isn't the end of the world. You can remove these stains with just a little bit of work and, in some cases, a lot of stain remover.
What have you found to remove unwanted stains? Tell us in the comments!
Have You Read These Yet?
Frequently Asked Questions