How to Plan, Throw, or Host a Gender Reveal Party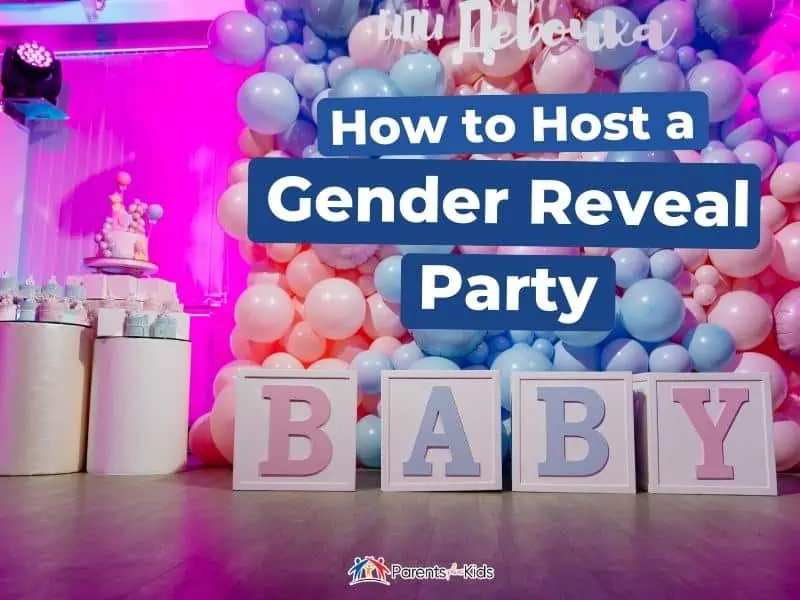 This post may contain affiliate links. If you buy through the link, I may earn a commission. Learn More.
Celebrating the birth of a new baby is a time-honored tradition.
Gender reveal parties have become a part of that celebration in recent years. Not everyone has one and not everyone wants one so they can be a bit tricky.
Don't worry! Follow this guide for a successful gender reveal.
How to Host a Gender Reveal Party
As the host, make sure your guest of honor is happy with the idea of a gender reveal party. Next, make a guest list, plan the menu and find a space to host the event. Don't forget to make sure your gender reveal party is environmentally friendly and welcoming to all.
Materials Needed
What is a Gender Reveal Party?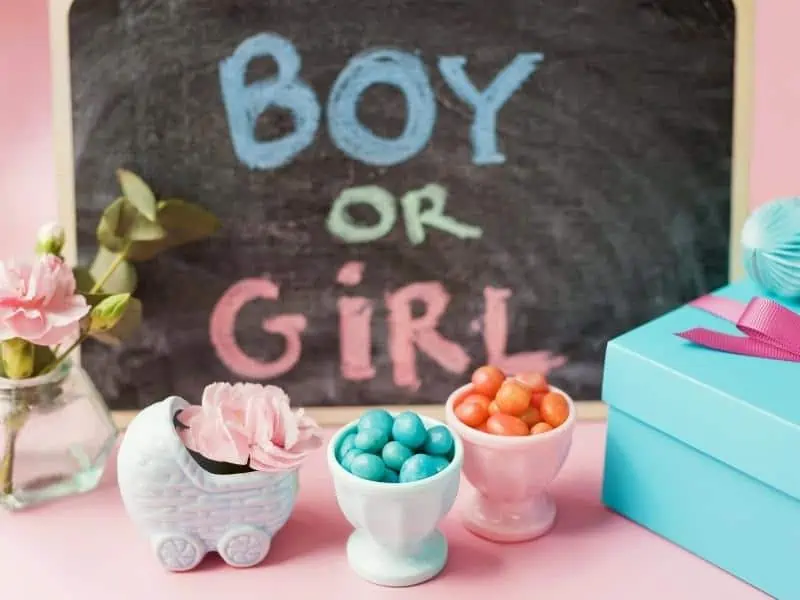 Before you start planning, let's first understand exactly what a gender reveal party is, what it isn't and what it should be.
Gender reveal parties do not have a long history. In fact, they only became popular during the late 2000s.
The purpose of the party is to celebrate a new baby in a way that differentiates from the typical baby shower.
Rather than simply providing gifts for the new parent(s) and baby an often elaborate show of the baby's sex is made.
Gender reveal parties are not beloved by all. Polling shows that more than half of expecting parents don't want to know the sex of their baby in advance. This would make a gender reveal party unnecessary.
There are also those that worry that celebrating the sex of a child could be perceived as offensive.
Reveling the child's sex could be perceived as being discriminatory toward the opposite sex.
For example, a family that is excitedly toasting to the birth of a girl might unconsciously be ostracizing her older brother.
A gender reveal party also doesn't take into consideration the small possibility of the child being transgender or nonbinary.
Arguably, the biggest problem with gender reveal parties is the extremes celebrants go to in order to create the largest spectacle possible.
These parties have been known to end in tragedy. There have also been cases of these types of parties creating severe environmental damage.
Just because there are issues with gender reveal parties doesn't mean you don't have to have one.
There are simply right ways and wrong ways to go about them. The right gender reveal party is inclusive, safe and fun.
Gender Reveal Parties: A Step-By-Step Tutorial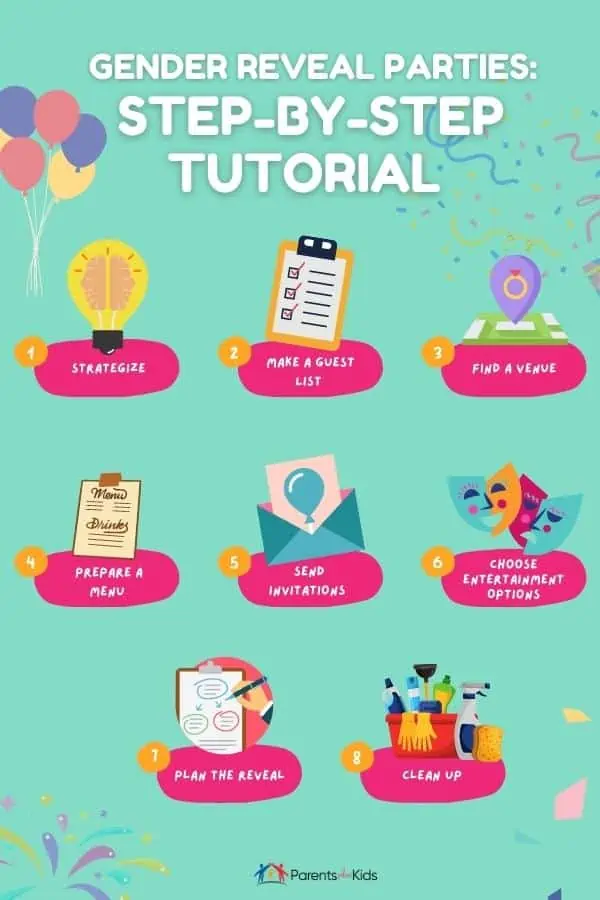 Step 1: Strategize With the Expectant Parents
You are hosting the party but you are not the star of the show. Talk it over with the expectant parents to discover what they want and what they don't.
One of the biggest decisions is whether or not to include the gender reveal party as part of a baby shower.
It makes sense to have both parties together but some parents prefer to have two separate occasions. This is particularly true if it is their first child.
Step 2: Make a Guest List
Make sure the new parents give you a list of people they want at their party, and then precisely follow that list.
If they want a Jack and Jill baby shower and gender reveal party combined, it is not your place to argue with them. If they prefer to have a family-only affair, that is okay too.
The number of people invited to the party will directly determine the rest of your planning. Complete this step as soon as possible.
Step 3: Find an Event Venue
Your event venue will determine most of what you can and cannot do at the party. A public park allows you to have a large number of guests but will be dependent on nice weather.
A rented room gives you space and comfort, but it might eat into your budget. A home won't cost you anything but it's only appropriate for smaller groups.
Step 4: Prepare a Menu
Do you want to serve lunch, dinner, appetizers or just dessert and punch? Will you have a full bar? Will it be a casual picnic done potluck style?
Think of your budget, the time of day and those who are in attendance. Don't forget to consider dietary concerns.
Ask about any special diet needs when sending out invitations so you can be prepared.
Step 5: Send Invitations
I love personal invitations that are sent by mail but they aren't always practical. Extending invitations through email or via social media is often a better way to get in touch with people on the guest list.
You should follow up with anyone who doesn't respond by your RSVP date to make sure the invitation wasn't overlooked.
Step 6: Choose Entertainment Options
The type of entertainment depends on your space, the number of people invited and even the ages of the guests.
I have been to parties like this with small games and I have been to parties with a giant bounce house for the kids and yard games for the adults.
The good news is that your entertainment does not have to be solely focused on the baby. You could have a karaoke machine, hire a magician or just plan for people to mingle and talk until it is time for the big reveal.
Step 7: Plan the Reveal
Do not use pyrotechnics. Do not use bombs. In fact, don't use anything that comes with a caution warning.
The easiest way to do a gender reveal is with dessert. Have cupcakes made with a filling that is either pink for a girl or blue for a boy.
Another fun option is to have guests pop balloons that have the child's name on slips of paper on the inside. You could also host the party at the happy couple's home and reveal the nursery that is decorated in the chosen motif.
What if the expecting parents don't know the baby's sex or don't want to share?
You can still have a fun "gender reveal" party. On slips of paper in balloons, write "Find out with us on (baby's due date)."
Another idea is to have balloons printed that read "we're having a…" and on the inside, the slips of paper can say "baby." Everyone will get a good laugh while also having a good time.
Step 8: Clean Up
Plan your clean up in advance and you won't be caught off-guard by how much time it takes to pick up little pieces of paper, discarded napkins and bits of plastic.
Before the party, recruit a few people to be your helpers so the clean up happens fast.
Key Takeaways
A gender reveal party is a fun time for all. Most importantly, it's a time to celebrate the birth of a new baby.
What are your ideas for a gender reveal party? Tell us all about them in the comments!
Have You Read These Yet?
Frequently Asked Questions