What is a Gender Reveal Party?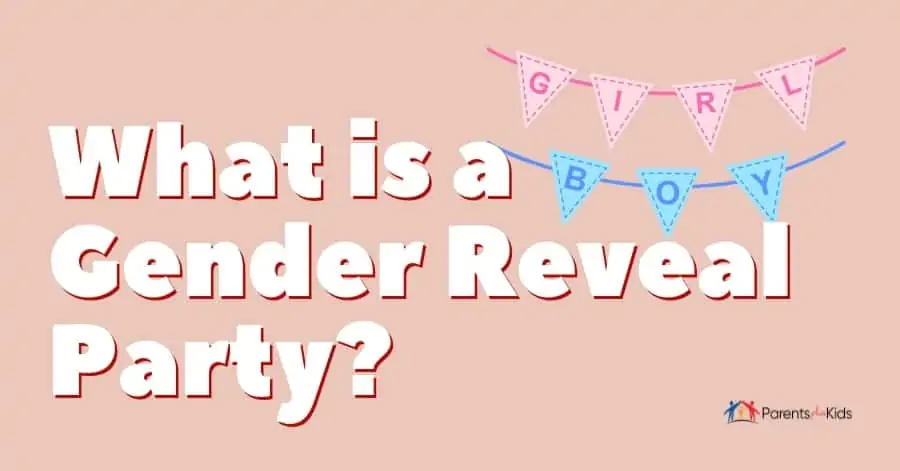 This post may contain affiliate links. If you buy through the link, I may earn a commission. Learn More.
Fueled by social media, gender reveal parties are becoming a popular event for expectant parents and their loved ones. Even though it's been around awhile, it's still a relatively new concept to many parents.
This quick guide can give you a look into this new tradition and ideas for hosting your own.
Here's the quick answer to what a gender reveal party is and is not:
A gender reveal party is an event where the sex of a baby gets revealed. They're thrown by expectant parents, a trusted friend, or a loved one who guards the secret of the baby's sex until the party. The parties involve a lot of fun, games, and celebration but are not the same as a baby shower.
*FYI, some of the links in this article about what's a gender reveal party may be affiliate links. If you click and make a purchase, we may get a commission (at no extra cost to you). For more info, please see our disclaimer.
What Is A Gender Reveal Party?
The expectant parents, family members, and friends all eagerly anticipate the baby's arrival throughout pregnancy. Typically, everyone is nearly as anxious to learn whether that baby will be a girl or a boy.
Some parents choose to wait until birth to find out. Some want to find out the moment it's possible and then call everyone to let them know.
There are other expectant parents, though, that want to reveal the baby's sex to all of their loved ones at the same time and celebrate together.
This is where the gender reveal party comes into play. A gender reveal party, simply put, is a gathering at which the sex of a baby is finally shared.
Why Even Have This?

I think it's worth mentioning that for many parents, a gender reveal party becomes just a reason to invite people over to celebrate and have a party.

Once you get to a certain age, I think it's almost kind of weird to invite people over for a party unless you have a reason.

That's why I think we come up with reasons to throw a party. Whether it's the Super Bowl, New Year, or a Gender Reveal Party you get your excuse to have your loved ones over to have fun and enjoy each other's company.
Who Plans A Gender Reveal Party?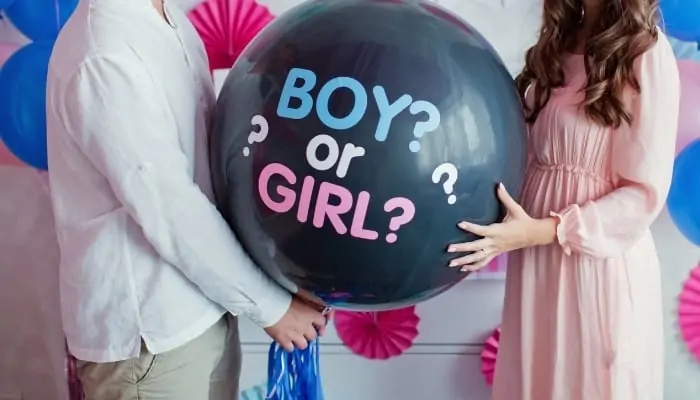 The person who plans the party will depend on who is in charge of keeping the secret. In some cases, the mother and father of the baby find out the baby's sex from the doctor and then share it with their party guests. In other cases, the parents might assign a loved one to surprise everyone – including the expectant parents.
The person assigned this honor is usually referred to as the gender guardian. Most often, this is a sibling or best friend, but it can be anyone you wish. The most crucial part is finding someone who can keep the secret (most of us are not that good at secrets when we're excited).
While the pregnant mom or other family and friends can help plan some aspects of the party, the gender guardian will need to be in charge. Otherwise, the secret will not stay a secret. How can you keep the gender from the expectant mom if she's helping pick out the cake color, right?
If you choose to have someone else keep the secret, consider giving them a "Keeper of the Gender" T-shirt to wear to the party. It will be a fun gift to say "Thank you" for planning the party. Oh, and somehow fighting off all the grandparents, aunts, and uncles that tried to pry the secret from their lips. This shirt is also a good choice for the expectant mom if she's in on the secret.
Sale
Keeper of The Gender T-Shirt
It's made with a soft, blended and wrinkle free fabric that has some stretch to it. A perfect gift for whoever is hosting your gender reveal party.
What Happens At A Gender Reveal Party?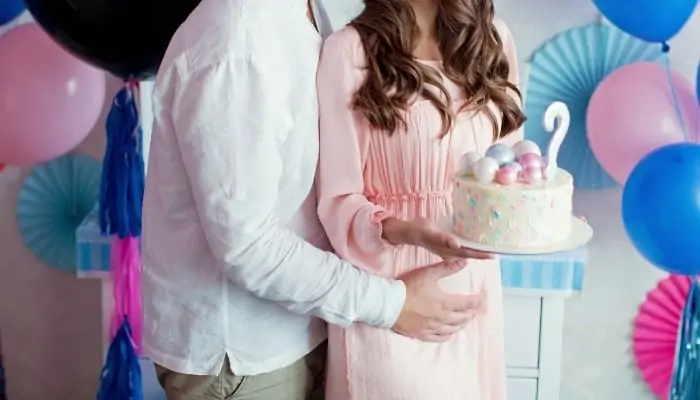 The revelation of the baby's sex is only one part of the party, and it typically occurs later in the event. Before that, there are several activities that may take place. Some common ones include the following:
Games
Many gender reveal parties involve some sort of game that allows them to guess the sex of the baby. The way the guessing takes place can be a big part of the fun. Some ideas are listed below:
You might have guests come dressed in either blue or pink to match their guess.
You might also provide "Team Girl" and "Team Boy" bracelets or buttons that your guests can choose from.
Let everyone cast a vote with a gender reveal chalkboard.
There are also fun game packages that can keep everyone laughing and having a good time.
Food
Of course, no party is the same without some snacks and drinks. Many people use "Team Girl" and "Team Boy" cups and plates to keep the spirit going. Additionally, pink and blue cupcakes are a popular choice.
Sale
Decorations
You don't want to give away the sex of the baby as soon as the guests walk in. I mean, there is supposed to be the element of surprise, after all. So decorating for a gender reveal party requires a little thought.
Most people simplify this issue in one of two ways. They either use gender-neutral decorations, such as yellow or green, or they are a combination of pink and blue.
You might also simply choose some type of theme, like general baby decorations or animals. The choice is yours, but the bottom line is not to give too much away until it's time for the actual reveal.
Different Ways the Gender Is Revealed
Revealing the gender can take place in so many ways, depending on personal tastes and ideas. The following is a list of both simple and creative ways it often gets done.
Have the parents cut a cake. The icing should be ambiguous, but the inside should be either blue or pink, according to the sex.
Confetti canons provide an explosive reveal.
Write the sex down on a card, place it in an envelope, and allow the parents to open the special delivery.
Place a note with the gender in a pinata and let everyone take turns trying to bust it open.
Or put the note into a gender reveal balloon that must be popped to get the answer the parents and guests seek.
These are just a few ideas, but revealing the gender can come in whatever form you want it to take.
A Few More Things to Know About Gender Reveal Parties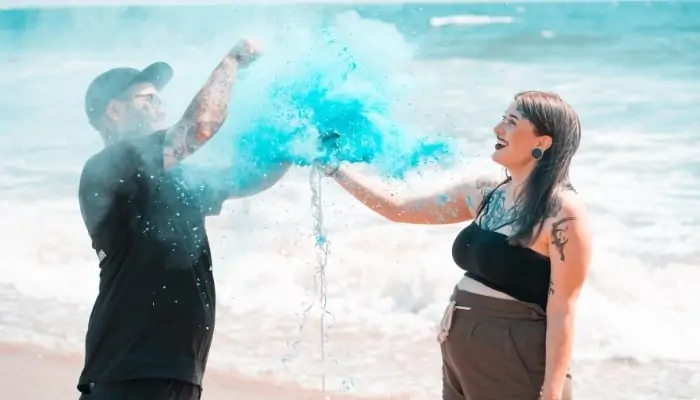 First and foremost, it's important to clarify that a gender reveal party is not the same as a baby shower. There are times that expectant parents will choose to combine a baby shower and gender reveal party. However, they are typically thrown separately.
This actually brings us to the next point: what is expected of the guests. Unlike a baby shower, guests usually do not bring gifts to a gender reveal party – at least not for the baby. If there are any gifts, they are typically for the parents.
Remember that while gender reveal parties are not brand-new, they are still pretty new. While most people have a pretty good idea of what to expect from baby showers, that's not really the case with gender reveal parties.
This means one very simple thing: the host needs to be clear with guests.
Are they supposed to dress up?
Is there a theme?
Is there something they need to bring?
Whatever you choose to do is fine. Just let the guests know.
Controversies with Gender Reveal Parties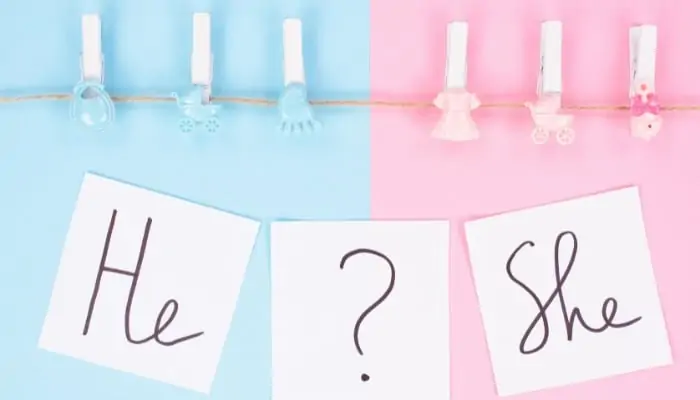 I want to mention real quick some of the controversies involving gender reveal parties. A quick Google search will lead you to these issues.
I usually don't like talking about "controversial topics" because they tend to be more trouble than they're worth, but if you're going to throw a gender reveal party, you should probably be aware of these two points.
You don't have to agree with them, but you should at least be aware of them.
1. Baby's Gender vs Baby's Sex
The first debate has to do with the argument between the differences of gender and sex. The idea is that sex is biological and is assigned at birth, while gender is based on societal norms and is more of a social construct.
The issue arises with debates on whether parents should put their gender bias and perception on their unborn child. Those against a gender reveal party might argue it's best to keep things neutral until the child can decide for themself.
If none of that makes sense, let me give you an example. You could have a child with reproductive anatomy that says their sex is male (i.e., they have male reproductive anatomies), but they identify as female.
For some parents, you can start seeing how this might be a problem, and for others, just indifference.
2. Parties Have Gotten Out of Hand
The second reason honestly has less to do with gender reveal parties in general and more to do with people not exercising common sense.
There have been people who have gotten hurt by over-the-top gender reveal parties involving an explosion, flying scrap metal, and even a raging forest fire that took a week to put out.
When I read some of those stories, I'm not sure how different it is from issues that arise with fireworks when people who aren't exercising common sense burn themself and then flood the emergency rooms.
Make the Best Decision for You and Your Family
I say all of this not to start a debate on these controversial topics. They're discussed in multiple areas around the web. They're also beyond the scope of this website. Hence comments about these controversial topics won't be approved.
I do bring them up so that as parents, you can make an informed decision, throw safe parties, and know that some parents (or family members) will not be supportive of decisions you choose to make (or not make) for your child.
Will all that said if you're expecting or know someone who is, a gender reveal party can be a great deal of fun. For those who have thrown one, comment below with any tips, game ideas, or funny stories. We'd love to hear them!
If you Haven't Started Looking for Childcare
Most good daycares have very long waits. If you need childcare and haven't already started looking for a daycare, you need to check out this article on how to find a good daycare.
Have You Read Any of These Yet?
Frequently Asked Questions