How to Prepare Your Toddler for Their First Day at Daycare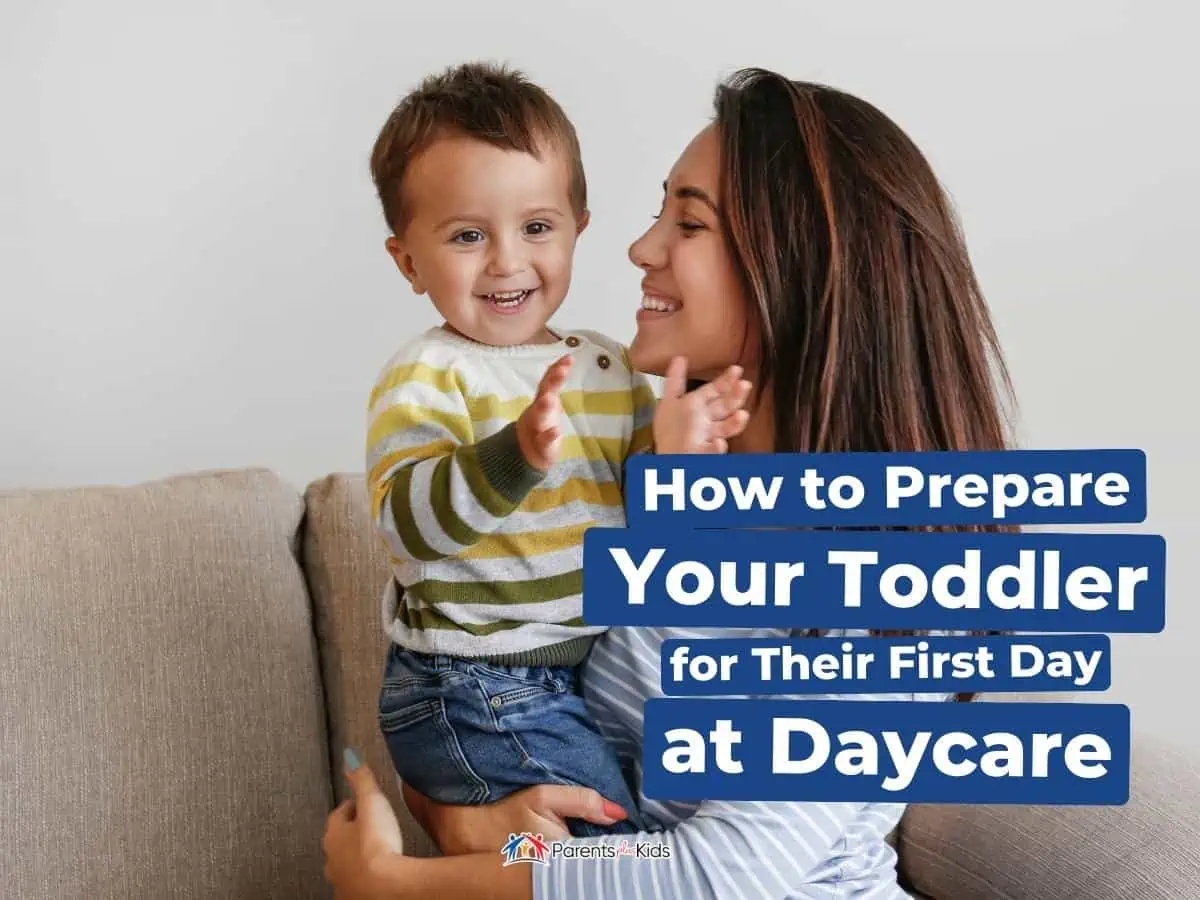 This post may contain affiliate links. If you buy through the link, I may earn a commission. Learn More.
Your child is about to start daycare, and you are understandably worried.
Your baby may be nervous, excited, or even scared. You are probably feeling all of these emotions as well.
It is important to prepare your child, and yourself, for daycare so you can both have a smooth transition.
How to Prepare Your Toddler for Daycare
Communication is key. Talk to your toddler about what it means to go to daycare. Focus on the happy times playing games, doing crafts, having snacks, and meeting new friends. Remind your child that you can't wait to hear about all of the fun they had when you pick them up at the end of the day.
Materials Needed
What you need to pack depends on your daycare.
For instance, some supply snacks while others ask you to bring your own. Some daycares will ask you to bring a favorite toy, while others request you leave playthings at home.
Certain daycares might ask that you leave a change of clothing with them in case of accidents.
Talk to your daycare in advance about any rules about what must and should not be packed before your toddler's first day.
There are some basic items that most daycares allow or even suggest. These include:
1. Toddler Backpack
Toddler Backpack
This backpack made of durable neoprene type material that is not abrasive against your child's skin,…
Multi-Use Front Pocket,offering easy access, the insulated zippered front pouch is the ideal place…
The preschool backpack where fun meets function,Whimsical details and durable materials make this…
Your toddler needs a backpack for all of their items. Let them help you pick it out so they will be excited to use it.
2. Personalized Name Stamp
Personalized Name Stamp for Kids Clothing
Exquisite and beautiful: 13 styles & 36 icons.
Convenience: easy marking, considerable time saving.
Durable: more than 2500 marking times. (Be sure to stamp the bottom case in time after each use)
You will need to label everything your child takes to daycare. This includes all clothing, shoes, backpack, any toys, and personal items.
A stamp is the easiest way to do this because it can't be ripped or washed off.
3. Clothing
You should pack one change of clothing, two pairs of socks, and two changes of underwear for children who are potty trained.
Clothing needs to be easy to put on and take off. Most daycares prefer simple pull-on pants and t-shirts without snaps.
4. Diapers and Wipes
If your child is not yet potty trained, you will need to supply your daycare with sufficient diapers and wipes.
Very few daycares allow cloth diapers because of the extra time and space required, so you will need to supply disposable diapers unless told otherwise.
5. Snacks and/or Meals
Some daycares provide snacks and meals for their young charges. Many will ask that you supply these food items yourself.
There are a few points of note that you should pay close attention to.
First, many daycares will not allow peanut products of any kind. Do not pack peanut butter and jelly sandwiches, peanut butter crackers or snack bars that contain nuts.
It's possible that your daycare will throw them away, and your child will go without for the day.
Likewise, many daycares ask that you only pack healthy food for your child. They may even provide a list of foods that are allowed and ones that are not.
6. Special Toys
Cozy Plush Baby Security Blanket
❤️ MATERIAL: Grey faux fur front + minky back.
❤️ SIZE: 34X34cm / 14″X14″
❤️ GIFTABLE: Great gift for newborn baby boys / infants / toddlers / pets / dogs / cats etc….
I am a big fan of toys that are only allowed in certain situations.
For instance, my kids always had special toys that were for travel. This made them more excited to travel in the car and made the toys more special.
This idea also applies to daycare.
Surprise your child with a new lovey or let them pick one out on their own. Then tell them that this lovey is special because it can only be played with at daycare.
Another option is to ask them to pack their favorite toy to take with them to daycare.
There can be a danger that the toy will get lost. However, it can serve as an excellent comfort item if your child gets sad during the day.
7. Books
Reading books about daycare is helpful. Your child might want to take one of these books with them so they can ask the daycare provider to read it.
Your child might have a favorite book that they prefer. A toddler probably isn't yet reading, but they can still look at the pictures with fondness.
Many toddlers can even pretend to read their favorites. They do this by memorizing the words and repeating them while turning the pages.
8. Nap Mat
Urban Infant Tot Cot Kids Nap Mat
BUILT FOR PRESCHOOL / DAYCARE NAPPERS — portable all-in-one bedding solution for modern on-the-go…
SOFTENS TRANSITION TO SCHOOL — let your child pick their own pattern, personalize the name tag,…
SECURE AND COZY – the first nap mat to feature sewn-in elastic bands that pull over mat / cot…
Your daycare will probably have a dedicated nap time.
They will ask you to bring a mat, sleeping bag or blanket that the child can use while napping.
It is a good idea to bring along a pillow as well if your child is accustomed to using one.
9. List of Emergency Numbers
HTVRONT Self-Adhesive Laminating Sheets
💌【PREMIUM QUALITY】HTVRONT self-adhesive laminate sheets are from high-quality material, which…
💌【EXCELLENT SEAL】Manufactured with premium materials while its trustworthy process makes it…
💌【EASY TO USE】If you want to save cost and time or have no laminator, our non-thermal…
Include a paper list of emergency contact numbers in your child's backpack. laminate it so it doesn't get destroyed.
Why is this necessary when your daycare already has your contact info in their system? Simple. If the internet goes down, they still may need to contact you.
Step 1: Talk to Your Child About Daycare
Have a conversation with your child about the changes they are about to encounter.
A toddler may not be able to reason like an adult, but they still deserve simple explanations. It is important to be both truthful and concise.
Something as simple as, "Mommy is going to be working during the day, so instead of playing with me, you will play with some new friends."
Tell your toddler that you will pick them up every day and that you will have plenty of time to play together and read together after daycare.
Be prepared for a lot of whys.
"Why do you have to go to work?"
"Why do you need money?"
"Why can't I go with you?"
"Why can't you go to daycare with me?"
Answer all of the questions with love and patience. However, you are allowed to say "asked and answered" when the questions become repetitive.
Step 2: Visit the Daycare Together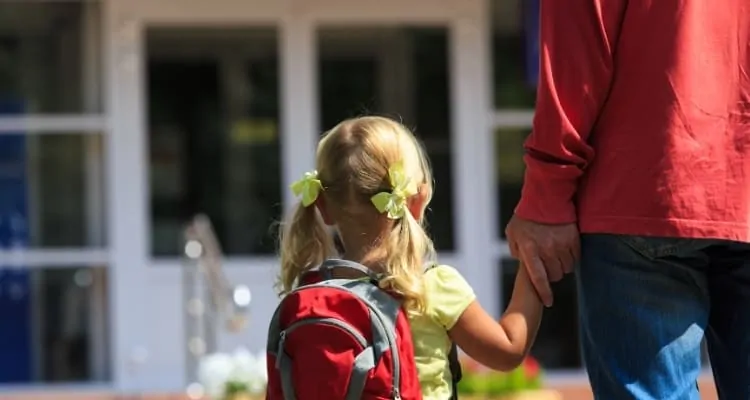 Hopefully, you have already visited the daycare at least once.
You will need to visit again with your child in tow so they can take a good look at the facility while you're there.
Your daycare may organize a tour just for your little one or might allow them to join for a day before they officially start.
The daycare my children attended had an open house day for all new families who could stay together while their children got to know their new location.
If your daycare has something like this, take advantage of it.
Ideally, your child should feel comfortable at the daycare before they start going daily.
Visiting the facility together will help them understand where they will be dropped off, where they will be picked up and what they will do in the meantime.
This can also get them very excited about daycare.
Step 3: Change Your Toddler's Sleep Schedule
About two weeks before daycare is to begin, change your child's sleep schedule so they will be more on track with daycare.
Start waking them earlier so they are accustomed to the new early morning hours.
If your child naps on a regular schedule, switch that nap time so that it coincides with naptime at daycare.
Changing the morning wake-up time also means changing the evening schedule.
Your child will need to go to bed earlier so they still have enough sleep during the night.
You may have to incorporate more exercise and activity to help your child get sleepy earlier.
Expect a few difficult nights and mornings when you begin this venture but it won't take long until your toddler is on the right sleep schedule for daycare.
Step 4: Pack a Daycare Bag
The daycare bag is a fun activity that you and your toddler can do together.
Make a list of everything you need to pack, and then let your toddler do the packing.
You can do this several days in advance so they have time to get excited about opening up the backpack and pulling out their favorite book or toy.
A fun activity to do with toddlers is what I call the "Kitchen Sink" game.
This is a silly game that teaches toddlers what is appropriate for taking to daycare and what isn't.
It starts by making a list of all of the things that belong in the daycare bag.
Explain to your child why each item goes into the bag as you are packing together.
When finished, tell your toddler that you forgot something very important: the kitchen sink!
When your toddler laughs, ask them what is the silliest thing they can think of to take with them to daycare. As you name these items, explain why they don't belong.
You will have lots of laughs and your child will learn why the family pet doesn't go in the daycare bag.
Step 5: Make an After-Daycare Plan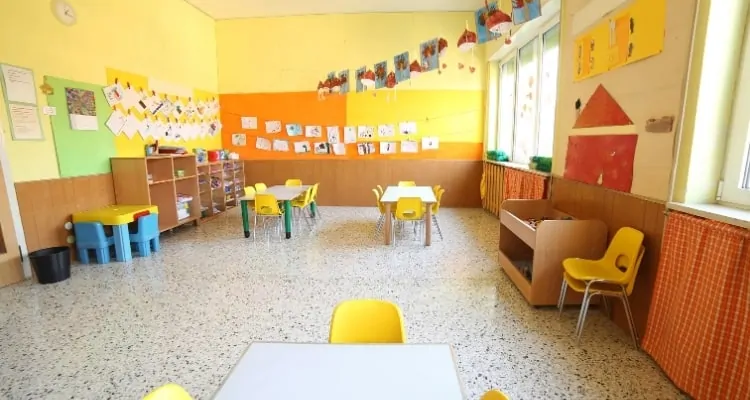 Some children worry that they will not see their mom or dad again once they go to daycare.
Even constant reassurance isn't always enough. Avoid this anxiety by making fun plans for after daycare pickup.
Plan to go for a walk, go to the park, have ice cream, play a favorite game or order pizza.
Celebrate the first day of daycare in a way that will make you both happy.
This after daycare activity should be something your child will look forward to but it shouldn't be so grand that they can't enjoy daycare.
For instance, if your child has always wanted to go to the circus, don't plan a trip to the circus after daycare.
The idea is to let your toddler know you have a fun plan in place. It can be as simple as an evening of finger painting and watching Bluey.
Step 6: Daycare Drop-Off
Daycare drop-off is the hardest part.
Prep your toddler by telling them you will kiss them goodbye, and then you will be back in a few hours to pick them up.
This is exactly what you need to do. Don't linger. Don't go back for one more hug. A quick drop-off is the easiest for both of you.
It is also important that the child sees you leave. Some parents think the right option is to wait until their child is distracted before they sneak away.
This is not the best choice because that leaves a child fearful that any time they are not looking, mom or dad might disappear.
It is a much better choice, though sometimes harder, to say goodbye and leave while the child is watching.
You may glimpse a tear or two, but your child will eventually grow accustomed to this new reality.
Step 7: Prepare for Setbacks
You have done everything you can to get your child ready for daycare. What happens if it doesn't go to plan?
Don't worry. We've got you covered there as well.
Some children do not embrace daycare. They may cry, scream and refuse to let go when it is time for you to leave. If this happens, the number one rule is to remain calm.
If you get upset, anxious, or angry, your child will sense that, and it will only add to their emotions.
Talk to the daycare staff and ask them for advice. They will probably tell you to leave and your child will be fine. In almost every case, this is true.
Feel free to call an hour or two after drop-off to inquire about your child.
Your daycare expects this and is happy to give you updates. It may take a few days or even a couple of weeks until your child is accustomed to daycare.
Other Very Helpful Information
These are just random thoughts based on my experiences and the experiences of other moms and dads.
I couldn't really find a spot to make them fit above, so I'm putting them all down here.
1. Give Yourself Permission to Cry
It's going to be an emotional time.
Emotions will be running high, not just for your toddler but for you. After dropping your kid off, it's okay to sit in the car and let it all out.
2. If Possible, Be Available on the First Day
I know this isn't realistic for most families, but if it's possible, try to make your toddler's first day of daycare a day that you're actually free, just incase.
In other words, have a trial day or a trial couple of days.
You can even just drop your toddler off for the first couple of hours and then pick them back up.
You can do that over the following couple of days, each time leaving them at the home daycare a little longer.
This allows them to ease into the routine. Just as important, it allows you to ease into the routine as well and become more comfortable.
3. Own Your Decision
I don't know what your circumstance is or why you enrolled your toddler in daycare.
Maybe you need to go back to work. Maybe you need to take care of a sick family member.
Maybe you're a stay-at-home dad or a stay-at-home mom who just needs a break.
There's no judgment. It's your family, and you have to trust that you're making the best decision for you and your family.
Remember!
It's not selfish to think about yourself. If you're not taking care of yourself, it's going to be hard to take care of your family.
Key Takeaways
Starting daycare is a challenge for new parents. These simple steps make daycare more fun and exciting in the eyes of a child.
Do you have questions about daycare? Any advice you'd like to add? Please talk to us in the comments!
Have You Read These Yet?