Is Teaching a Good Career for Moms?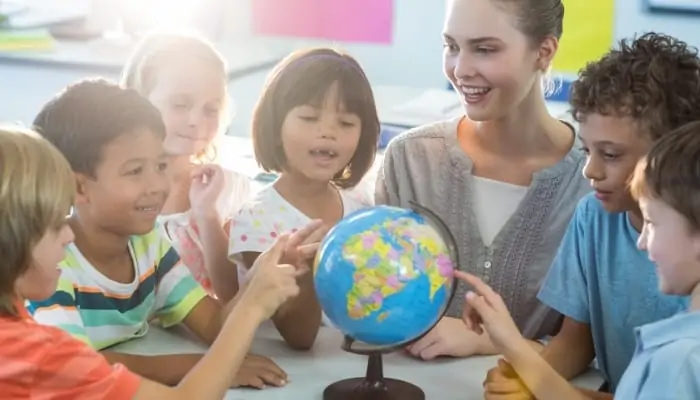 This post may contain affiliate links. If you buy through the link, I may earn a commission. Learn More.
One could argue that any career is a good career for moms.
As long as that mom is fulfilled by her work, she should be satisfied with whatever she chooses.
Many moms gravitate toward teaching because it combines their ability to nurture with their love of children.
*FYI, some of the links in this article about is teaching a good career for moms may be affiliate links. If you click and make a purchase, we may get a commission (at no extra cost to you). For more info, please see our disclaimer.
Is Teaching a Good Career for Moms?
A mom that has a calling to be a teacher could find it's the perfect fit. A teacher's schedule often aligns with that of her children. Likewise, teachers in most school systems have reasonable pay and great benefits. It's a lot of work, but it's also very rewarding.
Pros and Cons of Teaching for Moms
Teaching is a calling. A good teacher needs to feel the urge to help children learn, grow, and mature. They must be patient, loving, kind, intelligent, and able to convey thoughts and ideas in a clear manner.
I can tell you as a point of fact that not all moms have what it takes to be a teacher. I tried my hand at teaching, and it was my worst nightmare.
My experience was at the college level, where students are arguably more focused and less demanding than younger students. It was still an experience that I never wish to face again.
Those moms who are called to teach will find an extremely satisfying and rewarding career. As a bonus, they're able to take advantage of the great benefits of being a teacher.
The Teacher's Work Schedule
A teacher's calendar mostly follows that of their school-aged children. Teachers have the same holidays, winter breaks, spring breaks, and summer breaks as their students.
As a teacher, you no longer have to look for a sitter three months out of the year. Likewise, snow days mean students and teachers both have the day off.
Daytime hours mostly follow the student calendars as well. Teachers do need to arrive early and stay a bit later than their students, but there are some fairly simple work-arounds for moms who teach.
If their children go to the same school where they teach, they can hang out in the classroom while mom starts her day or finishes things up.
If they go to a different school, riding the bus is always an option. Many school districts will allow teachers' kids to ride the bus to their parent's school.
The downside to the teacher calendar is that it doesn't align perfectly with the students' schedules.
Teacher workdays are numerous, scattered throughout the year. These are the days that are free off days for kids while the teachers attend meetings and workshops.
Also, teachers need to do a lot of work at home. They grade papers, make lesson plans, answer parent emails and attend school events, many of which are required.
Salary and Benefits
The teacher salary will vary depending on a lot of things such as:
Where you live
How long you have been teaching
What level you're teaching
Whether you're teaching in a public or private institution
Among other things. For instance, in Mississippi, the average teacher salary is $45,192, while in New York, it is $87,543.
That range is significant until you look at the cost of living comparison. The cost of living in Mississippi is 15 percent below the national average, while the cost of living in New York is 52 percent above.
That means that a mom living in Missouri might make $50,000 per year, but the low cost of living means she is in a better financial situation than a teaching mom in Hawaii.
A teacher's pay isn't just about the salary. Public school teachers have access to health insurance that includes medical and dental. They also receive pension plans that continue to pay them after they retire.
Deciding to be a teacher could be a long-term strategy that makes retirement pretty easy.
That said, no one is going to get wealthy by being a teacher. Starting salaries in the low $30,000s are only a few thousand dollars over the poverty threshold in the United States for a family of four.
A Lifetime of Rewards
A teacher touches and molds so many young lives. They give hope where there might have previously been none. They build courage in those who struggle.
They find gifts within each child they meet. Having that kind of impact on young people is a heavy load, but it's also a blessing.
Look back at the teachers who shaped your own life. You will undoubtedly find many happy memories, but you might also learn that your teachers were like second parents to you.
In some cases, they may have had even more impact than your mom and dad.
Of course, there is always a downside. You may grow far too attached to your students. Their problems can weigh heavy on your heart. You might have difficulties with some parents as well.
These emotional issues can leave you feeling drained at the end of your workday when you still have your own children to care for and love.
Becoming a Teacher
Now that you have decided you want to become a teacher, what's next? That depends on where you live.
Teacher certification requirements vary depending on your state. All states require a bachelor's degree and some type of certification. You can expect to spend at least four years earning a degree to become a teacher.
What if you already have a four-year degree from an accredited college or university?
You may still need to take a few education courses and complete some student teaching hours before you can apply for certification. That could take one to two years.
Maybe you would prefer working as a substitute teacher. Once again, the requirements to sub depend on the state where you live and teach. Many states require that substitutes have at least 30 college credits.
Other states require a bachelor's degree, and some only require a high school diploma or GED. All states have some form of substitute training or certification program. Earning that certification may take a few days or up to a few weeks.
Become a Teacher or Substitute Teacher
You can get started on the road to teaching by filling out a form to find the school or program that will allow you to become a teacher or a sub.
Teaching is a beautiful gift to children and a wonderful career choice for a mom. Have you considered becoming a teacher?
What is the most appealing aspect of the career for you? Give us your insight in the comments!
Have You Read These Yet?
Frequently Asked Questions