Leaving Your Child With a Babysitter for the First Time: 13 Tips to Survive it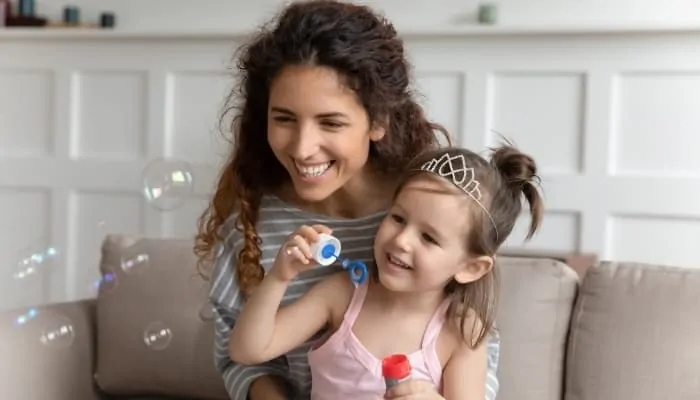 This post may contain affiliate links. If you buy through the link, I may earn a commission. Learn More.
The first time you hire a babysitter is one of the most difficult milestones in a parent's life. You may feel guilt, anxiety, or even panic.
None of these emotions are unexpected but they are also unnecessary. Keep reading to learn how you can survive your child's first babysitter.
How to leave your child with a babysitter?
Carefully vetting your sitter, having a method to check up on your child throughout the night, and being confident you and your child will be happier with the occasional change in routine. are just some of the several steps needed to ensure a successful first babysitting experience.
*FYI some of the links in this article about leaving your baby with a babysitter for the first time may be affiliate links. If you click and make a purchase we may get a commission (at no extra cost to you). For more info please see our disclaimer.
Materials Needed
You don't have to have special materials for a night with a babysitter. That said, there are some items that will put your mind at ease:
1. Emergency Numbers and Preparedness Magnet
There are a number of ways to leave emergency numbers with babysitters, but the most convenient are magnets that you can leave directly on your refrigerator.
This magnetic emergency preparedness guide includes a detailed guide for CPR and choking. Another option is this two-pack provides ample space for any extra details you wish to leave behind.
2. Notes and Info
Not a fan of magnets? Try one of these dry erase babysitter planner sticks to any surface and can be repositioned as needed.
Are you hoping to brighten the mood with an admittedly dark sense of humor? This Babysitter Basics notepad encourages your sitter to cross their fingers and hope for the best.
3. Home Surveillance
Don't leave home without some type of home surveillance system. A four-piece security system like this one is motion-activated, records video and sounds, is wireless and works with Alexa and Google.
You can even view all of the cameras at once from an app on your phone or tablet.
4. Smart Locks
There are multiple reasons you may want a smart lock. Use a No products found. so you can avoid handing over keys to a babysitter. This removes the worry of getting locked out when keys have been misplaced as well.
A simple No products found. is also a good idea for cabinets that contain sensitive items, like weapons, poisonous goods, expensive jewelry or alcohol.
5. First Aid Kit
Your babysitter needs to know where to find the first aid kit. This version includes everything needed for minor problems, including a finger puppet and a roll of stickers.
Another option is a wall-mounted first aid kit that will never get lost.
Wall-Mountable First Aid Kit
Ultimate Peace Of Mind: Our kit includes over 350 professional-grade medical and safety supplies,...
Perfect For Home Or Business: Ensure everyone's safety and well-being. Accidents and injuries can...
Includes Mountable Hard Case with Organizers: Sturdy design for easy access and visibility, allowing...
6. Comfort and Care
Are you afraid your older child will miss you when you're gone? Get them this No products found. and tell your child to give it a hug every time they miss you.
How to Leave Your Baby with a Babysitter
Hiring a babysitter isn't the easiest job for a parent. Even more difficult is leaving your child with that babysitter for the first time. Luckily, there are steps you can follow to make it as easy as possible.
1. Hire the Right Babysitter
The first and most important step is to make sure you have hired the right babysitter. Ideally, you will have spent ample time interviewing, checking references, and running background checks before this first night out.
You should be fully assured that this babysitter is responsible and can handle any situation that may arise. To help check out our list of the top qualities of a good babysitter.
2. Make a Schedule and Stick To It
The schedule is not for your child, but for you and the sitter. Know what time you plan to leave, what you'll be doing while you are out and what time you will be at each event.
For example, if I am planning dinner and a movie followed by cocktails, I can give my sitter an estimate of what time I will be at each spot along with the number for each location in case I can't be reached on my cell phone.
The simple act of knowing the sitter can reach you at the right place at any time will help you enjoy your evening more.
Find Top-Rated Babysitters in Your Area
If you're looking for a babysitter, this service can connect you to qualified babysitters who have been pre-vetted.
3. Give Your Sitter Clear Instructions
The babysitter is working for you, therefore you should be confident telling them what to do. Don't worry about sounding bossy when you're the boss.
Provide your sitter with a sleeping schedule, a list of appropriate snacks, preapproved movies, preferred activities, and anything else you would like. The instructions can be as sparse or exhaustive as you like.
4. Make a List of Important Numbers
If you purchase one of the emergency preparedness items listed above, you will already have the complete emergency contact list.
If you opt against making this purchase make sure you know what numbers to leave behind. At a minimum, provide cell phone numbers for you, your partner, any grandparents, neighbors, and close friends who are willing to be emergency contacts.
Also make sure to leave behind easy access to numbers for the hospital, police, and poison control. Leave the phone numbers of each place you plan to visit as well.
We go into more detail in our article about making your own babysitter information sheet, if you want more information on what information to leave behind for a babysitter.
Magnetic Dry Erase Babysitter Planner for Refrigerator
Decorative multi-functional dry erase planner for any refrigerator, desk, door, wall or cabinet.-...
The Babysitter Planner will give peace of mind to both parents and sitters - Simply place on the...
Unmatched erasability – never any stains or ghosting. Even permanent marker compatible!
5. Go Over the Night With Your Child
Older children may have some anxieties about being away from their parents for the first time. Talk with them in advance about what to expect that evening.
Give them something to look forward to, like a special snack with the babysitter, a movie they have long wanted to see, or even the ability to stay up later than usual.
This is a good time to give your child an "I Miss You" gift like a plush toy or a new book.
6. Go Out After Dark
A trick many parents I know have used is to go out after bedtime. Many young children go to bed as early as seven in the evening. That is still early enough to have a lovely evening out.
You can wait until your child is asleep before you leave and then have the babysitter nearby for emergencies.
Pro-Tip
While many parents do this (with great success) I wouldn't recommend this. You should have the babysitter arrive before bedtime.

It could be greatly detrimental to young ones to wake up in the night to find mom or dad is gone and a stranger is in their place.

Personally leaving after they go to sleep is a plan that works really well if they stay asleep and potentially a nightmare if they don't.
7. Plan to Check In
It is only natural to want to check in from time to time. Make a plan for how often you want to call, and then tell your sitter to be expecting it from you as a nervous parent.
A seasoned babysitter will understand your worries and welcome the call. A new babysitter will probably appreciate the regular follow-up.
8. Consider it a Night Off for Everyone
Worries about a child's well-being are one thing. Feeling guilt about leaving your child with a sitter is quite another. Try not to think of it as an evening of fun just for you and your partner.
Instead, remember that children might need a break from you, too. It can be fun for kids to have a new playmate for an evening. They may begin to anticipate the night with the babysitter as much as you!
9. Take Advantage of Technology
Surveillance equipment is now somewhat common in homes. You can purchase surveillance cameras to place in one room or throughout the house.
Most of these cameras offer apps that you can check on your phone whenever you wish. The ability to watch your child while you aren't home is an excellent way to avoid fears and anxiety.
Smart Wireless Indoor Nanny Cams
24/7 Full HD Recording - F/2.0 aperture, 112 wide-angle lens, 1080p/15fps to capture moments with...
Optional 24/7 professional-grade, video alarm system - The smart camera-based security system...
Upgraded Smart AI Detections- YI cloud storage comes with the latest in Smart AI capabilities which...
10. Come Home Early Without Fear of Judgment
My first babysitting experience as a new mom lasted maybe an hour. My husband and I went out, had dinner, and then ran home as quickly as possible.
We fully trusted the babysitter, but we missed our son and felt strange being away from him. I was worried that we would be judged for being nervous new parents, but then I realized that it didn't matter.
I could either stay out and be miserable or come home and be happy. The choice was clear. Don't worry that someone might judge you for a short first foray into the babysitting world.
Most people are more than understanding; just be willing to pay the babysitter for a full shift even if you come home early.
Pro-Tip
I want to emphasize that there's nothing wrong with coming home early but please make sure to pay your babysitter the full amount you promised them (especially if it's one you want to be willing to babysit your kids later).

I know childcare costs are expensive and you might be looking for ways to reduce those childcare bills but not paying them for their promised time is not being frugal, but being cheap.
11. No Jitters? No Problem!
Are you worried that something might be wrong with your parenting if you don't have first-time babysitting jitters? Don't. Every parent has a different way of dealing with milestones.
I had first-time jitters with the babysitter, but I didn't have them when I left my child at daycare for the first time. While other moms were crying, I was happy and excited to have a few hours to myself.
Though I didn't respond in the same way as others, it didn't mean I loved my child any less. The same will be true for you no matter what your response to the first babysitter is.
Find Top-Rated Babysitters in Your Area
If you're looking for a babysitter, this service can connect you to qualified babysitters who have been pre-vetted.
12. Do a Practice Run
I mentioned already you shouldn't feel bad or weird for wanting to end your night out early. What you can do is have a short date planned from the very beginning.
For example, maybe have the daycare over just for an hour while you go get dessert. Maybe you just have her over while you're there so your kids can get acclimated to her while you're also there.
There's a lot of different ways you can do this but I think the primary goal is to get you more comfortable with the idea of having a babysitter and to the babysitter themselves.
Secondary to that would be getting your kids familiar with the babysitter.
Pro-Tip
For a short practice run, you might consider paying the babysitter a little bit more than you otherwise would.
13. Trust Your Instincts
Parents should never ignore their gut instincts. If you get a feeling that something is not right, you should act. It may be nothing but jitters, but it is wise to trust what your instincts are telling you.
Check-in with the babysitter as often as you need. You can even call the evening off if it doesn't feel right. It is perfectly okay to wait for the first babysitting experience until you are positive both you and your child are ready.
Final Thoughts
Follow these steps and not only will you survive your first night with a babysitter, but you will be even more ready when the next one comes around.
Do you have a babysitting question or story to share? Ask us or tell us in the comments!
Related Articles
Frequently Asked Questions
Here are some frequently asked questions related to leaving your baby for the first time with a babysitter.
How do you introduce a new babysitter?

Have the new babysitter come at least an hour before you leave that way the babysitter and your child can meet and you can see how the interaction goes.

How much do you pay a babysitter for a newborn?

Rates for a babysitter watching a newborn can range from $13 to as high as $18+ according to Care.