Should I Put My Child in a Beauty Pageant?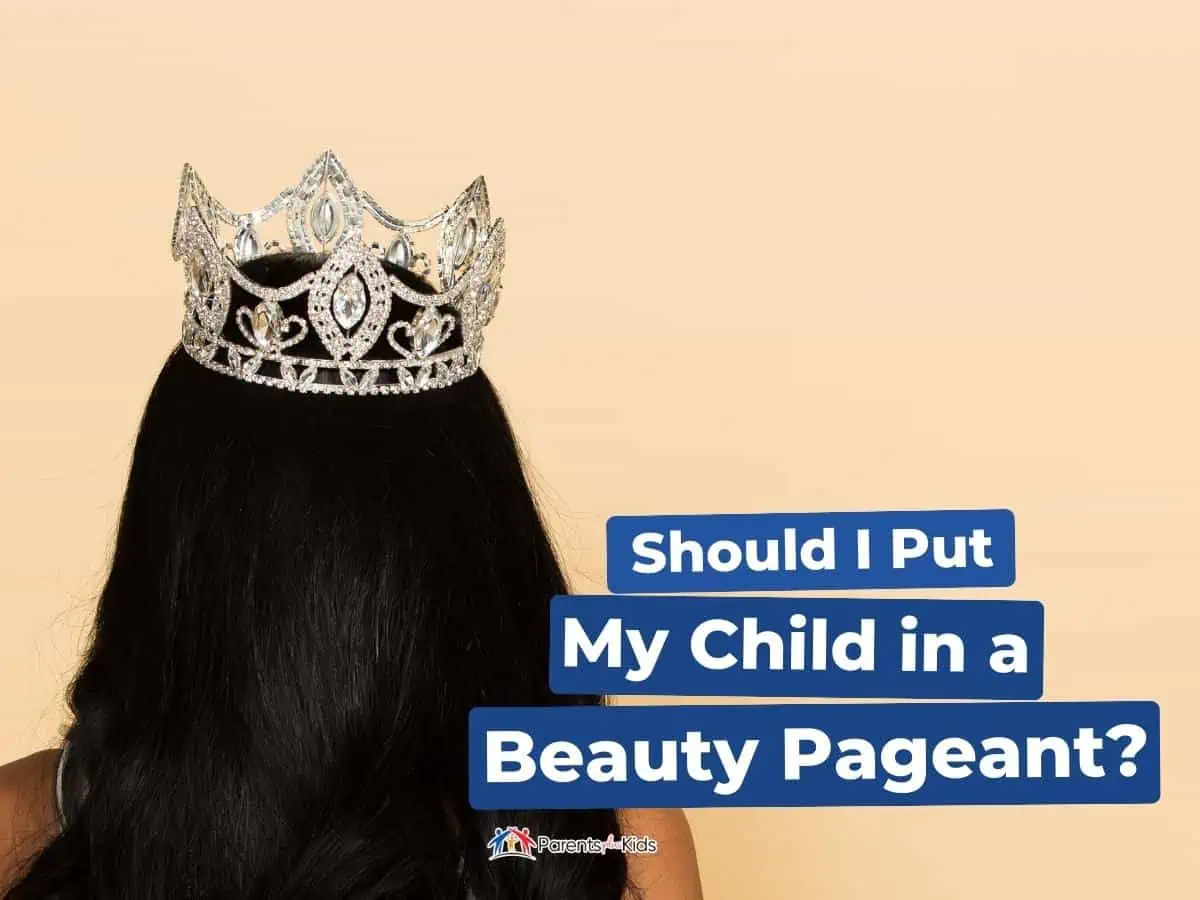 This post may contain affiliate links. If you buy through the link, I may earn a commission. Learn More.
Your child is beautiful, and you want the world to know.
What could be wrong with putting your child in a beauty pageant?
Unfortunately, the answer is plenty.
Beauty pageants can be nice, but they can also be nightmares. Keep reading before you decide.
Should I Put My Child in a Beauty Pageant?
No. Beauty pageants are expensive, time-consuming and promote the idea that outward beauty is far more important than inner character. If you are able to keep cool and calm, you may be able to have fun with it. However, there are better ways to spend time with your child.
Words from a Former Pageant Queen
I was in beauty pageants in my youth. I first saw the ugly side of pageantry at age five.
Children my age were shoved into ill-fitting gowns, forced to wear high heels, and slathered with makeup.
We were then judged based solely on our looks and what little talent a kindergartener can muster.
When I should have been playing with my dolls, I shamed them for not having perfect figures and beautiful smiles.
I did not enjoy the pageants then, but they weren't about me. I did not have the typical stage mom but a stage dad.
He ensured I was on display in one way or another for much of my young life. It was his way of achieving fame. It wasn't truly about me at all.
Luckily, I grew up at a time before pageants had gotten completely out of control. Today, kids on the pageant circuit are expected to wear flippers to hide their own teeth.
It is frowned upon for a child to rewear a pageant dress, which typically costs about $250. Wigs, extensions and hair pieces are common sights.
Most young pageant-goers attend these pageants about once per month with an entry fee of up to $500 per pageant.
The Cons of a Youth Beauty Pageant
One of the biggest cons of the youth beauty pageant is that it teaches children that they are only as important as their beauty.
I am the first person to say that judging a book by its cover is an important skill to have. All of the pertinent information about the book is right there on the cover.
However, you also have to be willing to recognize that a beautiful book cover can have a truly awful book inside. Likewise, there are classics that have awful covers.
My point, and I do have one, is that children need to be aware that they are more than beauty. Character is far more important, and it is something that is not considered at a beauty pageant.
An extension of my first point is the fact that the beauty on display is entirely fiction.
The addition of spray tans, fake teeth, wigs, false lashes, and more show an alternate version of what the child actually looks like.
Many grow up believing they are only beautiful if they don't look like themselves.
A common criticism against child beauty pageants is the sexualization of young children. It is no secret that the children are made to look like young adults.
They are given risque clothing and often encouraged to display behavior that is far too mature for their ages. Many of these pageants feature swimsuit competitions.
An often overlooked criticism about beauty pageants is that they can be racist. While many are quick to jump on the sexism in beauty pageants, many forget that darker skin tones rarely win the top spot.
There are even judges who will state that a contestant's skin is too dark for the pageant.
The Parent's Motivation
I mentioned earlier that my father was a stage dad. While this is true, he was not primarily a pageant dad.
He mostly placed me in talent competitions, with beauty pageants being secondary to his goals.
The parents I saw in both places were very similar. They wanted fame. They wanted recognition. If they couldn't get it on their own, they would get it through their children.
You are considering a beauty pageant for your child. Ask yourself why. Is this because you think your child will gain something from the process?
Is it because there is a large prize that you think your beautiful child will win? Is it because you are eager to receive praise for your child's winnings? Be honest with yourself.
If your reason for entering your child in the pageant is for anything other than their best interest, don't do it.
What Can a Child Gain From a Beauty Pageant?
There are a few benefits that can be gained from doing the pageant circuit. The most prominent is the ability to feel comfortable on stage.
Being able to speak in front of large groups is a skill that can be learned, but it is difficult for many people. Children who grow up on stage have an advantage in this arena.
Another benefit to be found in beauty pageants is travel. Taking your child to different places is a wonderful educational opportunity. Your child will benefit from seeing places and people they normally wouldn't.
A third benefit is self-confidence. Whereas many participants develop psychological damage from beauty pageants, others feel strong and secure.
This mostly depends on how you approach the pageant. Do you berate your child for not winning or do you take both wins and losses in stride?
When Pageants Aren't All Bad
My daughter wanted to enter a beauty pageant. She saw that a pageant was being held nearby and thought it would be fun to get dressed up and walk on stage.
She was about six at the time. I looked into the pageant and found that it was billed as a natural beauty pageant. This particular pageant stated that flippers, wigs, false lashes, and pageant dresses were not allowed.
Makeup had to be minimal. Contestants were to wear play clothes. They would be judged on natural poise.
I told my daughter that I was okay with her taking part in this type of pageant as long as she knew it was just for fun.
When we showed up to the pageant, we learned that what we thought were rules were merely suggestions.
The other contestants were in full pageant gear, while my daughter was wearing her favorite sun dress with no makeup and a daisy in her hair.
We proceeded with the pageant, and the girl with the fluffiest dress and matching hair won.
My daughter was excited when she received a participant ribbon because it was pink, but she said that she never wanted to enter a pageant again.
In my opinion, the best pageant is the one that convinces your child that pageants aren't that great.
Instead, take your entry fee and go to an ice cream shop. See a movie. Spend the day at the zoo.
Create memories together that are fun for both of you.
At the end of the day you can buy a beautiful crown for your daughter that is less than the cost of a pageant's fee.
SWEETV Crystal Queen Crown
♕ Add a magical touch to your big day by wearing this sparkling crown. You are looking at the…
♕ Encrusted with stunning Austrian crystals of various sizes, this queen crown shines bright like…
♕ Crown measures approx. 2″ in height, 4.8″ in diameter, crafted specifically to fit women and…
While you're at it, buy one for yourself as well.
HSWE Mother's Day Headband Sparkle Rhinestone
♥Mother's Day Headband:A mother's love is pure and beautiful, sparkling like these rhinestone…
♥Comfortable To Wear:The shiny Mother's Day letter headpiece is made of high quality metal…
♥Must Jewelry Accessories for mama:These BEST MOM EVER tiara crown hair hoop are the perfect…
Final Thoughts
Beauty pageants aren't the worst choice for your child but there are much better ways to spend your time and money.
Do you like child beauty pageants? If so, we would love to hear your take. Share your thoughts in the comments!
Have You Read These Yet?