How Soon Can You Leave Your Baby with a Babysitter?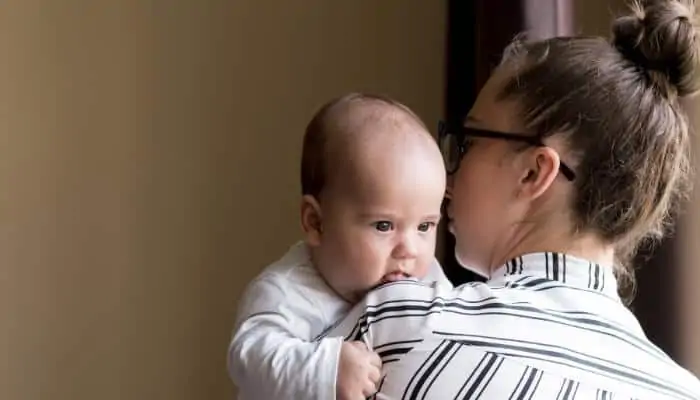 This post may contain affiliate links. If you buy through the link, I may earn a commission. Learn More.
Is there an age that's too young for a babysitter? As with most child-related issues, the answer depends on your situation.
In most cases, if you have the right sitter, the answer will be no. Leaving an infant with a sitter is rarely cause for alarm.
*FYI, some of the links in this article about "when can I leave baby with a babysitter?" may be affiliate links. If you click and make a purchase, we may get a commission (at no extra cost to you). For more info, please see our disclaimer.
How Soon Can You Leave a Baby with a Babysitter?
Babies can be watched by a babysitter at any age as long as the parents are positive the babysitter is equipped to look after an infant. Many parents feel more confident with family members or close friends at first, but any sitter skilled in caring for babies should be fine.
Find Top-Rated Babysitters in Your Area
If you're looking for a babysitter, this service can connect you to qualified babysitters who have been pre-vetted.
The Right Age to Leave a Baby With a Babysitter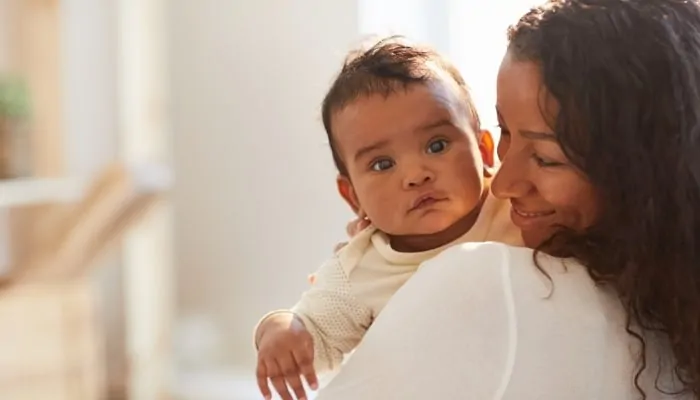 My oldest was only a few weeks old when he had his first babysitter.
I remember it fondly. My husband and I were desperate for some alone time. We went to dinner and ate as quickly as possible, wondering what was happening and if our child was okay.
We then rushed to pick up our baby and bring him home.
It wasn't necessarily the most relaxing date, but it was a good way to introduce our child and ourselves to babysitting.
Who Babysits an Infant?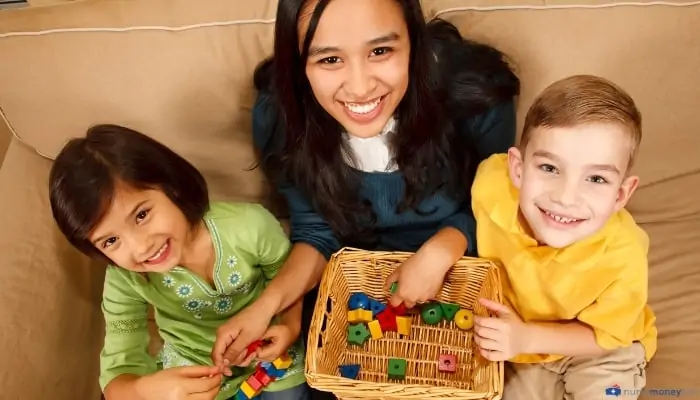 Babysitting infants requires a special set of skills. The person doing the babysitting needs to be well versed in infant CPR.
They need to know the basics of infant care, including burping, swaddling, and safe ways to prevent SIDS.
If you're hiring a babysitter, make sure they can prove they are competent in all of these areas.
Many new parents prefer friends and family members to be the first babysitters. This is especially true when the baby is very young.
Just like professional babysitters, friends and family members should have adequate training in infant care, first aid, and CPR.
Many local Red Cross chapters offer infant CPR training. It may be wise to keep a book about infant first aid handy for all future babysitters.
What are Some Concerns?
An infant has no way to care for themselves and no way to communicate exact feelings.
Caregivers must be able to detect what a baby needs, and this usually comes from experience. A person who hasn't spent time with infants may not be the best choice as a first-time babysitter.
You will also need to feel confident that your babysitter will follow your rules.
For example, if you only want your baby drinking pumped breast milk, make sure your mother-in-law won't toss out the breast milk and instead use formula, as mine did.
If you have a strict sleep schedule, make sure the babysitter is willing to adhere to that schedule even if they disagree with your methods.
For this reason alone, it may be difficult asking parents to babysit for extended periods at a time.
Above all, make sure your babysitter understands the importance of safety measures. Babies should be placed on their backs to sleep.
Cribs should not have comforters, fluffy pillows, or stuffed toys. Babies should never be placed somewhere they may fall even if it seems as though they can't rollover.
It should also go without saying that caregivers should never smoke or drink alcohol while caring for your child.
Find Top-Rated Babysitters in Your Area
If you're looking for a babysitter, this service can connect you to qualified babysitters who have been pre-vetted.
How to Prepare for the Babysitter
Choose your babysitter based on who you think is best equipped to watch your baby.
Don't pick a babysitter because they're free or because they long to spend one-on-one time with an infant if they don't have the necessary skills and experience for infant care.
If you're unsure about their abilities, ask. For instance, there is no need to feel awkward about asking your mother if she is CPR certified.
No questions are unreasonable when it comes to your baby's safety, health, and well-being.
Once the babysitter arrives, explain where they can find necessities like diapers, wet wipes, formula or breast milk, bottles, swaddlers, and changes of clothing.
Use a magnetic whiteboard to show when the baby should be fed and the amount of milk or formula to be given.
Mewl Baby Monitor Whiteboard
ALL IN ONE BABY TRACKER - When was the last feeding? Did baby poop today? Is it nap time yet? For...
COORDINATE BABY CARE WITH EASE - Delete the stressful baby tracking apps, don't buy more baby log...
BABY REGISTRY MUST HAVE - The baby tracker for newborns is a practical baby gift for expecting moms....
If you use them, explain how to operate the bottle warmer and the Diaper Genie.
Playtex Diaper Genie
HANDS-FREE CONVENIENCE: Complete diaper pail features a foot pedal-activated lid for hygienic and...
NO MORE STINK: This diaper trash can seals in smells with Double Air-Tite clamps and a deodorizing...
PREVENT GERM SPREAD: Diaper Genie refill bags feature a built-in antimicrobial to lock-in dirty...
This is the perfect time to set up a baby monitor. You can use your phone to watch the baby while you are out, which might allow you to enjoy your time away from home a bit more.
No products found.
Key Takeaways
There is nothing wrong with leaving an infant with a babysitter (friend, family member, or otherwise) from an early age.
Just make sure the sitter is capable of managing common issues that arise with babies.
What do you think is the earliest age you should leave a child with a babysitter? Tell us in the comments!
Find Top-Rated Babysitters in Your Area
If you're looking for a babysitter, this service can connect you to qualified babysitters who have been pre-vetted.
Have You Read These Articles?