10 Best Healthcare Jobs for Moms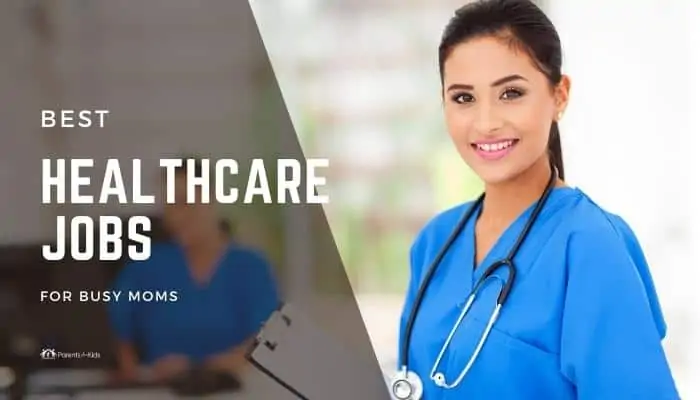 This post may contain affiliate links. If you buy through the link, I may earn a commission. Learn More.
Finding the right job as a mom can feel impossible. You want a job that motivates, inspires, and fulfills you.
You also need a job with a decent salary, benefits, and some flexibility. Luckily, many healthcare jobs meet all of those requirements and then some.
*FYI, some of the links in this article about the best healthcare jobs for moms may be affiliate links. If you click and make a purchase, we may get a commission (at no extra cost to you). For more info, please see our disclaimer.
10 Best Healthcare Jobs for Moms
Working in healthcare is ideal for many reasons.
Perhaps most notably, healthcare jobs are projected to grow faster than average for all occupations over the next 10 years.
Likewise, healthcare jobs pay well and tend to have good benefits.
1. Licensed Practical Nurse/Licensed Vocational Nurse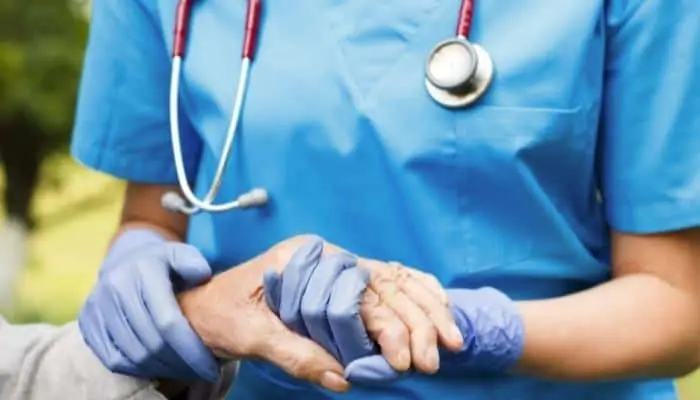 What You'll Do
A Licensed Practical Nurse (LPN), sometimes called a Licensed Vocational Nurse (LVN), is a nurse who works directly with patients.
LPNs carry out typical nursing duties like supplying medication, setting up intravenous drips, monitoring vitals, using medical equipment, and communicating with patients and their families.
LPNs may work in hospitals, clinics, nursing homes, private practices, or rehabilitation centers.
Why Moms Love It:
Making a difference in a patient's life is a reward in and of itself. However, there are many other reasons a mom might enjoy a job as an LPN.
Working as an LPN doesn't require a specialized college degree. You'll need certification from an accredited LPN program, which only takes about one year to complete.
LPNs also have very flexible work shifts, which is ideal for having children at home.
Income Potential
The average salary for an LPN is about $48,820 per year or about $23.47 per hour. This rate only increases the longer the LPN works in her facility.
Most hospitals offer benefits that include health insurance, paid time off, 401k plans, and tuition reimbursement. Likewise, being an LPN is a great stepping stone to becoming a registered nurse.
Related: Is Nursing a Good Career for Moms?
2. Registered Nurse
What You'll Do
A registered nurse (RN) provides direct patient care. An RN can conduct health screenings and create healthcare plans for patients.
In a large facility, like a hospital, a registered nurse might work with/supervise a team of LPNs and nurse aides. A registered nurse can work in a hospital, a clinic, a rehabilitation center, or a private practice.
Why Moms Love It
A mom can become a registered nurse in as little as two years.
You would need to take some prerequisites for RN school and complete an associate's nursing program. Afterward, you would need to pass the NCLEX-RN to become licensed as a registered nurse.
Pay and benefits are both excellent for RNs. They also have great career outlooks and plenty of growth on the horizon.
Income Potential
The average pay for a registered nurse is about $75,000 per year.
This amount varies based on how long the RN has been with her place of employment, her education and training level, various certifications, and location.
RNs enjoy benefits like health insurance, life insurance, and retirement plans.
Pro-Tip
Nursing is probably my favorite option for moms who want to get into the healthcare industry.

Compared to some other healthcare professions on this list, becoming a registered nurse doesn't take that long, and the job pays pretty well.

On top of that, there's a lot of jobs available to RNs in different areas of healthcare, and even if you do not want to do direct patient care, there are plenty of other opportunities available to you
3. Dental Hygienist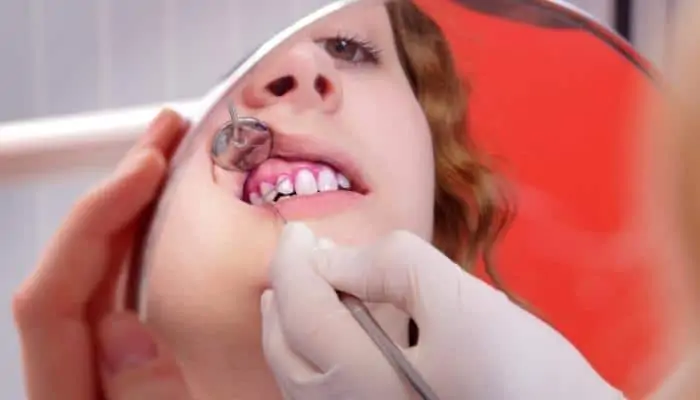 What You'll Do
Dental hygienists work in dental offices under the directions of the dentist.
They clean teeth, look for signs of disease, take x-rays and provide patient education. The requirements for becoming a dental hygienist and the type of work they're allowed to do vary from state to state.
Why Moms Love It
Dental hygienists can work either full- or part-time. It's possible only to work while children are in school.
Becoming a dental hygienist does require an Associate Degree, but much of this degree can be taken online. Dental hygienists are well paid and highly sought after.
Income Potential
A dental hygienist makes about $37 per hour or about $77,000 per year. Dental hygienists usually have excellent benefits as well.
4. Physician Assistant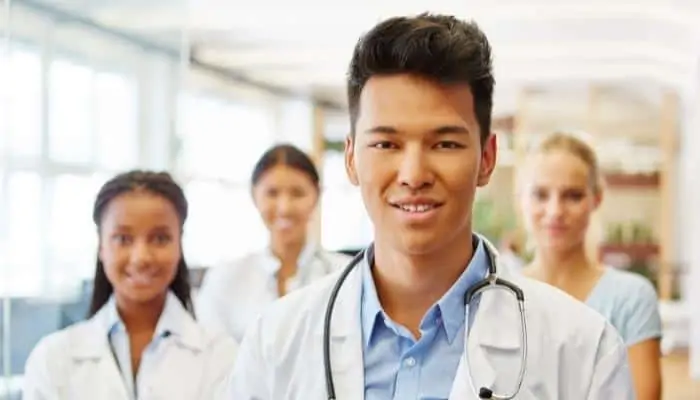 What You'll Do
A physician assistant (PA) works with physicians, nurses, and surgeons to provide medical care.
The physician assistant is not a doctor, but she can diagnose diseases, provide medical plans and prescribe medication.
The PA must do this under the supervision of a physician. PAs mainly work in hospitals, but they can work in private practices, clinics, or rehabilitation centers.
Why Moms Love It
Being a physician assistant is a high-income position that requires significantly less investment of time and money than medical school.
Most PAs can make their own schedules. It's not uncommon for a PA to work part-time.
A mom who already has an undergraduate degree can earn her master's in about two years.
Income Potential
The average pay for a Physician Assistant is about $55 per hour. Most full-time Physician Assistants make around $115,000 per year. Even working part-time, a mom can make an excellent income as a PA.
5. Physical Therapist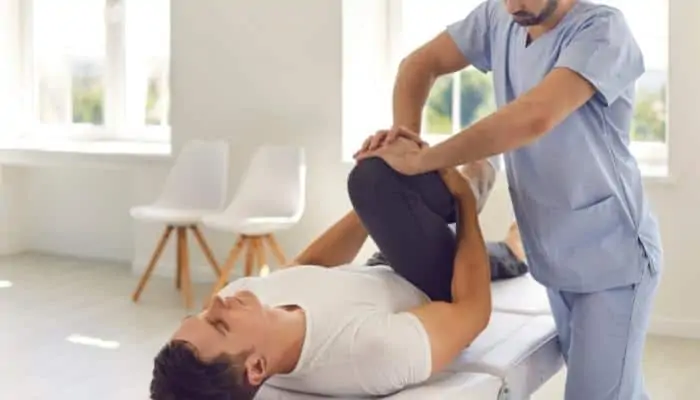 What You'll Do
Physical therapists (PT) work with patients who have been injured or who are ill. They help those patients to improve movement or mitigate pain.
They create treatment plans for patients, meet with them one-on-one and provide hands-on rehabilitation services.
A physical therapist may work in an office, a specialty clinic, or a patient's home.
Why Moms Love It
A physical therapist has job security that is projected to last for years. The Bureau of Labor Statistics shows that the need for physical therapists will grow by 21 percent over the next 10 years.
This job also offers a great deal of flexibility. Physical therapists can even start their own private practices.
Income Potential
A typical physical therapist makes about $91,000 per year or roughly $43 per hour. Physical therapists can charge by time spent or by session.
In addition to the salary made, physical therapists usually have excellent health and life insurance plans and a retirement savings plan, among other benefits.
6. Occupational Therapist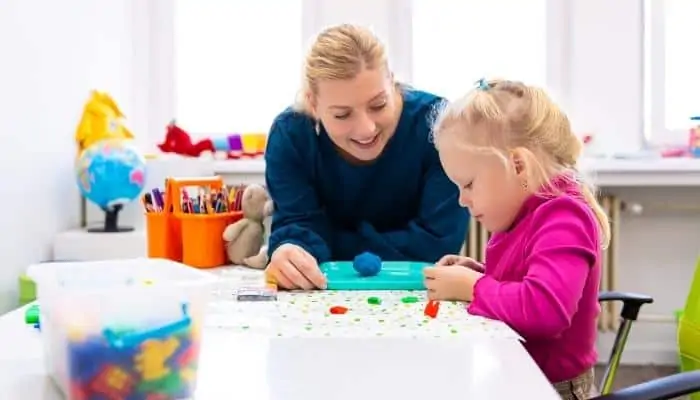 What You'll Do
An occupational therapist (OT) treats ill, injured, and disabled people to help develop or improve daily skills.
An occupational therapist will examine patients, evaluate their needs, develop treatment plans and assess patients as they pursue the plans set forth.
An occupational therapist might work in a hospital, a rehabilitation center, a nursing care facility, or a school. Some occupational therapists work directly in patient homes.
Why Moms Love It
An occupational therapist does not need to go to medical school or have a lengthy residency to begin working.
The work itself is rewarding and can be achieved with a master's degree and certification from the National Board for Certification in Occupational Therapy.
Moms are great occupational therapists because the job requires a lot of care, compassion, and patience.
Income Potential
Potential earnings as an occupational therapist largely depend on the work environment.
The highest-paid OT are those who work in nursing care facilities, which average at a salary of over $92,000.
Those who work in schools earn about $76,000, but it can be worth the lower wages to share the same schedule as school-age children.
7. Speech-Language Pathologist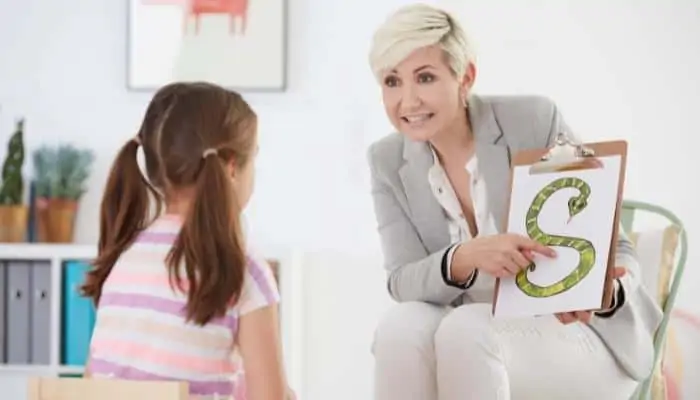 What You'll Do
A speech-language pathologist diagnoses and treats speech, communication, and swallowing disorders. They create treatment plans and work with those who need this type of therapy.
Most speech-language pathologists work in school environments. Some work for hospitals or clinics. A small number have their own private practices.
A speech-language pathologist is sometimes referred to as a speech therapist.
Why Moms Love It
Working in the school system has wonderful advantages for moms with school-age children.
Their hours closely match those of their children, they have the same days off, and they don't have to scramble to find childcare during snow days.
Moms who have their own private practices can arrange their schedules as they desire.
Income Potential
The average pay for a speech-language pathologist is about $80,000 per year. Those who work in public schools can expect to make about $71,000.
The highest-earning speech-language pathologists can make low six figures annually.
8. Registered Dietition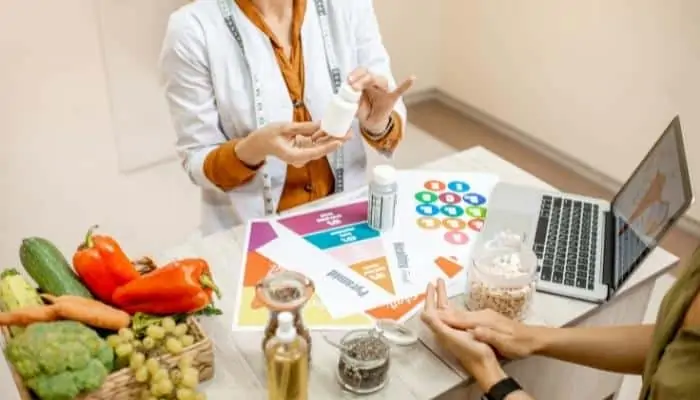 What You'll Do
A registered dietitian (RD) works with patients who need to change or improve their diet. This may be due to weight loss, food sensitivities, nutritional imbalances, or health concerns related to specific diseases and disorders.
Registered dietitians develop diet plans for their patients and then tweak them as needed. A registered dietitian must be educated in nutrition and be highly organized.
Becoming a registered dietitian varies by state, but licensing by the Commission on Dietetic Registration is always required.
Why Moms Love It
The information that accompanies being a registered dietitian helps moms ensure their families are always eating healthy foods.
The job is very flexible. Registered dietitians can work for hospitals, fitness centers, or government offices. They can also be self-employed.
A registered dietitian does not necessarily have to have an advanced degree, though salary does increase with more education.
Income Potential
Registered dietitians make, on average, between $60,000 and $70,000 per year. Those moms who prefer to work part-time can have a meaningful career and still make almost $40,000 annually.
9. Respiratory Therapist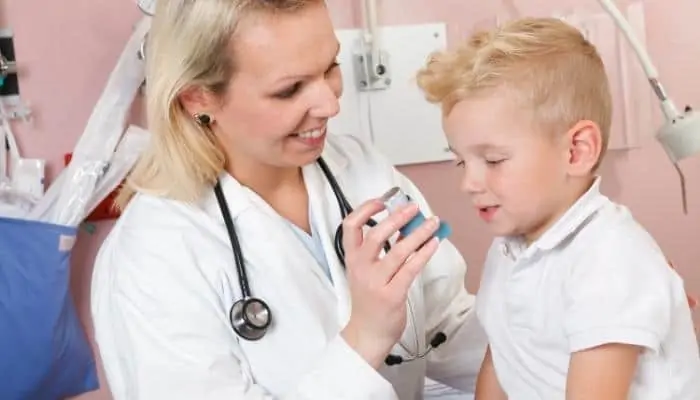 What You'll Do
A respiratory therapist (RT) works with patients who have difficulty breathing. This is usually due to chronic diseases or those with underdeveloped lungs.
A respiratory therapist might offer emergency care as well.
Duties include examining patients, performing diagnostic tests, treating patients, monitoring patients, and teaching them how to use equipment and medication at home.
Why Moms Love It
A respiratory therapist's job is very flexible. Most of these therapists work in hospitals, allowing therapists to set their own schedules.
Becoming a respiratory therapist is less time-consuming than many other professional medical jobs.
Most of these therapists only need an associate degree and completion of certification through the National Board for Respiratory Care.
Income Potential
Most respiratory therapists make a minimum of $45,000. The average pay for a respiratory therapist is about $63,000 regardless of the working environment.
Those who work full-time can expect a standard benefits package that includes insurance and 401k contributions.
10. Medical Coder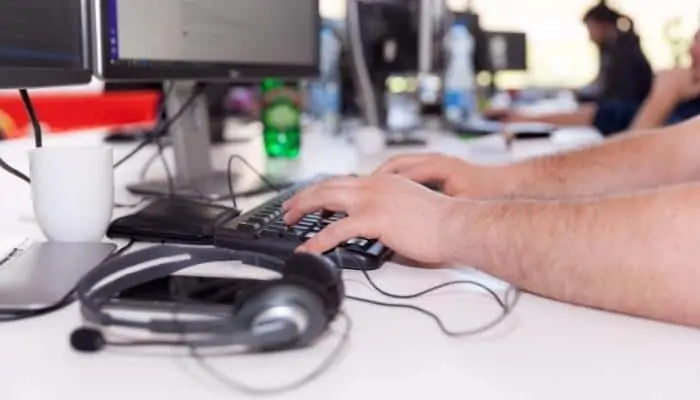 What You'll Do
A medical coder is a healthcare worker who updates patient records.
The medical coder assigns classification codes for every diagnosis, procedure, and medication for billing purposes and data management.
They must be able to maintain confidentiality and work with other medical professionals. Medical coders do not work directly with patients.
Why Moms Love It
Becoming a medical coder does not require any special education beyond some experience working in a hospital environment or completing a certificate in medical coding.
A mom who has little or no experience in healthcare can somewhat easily become a medical coder with the aid of some medical terminology courses.
Income Potential
The income potential for being a medical coder varies greatly depending on the work environment.
Those who work for the federal government may make up to $100,000 per year.
Medical coders in physician offices make about half that. Most medical coders work in hospitals where the average pay is about $52,000 per year.
Key Takeaway
All of these healthcare jobs offer rewarding work that makes a difference in the life of others.
Are you ready to seek a job in healthcare? Use our site to search for a school that will have you well on your way!
Have You Read These Yet?
Frequently Asked Questions