Can You Have a Baby Shower For Your Second and Third Baby?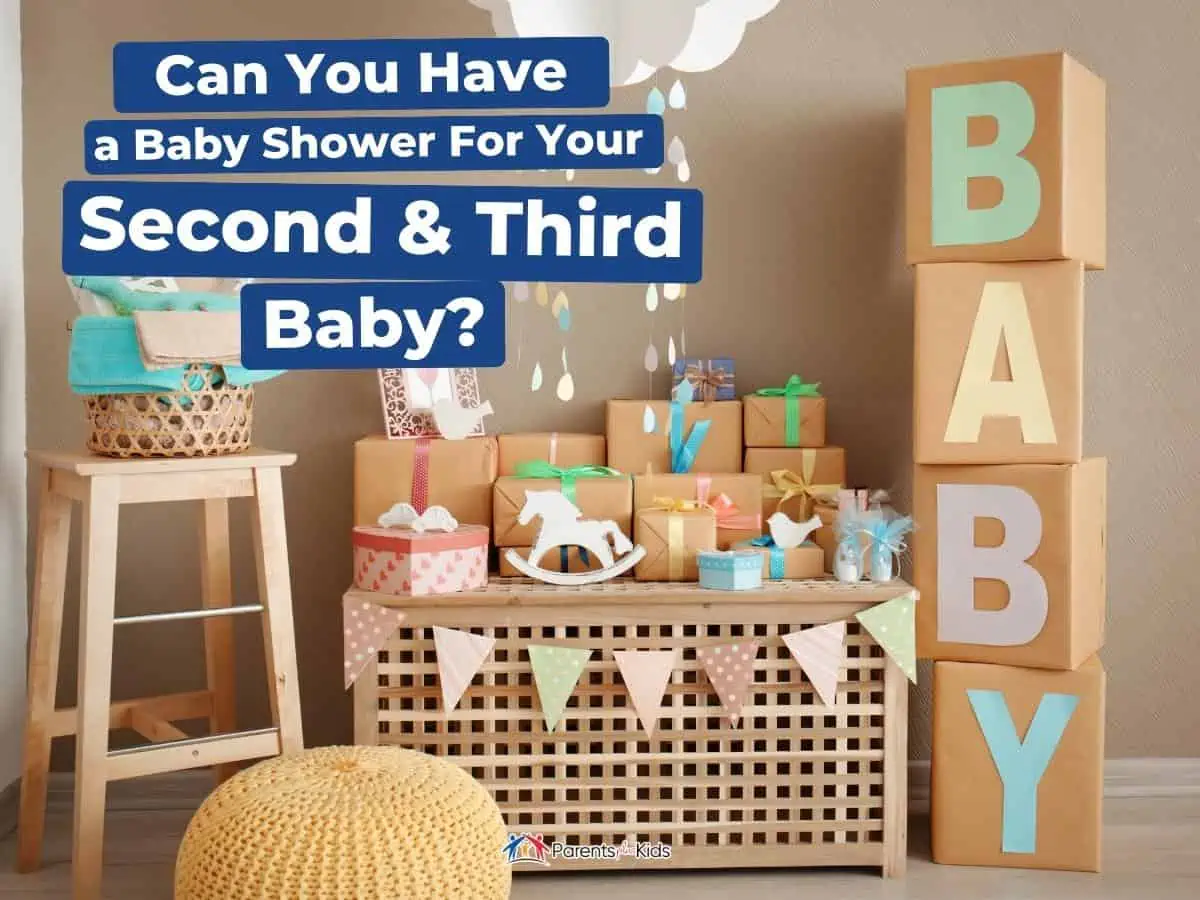 This post may contain affiliate links. If you buy through the link, I may earn a commission. Learn More.
The purpose of a baby shower is to give a new family everything they might need in order to welcome the baby.
It relieves some of the family's financial burden and allows friends to gather in celebration.
Does this mean a shower should be reserved only for the firstborn?
Can You Have a Baby Shower For Your Second or Third Baby?
Yes. You can have a shower for every baby if you like. Many times, showers for second babies focus more on the celebration than on the gifts. There will be those who think a second or third baby shower is tacky or inappropriate. Be prepared for this but don't let it hinder your party.
Why Have a Baby Shower?
New parents are under a great deal of stress. You have never raised a child before.
You may have read all of the books and watched the right videos, but it is still terrifying to know that you will soon be in charge of keeping an entire, defenseless person alive.
At the same time that you are preparing yourself for this new reality, you need to:
A baby shower helps by providing you with items that you would otherwise have to purchase yourself.
It relieves some of the expenses while also giving friends and family a way to help while they celebrate.
It also, theoretically, saves you some time. Ideally, items given at a baby shower are necessities that can be reused for growing families.
Some of these items may include:
Reasons For Having a Second Baby Shower
Many people believe that a baby shower is not needed for a second child. This is because you should, theoretically, already have the supplies needed for baby number two.
Many items, like cribs, swings and play yards, can be reused.
Your second baby can wear hand-me-downs from baby number one. You should also have a steady supply of bottles and pacifiers.
There are situations in which this isn't the case.
1. Children Are Born Far Apart
One instance is time. If your children are born far enough apart, you may have donated or sold your old baby items.
A baby shower would be both useful and understandable in this instance.
2. Gender Differences
Another situation that may justify a second baby shower is gender. Though gender-neutral clothing and decor are on the rise, some people still like to stick to traditional gender roles for their children.
A parent who had a son and is expecting a daughter, or vice versa, might want another shower to focus on this second child.
While I won't get into the rights or wrongs of gendered clothing versus gender neutral, I will tell you that you might face some blowback if this is your reason for having a second shower.
There are those who believe that children should be raised in a gender-neutral environment, and they will not be afraid to tell you as much.
Be prepared to share the reason for your choice in a respectful way and, hopefully, agree to disagree.
3. Some Items Are Expired
A third reason to have a second baby shower is to replace items that can no longer be used.
For example, car seats have expiration dates. You should not reuse a car seat or booster seat that is past its prime.
If your children are born close together, your oldest may still be in their car seat, which means you will need a second one.
Your crib may also be an issue.
The CPSC regularly approves new safety guidelines for cribs. This happened between the births of my two children when drop-side cribs went from being everywhere to being banned.
Other items you might need are disposable items like wipes, diapers and formula (if you plan to use it).
Additional Showers for a Growing Family
It is not common to have a baby shower for a third child, but it does happen. I recently attended a baby shower for a neighbor's third daughter.
She already had everything she needed for her baby and didn't particularly want a shower. However, when friends and family insisted, she went along with the celebration.
She asked that it be called a shower in name only as she had neither the need nor the space for more baby supplies.
Instead, the invitations included a registry for a local women's and children's shelter. Items were purchased, brought to the shower, and then donated en masse.
We still played the typical baby shower games, ate cake, and had a great time.
In a completely different situation, I attended a shower for a friend's second child. She had a full registry with all of the supplies one would need for a new baby.
When I inquired about this, she said that she only wanted new items for her new baby. It didn't sit right with her to reuse another child's special toys or clothing.
She registered for a new travel system, an expensive breast pump, and even a changing table.
She received all of these items and more, much to her delight. However, she did the same with her third baby shower.
By the fourth, her wishful registry remained unfulfilled as many of her friends and family members suggested it was okay to reuse furniture for multiple children.
The lesson here may be that baby showers for third or fourth children can be fun, but attendees might feel as though you are being wasteful, greedy or both.
A better option might be to have a party with no mention of gifts. When my second child was born, rather than having a shower, I had a Sip and See.
After the baby was born, friends and family were invited to meet her and celebrate with us. I had the event catered but kept it very casual.
Gifts were neither suggested nor expected. A good time was had by all.
Who Throws the Baby Shower?
The question about whether or not you should have a second or third baby shower may not be up to you.
Traditionally, baby showers are thrown by a friend of the mother-to-be. It is rare for a pregnant mom to throw a baby shower for herself.
Etiquette rules have long dictated that family should not throw the shower but those rules are rapidly changing.
Is it okay for a pregnant mom to ask for a baby shower? It may be considered rude by some, but if a mom truly needs a shower, she shouldn't feel obligated to stay quiet.
However, you should consider if you do need the shower or if you just want one.
Your party guests might feel obligated to attend but they won't all be happy about it.
Key Takeaways
A second baby shower can be fun, but it should not be considered a necessity. Think it through before you allow a shower to be held on your behalf.
If you decide against it, consider a Sip and See instead. What are your thoughts? Share them in the comments!
Have You Read These Yet?