15 Things You Need to Babyproof TODAY! A Parent's Checklist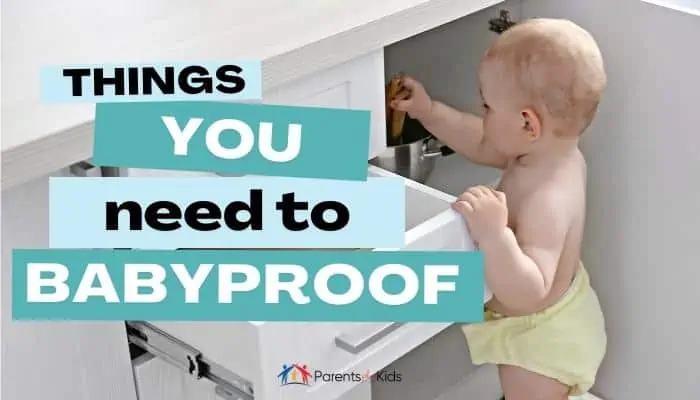 This post may contain affiliate links. If you buy through the link, I may earn a commission. Learn More.
You must babyproof your home, and you must do so now.
Ideally, babyproofing will have happened well before your child is born.
The last thing you need to do is figure out how to set up cabinet locks while you're breastfeeding.
The following are items that absolutely must be babyproofed.
*FYI, some links in this article about the baby proofing checklist may be affiliate links. If you click and make a purchase, we may get a commission (at no extra cost to you). For more info, please see our disclaimer.
Baby Proofing Checklist
Fifteen items feel like a lot. Once you get started, it goes very quickly.
Plus, you'll be so happy you babyproofed now instead of waiting until your child is crawling and you can no longer keep up.
Buy a Baby Baby Proofing Checklist
If you want a handy checklist you can just print and start using get this one. You'll get it immediately after purchase and you can start using it right way.
1. Kitchen: Cabinets
Cabinet locks are useful tools that keep your baby from opening a kitchen cabinet that may have dangerous items inside.
While it's better to move those things out of reach, it is sometimes not possible.
These child safety locks work great at keeping doors and drawers safely locked at all times.
2. Dining Room: China Cabinet
My china cabinet contains all of the china that has been passed down through my family.
It's very important to me that it stays in excellent shape. A child opening the china cabinet door might be intrigued by the china. It is far too delicate and far too precious to risk.
If you have the same situation, you need to put cabinet locks on your china cabinet's low doors and any drawers.
3. Dining Room: Drinks
Some families keep their alcoholic drinks in the kitchen. Others keep them in the dining room.
Wherever you keep yours, they need to be moved to a high cabinet that's out of a young child's reach.
Never allow a young child access to alcohol, as even a small amount can cause serious complications.
4. Living Room: Valuables
If you have valuable items on display that you don't want to see broken, put them in the locking china cabinet.
Babies start crawling, pulling themselves up, and walking when you least expect it.
Don't risk any of your delicate valuables by leaving them out to be grabbed onto and broken.
5. Living Room: Sharp Corners
Coffee tables and end tables often have very sharp corners that wreak havoc on a baby's delicate skin when they inevitably fall directly on those sharp edges.
Use a foam guard and corner pieces to soften the blow every time the baby walks into the side of the piano or fireplace.
6. Hallways: Stairwell
Place a safety gate at the top and bottom of each stairwell. The last thing you need is for your child to climb some steps only to topple down them again and again. You can also choose a safety gate and fence, which blocks off as much space as you want or need.
7. Hallways: Doors
Doorknob covers keep children from entering rooms that you would prefer they ignore.
For example, my daughter's nursery just so happened to have a door that leads to a storage area.
That wasn't ideal, but we found a solution with these door knob covers.
We put one in the storage area as well as her closet. We then made sure our bathroom and bedroom doors all had knob covers.
8. Bedroom: Tall Furniture
Tall furniture must be anchored to the wall.
This prevents the tall piece of furniture from falling over and crushing the child. Bookshelves, armoires, and certain dressers are the primary culprits.
9. Bedroom: Crib
A crib is where your baby sleeps, but it's also a place where they spend many happy hours playing.
Make sure your crib is fully babyproofed before placing your child inside it. The crib sheet must perfectly fit the mattress, leaving no room for error.
All stuffed animals and pillows need to be outside the crib when your baby is sleeping to help prevent SIDS.
10. Bedroom: Changing Table
The changing table is arguably where your child will spend most of their young lives. Ensure the table is fully secure and not at all wobbly.
The mattress should both fit and strap into the changing table.
To keep your little one safest, make sure you have all of the supplies you need at your fingertips at this table. You cannot leave your child unattended on a changing table even for a second.
Therefore, the best way to babyproof a changing table is to make sure it is well stocked and clean.
11. Bathroom: Toilet
You have a couple of options when it comes to the toilet.
You can either use a toilet locking mechanism or you can keep the bathroom doors shut with knob covers.
The toilet locking mechanism works by making it almost impossible for young fingers to reach inside the toilet.
Unfortunately, it's also difficult for adults. That's why my husband and I chose to simply shut the door and use knob covers on each of our bathrooms.
12. Bathroom: Medicine Cabinet
Your medicine cabinet needs to be in a place where children cannot access it.
As they get older, they might get curious about certain medicines and decide to give them a try.
A child can do some serious damage to themselves when they see little pills that look like candy. Avoid that situation by putting all medicines in a locking medicine cabinet.
13. Garage: Tools
Hopefully, your baby isn't spending a lot of time in your garage.
Garages are notorious for being cold, musty, and home to the occasional mouse or rat.
If your child is in your garage, you will want to have already planned for this situation. Tools should be in a locking toolbox with a key only you have.
Once they are old enough, children should be allowed to use tools as much as they like, but that doesn't happen until at least around age eight years old.
14. Miscellaneous: Cables
Move cables out of the way so children can't trip over them, pull them or put them in their mouths.
You can use a cable management sleeve to put them all in order.
15. Miscellaneous: Outlets
Outlet covers keep children from putting pennies or paperclips into an outlet just to see what happens.
Put outlet covers on every outlet in your home. Feel free to leave them there even after your children have grown.
Why Is It Only 15 items?
There are huge baby-proofing checklists out there that will list a million things parents need babyproof.
While I do think there's some merit in some of those lists, the truth is most of you will not do those things primarily from feeling overwhelmed at such an exhaustive list.
Furthermore, many of the items listed in those massive lists won't apply to most parents.
Because of that, I went with a different approach.
I decided to follow the 80-20 rule and focus on the high yield activities.
In other words, this article focuses on the child-proofing activities that I think will yield the biggest results instead of including all the small ones.
Key Takeaways
This list includes all of those household places that must be babyproofed before your child is old enough to get into trouble.
Can you think of any others? Are there easier ways to babyproof than what is listed here? If so, please share your babyproofing tip in the comments!
Have You Read These Yet?
Frequently Asked Questions