Can You Childproof an iPhone? Here's How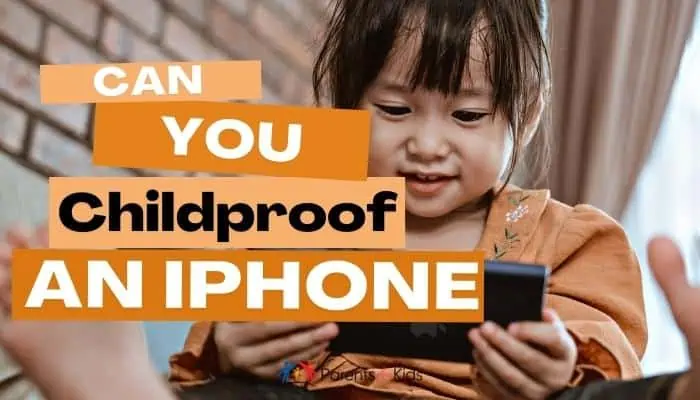 This post may contain affiliate links. If you buy through the link, I may earn a commission. Learn More.
I bought phones for each of my children when they turned 10.
I wanted them to be able to easily contact me when they were at their extracurricular activities or sleepovers.
I also made sure the phones were childproofed before they put their hands on them.
*FYI, some of the links in this article about can you childproof an iPhone may be affiliate links. If you click and make a purchase, we may get a commission (at no extra cost to you). For more info, please see our disclaimer.
Can You Childproof an iPhone?
You can and should childproof your iPhone. Whether it's the child's phone or your phone that you let them play with on occasion, make sure children cannot access inappropriate or dangerous material. Also, use childproofing to keep them from making purchases through online marketplaces or games.
You might not feel like childproofing is necessary, but it is. Here are ways you can kid-proof your iPhone.
1. Guided Access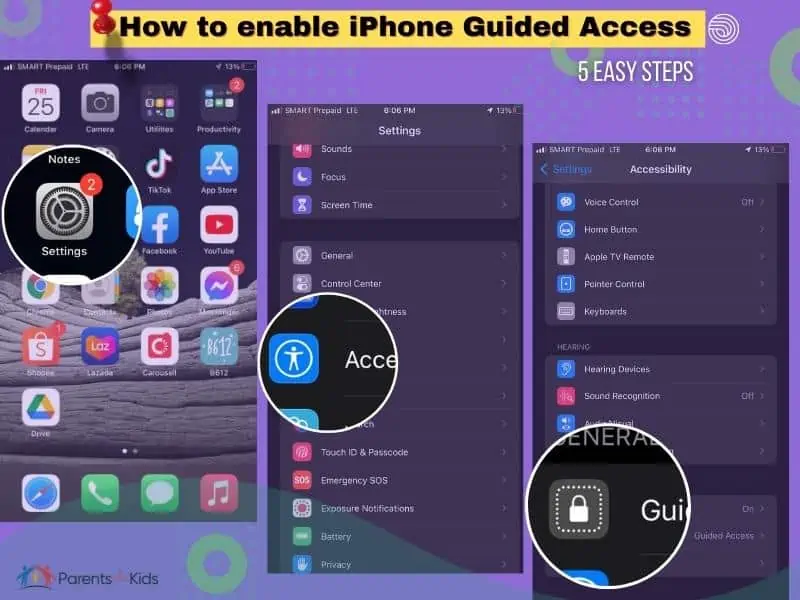 Guided Access is an iOS feature that disables components of the phone and locks certain areas of the screen.
This is useful for those times when you allow your child to watch a video on your phone but don't want them to be able to search outside of that video.
Setting up Guided Access is as simple as going to settings, general, accessibility, and guided access.
Simply tap to turn it on.
You will need to use your passcode, Touch ID, or Face ID to turn it back off again when you are ready.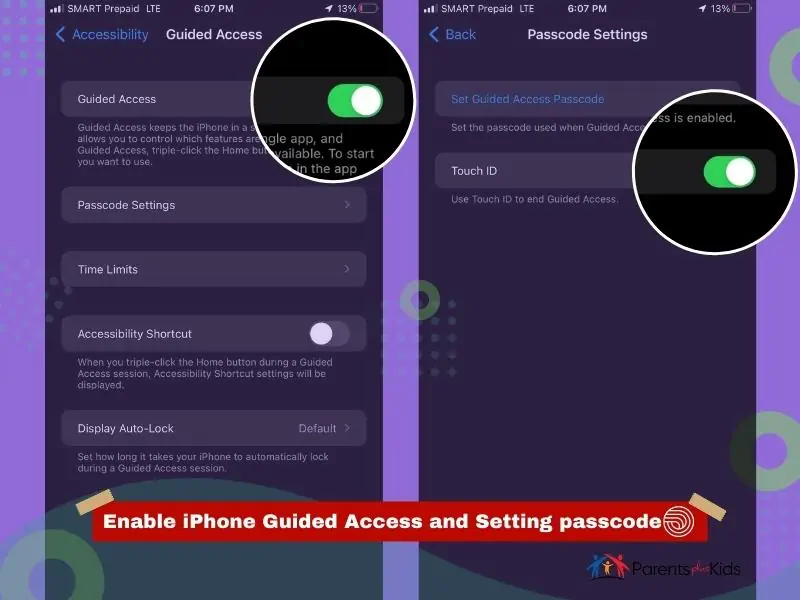 Guided Access is great because you can choose which areas of the screen you don't want your child to interact with.
You can keep them from accessing your email, scrolling through the internet, or playing certain games.
You can also set a time limit that locks the screen after a while. This is very useful for limiting screentime.
2. Blocking App Store Purchases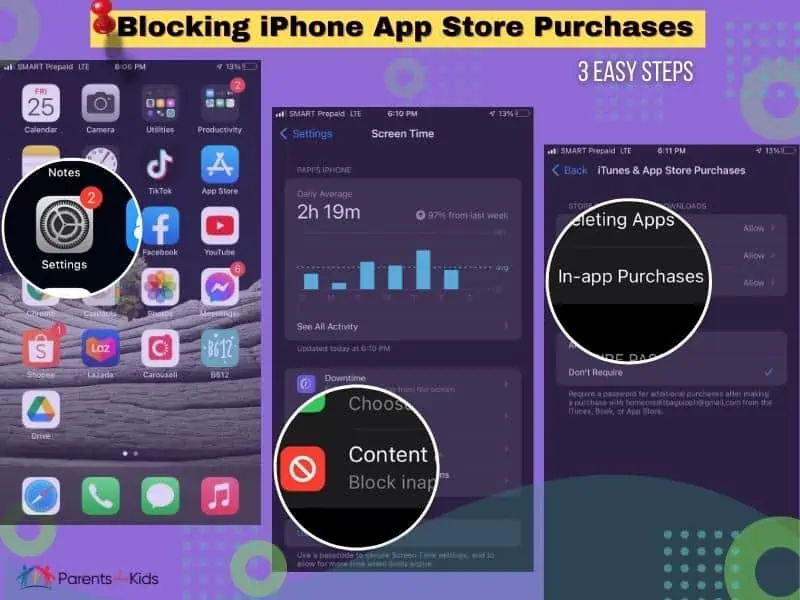 If your children are anything like mine, they always want to download new apps. Keep this from happening by restricting all app store purchases.
Go to settings, screen time, and content & privacy restrictions. From here, you can choose which restrictions you wish to place on your child's usage.
App Store purchases and even certain apps can be restricted from here. They can be blocked altogether or require a password for purchases.
3. Blocking Adult Content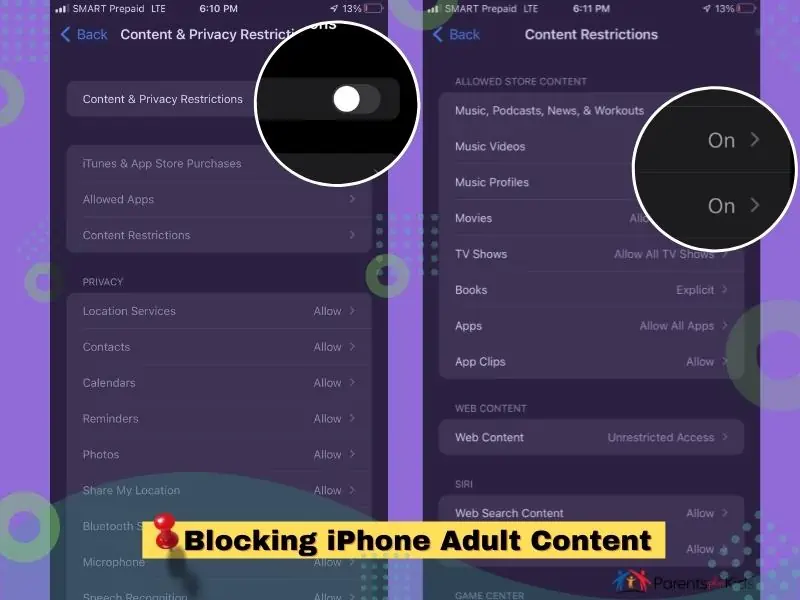 Follow the same guidelines for blocking app store purchases and look for content restrictions.
It will take some time, but it is worth the effort. You can decide where to restrict content and what kind of content to restrict.
This will include books, movies, gaming, and internet scrolling. You can even block multiplayer or online role-playing games.
4. iPhone Restriction Reminders
After a while, you can ease into giving your children more access to different types of content.
For example, the content that is appropriate for a 10-year-old is not the same as what you might allow them to see when they turn 14. Keep revisiting the restrictions as your children age.
One Final Note:
Blocking content on your child's iPhone does not mean they won't encounter things you don't want them to see.

As long as they have friends who have unrestricted access, they will be exposed to anything and everything the internet has to offer.

That doesn't mean you should give up trying to childproof the iPhone.

It does mean that you need to continue having conversations with your children about what is and is not appropriate.
Key Takeaways
A child with access to an iPhone has access to the full internet. Childproofing is not just possible; it is absolutely necessary. As your child gets older, you can remove some or all the childproof.
Does your child have an iPhone? Do you let them use yours? How will you childproof it? Tell us in the comments!
Have You Read These Yet?