When Should Parents Start Babyproofing Their Home?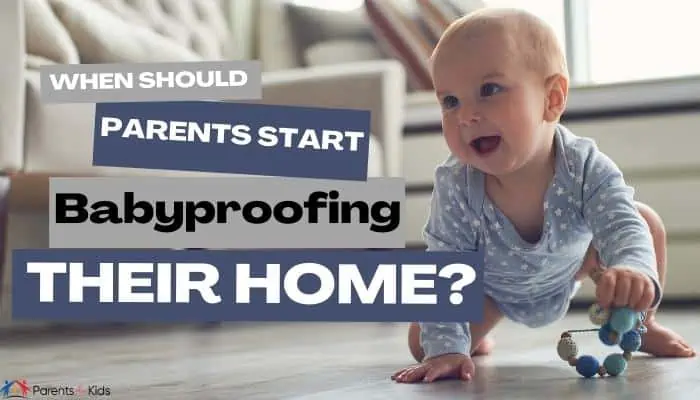 This post may contain affiliate links. If you buy through the link, I may earn a commission. Learn More.
One of the best pieces of advice I received when I was pregnant was to babyproof my home before the child was born.
Once the baby comes, you have almost no time to yourself for at least 15 years. Get childproofing out of the way as soon as possible.
*FYI, some of the links in this article about what age should you baby proof may be affiliate links. If you click and make a purchase, we may get a commission (at no extra cost to you). For more info, please see our disclaimer.
When Should You Begin Babyproofing?
The ideal time to start babyproofing your home is around the beginning of the third trimester. Most women begin nesting, which is a biological imperative to prepare the home for the baby. Childproofing the house is a great way to put that feeling to use.
Can You Babyproof Too Early?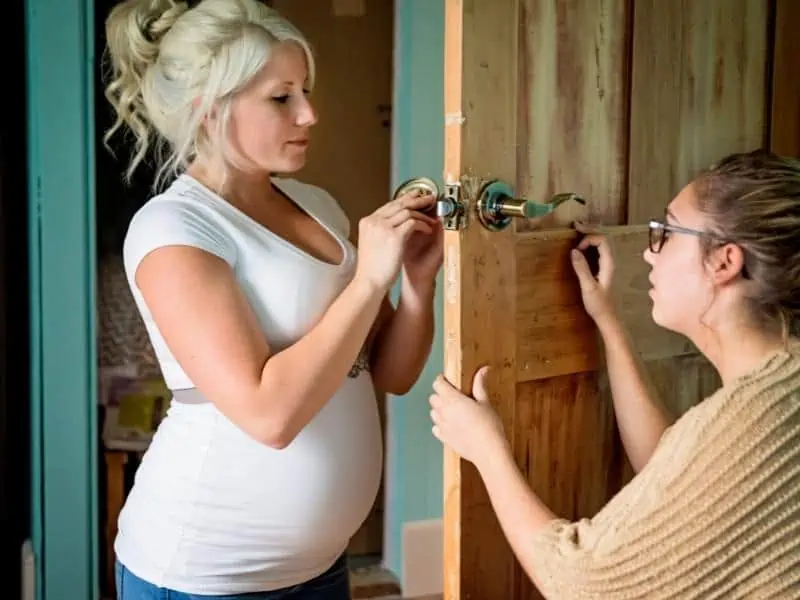 I had two miscarriages before my son was born. Some may call it superstition, but after those early miscarriages, I decided not to make any solid plans or schemes until I reached the third trimester.
Waiting to babyproof doesn't make a miscarriage any less tragic, but it does offer one less thing that needs to be undone if the pregnancy doesn't reach term.
Another reason not to babyproof too soon is a matter of convenience. I had hyperemesis gravidarum with both of my full-term pregnancies.
Even when I was on ondansetron, a pill that squelches nausea, I had to make regular emergency visits to the toilet. Having it babyproofed would have caused some majorly messy problems.
While you might not develop dangerous morning sickness, you probably will have at least a few weeks of queasiness. It's best not to mess with babyproofing while you're still trying to get through the early stages of pregnancy.
You Could Babyproof in Stages
You could babyproof everything all at once, or you can take it slowly and babyproof as you feel the energy to do so.
Truthfully, babyproofing doesn't take that long. In my home, my husband and I decided to only babyproof a couple of rooms.
We removed breakable items from the living room, put security gates on the doors leading in and out of the room, and put corner protectors on all of the sharp areas.
Sale
Extra Wide Walk Thru Baby Gate
EXTRA WIDE: Expands to fit openings between 29-34 and 35-38.5 inches wide. Stands 30 inches tall....
EASY TO USE AND SET UP: Pressure mount design that is quick to set up. Please note, before...
The other room we babyproofed was the baby's nursery. We put safety covers on the bedroom door and the closet door. We removed the Venetian blinds so that the baby wouldn't get tangled in the cord, and we secured the large bookshelf to the wall.
EUDEMON 6 Pack Baby Safety Door Knob Covers
★Special Design---Special double button design with soft TPR material increased friction with the...
★Easy Installation/Removal---No Adhesive, no drill and tools need,no harm to the door.Take off the...
In addition to those two rooms, we also gated the stairs, put edge bumpers on the fireplace, and covered all outlets.
Instead of putting locks on cabinet doors, we removed anything dangerous from low cabinets and put them up high where the baby wouldn't be able to reach them.
All of these measures took only a few hours, with my husband and I working together. If you plan to babyproof every room, you should plan to do one room at a time over the course of a couple of weeks.
Consider Hiring a Babyproofer
You can choose to hire a professional to install babyproofing throughout your home.
They will put up the gates, install cabinet locks, install a toilet lid lock, cover all of the outlets, make recommendations about electrical cords and remove small items that a crawling baby might try to swallow.
Hiring a professional is worth the expense for some families, especially those that both parents work outside of the home. They might notice things you don't. They may even make recommendations about babyproofing outdoors.
Key Takeaways
Babyproofing is not hard if you have a little bit of time and money to invest in a few small supplies. It's hard if you don't start babyproofing until you have a crawling baby to chase.
When do you plan to start babyproofing? Tell us in the comments!
Have You Read These Yet
Frequently Asked Questions