How to Baby Proof Your Bathroom (Detailed Step-by-Step Guide)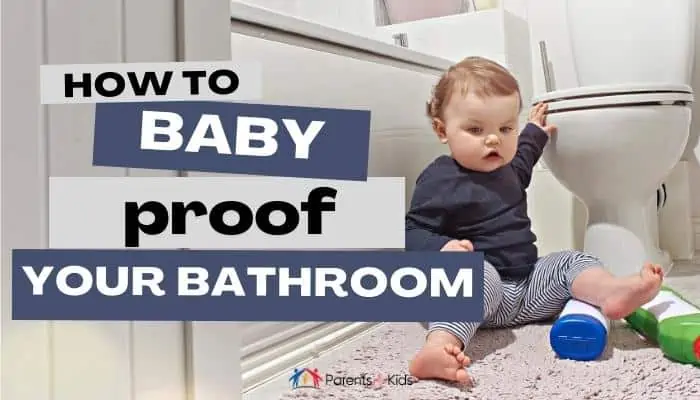 This post may contain affiliate links. If you buy through the link, I may earn a commission. Learn More.
The bathroom is arguably the most difficult part of the house to babyproof.
For most families, everything in the bathroom is used on a daily basis. Locking down regularly needed items can be annoying while avoiding babyproofing can be dangerous.
Follow this step-by-step guide for easy babyproofing that minimizes frustration.
*FYI, some of the links in this article about how to baby proof your bathroom may be affiliate links. If you click and make a purchase, we may get a commission (at no extra cost to you). For more info, please see our disclaimer.
How to Babyproof Your Bathroom
Babyproofing a bathroom needs to be done one step at a time due to the high likelihood of injury from numerous objects. Secure all cabinets, toilets, outlets, and faucets. Ensure rugs are firm and medicines are stored where children cannot reach them.
Materials Needed
Safety proofing does require a few materials. Most are inexpensive and easy to install.
If cost is a factor, add these items to your baby shower registry. Most people are eager to help you secure your home for the little one who is on the way.
Step 1: Secure the Rug(s)
Most bathrooms have rugs to keep feet warm and cushion falls. There are two problems with these rugs.
First, the rug can slip and slide, which can cause additional dangers.
Second, these rugs are breeding grounds for bacteria. Use rug grippers on the bottom of each rug to keep them in place and learn how to clean bath mats.
Step 2: Restrict Trash Can Access
Babies and toddlers are fascinated by trash cans.
Unfortunately, they can get into very dangerous items.
Razors, discarded medication, and personal hygiene items are all easily accessed through the garbage. Look for a hands-free trash can that is difficult for toddlers to use.
Another option is to place the small refuse can in a cabinet and use a cabinet latch to keep it secure.
Step 3: Appliances and Cords
Blow dryers, curling irons, straightening wands and electric razors are all items that are regularly used in the bathroom.
Keep those stowed in a secured cabinet when not in use.
Use outlet covers to keep little fingers away from holes. Large outlet box covers leave room for appliances that need to be plugged in.
If you use a power strip, you can choose a power strip cover instead. Also, make sure your outlets are properly grounded.
Step 4: Stow Medications
Medications, cosmetics, cleansers, and toiletries can all be toxic to babies.
Either place all of them in cabinets that children cannot reach or put them in locking cabinets or drawers.
Another option for medications is to use a combination lockbox for medication.
Step 5: Safe Bathing
The bathtub and shower offer a host of issues waiting to happen.
Make sure bathtime is safe by having a spout cover that keeps little heads from getting bonked when they play in the tub.
Put down a bathtub mat to help little feet avoid slipping. A drain cover protects their fingers from possible cuts.
If you have a shower with a sliding door, use sliding door locks to keep that door in place.
Lastly, a bath kneeler is a good option for those who are very worried about children falling into the side of the bathtub.
Step 6: Toilet Concerns
Opening the toilet lid and closing it again is a really good way for a child to end up with damaged fingers, hands, and arms.
An open toilet is a drowning hazard.
Less dangerous but still frustrating is the action of hiring a plumber because your child flushed your car keys down the toilet.
Avoid all of this with a toilet lid lock.
Step 7: Miscellaneous Bathroom Safety
Aside from these standard issues, look for any sharp corners and cover them with corner protectors.
Remove any surplus items that could be interesting to your baby.
Finally, cover the doorknob with a toddler lock that will keep them from getting into the bathroom in the first place.
Key Takeaways
Your baby's safety is your number one priority. Don't be one of the many families rushing children to the emergency room for avoidable bathroom accidents.
How will you childproof your home? Is there anything we left out? Tell us about your experiences in the comments!
Have You Read These Yet?
Frequently Asked Questions