25 Awesome Care Package Ideas For New Moms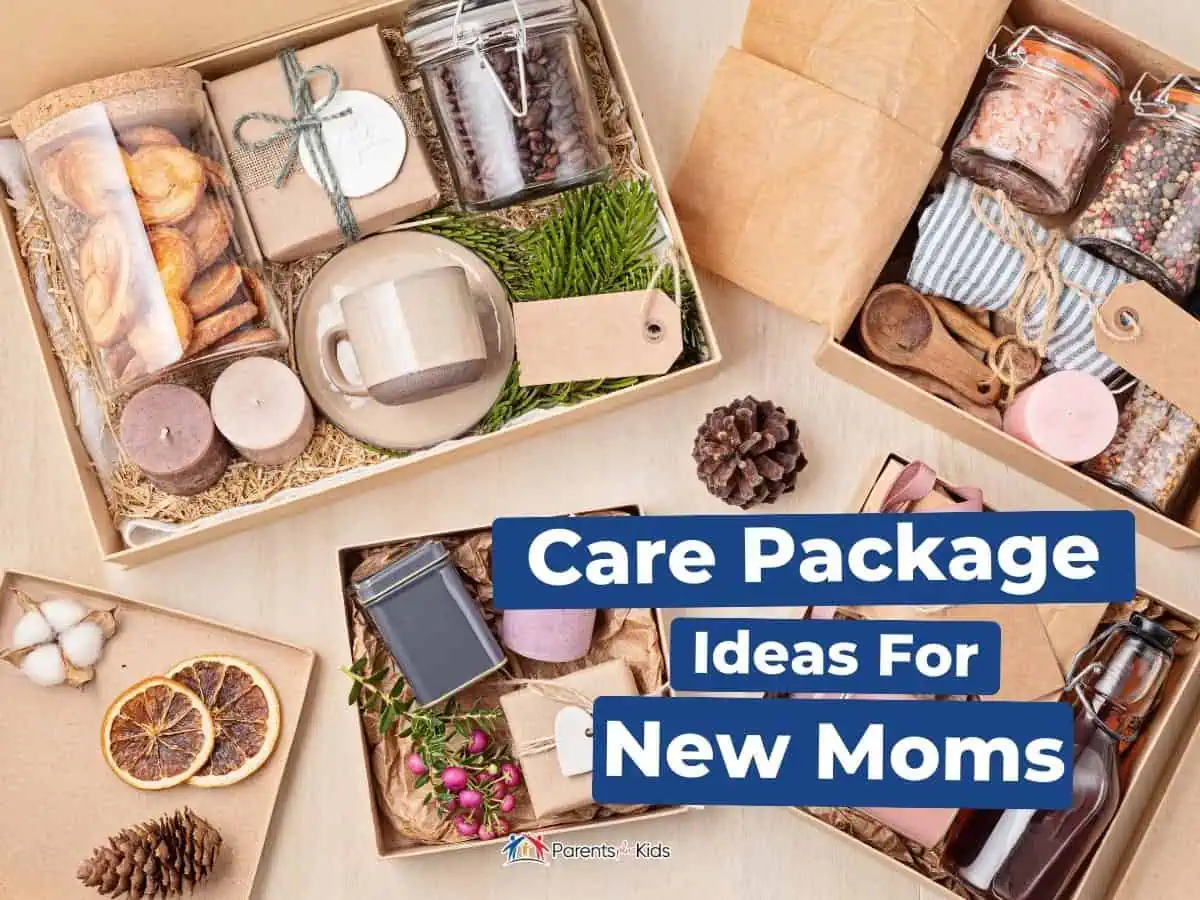 This post may contain affiliate links. If you buy through the link, I may earn a commission. Learn More.
A new mom is under a lot of pressure.
Not only has she just undergone a major medical event, but she also has an entire person who is completely dependent on her.
A care package is the perfect way to show a new mom that she deserves some TLC.
Good Care Package Ideas For New Moms
Baby showers almost always focus entirely on the baby.
This is why they exist.
Arguably, new parents don't have the supplies they need for a new baby, which is why they need to be showered with gifts.
Still, a new mom has a huge burden and can feel both overworked and underlooked.
A care package can be a small thing, but it will be greatly appreciated.
Start your care package by getting the right container. Choose a gorgeous basket, or get a little creative.
I love to give care packages in reusable, practical containers. Consider a large market tote, a small laundry basket or a fun canister.
1. The Relaxing Bath Box
My favorite care package to give and receive is a bath set. I love soaking in a hot tub and letting my cares fade away.
I usually include handmade soaps, bath bombs, bath salts, and bath oils along with scrubbers and a bath pillow.
However, many new moms need to avoid bathing for a time period after they give birth.
Due to tearing or incisions, they might have to stick to showers. In this instance, add a set of shower fizzies to use until they can enjoy the bath.
2. Healthy Snack Package
Snacks offer good support for new moms who don't always have time to take care of themselves.
Make sure you choose healthy snacks rather than junk food. You can curate these snacks yourself or you can let Amazon do it for you.
Keep the new mom's food habits and special dietary needs in mind.
As someone with a lot of food allergies, there is nothing more frustrating than when someone gives me a thoughtful package of delicious looking food that I cannot eat.
Common food allergies are tree nuts, peanuts, wheat, dairy, eggs, soy, and seafood.
However, there are those of us who are allergic to random things that no one else would ever guess.
For instance, I am allergic to tree nuts, chickpeas and almost all fruit, including tomatoes and avocado.
Check with the new mom's family to make sure she doesn't have food allergies but don't stop there. She could also have food aversions.
Don't give a new mom food that she dislikes. This is a care package so it should make her feel good.
One last note about food packages: Choose items with care if the new mom is breastfeeding. Fish, caffeine and certain spices can cause negative reactions with the milk.
3. Book Basket
A book basket is a fun idea. Include one helpful book, one funny book, and one trashy romance.
Add a beautiful bookmark and you have given this new mom a cherished gift basket.
One word of note: Not everyone will appreciate the trashy romance novel.
If you think this new mom would toss it to the side, replace it with a classic novel or even a series of magazines.
4. Cozy Blankets
My belief is that one can never have too many cozy blankets.
I want to have one near me at all times, no matter where I am or what I'm doing.
A soft blanket is always welcome on its own but it can be part of a gift basket that focuses on comfort.
A blanket gift set that includes a soft pillow and a wearable blanket will be greatly appreciated.
5. The Spa Set
The great thing about giving a spa set as a care package is that it can be tailor made for the new mom.
You can include a gift certificate to a local spa along with a handwritten note offering babysitting services.
Include face masks, wooden massagers, spa slippers or any other items you think she may find relaxing.
6. Jewelry Gift Set
Not every gift basket needs to be about serving a purpose.
Sometimes, you give a gift because it's something the new mom wants, not something she needs. Jewelry often falls into that category.
This new mom might appreciate a gorgeous handmade pendant or a personalized ring.
A popular choice with new moms is teething jewelry that is safe for curious babies to put in their mouths.
7. Tea Basket
A tea basket is a wonderful choice for moms who are willing and/or able to drink caffeine while they are breastfeeding.
Most professionals argue against caffeine while nursing.
Most moms desperately need caffeine. It's up to you to decide where you want to fall in this debate.
One of my favorite gifts is blooming tea.It's natural, it's beautiful and it's relaxing.
You can also add some herbal tea packets and a vintage tea cup.
8. Journaling Package
The new mom has a lot of thoughts and feelings. Why not give her an outlet for these new emotions and ideas?
Choose a beautiful journal and a set of pens.
Is your friend more interested in sketching her feelings than writing them down?
Give her a sketchbook and drawing pens or a watercolor journal and a set of brush pens.
9. Wine and Cheese
Do not give a wine and cheese basket to a mom who is breastfeeding. Drinking wine requires a pump-and-dump, which is no fun.
Many cheeses are fine to eat, but some can cause gas in new babies.
Certain imported soft cheeses might contain a harmful bacteria due to lack of pasteurization.
On the other hand, a mom who cannot breastfeed may truly appreciate a gift of wine and cheese.
These moms often feel as though they are missing out on an important experience.
Reminding them of the things they can enjoy that breastfeeding moms can't might be the most thoughtful gift of all.
Choose a lovely bottle of wine (or three) and a selection of favorite cheeses with crackers. Add a wine glass and you have the perfect care package.
10. Aromatherapy
I love aromatherapy. I use aromatherapy every day.
I use peppermint for headaches, ylang ylang for stress, and orange for energy.
Choose from a selection of oils and add a diffuser to the care package.
You can even include a guide for essential oils so the new mom has all of the information about aromatherapy at her fingertips.
11. Yoga for New Moms
I am a yogi, so I am always extolling the benefits of yoga to everyone who will listen. The new mom in your life can benefit from yoga.
It will help her de-stress while she gains strength and flexibility.
Some simple items to add to a yoga basket include a yoga mat, chakra pillows, a tote bag with a mat carrier, and a yoga block.
12. Meals for the Family
It can be argued that the most popular gift to give a new mom after the birth of a baby is food.
The last thing the family needs to worry about is when, how and what to eat.
However, managing all of the incoming casseroles can be a lot as well. Instead, buy No products found.
Choose a card that can be used at multiple restaurants or buy a variety of cards.
Ask friends to donate money or cards so the new mom has a series of choices that allow her to eat without having to cook.
13. The Fit Mom Basket
Not all moms have the time or energy to workout after their baby is born. However, being fit should be a priority.
A healthy mom is less stressed and provides better quality breastmilk if she is nursing.
She also has a lower likelihood of developing post-partum illnesses.
A fit mom basket may have items like resistance bands, core sliders, a jump rope and a water bottle.
14. Skin Care Gifts
It's easy to forget that something as simple as your skin needs extra care every day.
A gift of lotions and gentle exfoliators can help the new mom remember that nourishing skin is both pampering and good health care.
There are a lot of great choices when it comes to skin care.
My favorite is La Mer, which I sadly cannot afford to buy for myself much less give as a gift to someone else.
I found an excellent alternative that is about one-tenth of the price. O'Keeffe's does not look fancy, but it is pretty amazing. I use it myself and often give it as gifts.
For face care and stretch marks, I use rose oil serum. It smells amazing and provides an unbelievable glow.
It is an excellent and inexpensive addition to a skin care gift basket.
15. Candles
Candles are fun gifts to give because they are consumable items that don't take up a lot of space.
There are funny candles, sentimental candles, candles that contain money and some that contain crystals.
Before you decide to create a candle gift basket, remember that candles can be tricky. Some people love them and some don't.
A new mom might feel like a candle is too dangerous to have around a new baby.
A good alternative to a traditional candle is a battery operated candle with remote.
Some people are sensitive to scents and cannot bear having candles around. That said, a candle can be the perfect gift for other reasons ⬇️⬇️⬇️⬇️.
16. Laundry Service
Laundry is an unfortunate fact of life. It doesn't stop when a baby comes. In fact, it increases exponentially.
Make a new mom's life easier by giving her a laundry care package. Use a laundry hamper for your basket.
Fill it with organic, scent free detergent and eco-friendly dryer sheets. Add some dryer balls as well.
Another good option: provide a gift certificate for a month of laundry service so she doesn't have to think about laundry at all.
17. Nap Time Care Package
Who doesn't love naps? New moms need them and rarely get them.
Make a care package for the new mom in your life that helps her get the rest she deserves.
Include a weighted sleeping mask, lavender water, herbal tea and, if she has a sense of humor, a do not disturb sign for her bedroom door.
18. Breastfeeding Support
Breastfeeding is extremely difficult for a lot of moms.
It is one of the secrets that moms don't learn until they are in the throes of trying to figure out how the entire process works.
The new mom in your life will have access to her physician, pediatrician and a lactation consultant. That doesn't mean nursing will be easy for her.
A care package that focuses on breastfeeding could be the best gift you can give.
Provide therapy packs that can be used hot or cold.
Include a lactation massage roller, nipple cream and nursing pads.
19. Foot Care Basket
Feet are often overlooked when it comes to self care. Help the new mom take care of her feet with a fun, foot-friendly gift basket.
You can purchase each supply yourself, but it may be easier to save time by choosing a foot care gift basket that already contains everything the new mom will need.
For an added, personal touch, throw in a gift certificate for a pedicure or a bottle of nail polish.
20. Adult Coloring Books
Moms need time to unwind. One of the best and most relaxing ways to do this is with an adult coloring book.
Mandala patterns are great for stress relief.
If you know what she likes, you can get her the book that matches her hobbies or a particular fandom.
Don't forget to include gel pens or pencils.
21. Hydration Package
Do you ever forget to remain hydrated? Now imagine having a new baby to care for. Hydration is vital for everyone but especially for a new mom.
She is in recovery mode and is possibly breastfeeding.
Hydration is one of those concerns that should be at the top of her list but probably doesn't even make the top ten.
Help her remember to stay hydrated by giving her a collection of water bottles and some fun flavorings to add to the water that she should be drinking.
22. Fandom Giftset
The new mom in your life may be part of a fandom. Many of us are. If so, you have plenty of options for gift baskets.
One of the best baskets I ever received was entirely focused on my number one fandom.
It included an action figure, an enamel pin, an adult coloring book, a coffee mug and stickers.
Was it practical?
Not at all.
But it did make me feel happy and loved.
23. Time-Saving Supplies
This new mom will never again have the kind of time she once did.
Help her make the most of her new reality with a gift basket that saves time with daily chores.
Wool dryer balls cut down on the amount of time clothing sits in the dryer.
Vegetable choppers make quick work of slicing, dicing and storing fruits and veggies.
An electric toothbrush ensures hygiene doesn't take too long.
24. Hair Care
New moms have a tendency to lose their hair. The rapid change in hormones causes hair to fall out, sometimes in clumps.
This can be frustrating or even scary to a mom who isn't expecting her lustrous pregnancy hair to turn into stringy mommy hair overnight.
Help her out by giving her a hair care gift basket.
Start with the essentials.
Choose a leave-in, detangling conditioner that doesn't take a lot of time to use but still leaves her hair looking, feeling and smelling soft.
Add a deep conditioner that will strengthen her hair follicles.
Include hair clips for keeping the hair out of her face and stylish headbands that will make her life easier.
25. Time and Support
Time and support are two things that don't come in gift baskets. However, they are absolutely vital to a new mom.
Give her a small basket with a handwritten note detailing how happy you are for her and how proud you are of her.
Offer to help her with household chores, take care of the baby or just be there for her when she needs a friend.
Final Thoughts
Care packages for new moms provide items she needs or the simple acknowledgment that she deserves a happy life.
A gift basket will make her feel loved. Do you have any other ideas for great gift baskets for new moms? Share them in the comments!
Have You Read These Yet?