Cradle vs Bassinet: Which Should You Get?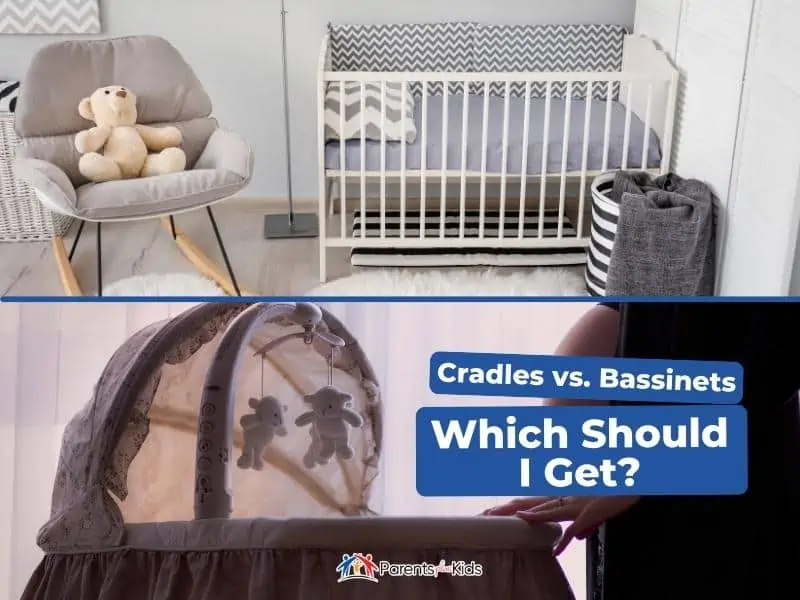 This post may contain affiliate links. If you buy through the link, I may earn a commission. Learn More.
There are too many choices for baby beds. Between baskets, bassinets, cradles, cribs, and co-sleepers, you might feel your head spinning.
Never fear!
I'm here to guide you through bassinets and cradles, which you should choose, and why you'll be glad you did. (Spoiler: I'm going to recommend a cradle.)
*FYI, some of the links in this article about cradle vs bassinet may be affiliate links. If you click and make a purchase, we may get a commission (at no extra cost to you). For more info, please see our disclaimer.
Cradles vs. Bassinets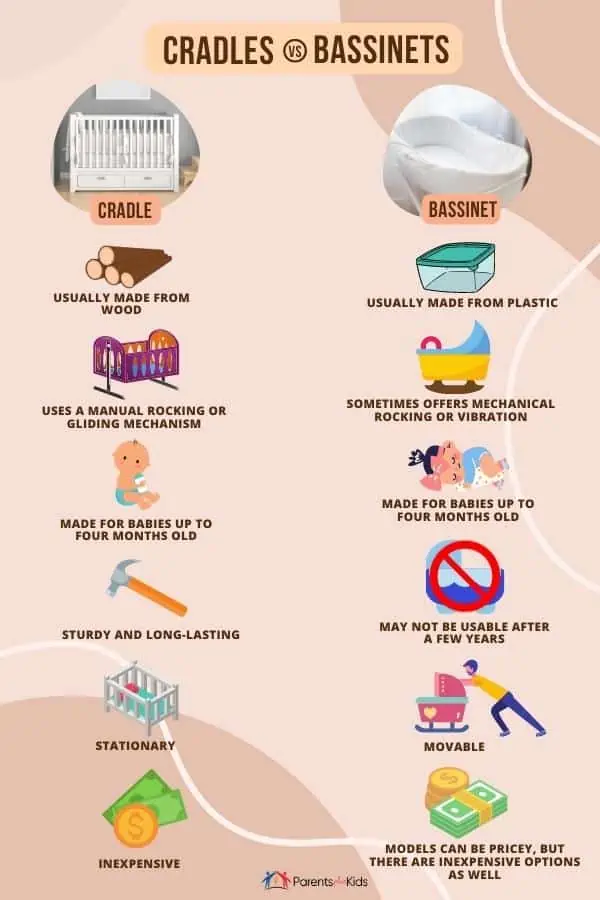 The difference between a cradle and a bassinet involves the structure and the overall use. Bassinets are made for very young babies to use only in their earliest days. Cradles are sturdier and offer the ability to rock a young one to sleep.
Keep reading for a more in-depth breakdown of cradles and bassinets.
What is a Bassinet?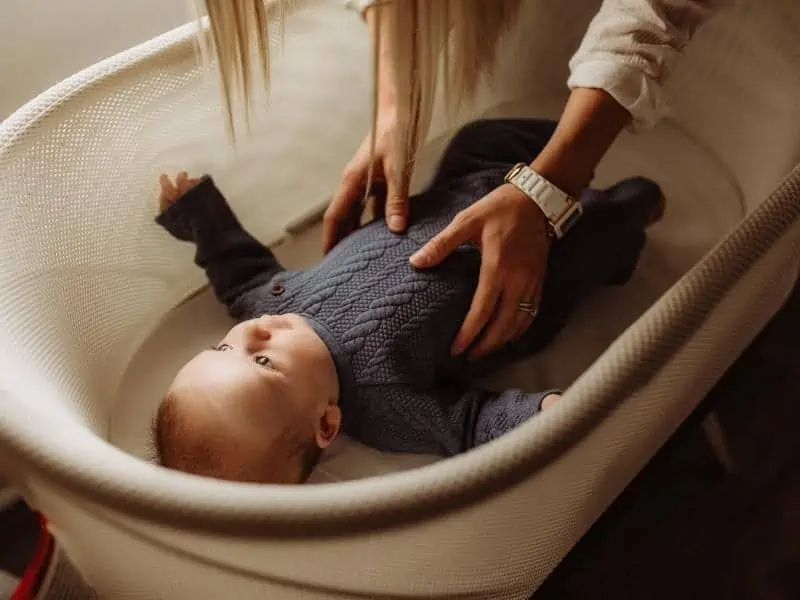 A bassinet is a basket that sits atop a movable frame. Bassinets usually have wheels so they can move from room to room.
Many bassinets have hoods and small, thin mattresses.
Babies should not sleep in bassinets past three or four months. Many babies are ready to move on from their bassinets much sooner.
What is a Cradle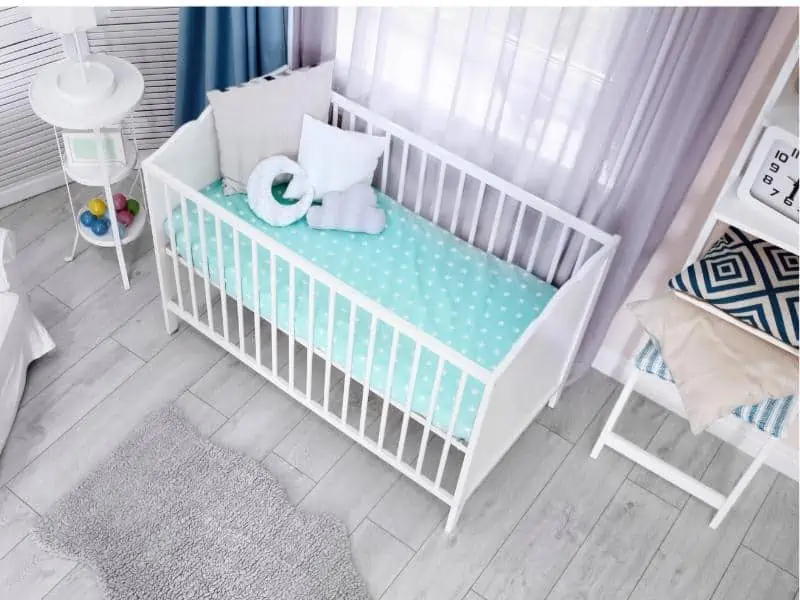 A cradle has the size and shape of a crib basket but is much smaller. Instead of resting on a stationary frame like a crib, a cradle has a mechanism that allows it to rock or glide.
Like bassinets, cradles are only made for very young babies through about three or four months.
What is the Difference Between a Bassinet and a Cradle?
Most bassinets are stationary. Those that do have rocking features are mechanical by nature. Cradles are meant to rock but the rocking or gliding is done by hand.
Bassinets are primarily made to be transportable, while cradles are usually left in one place for the duration of their use. Cradles are sturdier than bassinets and hold their value better.
How are Bassinets and Cradles Similar?
Both bassinets and cradles are made for very young babies. They are not meant for long-term use as they are too small for babies who become old enough to pull themselves up on bars or even roll over. They are both small pieces of furniture that can don't take up a lot of space in smaller homes.
What is Better About Bassinets?
You might choose a bassinet because you need something easy to move. If you have a situation requiring you to move your child into their nursery, bedroom, or common area (like a kitchen or living room), you will want a bassinet that is lighter and has wheels for easy transport.
Bassinets sometimes come with extra features like mechanical rocking or vibrating. Some even have built-in sound systems. This can be a great feature for tired parents and their babies.
What is Better About Cradles?
Cradles are much sturdier and therefore safer than bassinets. They cannot move from room to room without some strain, but they provide a sense of safety and security to babies.
The hand-operated rocking may help your baby to fall asleep easier than a mechanical vibration because you can speed up or slow down the rocking according to your child's needs.
Who Should Get a Bassinet (and why)?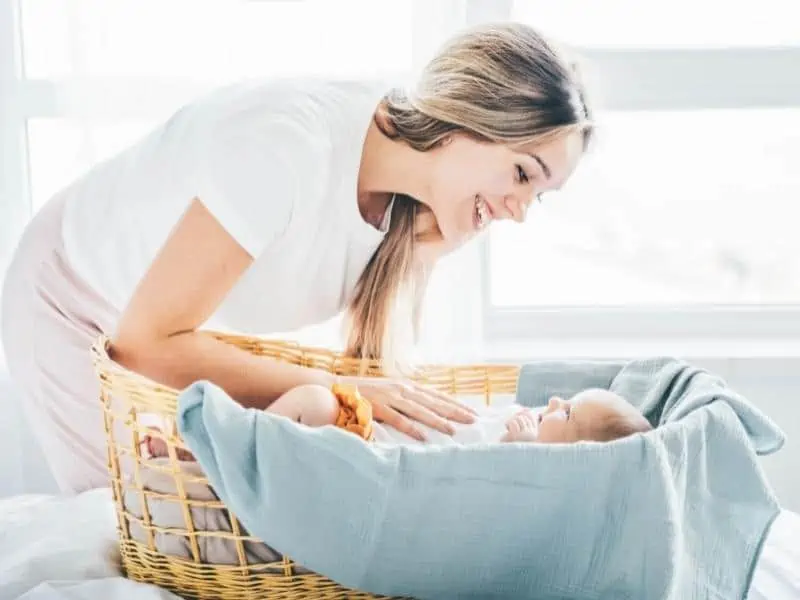 A bassinet is a good choice if you move around a lot. It's also a good option for parents who want to co-sleep in a safe way.
Many bassinets are made to function as co-sleepers or stand-alones, giving you a great sense of flexibility.
A bassinet is a good option for a second home as well. For instance, if your baby spends a lot of time with grandma, a bassinet at her house might be the best idea.
Who Should Get a Cradle (and why)?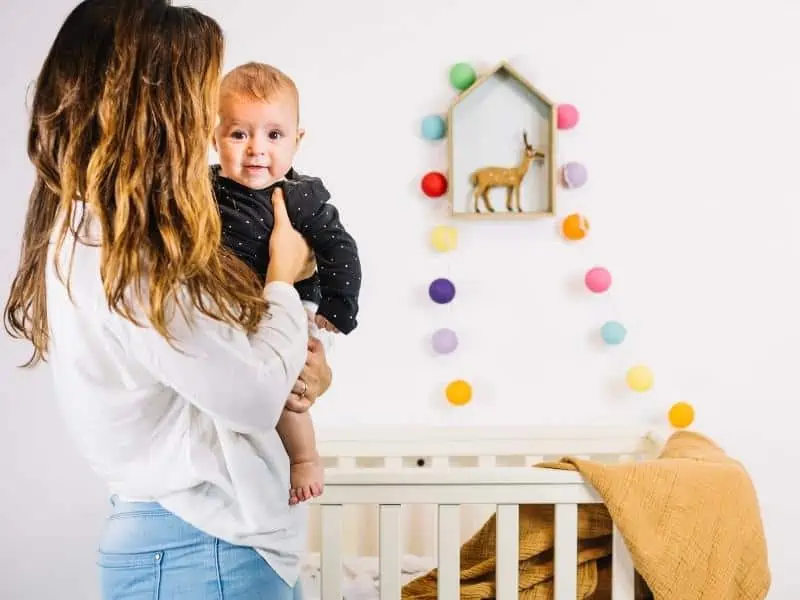 Most parents are better served with a cradle than with a bassinet.
This is because babies need steady rocking to fall asleep. The transition from cradle to a crib is also easier because the cradle is much more similar to a crib than a bassinet will ever be.
If you're a parent who has enough time to rock your baby to sleep with each night and each evening, a cradle is definitely for you.
Cradles and Bassinets: A Comparison
| Cradles | Bassinets |
| --- | --- |
| Usually made from wood | Usually made from plastic |
| Uses a manual rocking or gliding mechanism | Sometimes offers mechanical rocking or vibration |
| Made for babies up to four months old | Made for babies up to four months old |
| Sturdy and long-lasting | May not be usable after a few years |
| Stationary | Movable |
| Inexpensive | Models can be pricey, but there are inexpensive options as well |
| My favorite cradle: Dream On Me Luna | My favorite bassinet: Serta iComfort |
A chart comparing pros and cons of bassinets vs cradles.
Key Takeaways
Whether you choose a bassinet or a cradle, what's most important is that you do your homework first.
Make sure you buy the item that fits your needs, and your baby will be fine. Do you have a preference? Tell us about it in the comments!
Have You Read These Yet?