How to Potty Train a Girl: The ONLY Guide You Need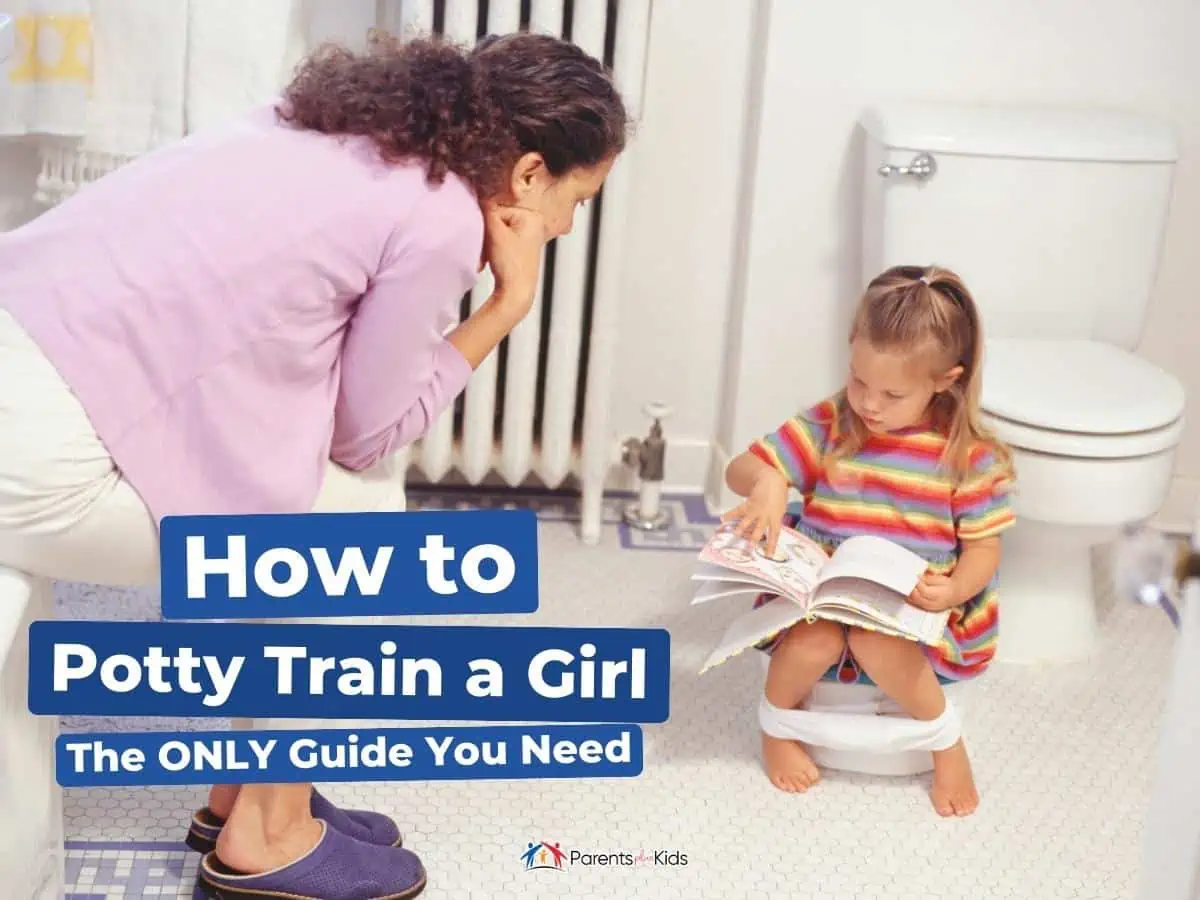 This post may contain affiliate links. If you buy through the link, I may earn a commission. Learn More.
Potty training your little girl is a milestone that you have probably both dreaded and highly anticipated since you changed her first diaper.
You know it's going to be difficult, but it's also going to be much better than laundering diapers or paying for dozens of them each week.
How to Potty Train Your Daughter
You may have heard that it is easy to potty train little girls. This isn't exactly true. Some girls potty train with ease. Most need more time and patience. In all cases, you need to stick to a consistent schedule, coordinate plans with other caregivers and stock up on potty training essentials.
Materials Needed
Potty training requires a small investment. The types and number of the supplies you purchase are up to you.
At minimum, you will need at least one training toilet and training pants.
However, you will be more successfull if you choose to purchase the following items:
1. Potty Training Toilet
This Potty Training Toilet is a good choice for a little girl.
It mimics the look and feel of a real toilet, which prepares them for the next step. It also offers soothing music and is easy to clean.
The unisex nature of this toilet means that it can be used for any boys in your family as well.
2. Travel Potty
A Travel Potty is needed if you plan to go on vacation or visit relatives while your child is potty training.
This potty folds neatly, which makes it easy to take with you wherever you go.
Once your child is fully potty trained, you can continue taking this potty with you for those emergencies that arise while you are on the road.
3. Potty Training Seat with Step Stool
A transitional Potty Training Seat with Step Stool helps your toddler use the big toilet without fear of falling in.
You will need to dedicate a toilet in your house for use with this training seat.
If you only have one toilet, find a safe place to store it when it is not in use.
4. Potty Training Watch
A Potty Training Watch reminds your daughter that it's time to sit on the potty.
You can set the timer to provide an alert every 30 to 90 minutes.
5. Training Pants
Training Pants function as diapers that can be easily pulled off and on while using the potty.
Your child will feel like she is wearing grown-up underwear but she will still be protected against accidents.
You will need different training pants for daytime and nighttime wear as nighttime training pants need to be more absorbent and secure than those worn during the day.
6. Books
I love books. I recommend reading potty training books to your daughter before you start training.
She will already have some knowledge and awareness about the process. It may even help her to be eager to train.
My favorite isOnce Upon a Potty. It's an older book, but it holds up.
It teaches girls about their anatomy and how to use the potty in a very simple way. Another fun book is Where's the Poop?.
This interactive book showcases different baby animals.
I also recommend finding potty training books that feature your daughter's favorite characters like the Sesame Street Potty Training Set.
My daughter wasn't wild about any specific characters so we went with princess potty training books, like this one.
Step 1: Choose the Right Time
Potty training usually starts around age two. However, you shouldn't start potty training until your daughter shows signs that she is ready.
This includes being aware of a dirty diaper, wanting to have the diaper changed quickly, hiding while soiling the diaper or even asking about wearing big-girl underpants.
Your daughter may display these signs when she is under 24 months old. If that is the case, do not start potty training.
Though there are many proponents of early potty training, most girls do not have the ability to control their sphincter muscles, even if they have the awareness that they need to use the potty.
Training too early can lead to additional frustration and self-esteem issues that can prolong the potty training process.
Step 2: Stock Up on Potty Training Supplies
The items you choose to buy are partially determined by the amount of space you have in your home.
For instance, my home has three restrooms and two levels. I placed a training toilet in two of the three restrooms so we could always have a potty ready when it was time to go.
I also bought two potty training seats and stepstools so my daughter could use the big toilet and wash her hands with ease. I opted against using a travel potty for our on-the-go potty training.
Instead, I took one of the portable potties that we already had at home.
You should also make sure you have an adequate supply of training pants.
You might go through three or more pairs of training pants every day until a potty routine is firmly established.
You will also need wet wipes in each bathroom and in your go bag.
Other supplies you will need are kid-friendly hand soaps, hand sanitizer, toilet seat covers (for travel) and potty training books.
Step 3: Have the Potty Training Talk
Your daughter is old enough to understand simple concepts. Explain to her that big girls used the toilet rather than diapers.
Show her how the toilet works and that using a potty is an exciting adventure.
A great way to get her interested in using the potty is by buying her a doll that she can potty train.
Simple dolls are fine, but if you want to get her really excited and possibly a bit confused, this doll pees glitter and poops charms.
Step 4: Teach Hygiene
Hygiene is of utmost importance to little girls who are learning to use the toilet. Teach her to wipe from front to back and explain why.
There are germs in urine and feces that, when wiped into the urethra can cause a urinary tract infection.
When explaining this, use terms your daughter will understand. Something as simple as, "If poo from the back reaches the front, you can get sick" should be enough to encourage her to properly wipe.
Along with the right wiping techniques, you need to teach your daughter how to wash her hands after using the toilet.
She needs to spend about 20 seconds washing her hands. In order to instill this in her, have her listen to a song while washing.
A good choice is the ABC Song. She will learn her alphabet and the importance of hygiene at the same time.
Step 5: Create a Timetable
You need to have a regular timetable for potty breaks.
When you start potty training your daughter, have her sit on the potty for about one minute out of every 30. Do this for the first week.
Yes, it will occupy your entire life for that week, but if you stick to the schedule you will reap the benefits.
For the next two weeks, she should sit on the potty for one minute out of every 60.
You can gradually increase the amount of time between potty breaks as she is more and more successful in keeping her training pants dry.
In addition to every 30 to 60 minutes, your daughter needs to try to potty as soon as she awakens and just before she goes to bed.
She should also sit on the potty for one minute 30 minutes after each meal or snack.
The timetable is the most important part of potty training.
If you get this right and stick to the schedule, she will start to go to the potty on her own by the end of the first month.
Step 6: Learn Her Cues
You have to stick to the potty training schedule. That is non-negotiable.
However, your daughter also needs to sit on the potty when she feels that urge to go. She may not recognize it at first, which is why you need to.
As her parent, you probably already have a sense of when she is evacuating her bowels. Learning when she is wetting her diaper is a bit tougher.
Eventually, you will see her cues. This might include squirming, behaving uncomfortably or crossing her legs.
Step 7: Dress for Potty Training
Your daughter won't be able to use the same clothing she did before she was potty training.
She needs to wear clothes that are easy and quick to remove. Avoid anything with snaps or buckles. Dresses are great for potty training, but not all girls enjoy wearing them.
Pants should easily pull off and on, which means they can't be too tight.
If choosing pants or shorts in stead of dresses, pair them with shirts that are short enough that they will not fall into the potty.
If choosing dresses, teach your daughter to lift the dress above the potty before sitting down.
Some girls perform better when potty training in big girl underwear instead of training pants.
You might be in for a mess the first few times she wears big girl underwear, but she also may surprise you.
My daughter insisted that she needed real panties and not training pants when we started training. I said no because I didn't want to clean more than I had to.
However, her dad has a real problem saying no to his princess.
He agreed that he would be in charge of clean-ups as long as his daughter was happy.
We set a goal of one week of dry training pants, which she achieved. Not only did she get her big girl underpants, but she never had an accident in them.
The moral of the story is: Mother often knows best, but sometimes you have to trust your daughter to know her own body.
Step 8: Use Positive Reinforcement
I love a good chart. My favorite thing to do is to set up rewards systems and watch as my children earn their coveted prizes.
A potty training chart is a good way to reinforce achievements while giving your daughter a goal.
Let her earn a stamp for every milestone, such as going a full day without an accident or successfully reaching the potty on time.
I set my rewards up like a store. With each stamp earned on the reward chart, my daughter was able to work toward a toy or privilege.
Five stamps equaled a rubber duck. Ten stamps earned a book. Fifteen stamps gave her a new doll.
Twenty stamps was an ice cream party with friends. You can choose your own rewards method to suit your daughter's personality.
Step 9: Remember That Accidents Happen
The worst thing you can do for your daughter is to berate her for having an accident.
There is nothing wrong with a child having an accident from time to time. It happens to almost everyone. If she does have an accident, have her sit on the potty while you clean.
Tell her it's okay and that it is all part of the process of learning how to use the potty. Love her, hug her and encourage her to keep trying.
Step 10: Maintain Consistency and Continue Training
Do not stop potty training when it gets difficult. Don't give yourself or your daughter a break just because it's mentally fatiguing.
Potty training is not easy nor is it meant to be. Potty training is a difficult, time-consuming, arduous process.
You will feel like giving up, but if you do, you are only hurting your daughter. Likewise, there will be a time when you feel like she is fully toilet trained.
This should happen somewhere between three to six months.
Even when you feel like she has everything under control, continue for at least one more month as though you are still training.
This will help reinforce all of the lessons your daughter has learned.
More Potty Training Tips
Potty training is a step-by-step process, but there are still some areas you have to consider, such as potty training in public.
Potty Training at Daycare
Stay-at-home moms don't need to worry about potty training at daycare.
However, only about 18 percent of parents stay home with their children. The rest use some type of childcare.
Your child's daycare facility is well aware of the ups and downs of potty training.
They have contributed to potty training many more times than you have. Still, you need to ensure your daughter is on a consistent schedule while at home and while at daycare.
Talk to your daycare provider about their potty training plan. Work together so you can keep the same schedule going throughout the day.
Potty Training on Vacation
Potty training a girl can last from three months to a full year. Your family will probably go on vacation at least once during that time.
You need to have a plan in place for potty training when you are far away from home.
I have had the great good fortune of potty training both a son and a daughter. I made the mistake of ceasing potty training when I went on vacation with my son.
He was my first born or, as I like to call him, my test run.
Luckily, things worked out okay with him, but I did learn that potty training could and should continue no matter where our toilets are for that week.
My family spent a week at Disney World while my daughter was potty training.
If you have ever been to Disney World, you know that the cleanliness of their bathrooms are hit or miss.
You do not want to take your potty-training daughter to a toilet that sees thousands of butts between cleanings, but what else can you do?
My recommendation is to choose your vacation with potty training in mind.
For me, Disney World was a fine choice. We have been to Disney World a few times, and I have learned that my kids get tired of all of the magic after three or four hours.
Our technique for enjoying Disney is to go in the morning, head back to the hotel for the mid-day hours, and then return in the evening.
This gave my daughter ample time to use the toilet in the hotel. I did bring portable toilet seat covers with me just in case, but I never had to use them.
If you are going on a road trip, a portable potty is a good option. You can keep it with you and avoid all of the iffy gas station toilets, and highway rest stops.
If you are traveling by plane, I recommend pulling out the training pants.
A few hours in training pants won't undo your potty training, but the sounds and smells of the airplane restroom just might.
The Differences Between Potty Training Boys and Girls
Potty training a little girl is not wildly different from potty training a boy.
Both boys and girls need to learn how to recognize the signs of needing to use the toilet.
They both have to get used to using the big toilets and they have to learn how to properly wipe and wash their hands.
Girls have the additional importance of wiping front to back in order to avoid urinary tract infections.
Girls also don't have to worry about learning how to use urinals.
Other than those specific anatomical differences, the actual process of potty training boys and girls is basically the same.
One key difference is that girls potty train easier, earlier and faster than boys.
Though it isn't the case every time, it is generally true. Girls mature more quickly than boys, which makes potty training much simpler.
6 Common Mistakes to Avoid
There are many mistakes you may make while potty training your daughter. Following are some of the most common ones and tips on how to avoid them.
1. Forgetting Consistency
If it seems like I focus a lot on consistency with potty training it's because I do.
Consistency is the most vital component for a successful potty training venture.
Without it, your child will not develop the habits they need to lose the training pants and use the toilet.
2. Frightening Your Daughter
Parents who tell their children that the toilet eats the pee and poo are not thinking like a toddler.
A toddler's logic is that if the toilet wants to eat the pee and poo, it could also decide to eat them.
It is much better to explain the mechanics of the toilet.
A toddler might not understand, but it's far better than making the toilet seem like a monster.
3. Ignore Teaching Hygiene
Potty training is not just about learning how to recognize when it's time to go. It's also about learning the entire bathroom process.
Your child needs to practice wiping, washing their hands and flushing the toilet.
Every time your child goes to the bathroom, they must do all three of these things. Proper bathroom hygiene should become second nature to them.
4. Flushing "Flushable" Wet Wipes
The packaging says they are flushable. They are not flushable. Do not flush them.
Teach your daughter to use toilet paper to remove the bulk of the mess, but then follow up by cleaning her with the wet wipes until she is able to fully clean herself.
When you are done with the wet wipes, treat them as you would any other wipes and throw them away.
Why?
Flushable wet wipes are meant to degrade when they are flushed in the toilet.
However, they are stronger than toilet paper and rarely break apart enough to flush with ease.
It only takes a couple of flushable wipes to clog your toilet or, in my case, cause your entire plumbing system to fail.
Two wet wipes caused thousands of dollars in damage to my home. It was not worth it to me, nor will it be worth it to you.
5. Shaming Your Child
Never shame your child for not being able to use the toilet right away. Potty training is a process. It is a long process that can take up to a year to master.
In the meantime, your child will have accidents.
She may sit on the toilet for a full five minutes without any production, only to evacuate her bowels as soon as she puts on her pull-ups.
Remind her that accidents happen and that's okay.
Do not tell her that she is being a baby, don't laugh at her and don't make fun of her to others. Treat your child with respect.
6. Losing Your Cool
Patience is not easy for most of us.
Potty training can make us feel like we're going insane. Don't let yourself get angry over potty training.
When you feel that frustration start to bubble up, give yourself permission to take a break. Remind yourself that it's not easy for anyone.
Likewise, once you're finished potty training you will never have to go through it again. At least, not with this specific child.
Key Takeaways
Potty training a little girl is a true adventure. It will feel like forever, but it usually takes only a few months.
By the time she is three, she should be a pro at the potty. Do you have any potty training tips to share? Tell us in the comments!
Have You Read These Yet?