25 Best Jobs For a 15-Year-Old to Make Money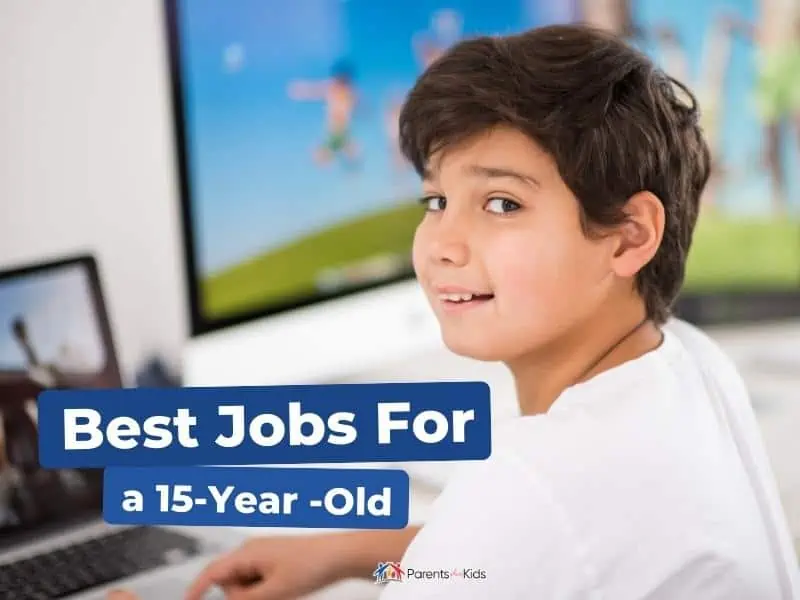 This post may contain affiliate links. If you buy through the link, I may earn a commission. Learn More.
A 15-year-old may need a job to help pay bills in the household. They might need to start saving money for college.
They could just want to have some spending cash. The good news for those kids is that 15-year-olds are legally allowed to work in most states.
Best Jobs For a 15-Year-Old
The laws vary in each state, but most allow 15-year-olds to work on a very part-time basis.
In the United States, the Fair Labor Standards Act has some strict rules about working under age 16. However, children this age are not prohibited from being hired.
FLSA states that 15-year-olds cannot work in hazardous conditions.
This means warehousing, factory work or jobs using heavy equipment or explosives are not possible.
Teens under 16 may work a maximum of three hours per day on school days and eight hours on non-school days.
The maximum number of hours a young teen can work is 18 during the school year.
Teens under 16 cannot work past 7 PM during the school year or past 9 PM during summers. They also cannot work before 7 AM year-round.
1. Fast Food Sales
Fast food restaurants stay busy throughout the evening.
Working at the front counter or at the drive-through is so fast-paced that the hours will fly. The work can be tiring and tedious but it requires no special skills.
2. Retail Sales
Retail shops are always in need of people working the floor. In retail sales, your teen will help customers find products, ensure products are tidy on the shelves and may also serve to deter theft.
These jobs require good customer service skills and the ability to stand throughout the shift.
3. Cashier
A cashier scans items at checkout. They accept payment and, if needed, supply change.
Cashiers are slowly getting phased out at some larger retailers and supermarkets but most stores still use cashiers.
4. Cinema Worker
Working in a theatre is often a young person's dream. Jobs at theatres include ticket-taking, food service, clean-up and ushering. It's not uncommon for a theatre worker to be hired to perform all of these duties and more.
5. Bagger
A bagger works at a grocery store, ensuring that groceries are properly packaged for the ride home.
With self-service checkout continuing to grow, many customers are bagging their own groceries. Still, there are plenty of markets that hire baggers.
6. Server
Being a server at a restaurant is very tiring, hard work.
It requires strong customer service skills, quick thinking, the ability to walk throughout the shift and dealing with sometimes very difficult people.
The reward is pay below minimum wage and sometimes not receiving tips. On the other hand, tips can sometimes be very healthy and it is a great experience.
7. Busser
A busser clears and cleans tables at a restaurant.
Sometimes the server handles bussing, but busier restaurants usually hire bussers whose sole responsibility is keeping surfaces clean.
Being a busser is usually a stepping stone to working as a server or a host.
8. Concession Stand Worker
Concession stands appear at festivals, sporting events, theatres and some clubs.
A person who works at a concession stand must take orders, take payment and, usually, prepare the food. It's a very fast-paced job but that can be a good thing.
It will feel to your teen that their shift ended quickly after it began because there is virtually no down time.
9. Stocker
Stocking shelves at a retail store or supermarket is important. Items have to be constantly replenished so customers can continue shopping.
Stockers have to have the ability to lift heavy weights as it is a very physically demanding job.
10. Dishwasher
A dishwasher works at a restaurant washing dishes. Because restaurants go through so many dishes on a constant basis, washing them is a job that will keep your teen very busy.
The downside is they may not want to ever wash another dish at home.
11. Host
A host or hostess is the first person you see when you walk into a restaurant. They take your name and alert you when a table is available.
Hosts are there to answer questions and to manage the front of the house. Teens usually need to put in some time working as a server before they are offered the role as host.
12. Lifeguard
Lifeguards ensure that order is kept at the pool or beach. They watch for any safety concerns and rescue those in need.
A lifeguard does need to complete a lifeguard certification course. They must also be very strong swimmers.
13. Referee
Every sporting event needs referees. This often thankless job is necessary to ensure the game is played fairly.
Each level of play has different requirements for ages and skills for referees. Some will train referees themselves while others might require an official training program.
14. Office Clerk
An office clerk may have a wide variety of responsibilities.
They may answer phones, perform data entry, do filing, greet customers, run errands for the other office workers or even water the plants.
Being an office clerk is an excellent way for a young teen to get their foot in the door of a career they may be interested in pursuing later.
15. Food Prep
Food prep involves washing food, chopping, stirring, mixing and measuring.
A teen involved in food prep will usually have someone else with them, guiding them as they prepare the food. Most fast food restaurants have a process that makes food prep nearly intuitive.
Sit-down restaurants might require the teen to pass a knife skills class before they are allowed to prep.
16. Bike Messenger
A bike messenger doesn't just relay messages. They are basically a delivery driver, but they carry packages by bike rather than car.
Bike messengers are highly sought after in larger, congested cities where traffic by car can sometimes be slower than bikes.
17. Car Washer
Car washes need people to detail cars, apply wax and dry them so that they remain spot free.
This is an ideal job for a 15-year-old who is not interested in customer service but still needs to make some money.
18. Custodian
I recently asked my 12-year-old daughter if she could name someone at her school who she would call a hero.
She said the custodian is a hero because he makes sure their environment is clean but he gets very little thanks for it.
I loved that answer because I have a lot of respect for people who work in janitorial services. It is a vital job in schools, hospitals and anywhere large numbers of people meet.
A young teen could take on a job like this and learn a lot about the world while performing a much-needed service.
19. Sign Holder
Sign holders direct people to store openings, store closings and special events. They usually stand outside near the store or in a crowded intersection with the aim to reach potential customers.
20. Greeter
A store greeter does exactly what the position title states. They greet customers as they walk in.
Greeters help to direct traffic to the right place, provide shopping carts or baskets and serve as a friendly smile to shoppers as they enter the store.
21. Computer Support Specialist
Does your teen love technology? Are they skilled in troubleshooting problems?
A computer support technician will provide care to those who damage their computers, forget their passwords, accidentally infect their computer with viruses, plug their power strips into themselves and can't figure out why they won't turn on and much, much more.
Computer support technicians might work directly with customers or they may provide telephone support.
22. Telephone Agent
Telephone agents call individuals on a list. They may be selling items or, more often, conducting surveys.
The agent reads from a script for each call. This is a good job for teens who cannot stand for long periods and who like talking on the phone.
23. Landscaper
Your teen can work with a landscaping company. They might mow, weed, fertilize, trim or edge lawns.
There may be rules in your state about what equipment your teen can and cannot use to legally work for the landscaping company. Check up on those laws before your teen applies.
24. Fitness Center Employee
Fitness centers need workers to clean equipment, greet members or even conduct classes.
While your teen will probably need certification to lead a class, the other jobs at a fitness center can easily be carried out without experience.
As a bonus, most gyms will give your teen a free membership.
25. Childcare
A childcare center might hire your teen as a part-time caregiver. They could assist childcare providers or serve in a support role.
Teens who don't want to work at a care center can provide their own babysitting services, which is a flexible and lucrative choice.
Key Takeaways
A young teen can start making real money by working up to 18 hours per week. It's also a great way to work up to more responsibility in later years.
What job did you have as a teen? Tell us in the comments!
Have You Read These Yet?