25 Best Jobs For a 6-Year-Old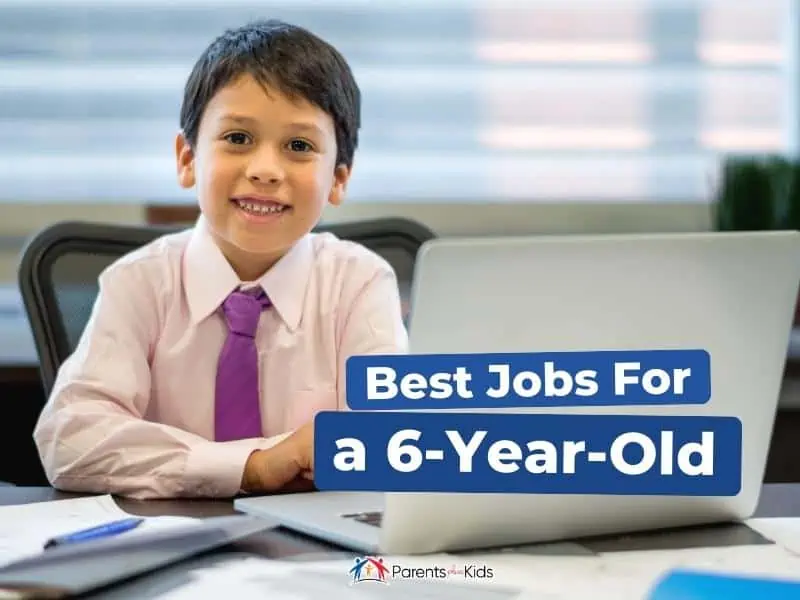 This post may contain affiliate links. If you buy through the link, I may earn a commission. Learn More.
It goes without saying that a six-year-old does not need a steady job.
However, a young child does need some tasks for which they need to be accountable.
Jobs around the house offer options that introduce children to the working world without over-burdening them.
25 Jobs for a 6-Year-Old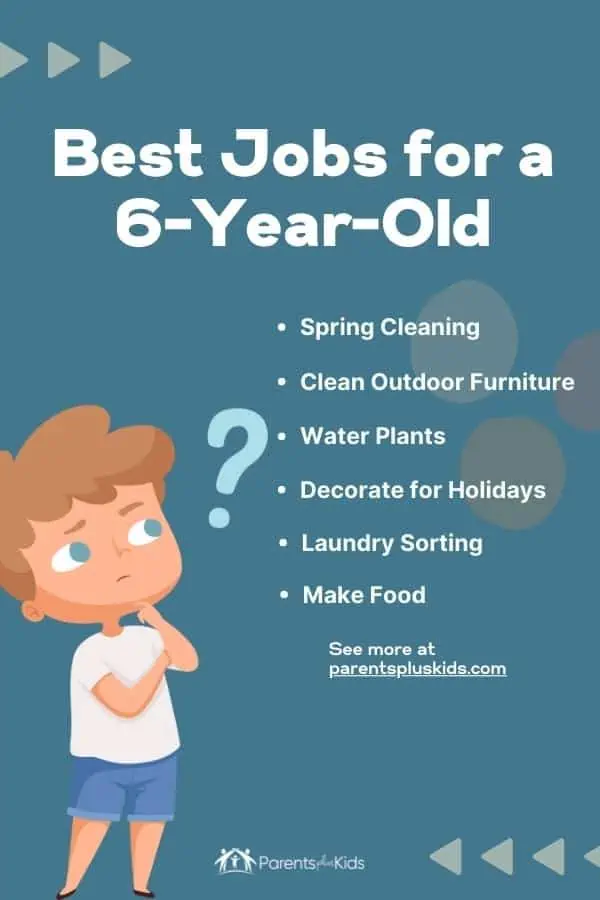 Starting at around age six, kids spend an increasing portion of their day on screens.
Along with entertainment, most elementary school students use tablets at school and for any homework.
Most estimates show that children spend up to seven hours per day, on average, looking at a screen.
All of this time spent looking at screens means kids get less exercise and less time outside.
Consider making the bulk of your six-year-old's responsibilities those that take them outside and get them moving. In exchange, you can give them a small allowance.
Many of these jobs can be carried out for neighbors or relatives who might be willing to pay a wage as well.
Spring Jobs For a 6-Year-Old
1. Spring Cleaning
Spring cleaning refers to reorganizing and removing items while renewing space.
Your six-year-old can take part in spring cleaning by helping you or by organizing their own room, closet, drawers, book shelves and toy box.
Part of their spring cleaning chores could involve donating items or helping with a garage sale.
2. Spread Fertilizer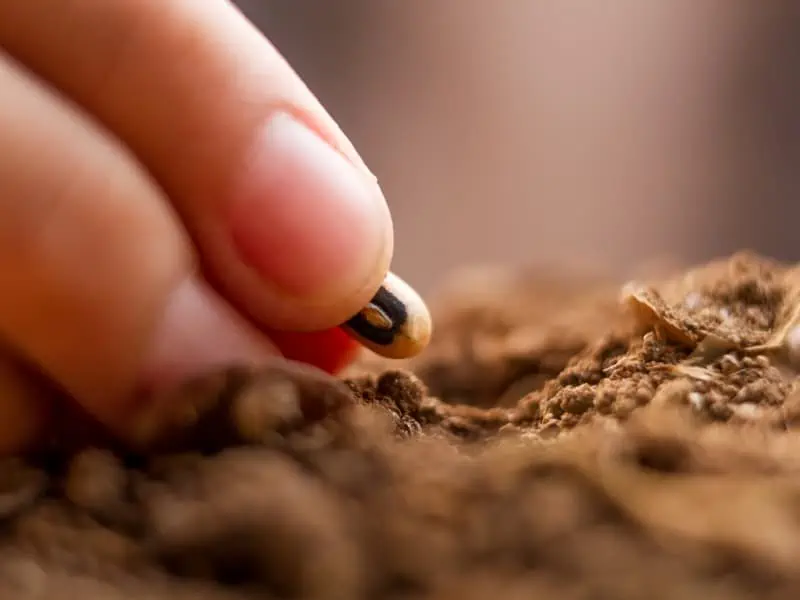 A common springtime task is fertilizing and/or reseeding the lawn.
This is usually done with a spreader that is easily pushed across the lawn.
Sale
Scotts Turf Builder EdgeGuard DLX Broadcast Spreader
Use the Scotts Turf Builder EdgeGuard DLX Broadcast Spreader to apply Scotts lawn care products
Comes pre-calibrated and ready-to-use
Scotts exclusive EdgeGuard Technology keeps lawn product off landscaping, driveways, and sidewalks
Your six-year-old can manage this task though you may want to supervise to ensure even coverage.
3. Clean Outdoor Furniture
Your outdoor furniture has either been stored or covered since the previous fall. It will need to be dusted, aired out or sprayed with upholstery refreshener.
Sale
Clorox – Scentiva Multi-Use Fabric Refresher Spray
TRANSFORM FABRICS IN YOUR HOME — Whether for your clothing, sofa, carpets, or curtains, Clorox…
ELEVATED SCENT — This instant fabric refreshing spray will carry the luscious and layered…
LONG-LASTING FRESHNESS — Take your fabrics from unwashed to unbelievably fresh. Spray a little or…
These are great jobs for a six-year-old.
4. Mulch Flower Beds
The beginning of the spring means adding mulch around trees and to the flower beds.
Get your six-year-old a pair of gardening gloves and have them do the mulching for you.
KDK Ages 8-10 Kids Gardening Gloves
[General Purpose] – Kids, youth gardening protective gloves for types of light-duty…
[Anti-Slip,Soft & Durable] – Soft and durable latex coated palm with non-slip wrinkled texture are…
[Flexible, Lightweight & Breathability] – Ergonomically 3 D nylon gardening gloves with stretchy…
5. Plant Seeds
Teaching children to grow their own food gives them an appreciation for nature.
It also encourages them to eat vegetables as they will want to try the items they grow themselves.
Get your six-year-old started in the wide world of gardening by having them sow their own seeds. Pick a vegetable that is easy to grow for new gardeners.
Summer Jobs For a 6-Year-Old
6. Water Plants
Outdoor plants will be thirsty in the summertime. Make it your six-year-old's job to ensure all plants get the water they need.
This might involve the use of a garden hose but a watering can is usually sufficient.
Sale
7. Water Lawn
A watering can will not be enough for an entire yard.
The easiest way to water the lawn is to use a sprinkler that attaches to your hose.
Sale
Segomo Tools 360 Degree Automatic Rotating Garden Sprinkler
[ Water Every Corner Of Your Garden ] This grass sprinkler features 3 adjustable rotating arms and…
[ Even For Large Area ] The sprinklers spray can cover a distance of 30 feet range evenly with an 80…
[ Easy To Use ] Simply attach your garden hose to the lawn sprinkler hose connector supplied and…
It can be the six-year-old's job to move the sprinkler around the yard to ensure full coverage.
8. Pick Up Outside Toys
My kids are always playing outside in the yard.
Because I live on the corner in the center of our neighborhood, the neighbor kids are also usually at my house.
They range in age from four to 16, which means our yard is constantly full of various and sundry toys. Can you relate?
If so, a young child's responsibilities should include picking up these toys at least once a day.
9. Sweep Porches and Decks
Brooms aren't exactly fun to operate, but they are easy. A six-year-old can sweep the porch, deck, driveway and sidewalks to keep them clean all summer long.
10. Dead-Head Flowers
It may sound strange, but one of my favorite chores as a child was dead-heading the flowers.
This is nothing more than plucking the dead heads from flower bushes so they are encouraged to continue growing.
Make sure your child stays away from poisonous flowers.
Autumn Jobs For a 6-Year-Old
11. Rake Leaves
It's called fall for a reason. The trees around your yard decorate the lawn with their multi-colored leaves.
Your six-year-old's job can be to rake these leaves once or twice a week depending on how many trees you have.
You will need to help scoop the leaves when they are done.
12. Pick Up Sticks
Sticks fall from trees throughout the year, but it seems like they are especially prevalent in autumn.
Have your child collect the sticks from your yard, and then use them in your fire pit for a fun but controlled fire.
13. Decorate for Holidays
For some, the holiday season starts in earnest at Thanksgiving. In my family, it starts on October 1.
I affectionately refer to the first day of October as the "first day of Halloween." Your six-year-old will love decorating the exterior and interior of your house for the holiday.
They can then take down those decorations and replace them with the decor of your choice.
Keep rotating items through New Year's Eve for a home that remains festive and cheery.
14. Make Food
What better time to learn how to make food than when the air starts turning crisp and cold?
A six-year-old should not make anything on their own that involves sharp cutting tools or heat, but they can make lots of different things with help from you.
Have them stuff deviled eggs, make a tossed salad or frost cupcakes.
15. Store Summer Clothes and Toys
The middle of autumn is the right time to start putting away summer toys and clothes. Your six-year-old can be trusted to put up outside toys and swimming supplies.
They should also separate their warm-weather clothing from the items they will continue to wear. You might want to store those clothes for later or you might prefer to donate them.
With the alarming rate children grow, it's unlikely your six-year-old will still be able to wear those clothes the following summer.
Winter Jobs For a 6-Year-Old
16. Clean the Fireplace
I love building fires in my fireplace. I love how it heats up the house and the smokey smell that makes me feel cozy and warm.
What I don't love is cleaning out the ashes. Let your six-year-old clean out the ashes of your fireplace, and then look at some the interesting uses for wood ash before you toss them out.
17. Carry in Wood
One downside of having a fireplace is the constant need for wood.
You can make it your six-year-old's job to bring in wood from outside as long as the wood is not stacked in a way that might cause them injury.
18. Salt Sidewalks
Most of the United States is at risk for icy conditions in the winter. Keep safe by being prepared.
Your child can salt your porch, driveway and sidewalks to ensure a speedy melt. They can also offer to do this for your neighbors and friends.
19. Scrape Ice from Car Windows
Many families who have garages use them for storage rather than parking.
If this sounds familiar, you know that windows and door handles get covered in ice in the winter.
Your six-year-old can be in charge of scraping the ice from windows in the morning before you make that drive to school and work.
20. Volunteer for Salvation Army
Salvation Army bell ringers are everywhere in the winter. You can join their cause by volunteering with your child to have a bell-ringing shift.
Not interested in the Salvation Army's message? No problem! There are plenty of volunteer opportunities in your region.
Pick one of them and teach your child about making a difference.
Year-Round Jobs For a 6-Year-Old
21. Laundry Sorting
Unfortunately, laundry is not a seasonal chore. You have to face piles of laundry every day.
Get your six-year-old in on the fun by putting them in charge of laundry sorting. They will learn the importance of not mixing reds and whites.
22. Fill Bird Feeders
It is fun to watch and listen to the birds chirp happily as they are being fed. Keep them happy by having your six-year-old be in charge of keeping those feeders full.
Your child may become interested in the different types of seed and the various birds they attract.
23. Get Mail
Getting the mail is a simple daily task that any six-year-old child can do.
It will become part of their routine to pick the mail and put it in a safe space for you to inspect before recycling most of it.
24. Make Nature Wreaths
Crafting is always fun but there is something special about crafting with things found in nature. The great part of making nature wreaths is they reflect the time of year.
Your child can collect pine cones in the winter, leaves in the fall, seashells in the summer and berries in the spring. All make for lovely wreaths that will be enjoyed throughout the season.
25. Pick Up Litter
Sadly, litter is a year-long problem. There is never a time that litter doesn't appear in parks, near streams and on the side of the road.
Get your child involved in cleaning up their planet by making litter clean-up a regular chore.
Key Takeaways
A six-year-old can do a great many things to help you around the home. Do you have any ideas for jobs for six-year-olds? Give us your list in the comments!
Have You Read These Yet?