What Age Can a Child Go to Daycare?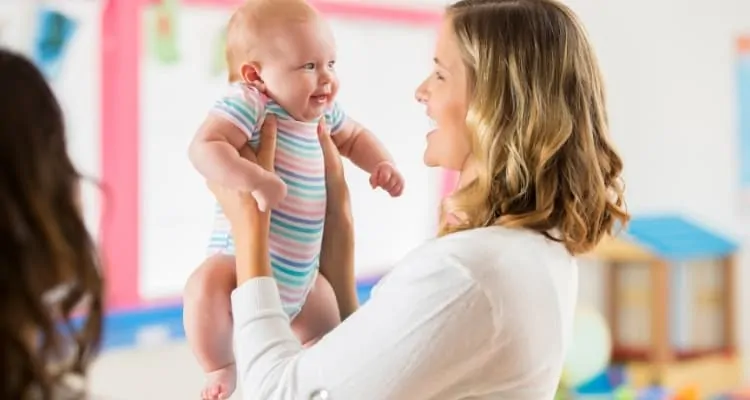 This post may contain affiliate links. If you buy through the link, I may earn a commission. Learn More.
Children don't come with instructions. When your child is born, you start from scratch with only instinct to guide you.
Fortunately, there are parents who've been where you are right now who can help. The age your child can start daycare is one of the most asked among new parents.
*FYI some of the links in this article about when can babies start daycare may be affiliate links. If you click and make a purchase we may get a commission (at no extra cost to you). For more info please see our disclaimer.
Ideal Age for a Child to Start Daycare
Ideally, a child won't start daycare until at least 12 months old. A daycare facility with a nursery staff that is trained and capable can accept infants as early as six weeks. The right age for starting daycare depends on the child and the daycare facility.
Looking for a Good Quality Daycare?
Find an affordable and qualified daycare center that fits your needs.
What Age Can a Child Attend a Daycare Center?
This is a question that weighs heavily on the minds of new parents. Returning to work is never easy with a new baby. It is made harder still by the worries about appropriate timing for sending a child to a daycare facility.
Related: How to Find a Daycare
Nanny vs. Daycare: Which is the Better Choice?
You have a number of childcare options available to you when you return to work. You might consider hiring a nanny or relying on the help of a relative before you opt for daycare. However, there may be reasons to make daycare your first choice.
There are two major downsides to hiring a nanny. The first is that it is very expensive to hire a trustworthy nanny with solid references. The second is that a nanny is only one person. If they become ill or need time off you have no one to watch your child. This is also true when accepting help from a relative.
From a practical point-of-view, a daycare offers more flexibility than a single caregiver. A reputable daycare has a staff of caregivers who are trained in working with children at all ages. When one caregiver is out sick, another is available to watch your child. The cost is often less than other forms of childcare as well.
Related: Nanny vs Daycare: A Parent's Guide
The Benefits of Early Daycare
The U.S. Institutes for Health regularly study the effects of daycare on children. They repeatedly find that children enjoy great benefits from attending daycare centers.
Children who attend daycare are found to have better academic records when they enter school. They are more emotionally in control, have an easier time talking with peers and are cognitively advanced. These studies were conducted on children who started attending daycare as young as one month.
The reason for these benefits is obvious. Children in daycare have access to constant stimulation and interaction. A singular caregiver may provide excellent services, but they can't replicate the communication a child in a daycare setting has from both caregivers and peers.
Related: Daycare: Pros and Cons
Should I Wait Until My Child is Older?
Parental leave in the United States is still a work-in-progress. New parents aren't guaranteed paid time off, which means you may need to start back to work sooner than you would like. You might need to start looking for childcare within the first month.
You can relax. Many childcare facilities are very well-equipped to provide care to children as young as six weeks and sometimes younger. You do need to make sure the facility you choose has staff dedicated to infants if you choose to go that route. Your child is not likely to suffer from going to daycare that early in life.
Conversely, there may be adequate reasons to wait until your child is older before using a daycare facility. Most experts agree that 12 months is the ideal age for starting daycare. A one-year old has a stronger immune system and a better ability to communicate than younger babies. A 12 month old child is also reaching the age in which constant interaction is important.
Looking for a Good Quality Daycare?
Find an affordable and qualified daycare center that fits your needs.
Final Thoughts
Your instincts will tell you if your child is ready for daycare, but you should feel comfortable sending your baby of any age to a daycare facility.
Do you have experience with daycare? Let us know all about it in the comments!
Frequently Asked Questions
What is the best age to send child to daycare?
12 months of age is the ideal age to send a child to a daycare. Many daycares will take a child as young as 6 weeks. Ultimately family and financial circumstances will dictate the ideal time for your family.
How early can a baby go to daycare?
Many daycares will take an infant as early as 6 weeks of age. Most consider 6 weeks too early and 12 months as the ideal daycare age.
Related Articles